PowerPure Humidifier Reviews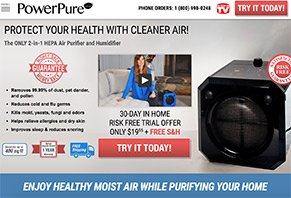 PowerPure is an ultrasonic humidifier with ActivePure three-layer filtration technology that can hydrate your air and kill bacteria, mold, fungi, and more.
About PowerPure Humidifier
As the only 2-in-1 HEPA air purifier and humidifier, PowerPure won't just moisten the air you breathe, it will also kill harmful organisms. This way, you'll be able to remove 99.99% of dust microns, pet dander, and pollen; kill mold and fungi; reduce odors and cold and flu germs; relieve allergies and dry skin—even reduce snoring and improve sleep!
To do this, PowerPure uses an ActivePure filtration system (or what the company calls "the most powerful air and surface purification technology ever discovered"), which was originally developed by NASA for use on the space station. And like any other ultrasonic humidifier, PowerPure uses ultrasonic vibration to create a "micro-fine" mist that cools and moistens air, while preventing the spread of germs.
Quick: What are you thinking right now? Are you wondering if PowerPure is the real deal, or if it's just a bunch of science-y gobbledygook? We wondered the same thing, so we dug in to many of the company's claims, and we'll outline what we learned in this review.
Before diving into the science behind PowerPure, let's take a closer look at the humidifier itself.
A Closer Look at PowerPure
Each PowerPure ultrasonic humidifier is about 14" long, 12" wide, and 13" high, weighs roughly 14 pounds, and is intended to service an area up to 400sqft.
All you have to do is fill its 1.05 gallon tank, press the Auto Mode button, and PowerPure's Smart Sensors will increase or decrease air flow as needed for up to 24 hours (depending on the setting and humidity of the room). During operation, you can run the humidifier and air purifier functions simultaneously, or the air purifier independently, which will notify you in the even of a change in air quality, and will adjust fan speed accordingly.
PowerPure features three kinds of filtration (carbon, HEPA and ActivePure), a filter change indicator (filter should be replaced about every 6-9 months), adjustable humidity output and fan speed, LED touchscreen control panel, auto shutoff safety feature, as well as a sleep mode button that automatically dims the LED panel and reduces the fan speed.
Like most other ultrasonic humidifiers, PowerPure can be placed on a nightstand, countertop, or bureau. Unlike most other models though, it can also be placed on the floor, without having to worry about creating any wet spots.
Given all these features, how much does PowerPure cost?
Will PowerPure's Price Dampen Your Spirits?
The PowerPure humidifier is available in black, red, yellow, blue, orange, or green colors, and can be purchased in one of two ways:
A 30-day in-home trial for $19.99 plus free S&H. After 30 days, you'll be billed 10 monthly installments of $29.95, bringing your total to $319.45.
Direct through AllergyBuyersClub.com for $399, with free S&H.
Pro tip: Remember that you'll have to replace you PowerPure filter once every 6-9 months (a replacement indicator light will alert you when it's time). Carbon and HEPA filters are $49 each, so be sure to factor this cost into your long-term budget.
All PowerPure humidifiers come with a 30-day refund policy, less S&H charges, as well as a 1-year warranty. This means that once your trial ends, so does your ability to process a refund.
In order to request a refund or process a warranty claim, you'll need to call Aerus Health Direct customer service at 888-764-0693.
Now that we've talked about all of PowerPure's key details, let's talk about how ultrasonic humidifiers in general work.
The Basics of How an Ultrasonic Humidifier Works
At its most basic, a humidifier works by turning liquid water into vapor and dispersing it throughout a room, usually through a fan. Now, exactly how a humidifier does this depends on the type.
In our case, PowerPure is an ultrasonic humidifier, which means that it uses a metal diaphragm to create water droplets. This diaphragm vibrates extremely fast (at an ultrasonic frequency—hence the name), which breaks the water down into a fine, fog-like mist.
Pros & Cons of Ultrasonic Humidifiers
On the plus side, this means that ultrasonic humidifiers can quietly release cool mist, are extremely quiet, and use very little electricity. These humidifiers will require replacement ceramic demineralization cartridges, though. As a result, they're often considered to be a preferred type of humidifier, since they're ideal for just about every member of your family.
However, the way ultrasonic humidifiers create vapor means they also release a lot of the water's mineral content, which can settle on nearby furniture as a fine white dust. This could be especially problematic if you live in an area with hard water.
What about humidifiers in general? What kinds of health benefits can they provide?
Humidifiers & Health Benefits
Regardless of how they turn water into vapor, it's widely understood that optimal humidity levels (typically anywhere between 30 and 50 percent) can provide a variety of health benefits, including alleviating some respiratory problems, preventing skin from becoming dry and chapped, improving overall comfort, and in some cases, reducing snoring.
Again though, it's important to remember that these benefits could probably be achieved using any humidifier, not just an ultrasonic one, and certainly not just with PowerPure.
What about reducing germs, bacteria, and so forth? Can humidifiers in general—or PowerPure specifically—give you a leg up on illness during the winter? We'll answer this important question in a second, but first, let's find out what PowerPure's manufacturer has to say about the matter.
Can PowerPure Keep You Healthy?
Your answer to this question might largely depend on your definition of 'healthy.' We already talked about how humidifiers might improve your skin quality, help you sleep better, and address some respiratory concerns. But will it actually remove harmful germs from the air?
Again, here's exactly what the humidifier's commercial claims: PowerPure's humidifying mist "smothers cold and flu germs in the air and the ActivePure technology reduces harmful organisms, including odor-causing bacteria, mold, yeast, and fungi." How does it do this?
According to this video, microscopic oxygen and water molecules in the air enter the purification system and pass through the ActivePure Honeycomb Matrix. Once inside, these molecules are transformed into supercharged oxidizers, which, once combined with ionization (i.e. negative ions) and released back into the air, seek out and destroy viruses, germs, fungi, mold, bacteria, and odors—even ones hiding in cracks and crevices.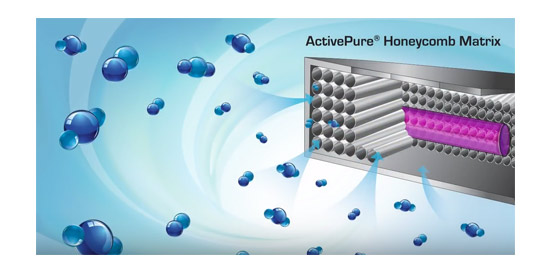 An illustration of oxygen and water molecules in the air passing through the Honeycomb Matrix of PowerPure's ActivePure Technology.
While the science is still relatively new, there is some promising research that an increased presence of negative ions can "protect against germs in the air, resulting in decreased irritation due to inhaling various particles that make you sneeze, cough, or have a throat irritation."
However, there isn't enough evidence to show that negative ions can actually neutralize these airborne germs, as claimed by PowerPure's manufacturer. In addition, there's growing evidence that humidifiers don't help at all when we get a cold—they could even make things worse by spreading mold and toxic metals (remember, ultrasonic humidifiers release the mineral content in water).
On the other hand, carbon filters and HEPA filters are extraordinarily common, and have reams of clinical evidence showing that they can reduce a wide variety of airborne contaminants.
Given the fact that PowerPure humidifies and filters, is it getting rave reviews from customers?
Are Customers Happy with Their PowerPure Humidifier?
PowerPure is manufactured by Dallas, TX-based Aerus, who "was known as Electrolux in the US from 1924-2001 and is the only authorized provider of parts and service for 1924-2003 Electrolux Vacuums." The company had an A+ rating with the Better Business Bureau at the time of our research, with just 3 closed complaints, most of which seemed to reference warranty problems.
As far as the humidifier itself, PowerPure is sold exclusively through AllergyBuyersClub.com, where it had a 5-star rating based on three customer reviews. Common compliments referenced its high quality, effective humidifying and purifying, low noise, and improved air quality.
Although this was the only feedback available at the time of our research, Aerus' line of 7 different humidifiers (of which the PowerPure is at the top) also seem to come with very high marks from customers, who cite many of these same compliments.
So, what's the bottom line about PowerPure? Let's wrap everything up.
PowerPure: Your Best Choice for an Ultrasonic Humidifier?
As long as you keep your expectations realistic, there are certainly a lot of potential benefits to be gained from regularly using a humidifier, including improved skin, less snoring, and more. And regarding ultrasonic humidifiers, you might be able to gain these benefits using less electricity, less noise, and less maintenance than many other types.
Here's where you'll have to analyze your needs, though: If you're in the market for an ultrasonic humidifier/air filtration combo, PowerPure isn't your only option. In fact, these types of humidifiers are so common that you might be able to find several options at local retailers, many of which are priced a lot lower than PowerPure.
On the other hand, PowerPure seems to be the only ultrasonic humidifier on the market that features three different kinds of filtration (including ActivePure), so if air quality—versus relative humidity—is your primary deciding factor, then its added cost might be worthwhile.
Just keep in mind that if you don't properly care for your ultrasonic humidifier (whether from PowerPure or another manufacturer), you could actually reduce your home's air quality and increase the chances of becoming sick.