PowerXL Cordless Iron & Steamer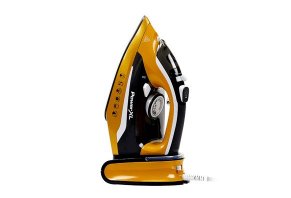 The Power XL Cordless Iron & Steamer's versatility and affordability are important advantages if you want a convenient appliance that can iron and steam.
PowerXL Cordless Iron & Steamer Review: Is It Worth It?
The Power XL Cordless Iron & Steamer is a battery-powered iron and steamer you can use to remove wrinkles in all common fabrics.
The device's main draw is that it can iron and produce a powerful steam plume, turning the PowerXL into a versatile appliance. Not only can it provide you two functions you'd normally have to get from two separate appliances, but it also makes ironing much easier because it's cordless and light (2 lbs.).
You'll find that this appliance takes a lot of the frustration out of ironing and steaming. Exactly how it does that, what other features it has and why it may or may not be a good fit for you is something we'll explore in this review.
Editor's note: For simplicity, we will refer to the Power XL Cordless Iron & Steamer as an "iron," not an "iron and steamer."
How the PowerXL Cordless Iron & Steamer Works
The PowerXL's simple steam switch allows you to alternate between ironing and steaming easily and without confusion.
If you choose the ironing function, there's a dial on the appliance that you'll turn to increase and decrease the heat. You'll use the black steam button on the handle to spray water onto the fabric you're working with.
When you're steaming, you turn the iron vertical and use a trigger under the handle to spray steam on a variety of items include bed sheets, stuffed animals and curtains. The steam comes out at a rapid rate—a marketing video shows the iron blowing out a line of 12 candles in one steam puff.
This is a big advantage if you have cloth curtains in your home and like to keep them wrinkle-free. Plus, the iron's light weight and cordless function mean you can carry it with you to each window without tripping over cords or accidentally unplugging them.
Other features include:
30-second heat-up time
8 second re-heat time
Ceramic, non-stick ironing surface
Extra-tapered tip for detail ironing
Can use it when it's attached to its base
Self-cleaning option
The iron works on the following materials:
Cotton
Linen
Wool
Synthetics
Rayon
Cashmere
Silks
Beading
Sequins
Transfers
Some of the important usage notes and warnings from the iron's instruction manual:
Don't turn the iron upside down before or during use
Set the iron on a damp cloth for five minutes before first use
When using the iron with the base, slide the lock switch to the "lock" position
Don't connect the iron to the same outlet as another appliance
Battery Life
While the PowerXL's main benefit is your ability to use one device to iron and steam, another perk is its cordless operation.
However, this is one of the iron's weaknesses. According to PowerXL's customer service, it takes 15 to 20 minutes of charging to give you 10 to 15 minutes of use on cotton. Lighter materials won't drain the battery as quickly.
While one full charge lasts long enough to do several clothing items, the heat on the iron is short-lived. This is important because the iron's instructions say the iron has to be fully heated for you to use it effectively.
The iron will retain its heat for 2 to 3 minutes if you're ironing light materials like linen. However, if you're ironing heavy fabric like jeans, the heat will last less than a minute. When it runs out, you'll need to place the iron back on the charging station for at least 8 seconds.
If you live in a cold-weather area and you often iron heavy clothing, this iron's inability to hold its heat for long periods will probably frustrate you. You'll have to recharge the iron's heat every minute or so unless you switch to using the iron with its corded base.
Pricing, Return Policy, and Warranty
You can buy the Power XL Cordless Iron & Steamer for $59.97 or three payments of $19.99. For an extra $9.99 or $3.33 per payment, you can add an ironing pad upon which you can iron your clothes.
You have 90 days to make a return or get an exchange. Call PowerXL's customer service at (973) 287-5127. They will give you a return merchandise authorization number. You'll then put that number in your return shipment. Send your return to PowerXL Cordless Iron & Steamer, 500 Returns Road, Wallingford, CT, 06945.
If you're making a return because the iron stops working or breaks, you won't have to pay return shipping.
Beyond the first 90 days, you're covered by a one-year warranty. If the iron breaks during normal use, you can send it back for an exchange. However, you'll have to pay the return shipping fee.
PowerXL Cordless Iron & Steamer vs. Panasonic Cordless Iron & Steamer
When you're searching for the right product for your home, you benefit from comparing what you want to buy other products like it.
The PowerXL's combination of cordless ironing and steaming is pretty rare. One similar appliance is the Panasonic cordless iron and steamer, which gets Amazon's "Amazon Choice" designation for being a highly-rated, top-selling product.
Both appliances have cordless operation along with iron and vertical steam settings. There are two main differences between the two that affect how you'll use them.
First, the Panasonic iron does not have a tapered tip on its ironing surface. Therefore, if you often have to iron between buttons, the PowerXL iron is the better choice because its ironing surface will fit between buttons better.
Second, you can't operate the Panasonic iron while it's charging. So, if you iron heavy materials often, there's a good chance you'll have to put the Panasonic back in its dock to reheat it multiple times. This defeats the purpose of a cordless iron and there's no recourse. The PowerXL iron, however, lets you iron while it's plugged in.
The Panasonic is around $18 more than the PowerXL, too.
The Bottom Line
In our opinion, the PowerXL Iron & Steamer offers good value for what it does. Its ability to iron your clothes and steam everything from shirts and pants to curtains and blankets makes your laundry and housework more convenient and efficient.
Who It's Good For:
Your Job Has a Business Formal Dress Code: This iron and steamer has a small enough tip to work its way between buttons on dress shirts and in pleats on dresses and pants. The ability to iron these areas and steam clothing you may have to wear on short notice is a valuable asset.

You Want to Save Money on Dry Cleaning: The average price of dry cleaning a suit is around $17. If your main goal in dry cleaning is to make your clothes look crisp and wrinkle-free, then the PowerXL's iron and steam combination can achieve the same goal when used in conjunction with spray starch.

You Entertain Often: Having guests over usually requires a quick house cleaning. The PowerXL's steam function can smoothe out fabric curtains quickly, which can be a lifesaver if you notice wrinkles before guests arrive. This also applies to your clothing. Should you find that your initial outfit has a stain you didn't know about, the ironing and steaming options can have another outfit ready within minutes.
Who It's Not Good For:
You Don't Need a Steamer: It may be easy to buy this iron because you think it will spur you to take up steaming clothes and curtains. However, if you don't already steam clothes and other items in your home, there's a good chance that buying this iron won't create a new habit.

You Iron Heavy Fabrics More Than Once a Week: Because the PowerXL's heating duration and battery power shorten when you iron heavy fabrics like jeans and thick jackets, it isn't suited for extensive use every week. If you find yourself ironing at least two or three times a week, you'll most likely find a corded iron and steamer more efficient and less frustrating.
---
Huge disappointment!

By Equilla W.

,

Atlanta, GA

,

Jul 31, 2020
Verified Reviewer

Length of Use: 3–6 months

Overall Experience:

I purchased this iron in response to a TV ad (I should have known better). Less than 6 months and hardly using the iron more than 5 times, it has stopped heating and WILL NOT disengage from the base!

I am going to package it and send it back based on the VIP protection plan they tout. Hopefully, they will honor this protection.

I should know by now to stick with known brands such has Rowena.

Pros and Cons:

Fabulous ads
Poor product function

Bottom Line: No, I would not recommend this to a friend

---

Replacement

By Harold G L.

,

Paris, MO

,

Jul 16, 2020
Verified Reviewer

Length of Use: 6–12 months

Overall Experience:

No response on the back after sending defective iron back. Only had it for 30 days and it stopped heating up. Expected some kind of response or different iron to replace broken one. Purchased this product on 3/20/20, confirmation #6372030286500799774 and offer code DLXPXLCT. When it worked, it worked to my expectation. No one on your compliance team ever contacted me and it was difficult to get someone to talk to. Made several attempts to contact, no direct line of communication. We have records of our attempts to contact someone with no success on our part. If there is any remedy to this issue it would be greatly appreciated to get some type if resolve.

Pros and Cons:

No "pros" were specified in this review
Fail to respond to return in XL that went bad

Bottom Line: No, I would not recommend this to a friend

---

Advertisement

---

Shuts off while using

By Vicki J.

,

La Pine, OR

,

Jul 4, 2020
Verified Reviewer

Length of Use: Less than 3 months

Overall Experience:

Love the Steamer, burst of steam works, glides easy...but I have to unplug the iron for 20 seconds then plug it back in. Why? Because the base starts blinking and shuts off when I am using it! You cannot iron for more than 20 minutes without this happening. I am an avid sewer, my iron is 2nd only to my sewing machines. I spend at least 3 hours a week ironing...this is really annoying!

Bottom Line: Yes, I would recommend this to a friend

---

Piece of junk

By Kerry H.

,

Lancaster, PA

,

May 13, 2020
Verified Reviewer

Overall Experience:

If I could I would give a minus 5. Iron worked for two months then stopped charging. Water leaks everywhere. Major waste of hard-earned money, my corded iron from Walmart works correctly every time, without fail. DO NOT, DO NOT, DO NOT waste your money for this iron! Worth more as scrap metal.

Bottom Line: No, I would not recommend this to a friend

---

Advertisement

---

This iron stinks, don't waste your money

By Susan P.

,

Medina, OH

,

Apr 22, 2020
Verified Reviewer

Overall Experience:

I have to agree with most reviews I have read so far...don't waste your money. The base stopped charging the iron on my third use. It does just what everyone has said, that it cools off way too quickly and leaks water everywhere. Never spent so much money and been so disappointed in my life, and as far as I know, you can't buy replacement parts either. What a piece of junk.

Bottom Line: No, I would not recommend this to a friend

---

Does not work

By Bruce M.

,

Green Bay, WI

,

Apr 1, 2020
Verified Reviewer

Overall Experience:

What a piece of junk, worked for 2 minutes. Plugged it in and directions say to turn the on button on. NO ON BUTTON, at least not in the directions. Will not recommend to my worst enemy.

Bottom Line: No, I would not recommend this to a friend

---

Awful

By Carol P.

,

New York

,

Mar 16, 2020
Verified Reviewer

Overall Experience:

This iron is a joke, leaks all over your clothes, and when you take it off the charger it cools down very fast so to press anything you have to keep it on the charger. DON'T BUY THIS IRON!

Bottom Line: No, I would not recommend this to a friend

---

This thing is a joke

By Stanley S.

,

Michigan

,

Feb 14, 2020
Verified Reviewer

Overall Experience:

Do NOT, PLEASE, DO NOT buy this iron, it's a joke. You will really be angry, TRUST me. Please save, please save, save your money. Their customer service is a joke, they talk to you rudely. This is a joke.

Bottom Line: No, I would not recommend this to a friend

---

My PowerXL Iron

By Larissa A.

,

Lakewood, WA

,

Feb 8, 2020
Verified Reviewer

Overall Experience:

I just got my PowerXL Iron in the mail. I charged it all night and it's still not working, it only works on the charger but it doesn't work when I take it off. And I just got it, it's supposed to be brand new and it's not working for me, so what do I do now?

Bottom Line: No, I would not recommend this to a friend

---

PowerXL not worth the money

By Debrah N.

,

Denver, CO

,

Feb 3, 2020
Verified Reviewer

Overall Experience:

I was happy thinking I could iron cordless, NOT! As soon as you take it off the base it cools down very quickly and then starts to leak water. I also tried to steam a pair of pants and it scorched my pants as it was shooting very large circles of water on my pants. I tried to iron a pair of work pants and it made them shine (hmmm, non-stick base). So you have to keep the base on the iron to use it, which is big and annoying! The only good thing I have to say about this iron is DON'T WASTE YOUR MONEY! $19.00 to return it if you don't like it. I bought the gold one, maybe the blue one is better.

Bottom Line: No, I would not recommend this to a friend

---