Prelief Reviews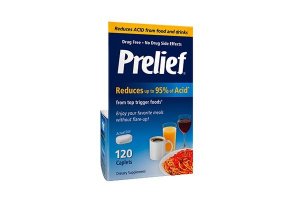 The calcium glycerophosphate found in each caplet of Prelief can help meaningfully reduce food-related acid flare-ups, according to the supplement's website.
What Is Prelief?
Formulated with just two ingredients, Prelief is a drug-free dietary supplement that promises to safely and effectively reduce up to 95% of acid from top trigger foods and beverages, allowing you to enjoy your favorite meals without flare-ups.
Since the supplement works on food (not on the body), the website advertises you simply need to take two to three caplets with each meal, snack, or beverage. In addition, we're told Prelief delivers about 6.4% of your recommended daily intake (RDI) for calcium.
As a company, Prelief is manufactured by DSE Healthcare Solutions (originally developed by AkPharma Inc.), an Edison, NJ-based company who's been in business since 2006. They weren't listed with the Better Business Bureau, although they manufacture other popular dietary supplements like Urinzonic and Charco Caps.
If you frequently experience bladder discomfort, digestive discomfort, or other food acid problems, can you realistically expect the Prelief dietary supplement to address food acid problems before they rear their ugly head? That's the primary question we'll help you answer in this brief article.
The Basics Behind Trigger Foods & Acid Reflux
While the Prelief website doesn't name any specific conditions, the Mayo Clinic reports that "Acid reflux [more specifically known as gastroesophageal reflux] is the backward flow of stomach acid into the esophagus — the tube that connects the throat and stomach," resulting in the "taste of regurgitated food or sour liquid at the back of your mouth," or the feeling of "a burning sensation in your chest (heartburn)."
In layman's terms, the physical sensation of heartburn is a common symptom caused by acid reflux into the esophagus. And if this acid reflux and resultant heartburn occurs often enough, your doctor might diagnose you with a condition known as gastroesophageal reflux disease, or GERD.
In many instances, they explain that you can address acid reflux and GERD by making lifestyle changes, like losing weight, eating smaller meals, and avoiding certain 'trigger' foods; especially those that are fried, or heavy with chocolate or peppermint.
Other examples outlined (among many) on the Prelief website include nearly all fruit juices, applesauce, beer, bread and butter, coffee, gelatin, honey, raisins, soy sauce, sweet relish, tuna, and yogurt. Also, it's a good idea to avoid alcohol and nicotine.
If lifestyle changes don't sufficiently address the issue, they point out that you can occasionally use over-the-counter medications like antacids (e.g., Tums), H-2-receptor blockers or famotidine (Tagamet HB, Pepcid AC), or proton pump inhibitors (Prilosec OTC).
What about Prelief's specific formulation? Is there clinical evidence indicating it will provide meaningful relief from acidic foods?
Taking a Closer Look at Prelief's Ingredients
While Prelief offers caplet and Stir-In versions, according to the supplement facts label, each dose contains only two ingredients: calcium glycerophosphate and magnesium stearate.
Sites like WebMD, the National Institutes of Health's PubChem, and Drugs.com report this is a common Generally Recognized as Safe (GRAS) ingredient found "in food products such as gelatins, puddings, and fillings. It is also present in dental or oral hygiene products due to its [anti-cavity] effects."
However, these same sites report insufficient clinical evidence indicating that calcium glycerophosphate can deliver on any of the manufacturer's claims for Prelief. ConsumerLab puts it this way:
"While lowering the acidity of certain foods could potentially reduce the risk of heartburn, there are no clinical studies showing that Prelief relieves heartburn. In fact, most of the research for Prelief remains very preliminary and is focused on its use in treating bladder issues."
Potential Side Effects Related to Prelief's Ingredients
Although calcium glycerophosphate is classified as a GRAS ingredient, ConsumerLab goes on to point out "there do not appear to be clinical studies of its safety or reporting potential side-effects."
Drugs.com indicates there's no known toxicity, although they note that calcium "may interfere with the availability of some antibiotics." They also emphasize potential interactions with four different drugs:
abacavir / dolutegravir / lamivudine
bictegravir / emtricitabine / tenofovir alafenamide
dolutegravir
dolutegravir / rilpivirine
» For Further Reading: Can Dietary Supplements & Vitamins Cause Dangerous Side Effects?
How Much Does Prelief Cost and Where Can You Buy?
Prelief's formulas are available from several popular online retailers, including Amazon, Walgreens, Wegmans, iHerb, and AllStarHealth. Prices range between:
60 count: $4.95 - 9.50
120 count: $11.50 - $15
300 count: $22.50 - $25
Stir-Ins: $14 - $15
Regardless of where you buy, all Prelief purchases come with a 30-day money back guarantee from the manufacturer. The website indicates you'll need to send them a copy of your cash register receipt and UPC code, along with your full name and address, and they'll send you a refund for your purchase price.
To initiate the process, you'll need to call customer support at (800) 214-2379.
What Can We Learn from Prelief Customer Reviews?
Between Amazon and WebMD, we encountered more than 900 customer reviews for Prelief's supplement, who had cumulatively given it an average rating of about 4.6 stars. Common compliments tended to reference effectiveness at reducing acid-related flare-ups, as well as symptoms related to interstitial cystitis, along with competitive price.
On the other hand, the relatively few complaints frequently related to no results.
Are There Other Acid Reflux Supplements Competing With Prelief?
While we didn't encounter any other dietary supplements specifically marketed toward the cessation of acid reflux (remember, though, Prelief's manufacturer technically doesn't make this claim, either), we did come across several others promising to provide relief from the side effects it causes, such as heartburn and nausea.
A handful of examples include:
Renew Life Formulas Heartburn Stop ($14; calcium and magnesium)
Enzymatic Therapy Acid-A-Cal ($12; calcium, magnesium, ammonium chloride)
Terry Naturally Acid-A-Med ($20; calcium, magnesium, ammonium chloride)
Pure Encapsulations Heartburn Essentials ($51; gamma oryzanol, deglycyrrhizinated licorice)
Tummy Zen Total Heartburn Relief ($6; calcium, zinc, copper)
Life Extension Esophageal Guardian ($27; calcium, magnesium, potassium)
JavAcid ($34.50; DGL, calcium, vitamin D, and naturally resistant maltodextrin and prebiotic fiber)
During our research, we even encountered generic calcium glycerophosphate supplements for as little as $16 per 120-capsule bottle. And this is to say nothing of common over-the-counter antacid medications like Tums (calcium carbonate), baking soda (sodium bicarbonate), Prilosec (omeprazole), Zantac (ranitidine hydrochloride), and Pepcid (famotidine).
Given all of these different formulations and price points, how can you make the most informed decision possible? It might largely come down to which option works best for your individual symptoms—with the help of your primary care physician, of course. How so?
Geek.com points out that if you're especially susceptible to diarrhea, you might want to avoid products containing magnesium, while those suffering from constipation might be wary of antacids containing aluminum.
Outside of this, interviewed for a Health.com article, Mitchell Cappell, MD, Ph.D., chief of gastroenterology at Beaumont Hospital in Royal Oak, Michigan, points out that antacids like these have been around for decades, are relatively inexpensive, work quickly, and are typically effective for relieving reflux-related heartburn.
You can also take them long-term, and there often aren't many side effects, "But you have to take a lot of antacids because they are not as powerful as other heartburn remedies," he emphasizes.
As a result, if you're experiencing ongoing (or especially painful) heartburn, you'll certainly want to speak with your doctor about exploring potentially stronger remedies. In the meantime, what should you do when it comes to Prelief?
Will Prelief Address Your Acid Reflux & Heartburn?
The bottom line is that Prelief comes from a company with many years in business, and who stands behind their supplement with a 30-day refund policy, regardless of the retailer you purchase from. On top of this, it comes with an overwhelmingly positive online customer reputation.
Just remember that frequent or especially painful heartburn could be an indication of more severe health concerns. So, if this is something you're experiencing, be sure to make an appointment with your doctor.
And while you're there, inquire about whether or not a calcium glycerophosphate antacid supplement like Prelief might provide meaningful relief, based on your specific diagnosis.
4 out 4 people found this review helpful

Prelief guarantee

By Ami M.

,

Florida

,

Jun 7, 2019
Verified Reviewer

I have used the Prelief tablets whenever I ate proteins which seemed to make my IC worse. I was pleased with the results as long as I took them right before or right after I ate. I found a powder Prelief for coffee and wanted to try it for my coffee. The guaranteed satisfaction is not true. I called the "if you have questions" number and it seems there is only one person, Kim, that works there. I called back and she told me I would only get her. I asked if I sent a message online, she said it came to her. The powder Prelief would curl my cream. Kim told me she had no information on that and that I could google it to find out what I could do about it. I let her know I was wasting my packets trying alternate ways to put it in my coffee and she said to use it for other things so as not to waste it. I bought it specifically for coffee. She said, "I don't know what to tell you". I have tried contacting several times before online, which was never answered or emailed back. I am just writing this now before I put it out for other consumers to read. Don't buy Prelief packets for your coffee and don't expect that they are satisfaction guaranteed.

Bottom Line: Yes, I would recommend this to a friend

---

Advertisement

---