Pressure Air Fryer by Emeril Lassage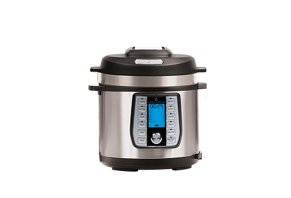 The Emeril Pressure Air Fryer is a two-in-one pressure cooker plus air fryer that is much faster than conventional cooking and claims to give food a crispy outside, while maintaining a juicy inside.
Pressure Air Fryer by Emeril Lassage Reviews - Is It Worth it?
By combining the speed pressure cooking offers and the "guilt free crunch and crisp of air frying," the Emeril Pressure Air Fryer is a stainless steel versatile 12-in-1 air fryer and oven.
A dual-lid works by the first lid acting as the pressure cooker, while the second lid features a "turbo air fan" with a heating component that fries food with "superheated air."
Represented by Emeril Lagasse, who is an award winning famous chef and TV personality, this Pressure Air Fryer is a new version of the various "As Seen On TV" products, under Tristar Products, a 25-year old company.
Using the Emeril Pressure Air Fryer can be a good option for family meals, as you simply load in the ingredients and the cooker automatically goes into the "keep warm" mode once the food is ready.
It also has 44 presets for a variety of meals and is free from "non-stick" chemicals like PTFE (polytetrafluoroethylene), aka Teflon & PFOA (Perfluorooctanoic Acid).
Once you are done using the Pressure Air Fryer, you turn it off and unplug it and then you load the cooking pot into the dishwasher, or wash it by hand.
As we examine the Emeril Pressure AIr Fryer, we will consider it as a family-friendly option for healthier meals that are quick to prepare.
How Much Does The Pressure Fryer Cost?
You can buy the Emeril Pressure Air Fryer 6QT for $119.97 or three payments of $39.99 plus $19.99 S&H on the fryer's official website, PressureAirFryer.com.
You also have the 8 QT option for $147.97 or three payments of $39.99 plus $19.99 in shipping charges.
Your purchase includes the following:
Pressure air fryer unit
Pressure cook lid
Air fry lid
Stainless steel mesh basket
Stainless steel airflow stacking rack
Stainless steel pot
Recipe book
If you upgrade to the Deluxe Accessory Kit for $39.96 it includes a glass lid, steam basket, springform pan and a baking pan.
The website also offers a 6-Year Protection Plan, which is an additional $30 and covers not only accidents but also the usual wear and tear of the equipment. Also, there is a 60-day money-back guarantee on all purchases.
How The Pressure Air Fryer Compares To Other Air Fryers
The Emeril Pressure Air Fryer is one option among many other air fryers. One example is the The Power Air Fryer XL whose listed price for the larger eight quart size was $159.99 at the time of writing.
The Power Air Fryer XL comes in two size options: six or eight quarts. It is a 7-in-1 cooker as well as a dehydrator and rotisserie, which offers 360-degree air circulation.
The items included are:
3 air-flow racks
10 stainless-steel skewers
XL rotating mesh basket
Rotating rotisserie spit
Oil drip tray
Three recipe books
Reviewers on Amazon rate this product with an average of 3.8 stars, with positive feedback stating it was "super easy to use and clean up," a "great product," and the "food tasted amazing."
On the other hand, many recent comments were fairly negative, claiming the air fryer was "poorly designed," "cook times are longer than stated," and even that it, "suddenly stopped working."
People also pointed out that there is only a 60-day warranty, which for certain customers the air fryer broke outside of this window of time and so they lost the warranty and their money.
Another option is the Cosori Air Fryer, which was $119.99 for the 5.8-quarts size on Amazon.com at the time of writing.
It's a square design versus the Emeril Pressure Air Fryer's round shape. It features an LED touchscreen and a 5.8-quart capacity, which can serve three to five people It also comes in a smaller and cheaper 3.7-quart size.
The Cosori Air Fryer comes with a detachable fry basket and pot, free from BFOA and BPA, and is safe for the dishwasher. The fryer comes with a recipe book, too.
It is highly rated on Amazon with an average rating of 4.7 stars, calling it a "beautifully designed," "awesome air fryer," and "extremely accurate."
A few people said they were disappointed with the product and it smells of "burning plastic" when working.
The Cosori Air Fryer comes with a 90-day money back guarantee, as well as a 2-year warranty, which many people found generous compared to other such products.
The warranty was a big bonus on the Cosori Air Fryer and the reviews were elaborate in praise of this product. Conversely, the Power Air Fryer XL had more than a few negative aspects, a main complaint being that the money-back guarantee seemed "hidden" and not long enough.
When compared to the Emeril Pressure Air Fryer, the Power Air Fryer XL and the Cosori Air Fryer produce the same kind of beneficial results of frying food without the use of excess oil, thus cutting the calories from fat by a good amount.
The main difference is simply the fact that the Emeril Pressure Air Fryer combines the added pressure cooking aspect whereas the competing brands are only an air fryer.
Pros And Cons Of Air Fryers
There are many benefits with using a air fryer compared to a traditional deep fryer, foremost being that the smoke element is contained because of the air-tight closings on air fryers. A few more notable benefits are listed below.
One of the phrases that stands out with the Emeril Pressure Air Fryer is that it makes fried food without the "guilt."
The Cosori Air Fryer specifically advertises that by using their air fryer you get "85% less fat," as opposed to deep frying, while keeping the "crunch" people so enjoy in fried food.
According to Carrie Forrest, MPH, who is the Creator of Clean Eating Kitchen, air fryers' strengths also include convenience, because, "you don't have to heat up your entire oven, so it's more energy efficient," and "it re-heats food so wonderfully without the sogginess you would get with a microwave."
On the other hand, Forrest adds that, "you can't make everything in an air-fryer, it's really only good for baking."
And though you can make decent sized meals from three to five people, an air fryer cannot contain as much food as a conventional oven.
Additionally, eating from an air fryer does not mean that you are eating a nutritious meal, even if it does cut fat. You do still need to be mindful of eating a balanced diet.
With the many benefits an air fryer can provide with being a versatile "guilt-free" alternative to deep frying food, it is important to also eat conscientiously despite the air fryers convenience.
Our Conclusions About the Pressure Air Fryer
After considering the possibilities and different aspects that the Emeril Pressure Air Fryer presents, it seems like a great appliance to have at your disposal.
Reviews of similar air fryers varied in positive and negative feedback, with the Cosori Air Fryer being a bit better received by Amazon customers than the Power Air Fryer XL.
With a heightened recognition of the need to eat better, air fryers are a healthy alternative to food preparations that require a lot of oil and additionally can release strong odors in the home. An air fryer also makes clean up a lot easier.
The Emeril Pressure Air Fryer can be a good tool for a variety of reasons, with the plethora of presets for different kinds of meals. It is also unique in not only being an air fryer, but also works as a pressure cooker, which makes meal preparation more versatile than what you'd get with only an air fryer.
---
Super disappointed

By Karen K.

,

Denver, CO

,

Jul 7, 2020
Verified Reviewer

Length of Use: Less than 3 months

Overall Experience:

Overall experience:

If there was a choice not to leave any stars I would not leave a single one as they do not deserve one.

Customer service is the worst ever.

I got this product with high expectations of enjoying all the features. I was so excited about making the fried chicken, went and purchased all the stuff, got hope, opened the box all happy just to be disappointed as hell to see that there was no rack to be able to make the chicken. If you're going to advertise it when you are cooking with it then it should be included. Oh and the cookbook, what a joke that was too.

So this big huge machine that should cost this much is now going to cost this much because you now have to purchase all of these accessories separately, which they don't mention any of that in the commercial (and to me that is false advertising).

Oh and customer service rep she tried to offer me a $30.00 credit and I could give the POS to a friend or family member, um, really, a $30.00 credit, WOW! Is this because you don't want to admit that it is a false advertisement showing accessories but not telling the public you have to order them separately.

I feel extremely cheated buying this product that needs accessories to make it work as intended.

Shame on Emeril Lagasse and his business.

I would not buy any of his products again or have to deal with his terrible customer service, as a matter of fact, I am eating the cost of having to send it and send back, but lesson learned.

Pros and Cons:

No "pros" were specified in this review
Terrible service

Bottom Line: No, I would not recommend this to a friend

---

Beware, all accessories did not come with unit and initial price and purchasing them is really a big problem

By Stephen N.

,

Saint Paul, MN

,

Jun 15, 2020
Verified Reviewer

Length of Use: Less than 3 months

Overall Experience:

I will go so far as to say that when you want to order the pressure air fryer they are quick to pick up the phone and take your order every time when the power air fryer was reasonable. Now the nightmare begins! Upon unpacking and reviewing my purchase I find that many of the accessories I want to use my power air fryer are not included in the initial price. Okay, I guess I'll have to eat that problem. Then I contacted the order phone number again on May 27th and ordered the chicken basket, steam basket, the everyday cookbook, and the double rack so that I can cook chicken. Today, June 12th, the product still hasn't arrived so I contacted customer service at TriStar who makes this product. They gave me a delivery time on the accessories as July 8th. I couldn't believe that one! The gentleman I talked to could not really do anything to improve the situation so I asked to speak to his boss. He will not connect me to his boss so I assured him that he and his company and his boss can either deal with me and speed up my order or deal with the attorney general of my state when I file a complaint. I can't believe how long this takes but they're quick to take your order. I'll never go through this again. This is the worst experience purchasing a kitchen appliance of any kind that I've ever had in my life.

By the way, if anybody reading this comes across Emeril Lagasse or anyone from TriStar please unload on them for me, tell them how much they really suck.

Pros and Cons:

No "pros" were specified in this review
Can't use it yet
Accessories not included and customer service is terrible

Bottom Line: No, I would not recommend this to a friend

---

Advertisement

---

HORRID

By William N.

,

Florida

,

May 26, 2020
Verified Reviewer

Overall Experience:

Who designed this thing. It does not cook as requested. When it is cooked you can't remove it safely from the container. It will be put on the shelf with my old bread maker and never used again.

Bottom Line: No, I would not recommend this to a friend

---

Extremely disappointed in customer service

By Lisa P.

,

Derry, NH

,

Apr 29, 2020
Verified Reviewer

Overall Experience:

I purchased your Pressure Air Fryer Plus on 2/22/20 at Walmart in Derry, NH. We have been using it for a little over 2 months and had loved it. Last night it gave us an error code "E4" mid cook cycle. It wouldn't go away even after unplugging the unit and will not work at all. The book that came with the unit says if you see this code to call customer service. I did in fact call customer service and spoke with a woman on 4/27/20 at 2:18 pm after waiting on hold for 37 minutes. She informed me that there was nothing she could do as I was out of the manufacturer's warranty of "60" days. Now everywhere I read on your tristarcares.com website states "if not completely satisfied you may receive a full refund within 90 days." Hmm, not what she was telling me. I am very upset that I have only owned this product for a little over 60 days (5 to be exact) and loved it and used it multiple times per week and now it won't work. So basically I paid $127 for an item that only lasts 2 months. Extremely disappointing! I hope no one else runs into this issue. Nowadays working families are trying to make ends meet and when we spend a little more money on an item that we are sold on that is amazing you would hope that the company would stand behind its product.

Shame on you!

Bottom Line: No, I would not recommend this to a friend

---

Advertisement

---

Big, expensive pain

By Beverly S.

,

Arkansas

,

Apr 25, 2020
Verified Reviewer

Overall Experience:

Got this for Christmas, husband purchased it at Sam's Club, but it didn't come with the "kit." Ordered all the kit pieces online at the end of December. Never came. Finally got a postcard in March asking if I wanted to cancel the order. I had to send it back to let them know I still wanted it. What the heck? Sent it back stating that I still wanted it. Then they sent another postcard letting me know I'd be getting SOME of it, but that they had canceled the other part. I FINALLY got the rest of it in April. Four months after ordering. Used it last night and followed the directions precisely but it didn't cook the chicken through. Had to cook it a second time to get it to 165. It finally finished cooking after we ate the fast food my husband went and picked up because the chicken wasn't done. I'm MAJORLY disappointed because I thought that the Emeril Lassage name on it meant high quality.

Bottom Line: No, I would not recommend this to a friend

---

Disappointed

By Rebecca L.

,

Utah

,

Mar 7, 2020
Verified Reviewer

Overall Experience:

I saw the TV presentation and thought the Emeril Pressure Cooker/Air Fryer would be great for quick meals. I've tried to cook in it twice and both times there is a strange odor that is not appetizing at all. This doesn't even address the hard to read directions in the few recipes that are included. I am a plain cook, not a chef that uses all those fancy recipes, and I have no way to find out how to cook just plain food. There are other websites but the directions don't apply to this machine. A lot of money for grief!

Bottom Line: No, I would not recommend this to a friend

---

Piece of junk

By Robert N.

,

Selinsgrove, PA

,

Feb 13, 2020
Verified Reviewer

Overall Experience:

We used this thing one time and could not use it again. We followed instructions fully and pressed all the buttons to start but LID light kept coming on. We made sure lid was on correctly but to no avail. Will never use again, a piece of junk, will set it out for yard sale or take to the dump.

Bottom Line: No, I would not recommend this to a friend

---

SHAME ON THIS COMPANY

By Carmen V.

,

Hallandale, FL

,

Dec 30, 2019
Verified Reviewer

Overall Experience:

I got this product with high expectations of enjoying all the features. Short after opening the box, I got very disappointed to find out that the air fryer accessories are not included and not mentioned in the box.

I feel cheated to buy a product that needs accessories to make it work as intended.

Shame on Mr. Lassage and his business.

I will not but his product again.

Bottom Line: No, I would not recommend this to a friend

---

Huge disappointment

By Melissa C.

,

San Antonio, TX

,

Dec 28, 2019
Verified Reviewer

Overall Experience:

Bought this for my daughter for Christmas. We used it to make chicken legs one night in the air fryer. Ok. Then used to make turkey legs. Unit quit before the timer was off and wouldn't turn back on. Waited an hour to see if it was ever heated. Nothing. Will attempt to take back to Sam's where I bought it. I'll let you know. She wants to try another one. We shall see.

Bottom Line: No, I would not recommend this to a friend

---

Unsatisfied with customer service return

By Jeffrey H.

,

Hanover, PA

,

Nov 14, 2019
Verified Reviewer

Overall Experience:

Ordered the pressure cooker/air fryer. Very unhappy with the way it was advertised. It did not meet the expectations of its advertisement. Should not have to be responsible for return shipping on a product that did not meet the product advertisement. Customer service not willing to work with me in order to cover the cost to send back, very disappointed!

Bottom Line: No, I would not recommend this to a friend

---

Great!

By Victor T.

,

Ohio

,

Aug 15, 2019
Verified Reviewer

Overall Experience:

This product does exactly what it says. Instructions are easy to understand. This is a lifesaver, truly healthy eating. I just got mine yesterday! No odors in the house. No smoke in the house and it looks great!

Bottom Line: Yes, I would recommend this to a friend

---