Primatene MIST Inhaler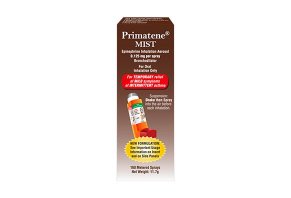 Primatene MIST is an over-the-counter inhaler that the makers claim can counteract mild or intermittent asthma attacks using epinephrine.
Primatene MIST Inhaler Review: Warnings and Safety, Usage
Medically Reviewed by Jason Reed, Pharm.D.
Primatene MIST is an epinephrine-based, over-the-counter (OTC) asthma inhaler intended to treat minor asthma attacks.
The inhaler was out of production following government restrictions on products that used chlorofluorocarbons to spray (known as a "propellant"). It returned in 2019 after its manufacturer switched to a different propellant. The change had nothing to due with Primatene MIST's active ingredient, epinephrine.
Amphastar Pharmaceuticals is the company behind Primatene MIST. In order to put their inhaler on the market again, they had to get approval from the Food and Drug Administration. They did so this past year, with the FDA releasing a statement announcing their approval.
"Primatene MIST is approved by the FDA to provide temporary relief for symptoms of mild, intermittent asthma," a section of the statement read.
In our review, we will discuss how Primatene MIST works, who it is good for and who shouldn't use?, possible side effects and warnings from the FDA, Healthline and WebMD.
How Primatene MIST Works
As we mentioned at the outset of our review, Primatene Mist uses epinephrine. According to Amphastar, each canister of Primatene MIST includes 0.125 milligrams of epinephrine per inhalation (11.7 grams total per inhaler), a drug they classify as a "bronchodilator," which is a medical term for a something that opens up your lungs.
This effect is an important one for asthma sufferers, whose lungs often close up and cause wheezing, chest tightness and shortness of breath, according to Amphastar.
Epinephrine counteracts those symptoms by expanding your airway, tightening your blood vessels, increasing your heart rate and increasing the force with which your heart pumps blood, said Dr. Jason Read, a pharmacist and HighYa medical advisor.
Before your first use of Primatene MIST, the directions say to shake and spray the inhaler four times.
With this step completed, you're ready to use your inhaler. When you need to take a dose, you'll remove the red cap, shake it and then shoot one spray into the air. Exhale completely, then place the inhaler in your mouth. The directions go on to say that you need to, "inhale deeply while pressing down," on the inhaler. Continue to take a deep breath, hold it as long as you can and then exhale.
Primatene says you should wait 1 minute to see if the treatment worked. If not, they say you can take a second treatment according to the directions above.
You should wait four hours between doses and should never take more than eight inhalations per 24 hours.
They also recommend running the inhaler's mouthpiece through water for 30 seconds after use.
The product's directions indicate that the medicine is intended for those who are 12 years old or older. Amphastar says that they do not know if, "the drug works or is safe in children under 12," which is why they tell you not to use it for children under 12.
Also, the directions indicate that you need to store the inhaler in temperatures between 59 degrees and 77 degrees. Based on this, we recommend not storing your inhaler in your car, especially if you live in warm climates.
In addition to the above directions, Reed says it's recommended to use a spacer with your inhaler because it allows you to get your entire dose of epinephrine.
Pro tip: Each inhaler comes with a meter on it that tells you how many sprays are left in the canister.
Who Is a Suitable Candidate for Primatene Mist?
Both Amphastar and the FDA make it clear that Primatene MIST is intended for those who have been diagnosed with "mild, intermittent asthma." A good example of this would be exercise-induced asthma.
The FDA said in their press release about Primatene MIST's approval that the product is meant for a small percentage of the population.
The scientific information we reviewed to approve the new version of OTC Primatene Mist shows there is a narrow population of those diagnosed with asthma that may benefit from having access to this type of OTC asthma inhaler," the FDA wrote.
This is an important distinction to make. Both the FDA and Amphastar make it clear this product is not intended to be a replacement for a prescription inhaler, nor is it intended for those diagnosed with severe asthma.
Before you buy Primatene MIST, you need to remember that every person is different and that your symptoms can change over time, which is why the FDA recommends that you talk to your doctor before using Primatene MIST.
"It's important that consumers discuss asthma diagnoses and treatments with their health care providers before using any new asthma product, including an OTC product, and they should not stop the treatment currently being used without talking to them first," the FDA noted. "This is especially important because some prescription asthma medications are used to control the inflammation that causes asthma symptoms to develop and these medications must be used on a regular basis to be effective."
Primatene MIST Side Effects and Warnings
According to the FDA, Primatene MIST has no serious side effects. In their explanation of why they approved the over-the-counter asthma treatment, they said they could find no research-based evidence of serious side effects.
"For the right patient, our analysis of the data, including new information that was developed since this product was previously on the market, shows that there are no serious safety concerns when Primatene Mist is used as directed," the FDA said.
That being said, Amphastar provides a list of disclaimers about how the treatment could affect those with specific conditions.
For example, they note that because the inhaler increases your heart rate, it could increase your risk of heart attack or stroke. Also, high blood pressure is a side effect, as well as agitation and sweating, Reed noted. So, if you have a history of high blood pressure or heart disease, you should be wary of using the product.
Also, you should avoid any food or drink with caffeine in it or supplements containing stimulants while you take Primatene MIST.
Should you experience worsening asthma symptoms, poor sleep, rapid heartbeat or tremors, nervousness and seizures, you should stop using the product and consult your doctor, according to the product's directions.
Aside from the physical effects that the inhaler may have for certain people, there is also concern over another possible drawback of Primatene MIST.
In a 2018 article from Healthline published five days after the FDA approved Primatene MIST, Tonya Winders, president and CEO of the Allergy & Asthma Network, told Healthline she felt the Primatene MIST was more of a detriment to asthma sufferers than it was a benefit.
Her main concern was that people will rely on Primatene to manage their asthma, therefore putting off doctor's appointments and potentially putting themselves in greater danger of a serious asthma attack.
"This newly approved product will be used to mask the symptoms of asthma without addressing the underlying cause. Furthermore, it will likely delay access to appropriate care and could undermine the physician-patient relationship as the doctor will have no knowledge if patients are using Primatene Mist OTC," she told Healthline.
We read the same concerns from Dr. Michael Blaiss, who is the executive director of the American College of Allergy, Asthma and Immunology. He spoke with WebMD regarding his concerns, saying he was worried that allergy sufferers would make it their go-to medicine instead of a stop-gap if you forgot your inhaler on vacation.
"The concern is, if Primatene mist is out there, patients will think, 'I can just take this. I will just keep using this when I need it.' That's where we get concerned, because asthma is a chronic disease," he said.
The FDA anticipated these concerns because they encountered them when speaking with practitioners during their approval process.
"They believed asthma patients could be harmed by self-medicating with an OTC product and that appropriate asthma care included regular care and supervised care by a health care provider," the FDA said.
And this is where both the FDA and Amphastar reinforce the fact that Primatene MIST is intended only for those who suffer from mild and/or intermittent asthma attacks.
Primatene MIST Pricing & Where to Buy
At the time of publishing, Primatene MIST is not sold directly from the company. instead you can buy it from the following store:
Walmart - $27.98 (Online only)
CVS: $24.99
Rite Aid: $29.99
Walgreens: $29.99
Customer Reviews
Twenty-five customers left reviews of the product on Walgreens.com, giving the product an average of 4.4 stars. Most of the comments customers were left were positive. A couple of people complained that the spray counter on the inhaler wasn't accurate. One customer said he or she experienced an allergic reaction to the spray in the form of a sinus infection.
Eight reviewers on CVS' website gave the product an average rating of 4.5 stars. The reviews we read were positive. Those who complained said the product was a bit "pricey" but that it was worth it despite the high price tag.
Albuterol Comparison
Albuterol inhalers are a common treatment for asthma and provide the same benefits of Primatene MIST without the increased blood pressure and heart rate, Reed said.
Also, for those who don't have insurance, the cash price for albuterol inhalers is between $20 and $25.
The Bottom Line on Primatene MIST
Based on our research of this product's directions for use, the FDA's statement regarding its Primatene MIST approval and two separate articles in which health experts cautioned users, we believe there are clear pros and cons.
The positives of this product are that it can provide temporary relief for mild asthma sufferers without requiring a prescription. This is both a money and time saver, as you can drive to any local CVS and Walgreens that has the product in stock. Also, the inhaler gets excellent reviews from those who've bought it.
The downside to Primatene MIST is that its spray counter may not always be accurate. The fact that you can just drive to the drug store to buy a new one mitigates that negative, though.
Also, the FDA made it clear that the product is only intended for a small segment of the population. So, if you suffer from average or severe asthma attacks, this product isn't for you. It is designed for those with mild asthma attacks.
In general, we suggest being very honest with yourself about the product. Are you dealing with asthma-like symptoms? Primatene MIST should not be your first option; talk with your doctor. Also, don't make the mistake of thinking that Primatene MIST is a replacement for your inhaler prescription; both the FDA and Amphastar make it clear that it is not.
Finally, be sure to follow the directions carefully. They will ensure that you cut down on any side effects or dangers and that you use the product as intended.