PrimeLending Reviews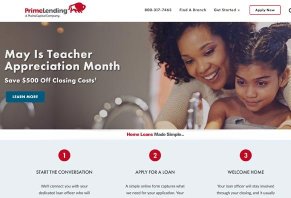 PrimeLending is a Texas-based mortgage lender who offers borrowers refinancing, FHA, USDA, VA, jumbo and conventional mortgages via a country-wide network of loan officers.
About PrimeLending
PrimeLending is a brick-and-mortar mortgage lender whose loan officers provide mortgages to people who want to buy homes.
The company started in 1986, their company history page says, and since that time they've provided mortgages for more than 500,000 homeowners. At launch, PrimeLending had 20 employees.
They now have more than 5,000 employees, over 1,500 of which are loan officers. That growth is due, in part, to the fact that financial institution PlainsCapital brought PrimeLending under its umbrella in 1999.
Todd Salmans is the company's chairman and CEO. Salmans has been in the financial services industry for more than 20 years, serving in a vice president capacity at CTX Mortgage and First Union/Wachovia before joining PrimeLending in January 2006.
The company can provide loans in all 50 states and offers a variety of mortgage and refinancing options, including FHA, VA, Jumbo and USDA mortgages at fixed and adjustable rates.
As someone who has gone through the mortgage process myself, I can tell you that it's very important to choose a lender with whom you're comfortable.
The best way to figure that out, assuming you have multiple options for the type of mortgage or refi you can get, is to research what the lender offers, what fees you might have to pay and what other homeowners are saying about the company.
We're going to break down each of those topics in the next few minutes we have together, starting with the types of mortgages PrimeLending offers.
PrimeLending Funding
As we mentioned earlier, PrimeLending gives homeowners four different kinds of mortgages in fixed-rate and variable-rate forms.
FHA Mortgages
PrimeLending's FHA mortgages are mortgages that are insured by the Federal Housing Administration. In other words, the FHA insures a certain percentage of the loan paid for by your lender.
One of the great things about this loan, PrimeLending's website points out, is that you can make a down payment with as little as 3.5% and rates, though higher than a conventional mortgage, is still pretty reasonable.
Another advantage to the FHA loan is that, assuming you pass debt-to-income and credit requirements, PrimeLending can help you get a 203(k) renovation loan if you need extra cash to rehabilitate the home you're going to buy.
VA Mortgages
One option that active duty or veteran members of the military have is the VA mortgage, a loan that PrimeLending offers to borrowers.
The VA mortgage is designed to give veterans an easier way to own a home through the following features of the mortgage:
No down payment is required
No private mortgage insurance
Caps on closing costs
No penalties for early payoffs
These all present huge advantages, as, for example, a $200,000 mortgage with a down payment and closing costs could total up to more than $10,000.
Members of the National Guard can get a VA loan as long as they've done six years of service and received an honorable discharge, listed as retired, transferred to standby reserve or continued service in the selected reserve, PrimeLending says.
Jumbo Mortgages
As PrimeLending explains it, jumbo mortgages are mortgages given for homes that exceed $424,100. There are a few exceptions to this – homes in Hawaii and Alaska, for example – in which that minimum can go as high as more than $700,000.
USDA Mortgages
Mortgages from the USDA are reserved for homes located outside of urban areas. The loan is designed to, according to PrimeLending, "provide a mortgage alternative to rural property buyers who had limited financing options."
Like the VA loan, you don't need to make a down payment and interest rates are pretty low. Also, according to PrimeLending, the USDA mortgage has some of the lowest mortgage insurance rates "of virtually any mortgage financing program."
You can check the USDA's mortgage map to find out which homes are eligible for the program and which homes aren't.
Pro tip: There's a cap on how much the home costs, so make sure you check the USDA's guidelines for the area in which you want to buy a home with PrimeLending.
Conventional Mortgages
PrimeLending also offers conventional mortgages, which are mortgages not linked to a federal organization like the FHA, USDA.
The mortgages usually don't have the requirements that you'd get with a federal loan like the FHA, which, realtors will tell you, makes the escrow process much tougher.
These mortgages can often be paired with state or local programs that offer down payment assistance. For example, in Florida, the state has a bond program that offers up to $15,000 in down payment and closing cost assistance.
Check with lenders about these programs, as they can often provide you with advantages you can't get from an FHA or USDA loan.
Mortgage Refinancing
PrimeLending also offers refinancing of your current loan, and they can do it for conventional mortgages or any of the government-backed mortgages we listed above.
Keep in mind that rates and fees for refinancing tend to be a little higher than what you'd pay for a non-refinance mortgage.
PrimeLending Application Process
If you're interested in using PrimeLending as your mortgage lender, you'll have to fill out an application in order to get "pre-qualified" for a loan. Consider this a preliminary application you'll do before you make an offer on a home.
Pre-Qualification
Pre-qualification is important for a couple of reasons. First, your pre-qualification shows you how much money, more or less, you'll get to buy a home and it will give you a rough estimate of closing costs and your interest rate.
Second, most realtors selling a home won't accept an offer from you unless you have a prequalification. The "pre-qual" is evidence that a bank is willing to lend you money to buy the home.
To start your mortgage with PrimeLending, you'll have to connect with a loan officer either through a local office or by way of their website.
Either way, you'll be connected with a loan officer and, through their specific portal you'll fill out a pre-qualification application that will ask you about your income, your debts and will require you to submit your social security number for a credit check.
Total Cost Analysis & Loan Amount
Once PrimeLending has this information, they'll prepare for you what's known as a "Total Cost Analysis," a document that shows you how much you're pre-qualified for and what your monthly payments would look like if you bought a home in the top, middle and lower end of your price range.
You'll notice that your Total Cost Analysis will include the following disclaimer: "Your actual rate, payment and costs could be higher. Get an official Loan Estimate before choosing a loan."
PrimeLending puts this phrase there so you know that your rates, fees, and various charges could change between the time you get your pre-qualification and the time you get your Loan Estimate, which is a more official estimation of costs given to you after your offer is accepted.
Once your offer is accepted, you'll fill out a full-fledged loan application in which you'll have to provide additional information and documents that specify your income and debts.
Your application will then be sent to PrimeLending's setup team, who will finish off any paperwork you need to sign.
The Final Steps of Your Mortgage
From there, the loan goes to processing and additional documents might be requested.
Once everything is set in processing, your loan is moved on to underwriting, the department who has the final say on whether you're approved for the loan.
Most of the documents you'll need to fill out will be electronic and require an electronic signature, all of which is done easily through emails from your loan officer.
According to PrimeLending, underwriters usually have a decision ready in 24-48 hours and may, in some cases, request more documentation.
PrimeLending Reviews
PrimeLending seems to be a popular lender on Zillow.com, where more than 4,500 reviewers at the time of publishing gave the company an average of 5 stars.
All 10 of the most recent reviews were 5 stars, and 5 of 10 of those reviews indicated that closing costs or interest rates were lower than expected.
Personal finance site NerdWallet gives PrimeLending 4 stars out of 5, saying the company offers "a range of niche home loan products" and has a low ratio of CFPB complaints compared to other lenders.
We went into the Consumer Financial Protection Bureau's database to examine these complaints and found that there have been 33 filed complaints in the past year. Of those 33 complaints, 11 were about conventional mortgages, 11 FHA's, 8 "other mortgages" and a pair of VA loans.
There were several complaints about paying for an appraisal, as well as a complaint that boss at a PrimeLending office promised to refund a customer for the appraisal and inspection they paid for.
Keep in mind that, when you move forward with a home sale, you'll most likely have to pay for your appraisal early on in the process. If your funding falls through, the cost of an appraisal and inspection are lost, in most cases.
Why? Because appraisal and inspection fees are paid outside of escrow so that the people providing these services are paid up-front and not at the end of closing, Realtor.com says.
Our Final Thoughts About PrimeLending
PrimeLending is a typical mortgage lender. They offer common mortgages ranging from conventional, FHA and VA to jumbo and USDA.
These mortgages are the type that you'll see on nearly every non-bank or bank lending site you go to. In that sense, PrimeLending is not all that unique in terms of what they offer.
One of the things that do set apart various mortgage companies are the fees that you'll have to pay in order to get a mortgage. While most mortgage companies charge fees, there are some variations in how much they charge.
However, it's very difficult to compare closing costs of various mortgage companies because those numbers aren't usually advertised on their site and are given to borrowers on a case-to-case basis.
We can say this, though: Expect to pay an underwriting fee and a processing/origination fee, two charges which are common with mortgages.
The Pros of PrimeLending
Considering that Prime offers many of the same mortgages you can get at other lenders, figuring out why this company is better than others is tough.
However, we were impressed with the 5-star average rating it received on Zillow, which is an indication that you could have a really good experience with them when you buy a home.
Aside from that, our personal experience has shown that their online portal through which you fill out your application is simple and easy to use.
PrimeLending's use of electronic signature apps isn't unique, but it does make the paperwork process very smooth.
The Cons of PrimeLending
Based on the research we've done, our personal experience with PrimeLending and the reviews we've read from consumers, we can't really say there's any single downside to using PrimeLending.
That being said, our experience has taught us that a lot of what can make a certain lender painful to use for a mortgage is a breakdown in communication between you and your loan officer.
Don't be afraid to ask questions about your paperwork and be sure you're prompt in signing documents you understand and accept. Also, don't let unsigned documents linger.
Any mortgage experience can go sour if you aren't prepared or you drag your feet when it comes time to sign important documents.
The Final Word: Shop Around
Our main bit of advice about PrimeLending and mortgage lenders at large is to ask several different lenders for pre-qualifications. These pre-quals will be detailed enough to show you what the lender will charge you for their services.
Compare underwriting fees and processing/origination fees for each lender and figure out who is charging you more.
Aside from that, make sure you talk with each company's loan officer. If you don't feel like you'll get along with certain ones, consider using another lender. Communication is key during the mortgage process, so you want someone with whom you're comfortable working.
Final tip: If you aren't set on using a brick-and-mortar lender, make sure you use online mortgage lenders like Quicken Loans to get pre-qualified. It's important to get a wide range of pre-qualifications.
Just remember, though, what you're pre-qualified for isn't always what you'll be approved for. Interest rates and other factors can change within weeks or days.
See Also: Auto and Homeowners Insurance Tax Deductions and Write-Offs