Probiotic America Reviews
Claimed This company has claimed this profile, is getting alerted on any new customer reviews entering this page, and may engage in dialogue with its customers to address their matters.

Companies cannot pay money or provide goods in order to remove or alter customer reviews.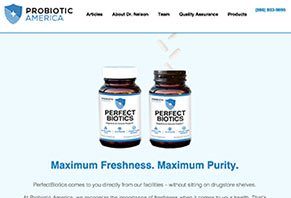 Probiotic America's Perfect Biotics is a probiotic supplement that's claimed to help reduce gas and bloating, increase energy, boost metabolism, and more.
About Probiotic America
Manufactured by Probiotic America, Perfect Biotics is a digestive health supplement that's claimed to designed around "the latest scientific research and cutting-edge technology" to help relieve your chronic fatigue, gas, and bloating.
According to the Probiotic America website, Perfect Biotics is formulated around providing users with an 80/20 "gut equilibrium" between good and bad bacteria, so that you'll experience increased energy, improved metabolism, and many other digestive benefits.
In addition, when compared to the competition, Probiotic America's claims to raise their bacteria cultures in a Wisconsin laboratory, encapsulate and third-party test it in Utah, and then test it a third time upon arriving at the company's distribution center in Southern California. And because they're cutting out the middlemen—and the length of time spent on store shelves, Perfect Biotics is claimed to arrive at your door with maximum freshness and maximum purity.
Ultimately, Probiotic America dubs its Perfect Biotics supplement "the most powerful probiotic on the market." But is this necessarily true, and are Probiotic America's products worth the price? Consider the following:
What Ingredients Does Probiotic America's Perfect Biotics Contain?
Probiotic America claims that Perfect Biotics contains a patented formula of 15 high-quality bacteria strains with 30 billion CFUs (colony-forming units), each with their own unique set of benefits:
Lactobacillus Salivarius – Claimed to protect against cavities and gingivitis.
Lactobacillus Casei – May help inhibit the inflammatory response.
Lactobacillus Plantarum – Possibly helps heal injuries.
Bifidobacterium Infantis – May help improve your immune system.
Bifidobacterium Bifidum – Can help prevent the overgrowth of candida (yeast).
Lactococcus Lactis – Helps metabolize (break down) carbohydrates.
Lactobacillus Paracasei – May help relieve symptoms associated with atopic dermatitis (eczema).
Streptococcus Thermophilus – Possibly helps fight respiratory infections.
Lactobacillus Acidophilus – May help reduce blood pressure and cholesterol levels.
Bifidobacterium Breve – Can reduce gas and other bowel, stomach, and intestine irritation.
Lactobacillus Brevis – May help prevent kidney stones.
Bifidobacterium Lactis – Can improve digestive comfort.
Lactobacillus Bulgaricus – May help "draw away toxins."
Perfect Biotics is claimed to be made in the USA in a GMP facility, without soy, lactose, or gluten. According to the company, most users notice a difference after 4-6 weeks of regular use.
Do Probiotics Provide Any Health Benefits?
Before discussing Perfect Biotics specifically, it's important to note that for the most part, probiotics have a fairly large amount of clinical data showing them to be effective for numerous conditions. These include reducing irritable bowel syndrome symptoms (as well as gas and bloating), increased immune system response, decreased allergic responses, and much more.
For an in-depth look at probiotics and their benefits, be sure to read through our article titled Everything You Wanted to Know About Probiotics, but Didn't Know to Ask.
Are Perfect Biotics's Ingredients Effective?
With this said, even though lactobacillus and bifidobacteria have been shown to provide some benefits for the majority of people who use them, this doesn't necessarily mean your health will significantly be improved, or that you'll experience everything claimed by Probiotic America.
For example, although one of Perfect Biotics's claimed benefits is increased carbohydrate metabolization, this doesn't mean you'll be able to eat all the bread you want, or that you'll lose weight if you don't. Also, although one study may have shown some probiotic strains could help promote healing, this doesn't mean you'll experience a noticeable reduction in healing time if you were to sustain a severe injury tomorrow.
In short, you're much more likely to experience relief from constipation, gas, bloating, and other types of digestive upset, and possibly from eczema, using probiotics (Perfect Biotics or otherwise) than you are some of the others claimed on the supplement's website.
Does Probiotic America Cause Any Side Effects?
According to WebMD, most people who take probiotics do not experience any side effects, and those that do are generally mild. These include digestive upset, bloating, or gas, although these should subside within a couple days as your body adjusts to the increased bacteria levels.
SEE ALSO: The Side Effects of Probiotics: What to Watch for, When to Talk To Your Doctor and When You Should Say No
Are Customers Finding Relief with Probiotic America?
Perfect Biotics is manufactured by Probiotic America, LLC based out of Woodland Hills, CA.
The company appears to be very new, as their trademark was filed in October 2014 and their website URL was registered in January 2015. As such, Probiotic America wasn't listed with the Better Business Bureau at the time of our research, and no online customer reviews were available.
However, more than 200 HighYa readers have provided feedback on the popular probiotics noted above, and gave them an average rating of almost 4 stars. Common compliments included reduced gas and bloating, increased regularity, and an improved metabolism. On the other hand, the most common complaint was failure to work.
Granted, this may not be what you'll experience with Probiotic America's supplement, but it's always helpful to know what consumers are saying about the competition.
Probiotic America Pricing & Refund Policy
Perfect Biotics from Probiotic America is priced as follows:
1 Bottle: $46.99 plus $4.95 S&H
3 Bottles: $119.82 plus free shipping
6 Bottles: $221.94 plus free shipping
Since writing our original review, Probiotic America released a second product named Perfect Digest (more about this in the next section), which is priced as follows:
1 Bottle: $29.95
3 Bottles: $76.37
6 Bottles: $141.96
Note: According to Probiotic America's Terms & Conditions, an autoship program is available that provides regular shipments (once per month) of Perfect Biotics to your door. However, we were not presented with an autoship option when checking out, and no additional information is provided on the supplement's website.
All Probiotic America purchases come with a 90-day refund policy, although you will be required to send the empty bottles back to the manufacturer. In order to request a refund or cancel your autoship enrollment, you'll need to contact customer service at (866) 803-9895.
What's Different Between Perfect Biotics & Perfect Digest?
Instead of supplying your body with beneficial bacteria like Probiotic America, Perfect Digest supplies a blend of 16 different enzymes:
Amylase 20,000 DU
Diastase 20,000 DP
Bacterial Protease 50,000 HUT
Glucoamylase 50AGU
Fungal Protease 20,000 HUT
Alpha-Galactosidase 500 GALU
Lactase 750 ALU
Cellulase 1,500 CU
Beta-Glucanase 50 BGU
Lipase 2,400 FIP
Xylanase 1,000 XU
Pectinase 50 endo-PGU
Acid Protease 20 SAPU
Phytase 10 FTU
Invertase 500 SU
Hemicellulase 500 HCU
By taking one capsule daily, Perfect Digest claims to help breakdown food and support healthy digestion, leading to reduced gas and bloating, along with increased nutrient absorption from food. Is there any evidence these enzymes will accomplish this?
First, enzymes digest food by attaching themselves to particles and breaking them down so that you're body can absorb the nutrients they contain. To this extent, different enzymes are responsible for breaking down different kinds of food; amylase for carbohydrates, bacterial protease for proteins, lactase for milk products, lipase for absorbing fat, and so forth.
But does this necessarily mean that adding more enzymes to your diet—or taking an enzyme supplement like Perfect Digest (or any of the other supplements we've reviewed, like Prolazyme and Zymbiotix)—will provide any benefits claimed by the company? Here's how a 2013 US News article puts it:
"In considering whether taking supplemental digestive enzymes may be beneficial, one should recognize that the term 'digestive enzymes' is a catchall that includes a variety of compounds with different purposes—similar to "vitamins' or 'probiotics.' Just as we can't draw sweeping generalizations about whether taking vitamins is beneficial (it would depend on which vitamin in which individual), so too with digestive enzymes: It depends on which enzyme and in what population."
For example, do you have a pancreatic insufficiency? Lactose intolerance? A high fiber diet? In any of the instances, taking specific enzymes could aid in the digestion process. But overall, there's a lack of clinical evidence showing that general enzyme supplementation can reliably provide improved digestion in all individuals.
Who is Dr. Cary Nelson?
Dr. Cary Nelson is a board certified physician who graduated from the University of Guadalajara in 2000, and who has specialized in family medicine and aesthetic medicine for the past 12 years. In that time, Dr. Nelson has been the recipient of numerous awards, including a Patients' Choice Award five years in a row, a Top 10 Doctor in the city of Torrance, and more.
Today, Dr, Nelson uses his training in laser techniques, skin rejuvenation, and anti-aging to help his patients achieve the look their desire. Because of this, most patients seem pleased with the care he provides, whether at his South Bay Family Medical Group practice or at Torrance Memorial Medical Center.
Despite his background in medicine, Dr. Nelson suffered from digestive health issues for much of his life. In fact, he claims that these problems were so common that he thought it was "just the way [his] body worked."
It wasn't until he was an adult that Dr. Nelson began supplementing his diet with probiotics, which he claims opened his eyes, improved his digestion, and turned him into a much happier and healthier person. Now, with Probiotic America, he's able to focus on formulating "cutting edge probiotic supplements" based on "the latest nutritional breakthroughs" that could very well help you bring your digestive system back into balance. After all, like Dr. Nelson, you might not even realize that you're suffering in the first place!
Should You Purchase Probiotic America's Supplement?
Chopping to the Point: Overall, probiotics have helped millions of people find relief from a variety of "gut" issues, including gas, bloating, IBS, diarrhea, and much more. Because of this, many of the strains contained in Probiotic America could possibly help you experience the same.
However, it's important that you put your expectations into perspective. In other words, if you think taking Perfect Biotics will automatically send your immune system through the roof; that your stomach problems will be a thing of the past; or that you'll have perfect oral health, you're bound to be disappointed. On the other hand, if you want relief from mild to moderate bloating and gassiness, probiotics such as Perfect Biotics may help. Just be sure to speak with your physician first.
Finally, because there are so many probiotics from which you can choose, including multiple ones at your local pharmacy—many of which are priced lower than Perfect Biotics, you might want to search near your home first. And don't worry; many modern probiotics manufacturers include proprietary technology to ensure your bottle contains the maximum number of CFUs, regardless of how long it's been sitting on a store shelf.
SEE ALSO: Probiotics 101: Their Benefits, How They Work, & Foods That Contain Them
This company is actively collecting reviews from its customers. All reviews submitted are subject to moderation and approval to ensure they meet our

Review Guidelines

.

Love Perfect Biotics

By Melinda H.

,

North Carolina

,

Dec 5, 2019
Verified Reviewer

Since I began taking Perfect Biotics, I have been regular on a daily basis. As most women, before taking Perfect Biotics, I was most always constipated. I am so thankful to have found Perfect Biotics. My mother and my aunt are now taking them with great results also. My aunt is 93 and feeling better than she has in years thanks to Perfect Biotics!

Bottom Line: Yes, I would recommend this to a friend

---

Health

By Betty D.

,

Chico, CA

,

Sep 28, 2019
Verified Reviewer

I've taken these probiotics for a few years now (can't remember how long) and in all that time, I've never had colds or the flu, and I never get the flu shots. I think it's true that if you have good gut health, you're more likely to have good overall health.

Bottom Line: Yes, I would recommend this to a friend

---

Advertisement

---

I feel better

By Sheila B.

,

Honolulu, HI

,

Jul 2, 2019
Verified Reviewer

Since starting taking it, I have felt much better. Not sure if it's this and/or some other changes I have made to my diet, but I do feel better. I know that I have been taking this for at least the past year or so. I have a very sensitive stomach so I was a bit concerned at first but as long as I continue to feel well, I will continue to take it.

Bottom Line: Yes, I would recommend this to a friend

---

Probiotics

By Lillian M.

,

Miami, FL

,

Jun 19, 2019
Verified Reviewer

I have been using probiotics for 6 months now; after suffering from constipation all my life, it's the first time I am going to the bathroom regularly. Additionally, you can expect great service and promptness with your orders and delivery.

Bottom Line: Yes, I would recommend this to a friend

---

Advertisement

---

More benefits

By Keith C.

,

Vancouver, WA

,

Feb 22, 2019
Verified Reviewer

Initially, I just wanted a better digestive system. I am almost 50. I think it was doing something, it challenging to know my insides. I had combined it with a couple other of your products too to help the same. But, I noticed something about two months into taking the supplements, my skin condition psoriasis, had gone away. Something I suffered from for 35 years all over my body, was gone. It stayed gone for a year until I ran out of the supplements. Then it started coming back and I went back on probiotics and it went away again. I am not taking any other meds to treat it and give full credit to the probiotic supplements. Thanks.

Bottom Line: Yes, I would recommend this to a friend

---

Healthy living

By Colleen D.

,

Tyler, TX

,

Jan 21, 2019
Verified Reviewer

I have been using this product for two years and I have been healthier than ever. I don't get sick, I have more energy, and my digestion has been remarkable! My probiotic has been the changing factor for me as a 54-year-old woman. I have also been able to lose weight and maintain, which is what I need working in a hospital with crazy schedules, being on call as well as being a wife and grandmother keeping up with active children. I want to take this time to thank Probiotic America for caring for people and helping me stay active and healthy!

Bottom Line: Yes, I would recommend this to a friend

---

Love this stuff...

By Elizabeth A.

,

Saint Leonard, MD

,

Jan 19, 2019
Verified Reviewer

I have digestion issues and I don't have normal bowel movements. My stomach is always irritated by the foods I eat. I always feel nauseated. Taking this solves my issues 99%. I have tried all kinds of tests and doctors. To have this saves me from a lot of issues and helps me feel good.

Bottom Line: Yes, I would recommend this to a friend

---

Probiotic America is awesome!

By Amy B.

,

Erwin, TN

,

Jan 8, 2019
Verified Reviewer

After a four-day stay in the hospital earlier this year, the hospital doctor recommended that I take a probiotic on a daily basis. I had eaten some bad chicken and ended up with a bad infection called campylobacter colitis. A friend of mine gave me a bottle of probiotics from Probiotic America.

I've had stomach issues for years and probiotics has been the best thing I've ever tried to help. I tried another brand for one month and it wasn't the same. I'm a true believer that Probiotic America probiotics are the BEST!

Bottom Line: Yes, I would recommend this to a friend

---

Perfect Biotics

By Farid N.

,

Ontario, Canada

,

Jan 5, 2019
Verified Reviewer

We have been taking probiotics every day and are quite happy with the result. It has helped a lot my kids (10 and 12) who has allergies to almost everything and some digestion problems, thank you.

Bottom Line: Yes, I would recommend this to a friend

---

Noticed a difference

By A C.

,

Idaho

,

Dec 29, 2018
Verified Reviewer

I first tried this because I needed a good probiotic for my son's encopresis. I have tried several different brands from all sorts of stores and places and have found that this brand has worked the very best for us. With all the different strains and promises on every box these days, it is nice to find a brand that I can honestly see a difference when it is taken every day.

Bottom Line: Yes, I would recommend this to a friend

---

Perfect Biotics

By Jerry G.

,

Crown Point, IN

,

Dec 29, 2018
Verified Reviewer

I've been taking Perfect Biotics for a number of years now. I love this product. No bloating, discomfort or cramping at all. It took a few days to notice this when I first started using them. If I run out before reordering, I do notice quickly. A great product!

Bottom Line: Yes, I would recommend this to a friend

---