Probiotic! Melty Stix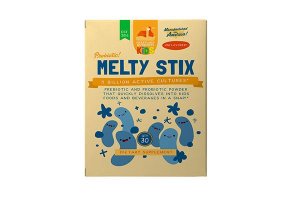 Probiotic! Melty Stix from Heartland Nutrients is a kid-focused probiotic that has no flavor and comes in powdered form so you can mix into your child's food or drinks without them knowing its there.
Probiotic! Melty Stix Review – Ideal for Your Child or Hype?
Probiotic! Melty Stix from Heartland Nutrients is a powdered probiotic supplement designed to mix into your kids' food or drinks to provide an easy way to boost their gut bacteria.
The powder is flavorless, such that it won't alter the flavors of the food or drink into which you mix it.
Melty Stix is the brainchild of Heartland Nutrients, the company who sells the supplement. According to the company's website, they say they are committed to creating great products, providing great service and providing jobs for Americans. They sell three other probiotic supplements besides Melty Stix.
With all this in mind, we're going to give you an analysis of how the probiotics work, what's in them and what science says about giving probiotics to kids. We'll also discuss how much the supplement costs, what the return policy is and how it compares to other kid-focused probiotics.
How Probiotic! Melty Stix Work
A basic reading of the supplement's website reveals that each box of Melty Stix contains 30 servings of probiotics and prebiotics, noting that each serving has 5 billion CFU's of probiotics, which refers to the number of colony-forming bacteria in the powder.
"Probiotics" refers to good bacteria that help improve your gut health, while "prebiotics" refers to the food that probiotics eat.
According to the website, the powder "quickly dissolves into kids foods and beverages in a snap."
As we mentioned earlier, the powder is unflavored, which means it should integrate seamlessly with the existing flavors of your child's food and/or drink.
The site says that the particular mix of probiotics in each serving is "designed to support comfortable, healthy, regular digestion during every phase of life," and that it is "formulated with the immune system in mind—because a healthy gut is essential for immune function."
Ingredients
However, we weren't able to find a list of ingredients. So, we called the company's customer service line to find out what the ingredients were. A very helpful phone rep told us Melty Stix contains the following, along with her explanation for what each one does
Lactobacillus acidophilus: Ferments sugar into lactic acid
Lactobacillus plantarum: Attack bad biotics (sickness-causing bacteria)
Bifidobacterium lactis: Studies show these naturally support the immune system and assist in digestion.
Bifidobacterium breve: In studies, it has shown to be effective in childhood constipation.
Sunfiber prebiotic: It helps to improve occasional constipation and diarrhea.
In the next section, we'll talk about what science says about the effectiveness of each of these strains of probiotics.
What's the Research Say About Probiotic! Melty Stix's Ingredients?
To get a sense of how effective the strains of bacteria in Melty Stix can be, we turned to a couple of reliable websites to vet Melty Stix's ingredients:
Lactobacillus Acidophilus and Plantarum
IN general, WebMD says that lactobacillus strains are "possibly effective" for a variety of conditions that could affect your little one, including:
Hay fever
Diarrhea from antibiotics
Eczema
Constipation
Baby colic
As for the specific strains of Lactobacillus found in Melty Stix, Mayo Clinic notes that acidophilus can help with eczema.
Verywell Health points out that plantarum may be effective for helping with irritable bowel syndrome, eczema and heart health.
Bifidobacterium Lactus and Breve
WebMD says that Bifidobacterium, in general, has a more limited range of effectiveness than Lactobacillus.
It lists this strain as "possibly effective" for constipation, diarrhea in infants resulting from rotavirus, as well as irritable bowel syndrome and a couple of other conditions.
We weren't able to find any extensive information about either strain of Bifidobacterium. In most cases, all strains are lumped together in one group when discussed by medical websites.
Side Effects of Probiotic! Melty Stix's Ingredients
Based on the information we've read from multiple reliable medical websites, probiotics are relatively harmful in that, in most cases, the side effects are limited to gas and diarrhea.
However, there are situations in which probiotics can be a danger to people with compromised immune systems. This category of people would include but is not limited to those with cancer and those who are recovering surgery.
Are Probiotics Safe for Kids?
Probiotics is a big industry—a $45.64 billion dollar industry, according to Statista. A growing niche within the market is probiotics for kids, a topic we wrote about for which we interviewed a pair of doctors.
Both doctors told us that probiotics for children are safe but that the ideal scenario would be to provide your children with a balanced diet through which they can get all the healthy bacteria they need.
Furthermore, the University of Alabama Birmingham's Dr. Krista Casazza told us, most supplements aren't required to get FDA approval and, therefore, there is some risk.
"You just really don't want to utilize supplements not regulated by the FDA if your child has a normal diet," Casazza told us.
Probiotic! Melty Stix Pricing and Return Policy
At the time of publishing, Melty Stix had the following pricing structure:
1 box: $59.95
3 boxes: $161.85
6 boxes: $299.70
Shipping on all orders is free.
The supplement's site says that the company provides a 90-day, money-back guarantee through which you can return your Melty Stix if you aren't satisfied with them. The fine print says you'll have to pay return shipping charges.
To start your return, you'll need to call the company's customer service line at (888)534-2077. The hours for this phone line are 5 a.m. to 7 p.m. PST Monday through Friday, and 6 a.m. to 4:30 p.m. PST on Saturday and Sunday.
How Probiotic! Melty Stix Compares to Other Kids Probiotics
One of the best ways you can figure if a particular supplement provides good value is to find other similar supplements that contain the same type of ingredients. We went to Amazon and identified three of the highest-rated supplements for children and found the following trio at the time of writing:
NOW Foods Berrydophilus Kids (120 ct.): $14.39, 4.6 stars from 404 reviews
NatureWise Chewable Probiotics (60 ct.): $39.95, 4.6 stars from 399 reviews
FloraTummys Probiotic Sprinkles for Kids (30 ct.): $24.99, 4.6 stars from 163 reviews
Both the NOW Foods and NatureWise products were chewables, whereas FloraTummys' probiotic came in powder form like Metly Stix does. Also, like Melty Stix, the FloraTummys supplement had 30 servings in it.
As far as ingredients go, NOW Foods has 10 strains, as confirmed by customers who responded to questions on the supplement's page. We checked the strains and found that all four of Melty Stix's strains are included in Berrydophilus.
NatureWise's chewables contained four strains, two of which are the same as MeltyStix, while FloraTummys' powder only had two strains, both of which were in Melty Stix.
All three Amazon probiotics contained between two and five billion CFU's, a range which falls in what's considered effective for probiotics.
In general, we think the big difference between these three supplements is price and serving size. For example, NOW Foods contains 120 chewables, which is four times as many servings as what you'll get with Melty Stix, albeit one Melty Stix serving has 5 billion CFU's compared to Berrydophilus' 2 billion CFU's.
Even if your child took two chewables a day, the NowFoods bottle would last two months and, at $14.39, is around 15% of the cost of two months' worth of Melty Stix.
The Final Word: Our Thoughts About Probiotic! Melty Stix
We believe there is strong support from research that indicates the ingredients in Melty Stix could have a positive effect on your child's health if they're dealing with digestive issues and, in some cases, eczema.
The strains included in the supplement are some of the more popular ones, with acidophilus being a well-researched component that has a variety of benefits depending on your child's health profile.
That being said, the research we did on Amazon indicates that the price you'll pay for Melty Stix may be higher than what most companies are selling their kid-focused probiotics for. With that in mind, we'd suggest doing some comparison shopping to find a price point with which you are comfortable.
Read more: Guide to Understanding Probiotics: When to Take Them & Are They Safe?