Procerin Reviews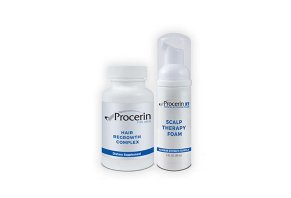 Combining the power of three different products, the Procerin system claims to slow hair loss and regrow hair by infusing the scalp with nutrients and blocking DHT.
About Procerin
Procerin is a clinically proven two-part hair loss system developed specifically for male pattern baldness, which helps block existing DHT and prevent additional production, while revitalizing hair follicles and delivering the nutrients and other building blocks required for a healthy scalp.
Together, the website tells us it can slow the hair loss process and start regrowing your hair in as little as two weeks (although they emphasize that "most men take 1-3 months before significant increases in hair count occur").
Regardless of how long it takes, have you finally found a cure for your hair loss caused by male pattern baldness? Does the available clinical evidence support the manufacturer's claims of revitalizing hair growth?
Before handing over your hard-earned money, take a few minutes to read what we learned about the Procerin treatment system, so you can make the most empowered purchase possible.
What Is DHT & How Does it Affect Hair Loss?
Testosterone is a hormone that's responsible for male characteristics like muscle mass and strength, bone density, penis and testes size, and the growth of body hair. After an enzyme called 5α-reductase metabolizes testosterone inside the body, though, it's turned into another hormone called dihydrotestosterone (DHT).
For reasons that aren't yet fully understood by the medical community, outside of the important benefits it otherwise provides, DHT will sometimes start 'attacking' hair follicles and causing them to produce increasingly thin hair. Eventually, the follicle goes dormant and ceases producing hair altogether.
This hair loss tends to follow a specific pattern, such as receding from the forehead, as well as thinning on the top and crown, which is why the condition is informally known as male pattern baldness (androgenetic alopecia).
Although this Healthline article reports there's no known cure—or even a prevention method—for pattern baldness, common treatments (some of which were mentioned on the Procerin website) include prescription medications like finasteride (Propecia), as well as topical over-the-counter applications like minoxidil (Rogaine).
With these basics in mind, is there clinical support for Procerin's claim that their system can "target the specific enzyme that converts the male hormone testosterone into DHT," halt "the main cause of hair loss," and maximize scalp health?
Taking a Closer Look at Procerin's Ingredients
Overall, there are three products in the Procerin lineup:
Scalp Therapy Shampoo
According to a Newsweek article featuring beauty expert Paula Begoun, only the first five or six ingredients in any shampoo or conditioner formulation are found in high enough concentrations to have an impact on results. As such, according to the product's label, that's what we've included here:
Purified water, sodium olefin sulfonate, sodium coco sulphate, cocamidopropyl betaine, cocamide MEA, guar hydroxypropyltrimonium chloride …
Based on what we learned from sites like Paula's Choice, Truth In Aging, and EWG.org, these ingredients primarily work as cleansing agents/surfactants (sodium olefin sulfonate, sodium coco sulphate, cocamide MEA), and foaming and conditioning agents (cocamidopropyl betaine, guar hydroxypropyltrimonium chloride).
Maximum Strength XT Scalp Therapy Foam
Once-daily Procerin XT Foam is applied directly to the scalp, which the manufacturer states contains "powerful hair growth stimulating compounds" that can fight the effects of DHT externally. Ingredients include:
SD Alcohol 40, Polysorbate 20, Purified Water, Oleic Acid, Linoleic Acid, Alpha Linolenic Acid, Azelaic Acid, Evening Primrose Oil, Avocado Oil, Saw Palmetto Extract, Grape Seed Extract (Procyanidin Oligomers), Gamma Linolenic Acid, Pygeum Bark Extract, Stinging Nettle Leaf Extract, Tocopherol (Vitamin E), Zinc Sulfate, Pyridoxine (Vitamin B6)
According to the same sites noted above, these ingredients primarily work as skin conditioners (SD alcohol 40, avocado oil), omega-3 fatty acids (oleic acid, linoleic acid, alpha-linolenic acid, gamma-linolenic acid), surfactants (polysorbate 20), and inflammation reducers (azelaic acid).
However, while taking omega-3s can have some cardiovascular benefits, none of these sites indicated there's sufficient clinical evidence that any of these ingredients can help prevent DHT from affecting hair follicles, or meaningfully impact different aspects of hair loss in otherwise healthy individuals.
Hair Regrowth Complex Dietary Supplement
Taking three tablets daily, this supplement promises to help fight the effects of DHT externally using the following ingredients:
Vitamin B6 5 mg
Calcium 200 mg
Magnesium 150 mg
Zinc 15 mg
Saw Palmetto Berry Complex 600 mg
Proprietary Herbal Blend 30 mg: Eleuthero Root (Siberian Ginseng), Gotu Kola, Muira Puama Root, Nettle, Pumpkin Seed, Uva Ursi
Similarly, relying on the summarizations provided by sites like the Natural Medicines Database, WebMD, and Examine.com, they report there's insufficient clinical evidence that these ingredients can meaningfully impact male pattern baldness.
Clinical Evidence for Procerin's Hair Loss System
With this in mind, the system's website provides a summary of a 90-day clinical study (not double-blind) involving 32 volunteers. Over the course of the study, participants filled out satisfaction questionnaires and were periodically photographed. Here are some of the summaries taken directly from their website:
"During the retest, almost every subject noted that they benefited from the nutritional therapy they used."
"90% of those that completed the study stated a level of satisfaction with the product."
"93.75% of those in the study with opinions agreed that Procerin helped to slow their hair loss and 93% of those with opinions stated they would recommend it to friends and family."
Possible Procerin Side Effects
Based on what we learned on WebMD and the Natural Medicines Database, most of these topical and internal ingredients won't cause side effects worse than mild, temporary irritation or digestive upset (no specifics or dosages listed).
However, the Procerin website emphasizes that if you're currently taking an MAOI inhibitor, you should consult with your physician before using (in fact, this is good idea advice any time you're thinking about using a new hair loss product or supplement).
Furthermore, the study cited in the previous section noted that a "small minority of men report mild stomach discomfort in the first days of use. If this occurs, simply take Procerin with food and the problem will subside." Also, that "some men with sensitive skin should use Procerin XT Topical Foam only once a day if skin irritation occurs."
Finally, these same sites indicated that not enough is understood about muira puama to know if it's safe or what possible side effects or medication interactions it may cause. In some instances (again, no dosages or other specifics provided), pumpkin seed may cause ejaculation problems in men.
How Much Does Procerin Cost & Where Can You Buy?
On the main Procerin website, products are available in the following quantities:
1-Month Supply
Tablets (90 ct): $26.95
XT Scalp Therapy Foam (1 fl oz): $36.95
Combo Pack: $49.99
3-Month Supply
Tablets: $69.95
XT Scalp Therapy Foam: $89.95
Combo Pack: $129.99
6-Month Supply
Tablets: $119.95
XT Scalp Therapy Foam: $159.95
Combo Pack: $219.99
We also found these sold on Amazon, in some instances for less money (ex: the Hair Regrowth Complex was priced at $19). Amazon also sold the Scalp Therapy Shampoo by itself (8 fl oz) for $15.25, while a separate manufacturer URL sold it for as much as $49.99 per bottle.
Related: How to Choose a Hair Loss Product, Even if You Don't Know What to Do
Given this, we'd recommend browsing online marketplaces like Amazon and Google Shopping for the absolute lowest prices before placing an order.
All Procerin products come with a 90-day guarantee, less S&H, which you can request by contacting customer support at 866-390-4247.
What are Procerin Customers Saying In Their Reviews?
On Amazon, we encountered dozens of customer reviews across Procerin's different products and combo packs, who had cumulatively given the system an average rating of about three stars. Common compliments referenced effective hair regrowth and ease of use, while complaints frequently related to no results and high prices.
From a company perspective, Procerin is manufactured by Portland, OR-based Speedwinds Nutrition Inc., who also makes other supplements like Sytropin HGH Spray, Vasacor, Synotrex, Sephren, and AntlerX.
The company has been in business since 2002 and held an A+ Better Business Bureau rating, based on six customer reviews and three closed complaints, as of 1/25/18. A support representative responded in each instance.
Are There Other Over-the-Counter Male Pattern Baldness Systems Like Procerin?
Because pattern baldness affects two-thirds of men over the age of 35, and 85 percent of those over the age of 50, a huge market exists for hair loss products and systems using a dizzying array of ingredients.
Even just narrowing choices down to those that include shampoo, a topical product, and a dietary supplement leaves you with an almost impossible number of options. How can you cut through all the marketing hype and decide on your best choice?
First, start by talking with your doctor. While pattern baldness isn't necessarily a cause for concern, they can help properly diagnose you and then recommend science-backed treatment options from there.
Next, we think it's important to maintain realistic expectations about the ability for the ingredients found in all-natural systems like Procerin top help regrow hair. Why?
In addition to the overall lack of clinical evidence we learned about earlier, according to organizations like the National Institutes of Health and Nutrition.gov, otherwise healthy individuals do not need to take dietary supplements.
Related: Everything You Need to Know About Hair Supplements in 5 Easy Steps
From there, it's all about taking action. But before you pull the trigger, make sure that you investigate the company you're considering. Do they have a mostly positive online customer reputation? Are there any common concerns that you need to keep in mind?
Bringing It All Together for Procerin
Although pattern hair loss is extraordinarily common, it can be difficult for a man's ego, so it's completely understandable that you're exploring all your options in the hope of experiencing some relief.
But based on what we learned from sites like the Natural Medicines Database, Truth In Aging, and Paula's Choice (to name just a few), there isn't enough clinical evidence indicating that Procerin's ingredients—on their own—can help stop hair loss or actively regrow hair.
However, the Procerin system has been involved in at least one clinical study (although it wasn't double-blind and appears to have been sponsored by the manufacturer), which seemed to deliver overwhelmingly satisfactory results according to participant questionnaires.
If you talk with your doctor and they recommend pursuing an all-natural system like Procerin, the company seems to stand behind it with a three-month refund policy, although you'll have to pay to ship the bottle(s) back to the manufacturer if you're not satisfied with their performance.