ProClearz BRITENOW Reviews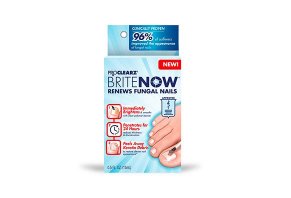 BRITENOW from ProClearz is a brush-on liquid that promises to clear up toenails that fungus-related keratin deposits have made cloudy and dull. Does it work?
What Is ProClearz BRITENOW?
ProClearz BRITENOW is a clear, brush-on liquid that claims to brighten toenails and remove keratin debris that discolors and deforms toenails.
ProClearz claims that through daily use for three to six months, their product can reduce thickness and discoloration associated with nail fungus, leading to a cleaner nail appearance.
In our review of this product, we'll analyze how it works, the ingredients it uses to do the job and what science says about those ingredients. We'll also talk about BRITENOW's pricing and return policy, then compare it to a few popular alternatives on Amazon.
How ProClearz BRITENOW Works
While there are no directions listed on the product's website, the process of applying BRITENOW is pretty simple. You apply a coat of the liquid via a small black brush that screws into the lid of the product's 0.5-ounce bottle. The liquid goes on white but dries clear.
As for how many times a day you use the liquid, a WebMD article we read about these types of products say the typical instructions say twice a day.
According to the product's website, their brush-on liquid does a couple of things. First, when you brush it on your toenails, they say that it "immediately brightens and smooths nails" with what they call a "clear polymer barrier", which means your nails will be coated with their liquid and, when it dries, your toenail should shine.
Second, they say that, while your toenail is covered in the dried liquid, BRITENOW penetrates your nail and reduces thickness and discoloration associated with toenail. The liquid, they say, "peels away" keratin debris related to toe fungus.
They also note that you can use the product with nail polish.
One of the keys you need to know about products like this is how they justify their claims. In this case, ProClearz says that a clinical study was done regarding the product's effectiveness and that it was "clinically proven" to improve "the appearance of fungal nails in 96% of sufferers."
We weren't able to find this study, so, to find out if their alleged results are realistic, we turned to the product's ingredient list.
We did some research to find out which ingredients the company puts in their liquid but we found nothing. Neither the BRITENOW website or the product's Amazon provided any information about what's in their brush-on liquid.
What we did find, however, was another product called ProClearz Fungal Shield that uses a 1-percent tolnaftate solution. While we can't confirm that BRITENOW uses tolnaftate, we do believe there's a high likelihood that it does, as it's is a popular ingredient in brush-on anti-fungal liquids.
Now, we felt it was important to reach out to an expert in regards to these types of products and toenail fungus, in general, so we had a quick email correspondence with Dr. Marion Yau, the lead nail surgery expert at London-based Harley Street Medical Foot and Nail Clinic.
She said that these types of products can be helpful with mild fungal infections but if your situation is worse than that, you may not see the results you're hoping for.
"If you have a mild infection than topical medication can be useful but if the nail is infected from the root and very thick, it is very unlikely to work," she said.
Also, she said that topical treatments that claim to remove keratin usually use a potent ingredient called urea that shouldn't be used for long periods of time.
As for how long you should use a product like BRITENOW, Yau said to apply the liquid as directed until your nail grows out and there is no evidence of fungal effects. If you stop before the nail grows out, the effects of the fungus could return.
"If you see no clearness in the nail after three months of using topical medication please seek help from a podiatrist or a dermatologist," she said.
Side Effects of ProClearz BRITENOW
WebMD notes that skin irritation is a possible side effect of using tolnaftate liquids, but only when you're applying the liquid directly to the skin. They also say that serious allergic reactions to the ingredient are "unlikely."
ProClearz BRITENOW Pricing and Return Policy
At the time of publishing, this product was available for purchase on Amazon for $35.96 for a 0.5-ounce bottle.
The product came with free shipping but was not eligible for Amazon Prime. Also, there were no customer reviews of the product at the time of publishing.
Any returns you'd like to make are subject to Amazon's return policy, which usually allows 30 days for a return.
How ProClearz BRITENOW Compares to Similar Products
We went to Amazon to check out competing products. The first product we noticed was NonyX, a brush-on liquid that you can use in conjunction with nail polish. Like BRITENOW, it claims to clear out keratin debris and prevent fungus growth.
A 0.5-ounce bottle of the liquid is $14.99 and offers free one-day shipping through Amazon Prime. The product has an average of 3.7 stars from more than 40 reviews at the time of publishing.
Another option is NailClear, another clarifying liquid that claims to brighten and clarify your nails. This particular product comes in a 1-ounce bottle and is $14.99 plus $4.85 for shipping. At the time of publishing it had one four-star review.
What we noticed is that both NonyX and NailClear listed their main ingredients: ethanoic acid and sodium hypochlorite, respectively. Also, their prices are half as much as BRITENOW.
We think that, when it comes to recommending a product out of these three, we'd lean toward NonyX simply because of the transparency the product offers. It had more than $40, a reasonable price and the product's Amazon page listed its main ingredient.
The Final Word: Our Conclusions About ProClearz BRITENOW
Based on all the information we were able to procure during our research of this product, we think that there are a few things you should take away from this review.
First, the lack of any ingredients listed on the BRITENOW website is a red flag, simply because we believe that, when you spend money on a product that claims to help you, you should know which ingredients it uses to provide that help.
Second, the price of the product is exceptionally high compared to similar products on Amazon. Were that price based on unique ingredients, outcomes they've proven through multiple studies or a guarantee that the product is made in the United States, it might be easier for us to reconcile the cost.
However, in light of similar products that list ingredients and have reviews, we are hesitant to recommend you spend around $35 on one bottle of BRITENOW.
Finally, keep in mind that this product isn't designed to kill fungus growing on your toenails. Rather, it clarifies toenails that fungus clouds.