ProntoBev Reviews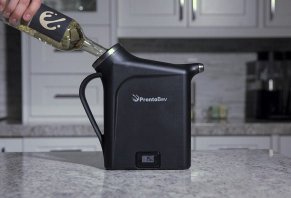 After placing in the freezer for a couple of hours, ProntoBev will quickly cool any liquid to your desired temperate, without affecting its quality or taste.
What Is ProntoBev?
ProntoBev uses patent-pending ProntoGel technology to chill an entire bottle of wine—or vodka, rum, coffee, tea, lemonade; you name it—to a specific temperature, in just 30 seconds.
The promo video indicates you just need to chill it in the freezer, pour in your beverage, watch the display reach your ideal temperature, pour it back into a glass, and enjoy. Its wine-grade stainless steel interior won't change the taste of your beverage, while cooling it colder than ice. And when you're finished, it's dishwasher safe for easy cleanup.
ProntoBev seems to feature an appealing concept and design. But, will it help save you time and money, while letting you enjoy your beverages, as advertised? And even if it does, are there other options that should be on your radar?
We did learn a lot during our research. Here, we'll outline everything to help you make the most informed decision.
How Does ProntoBev Work?
At 2.5" wide, 7" deep, and 11" high, ProntoBev can hold 750 ml of wine or other beverages. The interior is constructed of wine-grade stainless steel (the same material used in the winemaking process), which means it won't affect taste or quality.
ProntoBev's walls are also embedded with their "trade secret ProntoGel" that can decrease the temperature of your drinks by 20 degrees Fahrenheit (11 degrees Celsius) in 30 seconds. Or, about 40x faster than the freezer.
Built into the BPA-free exterior is a specially calibrated digital thermometer that allows you to accurately measure the internal temperature. This way, you can achieve the perfect serving temperature and enjoy the most prominent flavors.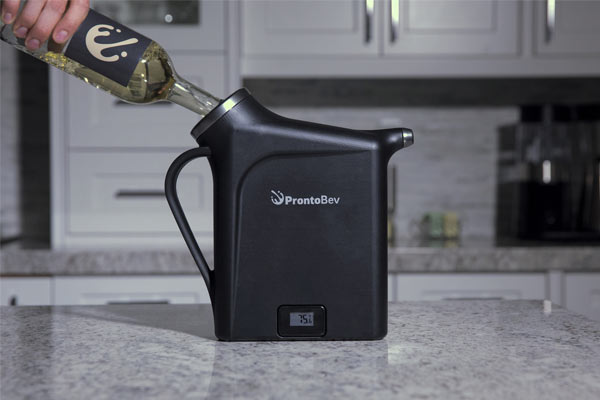 After removing from the freezer, ProntoBev can chill an entire bottle of wine to the perfect temperature (digital display shown above) in 30 seconds. Credit: Pronto Concepts
The website indicates that ProntoBev can chill two to three bottles of wine at once (should be used within few hours of removal from the freezer), although "after the first bottle, it may take slightly longer than 30 seconds to chill additional ones."
You can even combine it with ProntoAer, a device the company advertises as the world's fastest aerator, which fits seamlessly on your ProntoBev. Or, on any glass for that matter.
How Much Does ProntoBev Cost?
ProntoBev is currently available for pre-order, with delivery expected delivery Spring 2018:
1 Unit: $97
ProntoBev with ProntoAer: $109
2 Units: $181
4 Units: $334
What Do We Know About the Company Behind ProntoBev?
Although the ProntoBev device has been in some stage of development since 2013, inventor Alexander Simone didn't formally found Pronto Concepts until 2016.
One year later, ProntoBev made its debut on Indiegogo, where it went on to raise more than $67K during its campaign. In November 2017, Alexander and ProntoBev appeared on season nine, episode 11 of ABC's "Shark Tank," where Mark Cuban decided to invest $100K for a five percent stake in the company.
According to the website, Alexander comes from a big Italian family and always found "the wine wasn't ready when they were ready for wine." Thus, the idea for ProntoBev was born.
ProntoBev vs. the Competition
The bottom line is that we didn't encounter any jug-based designs exactly like ProntoBev during our research. So, if you're looking for something exactly like it (or, that uses the same ProntoGel technology), it's currently the only game in town.
However, if you have some leeway in your design and functionality preferences, we came across several alternatives on sites like Google Shopping and Amazon that might provide the same results (i.e., quickly chilled wine or beverages). Let's take a brief look:
Chiller Rods
Options like the similarly-named Chiller Pronto ($31, Amazon) are stainless steel 'chiller rods' (also referred to as 'cooler sticks) that you'll place in the freezer for a couple of hours, remove and attach to the spout of a bottle, and then pour. Since the liquid only touches the cooled surface for a split second, no cooling numbers are provided.
Many options we encountered were part of a set, which also included an aerator.
Other Freezer-Based Options
The Ravi Solution Instant Wine Chiller ($33) implements a similar spout-based design as chiller rods, but instead passes the liquid through a frozen tube before exiting into a glass. It also features a valve that allows you to control the flow, although (again) no cooling numbers are provided.
Like Ravi and ProntoBev, 'tub' designs like the Vacu Vin Rapid Ice Instant Wine Chiller must be pre-frozen. But they also allow the entire bottle to rest inside. Many claim five-minute cooling times.
Electric Wine Chillers
Perhaps the most popular options are instant wine chillers like the Cooper Cooler ($88). These tabletop electric models spin bottles and cans while bathing them in ice water, resulting in one-minute and six-minute cooling times, respectively.
While these might be the fastest option (considering freezer-based models must be pre-chilled for 1.5-2 hours), they also take up counter or drawer space, which might not be ideal for those with smaller homes.
Let's bring all of these details together in the next section, as we wrap up and figure out where to go next.
How to Decide If ProntoBev the Right Wine Chilling Device for You
Based on what we learned from the ProntoBev website, along with what the competition has to offer, we think choosing the 'best' instant wine chiller largely comes down to three criteria: price, space, and time.
For example, chiller rods/cooler sticks are some of the lowest priced options and take up the least amount of space. But, because the liquid is in contact with their surface for the least amount of time, this could lead to the lowest cooling performance.
At the other end of the price spectrum is the countertop, electric spinning/ice bath models. While they're fast (one to six-minute cooling times, depending on whether it's a bottle or can, as well as size), they're not as speedy as ProntoBev's 30-second chilling time.
Furthermore, ProntoBev's jug-based design means that it might offer greater functionality than electric spinners, since it can cool any liquid, versus only those contained in bottles or cans.
Despite the fact that ProntoBev contains no moving parts, though, it's as expensive as electric versions. And while it might not take up any cabinet or counter space, it will take up some space in your freezer, so it could largely come down to where you have more room to spare.
Finally, ProntoBev won't be available until Spring so you'll have some waiting to do. On the other hand, some models (such as Ravi), were available from local retailers like Bed Bath and Beyond at the time of our research.
This could put it in your hands faster, save on S&H charges, and make processing a refund a simple as a quick drive if you're dissatisfied with its performance—if these are your most important criteria, of course.