Proper Cloth Reviews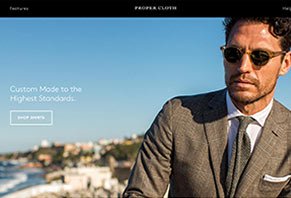 Proper Cloth is a custom shirtmaker that uses a state-of-the-art website and proprietary Smart Size algorithms to provide high quality and reasonable prices.
About Proper Cloth
Founded by Seph Skerritt in October 2008, Proper Cloth claims to help their clients build the perfect custom dress shirt, each of which is available in over 400 fabrics and dozens of style options and made to the highest standards.
Compared to many other custom shirtmakers, all of this can be handled through the Proper Cloth website—even sizing, using their proprietary Smart Sizes algorithm. Overall, the ordering process works over 4 steps:
Find your perfect size and place an order on Proper Cloth's website.
Your shirt will be custom made to your exact specifications and hand-assembled.
Your shirt will arrive in 2-3 weeks.
Proper Cloth's Guaranteed Fit policy means that if your shirt doesn't fit perfectly, they'll alter or remake it for free (we'll talk more about this in the Pricing section).
According to the Proper Cloth website, they're way ahead of the competition from "fabrics, fit, service, speed and just overall value" perspectives—but does this mean they're right for you? Let's answer all your important questions by first looking at some of the features you'll find in a Proper Cloth custom shirt.
Proper Cloth Collars, Fabrics, & More
Proper Cloth's wide variety of fabrics cover a range of styles and are sourced directly from "some of the world's greatest mills across Europe, Japan and China." The company also designs their own custom fabrics that you won't find anywhere else.
During the design process (more next), you can create your own shirt from scratch or customize one of Proper Cloth's featured designs. You'll also be able to choose from 20+ collar, cuff, and button styles, and add a custom monogram.
Regardless of which options you choose, all Proper Cloth shirts feature reinforced shirt tail gussets, a minimum of 16 stitches per inch, buttons that are securely attached with criss-cross stitching, standard removable brass collar stays, and more.
After your order is placed, Proper Cloth uses computer generated patterns and robotic fabric cutters for speed and reliability, while experienced tailors will assemble and hand-sew your shirt to achieve a perfect fit.
Now that we've talked about what you'll find with a Proper Cloth shirt, let's take a look at how the custom design process works.
Building Your Proper Cloth Custom Shirt
When designing a shirt on Proper Cloth's website, we found everything to be simple and straightforward, across 3 main sections: fabric, style options, and size. On the left-hand side of the screen, you'll see your shirt; on the right, you'll see your price, both of which will change based on the choices you make.
Speaking of which, your first decision will be to choose from dozens of different fabrics and patterns. Rolling over a preview image will display a brief description, the thread count, and thickness. If you click the "i" in the lower right-hand corner, you'll be taken to a dedicated page about the fabric, where you can learn about its suggested style, weave, opacity rating, origin, and read a much more detailed description.
After picking your fabric, the next step will be to choose the collar, cuff, pocket, front, yoke, buttons, monogram, and accent options. When clicking on these choices, you'll see some handy illustrations that outline exactly what you're choosing.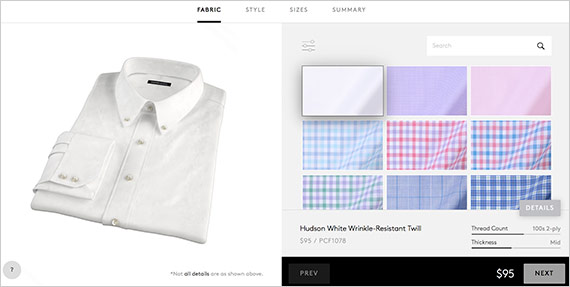 ​We thought Proper Cloth's shirt designer feature was easy—and fun!—to use.
The last step is to choose your shirt size, which can be accomplished several different ways; using standard shirt sizes, measuring your body, measuring your shirt, mailing Proper Cloth a shirt to copy, or using their Smart Size algorithm. For the latter, you'll answer 11 quick questions to determine your size:
What size t-shirts do you typically wear?
How tall are you?
How much do you weigh?
What best describes your ethnicity?
What is your suit jacket size?
What is the waist size of your pants?
Which best describes your midsection (No belly, pretty fit, medium belly, etc.)?
What is your collar size?
What is your sleeve length?
Do you tuck your dress shirts in?
How slim do you like your dress shirts to fit?
Worried about your shirt fitting properly after answering these questions? According to Proper Cloth, "Our size algorithms are optimized with data from thousands of clients. As engineers, we bring a statistical, algorithmic approach to fit that is rare in the industry." As a result, the company claims "the odds that it fits perfectly are very high."
Finally, you'll be able to view a summary of your shirt and edit any of your choices if needed. To save your selections and sizing, you'll need to create a free Proper Cloth account.
If you require personalized help with the process, you can call Proper Cloth's customer service or make an appointment for a custom fitting.
Given all these custom fabrics and accessory options, as well as a clear focus on technology, you might think Proper Cloth shirts are astronomically priced. Is this really the case?
How Much Do Proper Cloth Custom Shirts Cost?
By the time we were finished using Proper Cloth's shirt builder application, our test shirt came in at $125, which included custom buttons and accent fabric on the collar and cuffs.
Overall though, fabric choice seems to be the biggest deciding factor as to what you'll pay, which, based on our informal testing, seems to run between $85 and $225.
Proper Cloth's Perfect Fit Guarantee
All Proper Cloth shirts come with a 90-day refund policy, along with a 120-day policy for store credit.
However, if the reason you're looking for a refund or store credit is due to fit, Proper Cloth's perfect guarantee provides the opportunity to have your shirt altered or remade without charge. Keep in mind that:
This is only available one time
It must be initiated within 90 days of receiving your shirt
It takes 2-3 weeks to complete
Customers are responsible for S&H
Have questions about the process? Proper Cloth's customer service department can be reached at 646-964-4221.
Now, let's find out what Proper Cloth's customers are saying.
Are There Any Online Customer Reviews for Proper Cloth?
Proper Cloth seems to have received a great deal of glowing feedback over the years from media organizations like GQ, NY Times, Fast Company, Men's Journal, and more, as well as from customers.
On Yelp, Proper Cloth had an average rating of 5 stars, based on 300+ customer reviews. Overall, most compliments appeared to reference good quality and fit for the price, along with great customer service. Specifically, customers seemed to like the fact that Proper Cloth combines the personalized service of a bespoke tailor with modern technology and easy ordering process.
As you might imagine based on their rating, only a handful of these reviews were negative, most of which referenced difficulty achieving the right fit (one reviewer claimed they've received several shirts that all fit differently, despite being made based on the exact same measurements).
For some in-depth feedback from Proper Cloth customers, be sure to also check out these Reddit and Dappered threads.
Before wrapping up, let's take a closer look at Proper Cloth's founder.
Who is Seph Skerritt?
Prior to founding Proper Cloth in 2008, Seph Skerrit graduated from UC San Diego with a bachelor's degree in Electrical and Computer Engineering, as well as achieved an MBA in Entrepreneurship from MIT.
According to a 2011 article in Xconomy.com, Seph founded Proper Cloth because he was frustrated with the existing process of purchasing business wear: "It's totally frustrating and annoying, and you end up making a lot of compromises just to get it over with." To address this, Seph came up with the idea for Proper Cloth after interning in Shanghai and experiencing how easy and fun it was to order custom shirts in China.
Even though the company has experienced rapid growth over the last couple years, Seph still maintains a staff of less than 10.
Should You Choose Proper Cloth or Another Custom Shirtmaker?
If you search online for custom dress shirts, you'll quickly find dozens of companies who make many of the same promises as Proper Cloth—a perfect fit, a wide variety of fabrics and accessories, the ability to customize and order online, and more.
However, in our opinion, none of these websites feature a design system that's as attractive, informative, or as easy to use as Proper Cloth's. On top of this (although it might not be 100% accurate based on customer reviews), Proper Cloth's Smart Size algorithm makes getting a "perfect fit" as easy as answering 11 quick questions.
Proper Cloth also claims their production is "one of the most advanced made to measure systems in the world. " As a result, they're able to make ultra-precise, replicable changes to ensure your shirt fits perfectly, while factoring in personal details "from shoulder slope to the number of pleats at your cuff."
Is Proper Cloth the least expensive online custom shirt company? No, although their prices are certainly competitive. Do they always feature the highest quality fabrics of any manufacturer? Based on what we read from customers, maybe not. But, taking their ease of use into consideration, along with their universally agreed upon stellar customer service, means that Proper Cloth shirts certainly seem to provide a great deal of value.
What's your experience with Proper Cloth? What do you think about the fabrics, fit, and overall value of their custom shirts? Would you order from them again? Tell the world about it by writing a review below!
Choices

By Dave K.

,

San Francisco, CA

,

Jul 25, 2019
Verified Reviewer

I looked for years, failing to find a bunch of fabrics these guys have. I've ordered three shirts. And I'm not done yet. Who knows, these fabrics are impossible to find, I may get backups.

Bottom Line: Yes, I would recommend this to a friend

---

Advertisement

---