Provide-Savings Reviews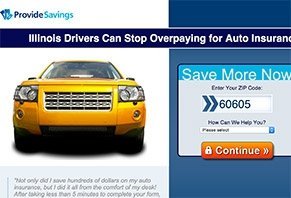 Provide-Savings.com is a lead generation website that claims to help you save money on your auto insurance by obtaining quotes from a variety of carriers.
About Provide-Savings
Provide-Savings is a lead generation website that claims to provide customers with fast, free auto insurance quotes from some of the nation's top carriers, which they claim to accomplish by "doing the research on the insurance companies [and] matching you with insurance providers who offer what you need."
In order to begin, you'll need to enter your zip code on the home page and then indicate if you're currently insured from the drop down menu below.
Next, you'll enter vehicle information and usage (e.g. primary use, annual miles, etc.). Then, you'll need to indicate the type of coverage you're looking for, as well as primary driver information. Finally, you'll be required to enter your home address, phone number, and email address, and indicate if there are any additional vehicles or drivers in the household.
After you click on the "View My Quotes" button, you'll be given a list of insurance companies (when demoing the website, we received results for Nationwide, MetLife, Progressive, and Allstate). However, if you click on any of the "View Your Quote" buttons next to these results, you'll be taken to the insurance company's website, where you'll have to re-enter all of your information—and you won't receive a quote without doing so.
So what's going on here? Can Provide-Savings.com really help you save money on your auto insurance premiums, or are they just out to get your information? Let's take a look.
What Is a Lead Generation Website?
If you entered all your information into the Provide-Savings.com website, only to learn that you're not actually receiving an auto insurance quote, you might be more than a little perturbed. After all, isn't that what the company claims to provide?
According to the disclaimer at the bottom of the Provide-Savings website, they are "a top savings referral service which enables consumers to quickly and easily request multiple competitive insurance quotes from optimally selected local insurance agents and companies using our proprietary consumer alignment technology." In other words, Provide-Savings.com simply takes your information and sells it (known as a lead) to independent insurance agents who represent a wide variety of auto insurance carriers.
Then, once an agent purchases your information, they will contact you in order to see if any of the companies they represent can provide you a lower insurance rate.
Granted, the theory behind these types of lead generation websites is that they can send your information to a variety of different agents in order to help you find the best deal on your insurance. But do Provide-Savings's customers feel like the service was worth their time?
Are Customers Saving Money with Provide-Savings.com?
Overall, there were very few online customer reviews for Provide-Savings at the time of our research. However, one customer on ScamAdvisor claimed that Provide-Savings was a "waste of time" and provided "no added value."
It's important to note that HighYa readers are referencing many of these same complaints for other auto insurance lead generation websites, such as Compare.com, Get My Insurance, and Best Quotes, so it doesn't appear to be relegated only to Provide-Savings.
From a company perspective, Provide-Savings.com is owned and operated by AdHarmonics, Inc based out of Cambridge, MA, who held an A- rating with the Better Business Bureau based on 16 closed complaints (as of 3/14/15). Most of these appeared to reference that the website doesn't actually provide you with any insurance quotes, in addition to a deluge of phone calls and emails almost immediately after entering your information.
The World of Auto Insurance Is Changing
It's important to note here that the methods used by insurance carriers to calculate auto premiums is rapidly changing, which could have a big impact on what you'll pay.
In the past, auto insurance premiums were based on "hard" data. In other words, the factors that caused your premium to go up (e.g. tickets, accidents) and to go down (taking a defensive driving course, going from a sports car to a family sedan, etc.) we relatively straightforward and easy to measure.
Recently though, many carriers have moved to something called a multi-variant rating system, which basically means that every piece of information entered into your quote can have an impact on your premium. This includes obvious things such as age, accidents/citations, vehicle usage, and so on, but also factors that you might not consider, such as how long you've had insurance (and whether or not you've had a lapse in coverage), the policy's quote vs. effective dates, credit score, and much more.
The reason we outline this is that, even if you decide to use Provide-Savings.com and obtain a quote through an independent agent, it's important that you give them all the correct information, or you might find that something seemingly insignificant can drastically alter your rate.
Provide-Savings.com's Arbitration Agreement
Finally, keep in mind that by using the Provide-Savings website, you'll be bound to an arbitration agreement, which could severely limit your legal rights—including a trial by jury and becoming part of a class action lawsuit.
Provide-Savings Pricing
Provide-Savings services are completely free to use and come without obligation.
Can Provide-Savings.com Help You Lower Your Auto Insurance Rates?
Based on our experience reviewing other lead generation websites, as well as customer feedback about their experiences, it's our opinion that contacting a couple agents in your area who represent a wide variety of auto insurance carriers will be much more productive than usingProvide-Savings.com.
Don't.

By Kayla

,

Pueblo, CO

,

Nov 27, 2016
Verified Reviewer

I don't know if it's a scam, maybe it is. However, I filled out all of my information and it didn't tell me anything, only directed me to more websites to fill out the same information at. Stupid. Don't do it, it's so stupid.

Bottom Line: No, I would not recommend this to a friend

---

Lead generation NOT online comparison

By Mike

,

Texas

,

Nov 1, 2016
Verified Reviewer

I no more than hit submit on this site and my phone rang. They advertise that they will provide online comparisons, you just get launched to the individual providers' sites, while they are calling you. This outfit is a total scam.

Bottom Line: No, I would not recommend this to a friend

---

Advertisement

---

Waste of Time

By Mac

,

Philadelphia, PA

,

Jun 29, 2016
Verified Reviewer

I wish I saw these reviews before I wasted my time. It is completely pointless and does not provide you any quotes. Might as well spend the time researching on the different insurance companies because you will have to re-enter all of your data on the insurance sites anyway. It is just a data gathering scam, immediately after I submitted my info, I received 3 phone calls in a row from the same phone number that is registered out of India. I'm sure it's an insurance company trying to get my business. I'm sure I will receive all sorts of mail and emails now too. Very disappointed in myself for falling for this scam and not looking up the reviews in advance.

Bottom Line: No, I would not recommend this to a friend

---

AVOID - Waste of time!

By Mario

,

Salem, OR

,

Feb 1, 2016

As other reviews are starting, this is a useless step in buying insurance. They actually provide you with no details, and you will still have to go to various insurance providers and re-enter all of your information. In addition to this, they are collecting tons of data about you such as: Address, phone, name, current insurance provider, age of attaining license, car make & model, etc.

There are no benefits of going through this site to find insurance, other than to the greedy Provide - Savings owners, who are probably: selling your date, selling analytics of your data to insurers, making a cut off every time you click on one of their suggested insurers, etc.

Bottom Line: No, I would not recommend this to a friend

---

Advertisement

---

It is a Scam

By Debbie Morris

,

Michigan

,

Jan 17, 2016

They only sent me to AAA and kept asking if I was a member. Now come on, we all know AAA is the most expensive car insurance out there. And another thing, insurance should not be quoted on whether or not you have good or bad credit, but on as long as you have always paid your car and home owners insurance.

Bottom Line: No, I would not recommend this to a friend

---

Waste of time

By TMG

,

Illinois

,

Jan 11, 2016

Wish I had seen these reviews before I wasted time answering all the questions, only to be given the names of three companies to get quotes from by answering all of THEIR questions. Provide Savings website is a total waste of time, it does absolutely nothing. But I'm sure it collected my email and phone number to sell to insurance companies.

Bottom Line: No, I would not recommend this to a friend

---

Should have read some reviews

By Ray

,

Corpus Christi, TX

,

Dec 30, 2015

I'm usually really careful with these sorts of things, but as it's my first time shopping for auto insurance, I was feeling pretty overwhelmed trying to figure out which insurance company would work best. Then I came across what I thought was a news article of this website. It asked me all the questions I came to expect to get a quote. I figured it would query a bunch of different insurance companies at once. Not even close.

As with other reviews here, "Provide Savings" just provided me with links to websites of insurers in my area, that wanted me to re-enter the same information for a single quote. Additionally, I received a ton of phone calls immediately from insurers trying to provide me a quote. I know it may seem like what I set out to do, but in reality, I was just weighing my options, seeing what was out there without having to talk to a bunch of salesmen on the phone.

Bottom Line: No, I would not recommend this to a friend

---

No Immediate Quotes

By Mark

,

Detroit, MI

,

Dec 8, 2015

Don't waste your time. I filled in all of the information requested and at the end, the site show 3 insurers who each asked me to provide the same information as I input for provide savings.

I expect dozens of calls from insurers rather than receiving the promised quotes based upon simply completing the information just once.

They will sell my information. Don't fall for this. I forgot to check it via Highya or another site.

Bottom Line: No, I would not recommend this to a friend

---

Provide Savings is totally misleading at best

By Deborah Kingstraw

,

Los Angeles CA

,

Dec 4, 2015

This is just ANOTHER EXTRA painstaking, totally, unnecessary step in getting a car insurance quote. THEY ask you pages of questions, and then deceptively declare with a 'See My Quotes,' sign to push. I believed, via their claim, that I would get an insurance Quote. No – it just takes you to an insurance company demanding all of that same information all over again. Save yourself time and just go to each insurance company yourself.

And, oh, by the way, you will immediately get unwanted emails and calls, as they are "required" fields to fill in. Smells like a scam, acts like a scam – another scam via RT? (where this was posted).

Bottom Line: No, I would not recommend this to a friend

---

Time down the drain

By Bo Stone

,

Texas

,

Nov 8, 2015
Verified Reviewer

After you fill out an exhausting amount of personal data with these strangers, they finally take you to your Free Quotes, many are sponsored to appear top of list.

Click on ANY of these and are confronted with having to fill out ALL that exhausting data anew on each & every one of them.

Ergo, you could have saved time visiting each of these insurance sites on your own to get free quotes.

So I feel these guys are JERKS.

Bottom Line: No, I would not recommend this to a friend

---

Deceptive Post

By Christopher

,

Tampa, FL

,

Jun 8, 2015

I responded to a link that's deceptively indicated there was some change in insurance laws. When I proceeded with the link, it asked me for all of my personal information. Upon completing this information, I immediately began receiving phone calls from people trying to give me insurance quotes. I had no intention of requesting these phone calls for quotes. My recommendation is don't do it unless you want to start receiving numerous phone calls.

Bottom Line: No, I would not recommend this to a friend

---