ProVita Juicer Reviews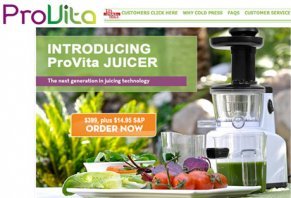 About ProVita Juicer
Manufactured by ProVita Juicer, LLC, the ProVita Juicer claims to crush and squeeze fruits and vegetables using cold press technology, allowing you to experience all the benefits of fresh produce, with better taste and less waste. In fact, the product's website claims that it is "the next generation in juicing technology," which can provide you with "life-changing benefits."
We were unable to uncover any information regarding ProVita Juicer, LLC during our research, or about the Juicer itself, other than what could be gleaned from its website. However, regarding masticating juicers in general, the most common complaints appear to be loud motors, time consuming set up/clean up process, and low juice yield.
How the ProVita Juicer Works
The ProVita Juicer is classified as a cold press, masticating, or "slow" juicer, because it works by first crushing fruits and vegetables with its single juicing screw, and then pressing them. According to the ProVita Juicer website, this achieves two benefits:
Extracts up to 40% more juice than traditional juicers.
No blades are used, resulting in lower friction, oxidation, and foaming, which maintains 60% more of the essential nutrients, and keeps your juice tasting great for up to 72 hours.
When compared to traditional juicers, the ProVita Juicer can even juice whole, "soft" fruits and vegetables—including seeds and rind—such as apples, oranges, tomatoes, and more. In fact, The Juicer is claimed to be so efficient that it can even process nuts.
Each ProVita Juicer set includes:
1 ProVita Juicer
1 pulp collection cup (1 liter capacity)
1 juice collection cup (1 liter capacity)
1 cleaning brush
1 pusher
After you're finished juicing, the company claims that the ProVita Juicer is easy to clean up, and that all parts are dishwasher safe—with the exception of the base unit—which can simply be wiped clean.
ProVita Juicer Pricing & Refund Policy
The ProVita Juicer is currently only available directly from the manufacturer, and is priced at $399, plus $14.95 shipping and handling. However, if you're looking to save some money, it's important to note that the product appeared on the Today Show as recently as 1/8/14. During airtime, a promo code of TODAYJUICER was displayed, which can drastically reduce the price to $89.
We were unable to locate any return/refund information on the company's website, nor through any of the few customer reviews we were able to find.
Bottom Line: Is the ProVita Juicer a Scam?
With all this information in mind, is the ProVita Juicer a scam? The bottom line is, we simply don't know, because almost no information exists online about the manufacturer, or about the product. However, what few legitimate reviews we found did mention difficulty getting in contact with customer service.
Also, the ProVita Juicer carries a fairly high price tag, when compared to the competition. In fact, after completing a quick online search, we found a wide variety of masticating juicer options, some of which cost half the price.
And finally, not only will you have to trust the company's claims before spending $400 of your hard-earned money, you'll also have to trust that they stand behind their product. This is because no exchange/return/refund information is provided on their website, or anywhere else online, for that matter.
Disappointed

By Mary C.

,

San Francisco, CA

,

May 1, 2019
Verified Reviewer

I have been using the ProVita Juicer for just a couple of months. I purchased it for only $49.95 as an add-on item when I bought my Air Doctor air purifier. At that price, I was willing to take a risk on an unknown product brand. I purchased it four months ago, but for whatever reason, only began using it two months ago. My experience is similar to other unhappy reviews in which the strainer broke under normal use. So, I was not surprised, but I hoped it would be covered under warranty. However, when I called CUSTOMER SERVICE AT 800-218-9606, I was told that there was nothing they could do because it was more than one month after purchase and the problem was a broken part, not that the juicer wouldn't work.

He told me they don't even have the replacement part for purchase.

I read the CS rep the ONE YEAR warranty under which defective parts are covered for one year under normal use, and he finally conceded to give me a fax number to send my proof of purchase and they would "see what they could do." I am not impressed with the juicer or the customer service at this point.

Bottom Line: No, I would not recommend this to a friend

---

I'm Impressed!

By Heather

,

California

,

Aug 22, 2016
Verified Reviewer

Received this juicer yesterday. I'm in love. Easy set up, easy to use, easy clean up (no more difficult to clean than a centrifugal juicer). The quality, and quantity of juice it makes is top notch. It's not loud, and it's a sturdy machine. Prep your fruits, and veggies as stated in the manual, and there shouldn't be a problem. I've already juiced carrots, and celery with ease. The only negative is the lack of information about it available on the internet, and the Provita website is pretty generic.

Bottom Line: Yes, I would recommend this to a friend

---

Advertisement

---

Impressive Juicing Operation!

By Ratbastid

,

Canada

,

Feb 13, 2016
Verified Reviewer

As with others on this blog, I ordered the ProVita from the Today show for $89 bucks. After reading some negative reviews, I was skeptical and was hoping that it wasn't a scam. However, it arrived in about 5-6 days, nicely packed, and we tried it immediately. Following the instructions, we learned how to assemble it (easy) and we insured that we placed vegetables and fruits in properly, taking thick rinds off limes or oranges first, and going slowly. Have to say, used it four times now, and the operation is very GOOD. It shoots the pulp out one side and the juice out the other. No problem with operation, however cleanup is time consuming, as it must be cleaned thoroughly after operation. The downside is that its made in China, you can tell its cheaply manufactured, and lacking style, but if it continues to work properly, I have no complaints!

So far, so good, seems to be worth the $89.

Bottom Line: Yes, I would recommend this to a friend

---

So far so good after two rounds of juicing

By Polly

,

Dallas, Texas

,

Feb 9, 2016

I also ordered on the Today Show steals and deals. I find it easy to use and to clean up. The paperwork attached is not clear, looks like ink was running out. Date ordered 1/15/2016.

Bottom Line: Yes, I would recommend this to a friend

---

Advertisement

---

Very happy

By Cynthia

,

Michigan

,

Aug 12, 2015

Purchased through the today sale, received today and juiced everything in the fridge, it worked wonderful only discouraging thing is no place online to see it used or cleaned, e-manual I could enlarge or such. The "manual" that comes with it I cant seem to read even with my glasses.

Side note, I found this on you-tube. What To Do With The Vegetable Pulp From The Juicer http://youtu.be/A3boZQmsQ04 (she makes crackers by drying it out).

Bottom Line: Yes, I would recommend this to a friend

---

Very happy and impressed

By Erica

,

Upstate, NY

,

Jun 28, 2015

Like many others, I ordered my ProVita through the Today Show's Steals and Deals segment. I was very happy at finding a juicer for such a reasonable price of $89.

I haven't been disappointed at all. There is some prep work involved, but I would expect this to be the same with all juicers. I haven't seen one that you just plop an entire fruit into, regardless of size, and press a button. I'm happy that all I have to do is cut to size - I don't have to peel anything or extract cores, and it's usually a few minimal, quick rough cuts to get the fruit to the right size to fit into the opening. The juices have been delicious and worth it.

I didn't find it difficult to set up or clean. This is my first juicer, to I don't have prior experience with which to compare, but this one meets all my expectations and then some, and at more than 75% off retail, I was very happy.

Bottom Line: Yes, I would recommend this to a friend

---

ProVita juicer purchased after seeing on the Today Show

By Joyce

,

Michigan

,

Jun 25, 2015

I would not recommend this product. For the first month it worked beautifully. I gave the product two stars since it did work for a month and I did enjoy the juice. The juice was delicious. However, after about a month I noticed a crack on the strainer portion of the machine. I also began to notice clumps of pulp in my juice. Within the second month the clumps became so large that the juice no longer has that nice clean taste in did in the beginning.

I called customer service and they said they had never heard of this issue and that I needed to call them back within two days to see if they can help me as they don't know anything about the product.

It's bad enough I spent $80 on a machine that was only going to work for a month. At least I didn't spend $400.

Bottom Line: No, I would not recommend this to a friend

---

Works Just Like the $350 Brand

By Cynthia

,

Texas

,

Jun 23, 2015

I bought my juicer using the Today show promo even though I already owned a centrifugal juicer. This cold press masticating juicer definitely gave me much more juice than my Jack LaLanne.

The only complaint is that the manual was a photocopied set of sheets that isn't very clear. However, because I had seen my friend use her Omega (and this is almost exactly the same), I was able to work it perfectly well. I wish I had seen positive reviews about the ProVita Juicer when I was purchasing mine. I would have bought two more as gifts.

Bottom Line: Yes, I would recommend this to a friend

---

Wonderful juicer

By Bree

,

California

,

Jun 23, 2015

I received my juicer yesterday after purchasing it only last week on thru the steals and deals segment on The Today Show. Excited, we opened it and started juicing right away. It did come with a photocopied manual but I really did not have to rely on the manual. It is so easy my 11 year old figured it out with me right away.

We juiced carrots, apples and celery in our first drink. Wonderful. The pulp came out perfectly and the juice was so tasty. I do admit the clean up of the pulp can be a little tedious, but running warm water through while the machine is running, gets most of it right out of the spout. I juiced kale, spinach, ginger and tomatoes this morning and the result was perfect. Yay.

Bottom Line: Yes, I would recommend this to a friend

---

Don't waste your money on the ProVIta.

By Sally

,

Los Angeles, CA

,

Jun 23, 2015

I was so excited to see the Today show which featured ProVita as a juicer that "Jill" highly recommended with a 70% off discount special which made it $89 plus tax. This was the worst purchase I've ever made in my life. First off, the "manual" is 6 pages (of 12 pages) photo copied user manual. It seems easy to read and use. As I read the simple directions, my first pet peeve was that you have to chop all the ingredients to fit into the tiny hopper.

Then, as I tried many times cleaning and starting the process over and over to "juice" none of the pulp was being extracted. The manual did not help explain any of these problems I was facing. I searched online for a video demo and tried to figure out why my machine was not pulping and just spitting things back up and overflowing the "strainer" which needed to be emptied over and over and making a mess in my sink.

After many failed attempts, I found a rubber stopper on the bottom of the "bowl" that is screwed on that you have to unplug. Finally, the machine does not juice unless you hit the "R" (reverse) button. By the way, it is not an easy machine to clean up either. Horrible. I'm sad the Today show endorsed such a poorly made product.

Bottom Line: No, I would not recommend this to a friend

---

Very Happy With my ProVita

By Dan

,

Tampa, FL

,

Jun 8, 2015

I got my ProVita through the Today Show Special and I was worried that it was going to be a waste of money, but I took the chance. I'm glad that i did!

I get a lot more juice from the ProVita than I ever got from my Breville Juice Fountain. There are a few things you need to know to get the best out of the ProVita. First, the little rubber flap on the bottom of the clear plastic piece should be pushed into the pulp out slot before attaching it to the power base. Also, the manual says to alternate hard and soft fruits and vegetables and this is key to getting max performance. Make sure to cut things into small pieces (2" or less) and the juicer will extract maximum juice without getting stuck. I've never had to run mine in reverse.

I've discovered that you should run foods with long fibers like celery and ginger at the end.

The manual says do not run frozen fruit through the machine, but i didn't listen. I tried frozen bananas and frozen berries and i got the best sorbet I've ever had. Everything just comes out the pulp side and there is no juice.

I have not used my Breville since i got the ProVita and i don't plan to.

Bottom Line: Yes, I would recommend this to a friend

---