PupBox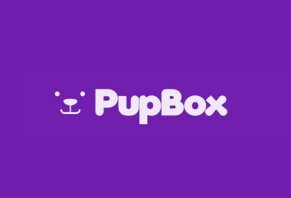 PupBox is a subscription box company designed to give you age-appropriate pet products every month to help you raise a better puppy.
PupBox Review: Is It Worth It?
What Is PupBox?
Pupbox is a monthly subscription service that delivers a curated collection of dog products to you tailored to your pet's age.
These boxes are designed to help you raise your puppy right with age-appropriate toys, treats, and training and development material meant to help you understand each phase they are in.
The company began in 2014 when founders Ben and Ariel Zvaifler wanted to create a subscription product that would help pet owners adjust to the joys and challenges of raising a puppy.
The pair pitched their idea to Shark Tank in 2016, and the fledgling company was purchased by Petco in 2017.
PupBox's mission is to help you navigate the joys of puppyhood by providing you with top quality tools and resources to guide the growing up process. It's also possible to purchase PupBox for adult dogs if your pet has aged beyond the puppy years.
There are a lot of pet-inspired subscription boxes available. Is PupBox worth your time compared to the competition? Here, we'll go through the details so that you can decide whether it's the right way to spoil your dog.
How Do You Sign Up for PupBox?
Once you navigate to the PupBox website, you can get started creating an account for your dog. You will first share their name, then their birth date, gender, size, and coat length. It's optional to add a pet photo, submit a short bio, and provide allergy information.
From there, you can see pricing information for a subscription. At the time of writing, a single box cost $39, a three-month membership was $34 per month, six-months was $32 per month, and an annual membership was $29 per month.
Each plan purchase enrolls you in an automatic subscription that you are charged for monthly.
Shipping is free throughout the United States and costs $5 within Canada.
What's Inside a PupBox?
PupBox states that every box they ship contains five to seven premium products. This will always include a bag of training treats made in the United States and four to six other products selected for your pet based on their age and physical characteristics.
For instance, a puppy at the stage of getting housebroken might receive a pee spray, while dogs that are teething will likely get extra chew toys.
Other common products include grooming and training supplies. The company states that its products rotate monthly so that you won't receive the same thing twice.
Here's an example of all the products within one PupBox as well as their estimated value at the time of publishing.
Pet Shop-brand small gold tiara for Halloween: $5.95
Hachables Inside-Out dog toy that transforms from a bat to a pumpkin: $8.99
Fizzion Pet Stain & Odor Remover: $12.95
Simply Fido Beginnings organic cotton chew toy: $9.99
Charming-brand lion squeaky toy made from recycled latex balloons: $8.25
Wellness Soft Puppy Bites: $4.49
Groom Genie Natural Pet Wipes: $2.95
The overall value of this sample box comes to $53.57, which is about $15 less than the cost of a single PupBox.
If you use most of the items within the box, you are getting a better value than if you bought them separately, especially if you sign up for a multi-month subscription.
Along with these products is a full training guide relevant to your pet's current stage of life. The guide will walk you through the current changes happening in your pet's development and how you can make the experience smoother through positive reinforcement techniques.
According to the PupBox, celebrity puppy trainer Andrea Arden approves all included training and development information.
Are PupBox Products Safe?
Dog owners know that pet products range significantly in quality, and many low-cost options can be dangerous for your pets. Can you trust what comes in a PupBox to be safe for your pet?
You can share information about known food allergies on your pet's profile before signing up for a subscription, and the company will do its best to send you products that comply with it. It's best to contact the company directly if your pet's allergy isn't one of the listed options on the site.
PupBox states that they review the products they send out for safety and that they utilize a team of "puppy product testers" to ensure the toys are both fun and high quality.
Likewise, the company only distributes treats made in the United States, and their chews all come from the United States, Canada, South America, Australia, or New Zealand. Toys, on the other hand, are sourced worldwide.
PupBox states online that they don't provide any rawhide treats in their subscription boxes. The reason that rawhide is difficult for dogs to digest and often treated with potentially dangerous chemicals.
Your box will likely include rawhide alternatives instead, such as bully sticks, ears, and bones.
If you think your pet has a sensitive digestive system or other health problems, it's best to talk with your vet to come up with a guide about products your pet shouldn't eat or play with.
Are PupBox Products Durable?
Many breeds of dogs are heavy chewers from the beginning. We learned online that the company provides more durable toys in the boxes of pets who are the age and size of most tough chewers.
Saying that, the company suggests that dog owners embrace their pet's love of destruction by allowing them to tear toys to shreds in a supervised way.
So long as you remove any pulled-out fluff or pieces that pose choking hazards, then ripping apart toys can be physically and mentally beneficial for developing dogs.
However, if you receive a toy that your pet destroys in minutes—or is unsatisfactory in another way—you can message PupBox at info@pupbox.com to request a replacement. The company will then ensure that all future shipments you receive match your requests.
Can Adult Dogs Use PupBox?
Despite its name, your dog doesn't need to age out of PupBox. The company ships the subscription boxes to dogs of all ages and will provide you with less age-specific products for adult dogs, though the rest of the box's contents are personalized to your pet.
In many cases, you will also receive educational material on how to train your dog to master advanced training tricks.
About the PupBox Referral Program
PupBox offers a referral program for those who convince their friends to sign up for a subscription.
All customers receive a unique share link that permits others to get 50% off their first month of PupBox when they sign up for a multi-month subscription. You, in turn, will receive one free month added your paid subscription.
This referral program only works for people in different households from the original subscriber who are new to PupBox.
PupBox vs. Barkbox: Which Is Better?
PupBox is far from the only pet subscription box service available today. Another customer favorite is BarkBox. How do these two differ?
Like PupBox, BarkBox sells subscriptions for monthly boxes of dog toys, treats, and hygiene products. You'll receive between four to six items per box that are customized based on your dog's gender, size, breed, and allergy information.
Pricewise, you'll pay $29 per month or $25 per month for a six-month subscription and $22 per box for an annual membership.
Both the half-year and yearly membership include a double-sized box in your first order, and you have the option to add an extra premium toy to the delivery for an additional $9 per month.
This makes BarkBox about $10 more per box for what seems to be relatively similar products.
The big difference between the two is that PupBox is primarily targeted towards puppies and owners who want some guidance for training, while BarkBox includes fun products that are meant for most dogs, regardless of their age.
If you're raising a puppy, then the extra personalization of PupBox might be worth the additional cost each month. But for those whose dogs have already reached adulthood, you might want to consider signing up for BarkBox instead.
The Bottom Line: Who Is Pupbox Ideal For?
Now it's time to decide; should you sign up for PupBox? We couldn't find any verified customer reviews of this company online, so it's difficult to weigh in on whether shoppers are happy with their purchase.
We think that PupBox seems to excel at their niche of dog ownership—providing quality supplies to new dog owners.
The contents of the sample subscription box we looked at included supplies that would be useful for owning a small puppy, including soft treats, appropriately sized toys, and cleaning supplies.
Some of the box's products even had a Halloween theme to fit with the time of year.
We think that PupBox makes sense for anyone who just got a puppy and is starting from square one in regards to supplies.
If you adopted an older dog or have had your pet for a while, there's a higher chance you might already own some of the products you'll receive in your box—especially the cleaning supplies.
These pet owners will probably find more value in a BarkBox subscription instead.
PupBox would probably make a great gift as well. You'll just need to be sure that you cancel the subscription at the appropriate time so that it doesn't automatically renew beyond the timeframe you meant to gift it.
---
These folks know my dog!

By Randy F.

,

Leesburg, VA

,

Nov 19, 2020
Verified Reviewer

Length of Use: 3–6 months

Overall Experience:

For each phase of puppyhood everything right on the money for chews, treats, and toys. As well as great advice for that particular age. Glad I found them!

Pros and Cons:

Products appropriate for my dog type and age
First deliver a little slow but worth the wait

Bottom Line: Yes, I would recommend this to a friend

---

PupBox sucks

By Anita L.

,

May 18, 2020
Verified Reviewer

Overall Experience:

PupBox has you tell them all about your puppy, what size they are, treat and toy size, but they send you whatever they "have in the warehouse". I have a 4 lb teacup chihuahua and her teeth are very very tiny and they send her treats that I can't even break. Every month I have to call because the treats are way too hard. This month 3 of the items were just awful. They were so hard there's no way she can eat/play with them and when I finally got ahold of them they gave me $9.99 to spend at the store. I looked and one of the items was $11.99. The $9.99 covered one item. You spend a lot of money each month and they screw you big time. They will not let you cancel your subscription either. Trust me, I tried several times. Don't waste your time or money.

Go with BarkBox. They go out of their way to take care of you and your pup. If they make a mistake it's taken care of within minutes of your calling, you cannot call PupBox, chatting, email. The toys and treats are much better, it's cheaper. And if you tell them you need certain kinds of toys or treats...you get them!

Bottom Line: No, I would not recommend this to a friend

---

Advertisement

---

Scam artist

By Ty P.

,

Raleigh, NC

,

Mar 23, 2020
Verified Reviewer

Overall Experience:

The gifts are great and well-designed. They ship on time, half the time. This company overprices their products and when you try to leave they switch your subscription back on without you knowing, leaving you with an unexpected bill. I had to call the credit card company to cancel. They simply won't delete my credit card information!

Bottom line, if you buy a subscription it may take months to cancel. They are sneaky and will stab your wallet when you're not looking.

Bottom Line: No, I would not recommend this to a friend

---

Sends out deadly grain-free treats

By Ryan B.

,

Arizona

,

Feb 21, 2020
Verified Reviewer

Overall Experience:

If you are a pet owner and haven't heard anything about the "Grain-Free" treats and foods, STOP FEEDING THEM TO YOUR PETS RIGHT AWAY! And educate yourself on the grave dangers of these products. Stay away from anything that is Grain-Free, as it leads to an inevitable early death to animals. The FDA has recalled many grain-free foods but there are still a lot out there. I was beside myself when I received a package of grain-free treats from PupBox. I immediately canceled my subscription and wrote into them right away. They responded with kady and generic "company" response and used the excuse that the treats were from Petco, so they are ok. That Petco wouldn't sell anything dangerous. This response made me cringe thinking about all of the people who order PupBox and like me, trusted that what you receive isn't going to be bad for your pet and many won't notice to throw away the grain-free treats from this month and on forward. This company is all about money and are a big gimmick. They are overpriced anyways and try to trick you in with their specials where they give you a cheap first box but then hike up to their expensive normal prices and have you in a no cancel contract for however many months. And if you cancel early, they will automatically charge your card the difference of the normal price and the discount you received for your 1st time promo.

STAY AWAY FROM PUPBOX. They could care less about your pets' well-being and put on a good show to get your money.

Bottom Line: No, I would not recommend this to a friend

---

Advertisement

---

Awful...beware.

By Patti L.

,

Florida

,

Feb 13, 2020
Verified Reviewer

Overall Experience:

They give you a nice box, the following month send a box with hardly anything in it and then take money and never send you anything else. There is no phone number to contact them and you only get a generic email response from them. After many attempts to get in touch with them, I had to involve PayPal to try and get my money back. It has been an extremely painful experience. Do yourself a favor, go to the store yourself!

Bottom Line: No, I would not recommend this to a friend

---