Pure Keto Blast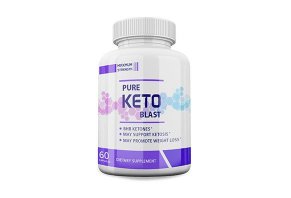 We found through in-depth research that Pure Keto Blast has a lot of red flags that may steer you away from the supplement. While its main ingredient, BHB, could reduce your appetite, there's not much evidence suggesting it can put you in ketosis.
Pure Keto Blast Review: Ingredients, Safety, Side Effects, Does It Work?
What Is Pure Keto Blast?
Pure Keto Blast is a supplement that contains an ingredient called beta-hydroxybutyrate (BHB), which the supplement claims can help your body get into ketosis.
The supplement hails its beta-hydroxybutyrate as a "revolutionary breakthrough" that is "the most talked about weight loss product." The capsules can help you lost up to one pound per day, Pure Keto Blast claims.
While these claims are impressive, it's important to look beyond the claims and analyze the supplement's ingredients to see if there's any scientific evidence to support those claims.
We'll do that by talking to you about what this supplement is and what keto is, what its ingredients are, possible side effects and safety issues, scientific efficacy and pricing. We'll also talk about our overall impressions of the supplement's strengths and weaknesses.
How to Take Pure Keto Blast
You will take two Pure Keto Blast capsules per day with a glass of water. The supplement's website recommends eating keto-friendly meals throughout the day. This second point is really important, as the product emphasizes the importance of pairing the supplement with a keto diet.
What Is the Keto Diet?
Because the Pure Keto Blast website links their supplement to the keto diet, you'll need to understand what "keto" means.
Your body needs energy. In most cases, it turns to the carbohydrates your body eats to get that energy. This is why you used to hear about runners and other endurance athletes eating a lot of carbs the night before a race.
Now, if you don't eat any carbs, your body still needs energy. So, instead of burning the carbs you eat, it burns the fat present in your body. And, when your body burns fat in ketosis, it helps you lose weight.
As your body breaks down fat, BHB and two other chemicals known as "ketones" are released into your bloodstream. Your body uses these ketones as energy, according to Healthline.com.
Translating this into a diet is tough, though. The keto diet is more than just eliminating carbs. The general rule of thumb is to eat a diet made up of 70% fat, 25% protein and 5% carbs.
Once you make this switch, you'll experience a lot of side effects in the first few weeks. Your body isn't used to living without carbs. To help counter some of these side effects, experts recommend drinking a lot of water because ketosis causes water loss.
Pure Keto Blast's Ingredients
This supplement's website is very simple: It's only one page. At the time of publishing, that page provided limited information about what was in each capsule. In fact, all we know about its ingredients is that they are 100% natural and that they contain BHB.
As we explained earlier, BHB is one of three ketones your body produces when it breaks down fat during ketosis. These ketones float around in your bloodstream and your body uses them for energy.
Based on our research on more than 1,000 supplements, we believe that a lack of ingredients is a significant red flag. Now knowing what's in a capsule or the dosage of what's in a capsule can present some significant risks related to side effects and safety, which we'll talk about in the next section.
Pure Keto Blast Side Effects and Safety
WE didn't find any adverse reactions to BHB, the only known ingredient in Pure Keto Blast. However, because the supplement is supposed to be used in conjunction with a keto diet, there's a good chance you're going to experience "keto flu," a well-known side-effect of a keto diet.
During the first few weeks of ketosis, there's a good chance you'll deal with bad breath, possible diarrhea, headaches and an overall feeling of crankiness due to the side effects.
Keep in mind though that these side effects aren't related specifically to BHB but to the keto diet the Pure Keto Blast website asks you to follow.
Scientific Efficacy of Pure Keto Blast
There isn't conclusive evidence that taking BHB will help you lose weight through ketosis.
In addition to a lack of evidence, there's a common-sense factor at play. Your body produces ketones after it breaks down fat during ketosis. In other words, ketones show up after your body burns the fat that leads to weight-loss. So, it stands to reason that taking a ketone supplement like Pure Keto Blast wouldn't break down fat (weight loss) but would provide your body with a new source of energy.
Research doesn't support the efficacy of BHB to start ketosis, there is adequate evidence showing BHB supplements can help decrease your appetite.
A 2018 study from Oxford University indicates that BHB decreases ghrelin, a chemical in the body that makes you feel hungry. This is promising for those who are trying to get into ketosis through their diet but you need to remember a few things.
First, the study tested ketones you ingest through a ketone drink, not ketone capsules. Also, the study used ketone esters instead of ketone salts, which are slightly different. Finally, the study used the term "exogenous ketones," which refers to ketones you take through supplements, not ketones your body makes on its own:
"Exogenous ketosis following KE drinks reduced two measures of appetite, hunger and desire to eat ... This occurred in conjunction with decreased levels of the hunger hormone, ghrelin," the study concluded. "Therefore, KE drinks offer a unique opportunity to isolate and exploit the effects of ketosis on appetite without other dietary interventions."
Pure Keto Blast Pricing and Return Policy
Finding the pricing for this supplement was difficult. The order link on its website did not work, so we did a quick Google search and found several sites selling Pure Keto Blast. When we clicked on one of the ordering pages, it took us back to the Pure Keto Blast website and the order link worked.
The price for one bottle of 60 capsules (30-day supply) was $4.98. The price seemed to be far too low for a supplement that typically costs at least $30 for one bottle, according to our research.
We noticed the price was framed as a "trial period" price. We clicked on a link to the supplement's terms and conditions and discovered some serious red flags.
First, the terms and conditions say the trial period is 14 days, starting the day you buy the supplement. Those 14 days are not limited to business days; they include Saturdays and Sundays.
Second, when you sign up for the trial period, the fine print says you are agreeing "to join a recurring membership plan." This means that when your trial period ends, Pure Keto Blast will automatically charge you for a new bottle of the supplement at its regular price.
The fine print went on to say that the regular subscription price is $89.63. To cancel the recurring charges, you'll have to email Pure Keto Blast "at least one day before the end of the trial period." The company advises you to contact them one day before the trial ends because they charge you on the fourteenth day.
To cancel your membership, you'll need to email the company at admin@pure-keto-blast.com.
If you want to return your free trial, don't bother. We don't usually take such a decisive tone on these matters but the supplement's terms and conditions make returns more expensive than the cost of the first bottle. You'll have to pay return shipping and a $9.95 restocking fee, which will most likely cost at least $13.95.
Research-Based Conclusions About Pure Keto Blast
We believe there are some clear red flags about this product that will most likely discourage you from buying it.
First, the supplement does not list its ingredients nor the dosage amounts of its ingredients. While this shouldn't be a problem because there are few side effects related to taking BHB, we never recommend taking a supplement for which there is no ingredients list.
Second, the product's membership program can be a costly commitment if you forget to cancel your membership or you're confused about when the free trial ends.
Finally, in our opinion, there isn't much research to prove that taking a BHB supplement will put your body into ketosis. We did, however, find some research indicating BHB supplements could reduce your hunger.
Though BHB supplements may be able to reduce hunger, we'd suggest trying other options like fiber supplements, as they tend to be cheaper over time and won't enroll you in a subscription membership that costs nearly $90 per month.
Scam! Liars! Cheats!

By Kolen T.

,

Kenesaw, GA

,

Feb 29, 2020
Verified Reviewer

I got the Keto Blast Extreme and found I couldn't take it due to stomach cramps, headaches, and general nausea. I called to cancel the subscription before another shipment was shipped. What a crock. At first, I was told there was a $30 early cancelation fee which I refused to pay. They said to call on this day to cancel. I called again today, told them what the problem was and again was told I had to pay for it to be canceled. I asked for a supervisor, which I never got. She did drop it down to $14.95 and said it was as low as she could go. That it would be charged to my credit card, then no other charges would show. What a scam. I paid for the free trial and then to cancel it! SCAM SCAM SCAM.

Bottom Line: No, I would not recommend this to a friend

---

They lie, they will not return my money!

By John S.

,

Eau Claire, WI

,

Feb 10, 2020
Verified Reviewer

I want my money back from these people, they took $89.96 and took $89.91 from my checking account, which they did not have the right to so. They were only to take the $39.99 like it said in the ad but nooo, they took more and that put me in overdraft.

Bottom Line: No, I would not recommend this to a friend

---

Advertisement

---

Total scam!

By Crissy B.

,

Blauvelt, NY

,

Jan 24, 2020
Verified Reviewer

Stay away! They advertise a free bottle with only paying shipping ($6.96), a month later I find a charge of $89.90 from my account! They refuse to refund me the money! Starting a claim against them! Total scam!

Bottom Line: No, I would not recommend this to a friend

---

Deception

By Tiffany T.

,

Adams, MA

,

Sep 26, 2019
Verified Reviewer

This is the email I sent to them, I believe it covers most of my concerns and certainly expresses my extreme dissatisfaction:

I am very discouraged by the sly way your company has marketed this product and trial. I have taken the hit on the ridiculously overpriced cost of your "free trial scam" when the woman who answered refused me any way to have the charge returned. The most unfortunate part is that your product doesn't work as it claims to. There are multiple slimy practices you use and I will fill you in on some of the ones I've encountered and hope to reach as many as possible with my experience all the way up to the final step on this unbelievably unfortunate journey. For one you have flooded the internet with your lie of "absolutely free trial" and claimed you'd send a 30 day supply bottle for just the price of shipping! You deceivingly word it and then you use your fine print to really sock it to the consumer purposefully! 14 days are free and no not your typical 14 business days as any other business would operate but 14 calander days just so you can maybe trick another few people into paying your outrageous price for your ineffective product. Another conniving piece of the puzzle is the fact that you have an over abundance of distributors that are peddling this product which causes even more confusion for us consumers. I have been diligently trying to get to the bottom of this seemingly unauthorized $89 charge since the day it was flagged by the bank as possibly fraudulent (not a very good look for you company if banks are flagging you as fraudulent and it was my first clue that this was going to be an uphill battle.) I tried EVERYTHING to find out how to make the ad, which I was bombarded with over and over on Facebook for WEEKS prior to me giving in and taking the dive, to reappear but it conveniently was no where. I sent multiple emails to multiple distributors to try and get to the bottom of the charge but each one said we're sorry it wasn't through us but none helpfully mentioned that regardless of where you see the ad you will most likely end up on your direct ordering page. Another issue of course is the way it was billed. It would have been helpful if the heading had ANYTHING to do with your product, maybe using the commercial name would have been nice instead of the crypic 'LS7 FORSKOLIN 831-6638 CAUS'. So by the time I gave up the search for the distributor and tried my hand at going right to the source it had been 21 days. That brings me to today. The day that I have lost faith in the idea that companies care about their customers even slightly. It all boils down to what you can fit into your greedy pockets. This detox blast trial I never even opened due to the lacking progress made with your other "miracle drug" so I offered your very loose definition of a "customer service rep" to send it back and at least have the benefit of 50% of my funds reimbursed. However it seems you have a no compromise allowed policy that assures you that every duped customer has no options. I was very excited in the beginning to try this product and I'm astonished and disheartened by how your company handles itself. I truly thought if they were willing to allow folks the chance to see results before committing to such a financial investment hey have to have some proof that this works! Sadly it was just a scam that stuck people with an ineffective pill that they would pay dearly for before they even had the chance to confront the claims. I'm sure your raking in the money on these "free trials" though and I'm also certain that you don't have many WILLING participants who stay on past that first unsatisfactory "free trial". I hope you folks can see at some point that you are part of the problem not the solution. Corporate greed at it's worst. I'm sorry this is the way my situation panned out and I can only hope to share my story in an effort to EDUCATE people on this perfectly legal but dishonest manufacturer.

Sincerely,

A deservedly disgruntled and deceived consumer

Bottom Line: No, I would not recommend this to a friend

---

Advertisement

---