Purefy Reviews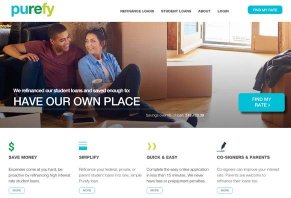 Students looking to refinance their student loans can turn to Purefy, where the site will link you with one of three lenders who can offer competitive APR's and loan amounts up to $300,000.
What Is Purefy?
Purefy is an online lender who provides refinancing and debt consolidation for federal student loans, private student loans and Parent PLUS student loans.
The company goal, according to their website, is to provide you with excellent customer services during your search for refinancing options. As you work with them, you'll find that Purefy works with three different lenders to provide you a loan: Citizens First, PenFed and INvestEd.
The company was launched in 2014 and is based in Washington D.C. Their founder is Jack Zoeller, a West Point grad and former Army Ranger with extensive Wall Street experience. At the time of publishing, Purefy's president was Bill Huber, a veteran of the financial sector with expertise in working with private student loan lenders.
With all this in mind, it's important to figure out if Purefy is the right company for your student loan refinancing, especially considering that Student Loan Hero estimates that college grads are now leaving college with more than $39,000 in student loan debt.
Since we're dealing with a lot of money and a lot of long-term implications (rising interest rates and tens of thousands of dollars of interest payments), it's important that you know a few things about Purefy:
Who can borrow from them?
Who are their lenders?
What are their rates?
What are borrowers saying about them?
How do they compare to other student loan refinancers?
We're going to provide you answers for each of these questions and, once we're done helping you through all the information we've gathered, we'll provide you a quick list of Purefy's strengths and weaknesses.
Purefy's Lenders: Borrower Requirements and Loan Terms
Most people run directly to the rates and fees that a lender will charge you for borrowing from them. Based on our research, though, we think it's best to start with something more basic: Who is allowed to borrow from Purefy?
And, to answer this question, we need to talk about the different lenders that Purefy works with. We mentioned them early on in this review, but we'll list them again: Citizens One, PenFed and INvestEd.
Each one of these lenders has different criteria for who can borrow from them as well as which rates and terms they offer.
As a side note, borrowers who are interested in using Purefy can use the site's "Find My Rate" tool to see which lenders are available to them. We did this and were offered four different options from Citizens One. You'll want to use this tool if your goal is to get a feel for what Purefy can offer you.
Citizens One Loans
Citizens One has, according to their fine print, lent more than $11 billion dollars in loans to more than 700,000 borrowers.
Their borrowers have to fit the following requirements:
Earn at least $24,000/year
Cannot be in school
Can't be in an income-based repayment plan
Can't be in a reduced payment plan
The size of their loans depends on how far you went in school. For those who didn't graduate or earned an AA or bachelor's degree, the max loan amount is $90,000. Master's grads have a max amount of $225,000 and the cap on loan amounts for those with professional degrees is $300,000.
APR's (interest rate plus fees) range from 3.5 percent to 8.34 percent for fixed-rate loans and 2.88 percent to 7.98 percent for variable rate loans.
When you use Purefy's Find My Rate tool, there's a good chance you'll be offered fixed- and variable-rate loans. The difference is that fixed-rate loans have the same interest rate for the life of the loan, whereas variable-rate loans have rates that change as the economy goes up and down.
Variable rates work to your advantage, the logic goes, when fixed rates are really high and then rates begin to fall. If that's the case, your variable rate will fall, too.
Loan lengths are five years, 10 years, 15 years and 20 years.
PenFed Loans
"PenFed" is short for Pentagon Federal Credit Union, a financial institution whose membership is made up of military members, for the most part.
The various requirements and terms of their loans are a little different than Citizen One's. Based on our research, the one thing you need to know about their borrower rules is that you have to meet their credit requirements. This is important to know because credit unions often have higher standards for lending than tradition banks or non-bank lenders. Since their standards are higher and they get more reliable borrowers, they can offer lower rates.
For example, their APR's for fixed-rate loans range from 3.48 percent to 7.28 percent and variable-rate loans are 3.48 percent to 7.26 percent. The lowest rate is 0.02 percent lower than Citizens One but it's the highest rate that reveals the difference. PenFed's 7.28 percent is a full one percent better than Citizens One.
The range of repayment lengths on these loans are shorter than Citizens One: 5, 8, 12 and 15 years instead of 5, 10, 15 and 20.
INvestEd Loans
The final option that Purefy offers is INvestEd. This company is different than the other two because they only lend to students who are residents of Indiana. Also, INvestEd isn't a lender, but rather a marketplace that provides you with multiple quotes for consolidation and refinancing rates.
Their borrower requirements are pretty basic. You have to have at least a bachelor's degree and you need to meet the lender's credit requirements are two of the significant ones.
Aside from that, your loans will have fixed rates from 3.92 percent to 9.64 percent and variable rates of between 2.42 percent and 6.91 percent.
Their repayment lengths are 5, 12 and 20 years long.
How Purefy Compares to Other Student Loan Refinance Sites
Over the past few years, a number of different "non-bank" lenders have popped up providing student loan refinancing. These lenders aren't related to banks. Rather, they raise their money through capital gained from investors and by the fees and interest they charge on loans.
SoFi and Earnest are some of the more well-known non-bank lenders. The difference between these lenders and Purefy is that they lend directly to you via their pool of cash, whereas Purefy connects you with lenders and credit unions.
The sites work the same way, though. The lender, whether it's SoFi or Citizens One, will take into account your income, existing debt and credit scores, as well as other factors. They'll then approve you for a loan with a specific APR and length of repayment.
Without getting too far into the details, we'll tell you that the rates and loan repayment terms Purefy can get you are similar to what you can get from SoFi, Earnest and Prosper.
Each site offers repayment periods of between five and 20 years. The one advantage we'd point out that is that both SoFi and Earnest give you a small discount (0.25%) if you put your payments on autopay. Over time, that small discount can save you hundreds of dollars.
Because of this, we think that SoFi and Earnest offer a slight advantage. However, much of this depends on the rates you can get from each site. Our recommendation is to get loan quotes from Purefy, SoFi and Earnest and compare what you've been offered.
The Final Word: Pros and Cons of Purefy
Finding the right lender through which to consolidate your student loans can be intimidating because there are so many lenders out there.
Purefy is unique in that they connect you with one of three lenders who can offer you refinancing options. You won't get this with SoFi or Earnest because those two sites lend directly to you instead of connecting you to a lender.
In this sense, Purefy is already comparing what at least two different lenders offer you and, if you live in Indiana, three different lenders. This works to your advantage, as you're most likely going to get the best offer you can from the available lenders.
In terms of downsides, it's hard to say that there are any specific drawbacks to using Purefy. Finding a good loan is all about comparing rates and choosing the lender who can give you the best terms based on your financial situation.
If there's one bit of advice we'd give you, it's that you need to be smart about your finances. Know what your average student loan interest rates are – your servicer should be able to tell. Compare that average rate to what Purefy or another site offers you.
And, remember, your student loans were provided without checking your credit so, if your credit scores are in the mid to high 700's and you have above-average income, there's a good chance you can get a low interest rate. Just make sure that rate is lower than the average payments you already have.
Also, make sure you understand which of your current student loans are variable rate and which ones aren't. Those that are will most likely rise in the next couple of years as the Federal Reserve continues to raise interest rates. If many of your loans are variable rate, it might be a good idea to lock in a fixed-rate refinance.
» For Further Reading: