Pyramid Credit Repair Reviews
Claimed This company has claimed this profile, is getting alerted on any new customer reviews entering this page, and may engage in dialogue with its customers to address their matters.

Companies cannot pay money or provide goods in order to remove or alter customer reviews.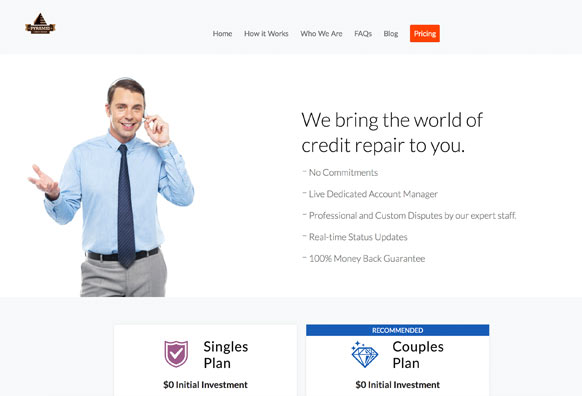 After identifying and correcting errors on your credit reports, Pyramid Credit Repair's trained specialists could help increase your overall credit score.
What Is Pyramid Credit Repair?
By scrutinizing your credit reports and updating any inaccurate, obsolete, erroneous, incomplete, and unverifiable information they contain, Pyramid Credit Repair's expert staff ensures that they'll help you discover ways to improve your credit score.
The company's website indicates their easy and innovative three-step credit recovery plan works like this:
First, you'll need to choose a Singles or Couples plan. This only references the number of eligible users on your account, but has no bearing on the services you'll receive. At this time, you'll also be assigned to a helpful, knowledgeable Dedicated Dispute Manager.
Within 24 hours, you'll be able to log into your personalized portal, which acts as a centralized dashboard for communication, tracking your score, and viewing real-time results and analyses. The database it connects with will also help formulate a custom-tailored plan.
Finally, you'll receive a Pyramid Care Package in the mail, containing a simple, fast USB card and toolkit, which can be passed along to family or a friend. In the meantime, their dispute experts will continue holding credit sources accountable for any misrepresentations in your reports.
The Pyramid website indicates that, on average, many of their clients see results in as little as 45 to 60 days. But what kinds of results, specifically? Are we talking about a couple of points, or bumping your score up a couple of classifications? Is it really one of the best ways to detect erroneous reports?
In this article, we'll explore important questions like these so you can make a more empowered decision before handing over your money. Let's start with a couple of foundation concepts.
What Is Credit Score & How Can It Be Repaired?
In our Comprehensive Guide to Making Sense of Your Credit Scores, we explain that "In simple terms, your credit score is what credit card companies, mortgage lenders, insurance providers, etc., use to determine whether or not you're going to pay your bills on time. The higher the number, the better score."
Depending on your score, there are five different credit classification levels:
Excellent: 740-850
Good: 680-740
Acceptable: 620-680
Subprime: 550-620
Poor: 300-550
How is this number calculated? It's based on a variety of data found in your credit history, although important factors include the number of accounts you've opened and closed, how long you've had these accounts, on time/late payments, account balances, and the variation of your credit accounts.
Long story short, if you pay your bills on time and maintain low balances, you'll have a higher credit score than someone who doesn't.
Who tabulates these scores? As mentioned on the Pyramid website, there are three reporting bureaus: TransUnion, Equifax, and Experian. Each uses a unique formulation of about 300 factors (or 'ingredients') to calculate their scores, although they're generally within 20 points of one another.
Sometimes, the reports used by bureaus contain inaccurate information, which can negatively impact a person's score. In fact, according to the Federal Trade Commission (FTC), about five percent of consumers have an error on their credit report that's big enough to increase the rates they receive from lenders. And overall, about 25 percent of consumers have major or minor errors on their reports.
As such, if you take the time to comb through them, identify errors, and notify the appropriate bureau(s), the FTC reports that it's possible to raise your score between 25 and 100 points.
Given this information, how does Pyramid add value to the credit repair process?
Our Interview With Pyramid Credit Repair
We had the opportunity interview a Pyramid representative, who provided a great deal of insight that we believe you can use to make a more empowered decision.
After a customer signs up for a Pyramid account, can you briefly walk us through the process—including what experts are looking for in their analysis?
After signing up for a complimentary account, the representative informed us that a dedicated Dispute Manager will qualify you and see if Pyramid is the right fit to help with your credit goals.
If so, they'll walk you through each line item on your credit reports to better understand the information they contain, and help you identify anything that's inaccurate, obsolete, or erroneous.
Based on what they find, the company will "draw out a strategic game plan and set proper expectations about what to expect, based on our statistics," the rep told us.
Should you decide to move forward, you'll endorse an agreement between you and Pyramid (at which time they'll collect IDs), and they'll get to work preparing letters for creditors and credit bureaus.
Once they're sent, we're told customers will typically receive results within four to six weeks. During the process, you'll be able to check status directly through an online dashboard, or receive a more personalized touch by reaching out to your Dispute Manager directly via text, phone, email, and/or your online portal.
After you've received your first round of results, the rep told us that Pyramid will complete another credit assessment for each customer, based on these updated results.
"We can then build upon any disputes that were sent previously. Or, we can completely modify the new disputes in order to help increase effectiveness. Either way, our goal is to help you reach your credit goals as quickly as possible by taking as much of the work out of your hands as possible," they emphasized.
How are credit repair specialists trained? Do they hold any related professional licenses or certifications?
The Pyramid representative let us know that "all our credit repair experts are trained and certified in-house through rigorous screenings and training programs, which can last between three and six months. Most of our credit repair experts come from backgrounds where they held real estate licenses, brokered credit cards, or wrote financial-related blogs. Some were keynote speakers for the financial and personal growth sector."
They also emphasized that specialists often hold a minimum of three years experience related to finance.
On average, can you tell me how many points a Pyramid client's credit score improves after utilizing the company's services, and on average, how long do maximum results take to achieve?
Here is the company's direct response:
"Unfortunately, as a credit repair service, we are not legally allowed to make any implication or guarantee of a credit score increase. With our service, we strive to make sure that not only are we working hard to help improve your score, but that we're also providing knowledge. This way, you can do your part to help build better financial habits.
As a team, we can make improvements much faster and more efficiently [than consumers can on their own]. On average, our customers remain with us for about three to four months. Of course, this time will vary based on your existing credit situation and future credit goals."
Bottom line: Can any (or all) of the credit repair services provided by Pyramid be accomplished by an individual?
And if so, why might someone choose to pay for Pyramid's services? What work do experts perform that helps the customer (or that they couldn't do themselves)?
The representative let us know that, yes, you can dispute any erroneous items on your credit reports on your own. "Legally, you can do for yourself the same thing as a credit repair company, and at little or no cost," they said.
But they added that Pyramid is "dedicated to making sure that we understand your specific situation. Through our customized, one-on-one dispute process, we can ensure a higher rate of effectiveness."
What will you pay for this practicality?
How Much Does Pyramid Credit Repair Cost & Are Results Guaranteed?
After signing up for a Single or Couples account, Pyramid's services will be free for between five and 15 days, depending on the state in which you live. Thereafter, a Singles account is priced at $99/mo, while Couples will pay $198/mo.
These charges will continue recurring until you contact the company to cancel, or until your Dedicated Dispute Manager finds that their efforts have been exhausted.
As far as the Pyramid Care Package, it comes with free shipping, while all the company's services come with a 90-day refund policy.
What kind of results might you expect for the money? Per the Returns Policy page on their website: "we do not make any promises or assumptions as to the results of our credit repair work or in regards to your credit score and/or how it may be affected." They also provide no guarantee on the actual software.
Have additional questions? Pyramid's customer support team can be reached at 855-984-1867 or support@pyramidcreditrepair.com.
At these prices, are customers reporting a high level of value?
What Can We Learn From Pyramid Credit Repair Customer Reviews?
We encountered well over 100 online customer reviews for Pyramid across sites like TrustPilot, SiteJabber, Yelp, and TrustSpot.io, where the credit repair service had a combined average rating of about 4.5 stars (9.8 stars on TrustSpot).
There, common compliments referenced score improvements—one user claimed their score went from 616 to 720 within the first month—and pleasant support staff. Of the few complaints noted (the lowest consumer rating across these sites was three stars), a common theme was that their score didn't increase as much as expected.
We also encountered two responses to a customer question posted on CreditKarma.com, where both claimed that the service helped.
From a company perspective, Pyramid is a sub-company of Credit Concierge LLC, neither of which was listed with the Better Business Bureau at the time of our research. According to the company's About page, the idea started when two guys met in a cigar lounge and shared their vision, which has today become a "top industry leader."
How Can You Choose the Right Credit Repair Company?
Since we learned that consumers can identify and dispute errors on their credit reports, how can you decide if paying for a third-party credit repair service—whether Pyramid or someone else—will provide at least as much value?
Writing for Credit.com, Kali Geldis notes that it might be worth the added expense if you:
Are looking for the fastest, easiest option to potentially boost your credit score
Don't have the time or knowledge to order your reports, run through each line item they contain, identify errors, and then send dispute letters to each credit bureau
Have widespread errors across all three credit bureaus; as might a victim of identity theft, for example
Are looking for detailed explanations about what you realistically can—and can't—expect
However, she emphasizes that you'll want to be wary of companies that promise specific results or charge money before work is completed. Instead, they should help you understand your rights, want to learn more about your story, and explain—in detail—what "they can do to represent you to the credit bureaus."
Our Final Thoughts About Pyramid Credit Repair
We've certainly covered a lot of ground here. Ultimately, what does all of it mean as far as your potential future with Pyramid?
Based on what we learned from online customer feedback about the company, as well as through our email interview with one of their representatives, Pyramid seems to provide clients with access to trained representatives who are focused on streamlining the process of identifying and correcting errors across all three credit bureaus.
Is it worth the money? If you only have a couple of obvious, straightforward errors on one of your reports, you might find that's it easy to handle the situation on your own. But if you're facing multiple errors across all bureaus, a personalized approach from a reputable company like Pyramid could provide a great deal of value for the cost.
See Also: How a Good Credit Score Can Save You Money on Mortgage, Car Loan, and Credit Cards