Qapital Reviews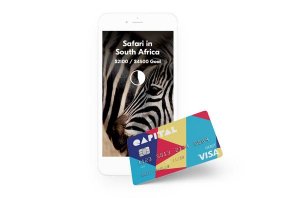 Qapital is a non-bank banking app that offers a checking and savings account, as well as various unique tools that help you set up savings goals and utilize interesting features to meet those goals.
What Is Qapital?
Qapital is a new banking app that doesn't charge any fees, earns interest and pushes a savings-first mentality, making it one of the small collection of banking products not affiliated with a big bank.
The company is based in New York and has five founders: Andreas Kallbom, George Friedman, Henrik Wrangel, Fredrik Straat and Erik Akterin. Qapital launched in 2012 and, at the time of publishing, Friedman was the CEO and Akterin the CTO.
Friedman, a Swede, spent a few years in Stockholm working at Sweden's largest brokerage firm before leaving to start Qapital.
Overall, the Qapital team seems diverse in talent and background. But does all this add up to an app that really helps you save?
That's a question that we'd like to answer in this review, and we're going to do it by taking a look at the features we mentioned in the very first sentence: savings, lack of fees and earning interest.
Qapital's Savings Emphasis: What Does It Do?
If you read through the material on the company's website and watch their main promotional video, you'll hear the words "save" and "savings" a lot. We think it's a great idea because the majority of Americans have less than $1,000 in their savings accounts. But, at HighYa we're just as concerned about practicality as we are about ideology.
So, how exactly does this app help you save? Through round-up deposits and savings goals.
Before we get there, though, you need to know that funding for your savings deposits and your checking account (more on that later) comes from direct deposits your existing bank account, which you'll have to link to Qapital during the set-up process.
At the time of publishing, the bank supported more than 9,000 banks in the United States.
Qapital's Round-Up Deposits
Round-up isn't a new concept. Big banks like Bank of America offered it a decade ago. The basic principle works like this.
Say you're getting ready to watch football on Sunday, so you go to the store and use your debit card (yep, you get a Qapital debit card from Visa) to buy a bag of chips, some cheese dip and a two-liter of Coke. Grand total: $7.10.
The app will round up that purchase to $8 and then deposit the $0.90 difference into an FDIC-insured savings account.
"FDIC" stands for the Federal Deposit Insurance Company. Their job is to protect consumers whose banks go out of business by insuring up to $250,000 of each consumer's deposits.
So, if Qapital disappears, the FDIC will reimburse you your savings total up to $250K. Here's how Qapital explains it: "All funds held within Qapital are FDIC insured up to a balance of $250,000 per user."
Pro tip: You can choose to use Round-Up or not. If you do use it and want to cancel it at some point, the fine print says it could take up to 10 business days for the cancellation to kick in.
Qapital's Savings Goals
The second facet of the app's savings program are goals that you set for particular things you want to buy. When you sign up for the app, the first action you take within your account is to set up a savings goal: do something, go somewhere, get something, pay off debts or "just start saving".
You can customize the name of the goal and the amount you want to hit. Then, you can choose all kinds of unique ways to save, ways that are both manual and automated. The Round-Up tool we mentioned in the previous section is the first option for saving, but you also have six other options:
Budgeting
You set up a budget through Qapital to help control your spending. It's a simple concept, but a budget is, in our opinion, one of the most powerful financial tools you have. Not only can a budget help you save, but it can also be the linchpin in your efforts to pay off debt on your own or together with your partner after you get married.
Guilty Pleasures
This is an automatic savings tool in which the app deposits money whenever you use your Spending account to purchase a guilty pleasure.
The example the app gives is McDonalds. If you choose McDonald's as your guilty pleasure, then the app deposits a chunk of money into your savings account every time you spend your money at McDonald's. Exactly how much the app deposits is up to you; the limit is $50 per deposit.
You tell the app to which savings goal you want to count the deposits. So, if you do $10 deposits for every Taco Bell purchase, you can tell the app to count that $10 toward your "Summer Vacation" savings goal of $500.
Set & Forget and 52-Week Savings Plan
With this option, you can tell the app to deposit up to $5,000 at a time each day, week and month. While all the money will physically reside in an FDIC-Insured account, you tell the app to which savings goal the money is being credited.
The 52-week savings plan is one in which you save an increasing or decreasing amount of money each week toward a savings goal. You can choose to start the savings at $1 a week and then increase the deposit a dollar a week ($1, then $2, $3, etc.) or start at $52 and count down.
IFTTT Rule
This savings feature is automated and relies on various milestones or markers in other apps on your phone. For example, you could set Qapital to deposit $10 every time your weather app says the local temperature has dropped below, say, 75 degrees or risen past 50 degrees.
This is by far the most creative way to save through the app, considering that one of the options is to save every time the International Space Station passes overhead (16 times a day, apparently).
Pro tip: "IFTTT" stands for, "If this then that." Example: If the International Space Station passes overhead, then deposit $1.
Freelancer Rule
With this tool, the app will save 30% of any deposits greater than $100, the idea being that those bigger deposits will provide the savings necessary to pay for a freelancer's tax bill at the end of the year.
This is a good way to make sure that freelancers have enough money saved up but always consult with a tax professional to get a good read on how much you'll be liable for at the end of the year.
A Quick Word About Qapital's Checking Account
We've talked extensively about your savings options with this app because that's what it focuses on. However, let's not forget that you can open a checking-style account with them. You can fund it with existing bank accounts, but you can also do direct deposits to your account.
You don't get a checkbook, but you do have the ability to send checks to a payee by giving Qapital all the necessary information. They send the check on your behalf.
Also, you can use your checking account to pay bills via the "Transfer" option in the app.
Pro tip: In the app, your checking account is known as the "Spending" account.
Earning Interest With Your Qapital Account
As long as you have a Spending account with them, you'll earn 0.1% interest on your account balances. These accounts are held by Lincoln Savings Bank. If your interest earnings total more than $10 by the end of the year, Lincoln Savings Bank will send you a 1099-INT form that you'll need to include in your tax return.
Qapital's Lack of Fees
According to a July 2017 article from CNBC, fees bring in billions for banks. Here's a quick list of what some of the biggest banks in the country earned via overdraft fees alone in 2016:
JPMorgan: $1.9 billion
Wells Fargo: $1.8 billion
Bank of America: $1.7billion
Those stats give you an idea of why Qapital really pushes their lack of fees, and it's true: there aren't any fees. That's due, ironically enough, to the fact that you're funding your account with money from your existing bank accounts.
The only situation in which you might pay a fee is overdraft fees with your bank, but the app won't process any deposits into your Qapital account from your funding account, whether that funding account is your Spending acocunt or your bank account.
What they do is put those deposits on hold for 14 days until you have more than $100 in your funding account. If you don't have at least $100 by the end of those 14 days, Qapital will cancel the transaction.
Public Opinion About Qapital
We downloaded the app and set it up ourselves, but we didn't use it on a regular basis. To get a sense of how it functions day-to-day, we went to the Google Play store to see what other users were saying.
The app has, at the time of publishing, more than 5,000 reviews for an overall average of 4.4 stars. Of those reviews, 637 were 1-3 stars and 4,411 were either 5 stars or 4 stars.
Of the 10 most recent reviews on the app's page, four reviews were 5 stars, four were 4 stars, one was a 2 star and one was a 1 star.
Based on these ratings, we'd say that users are, in general, happy with their Qapital experience. Recent reviews noted how people were happy with the savings-focused features of the app, as well as the overdraft protection.
One reviewer, however, complained that they were having trouble connecting their Qapital to their bank in Florida.
Our Final Thoughts About Qapital
Based on our research, we believe Qapital is an excellent fit for those who want a new, fresh way to organize and build their savings. The various methods you have for saving up – IFTTT, Set & Forget, Round Up – aren't all original, but they're built in a way that actually makes it fun to save.
We believe the app's lack of fees is of great benefit to the consumer, but the fact that you're probably still going to have a traditional bank account doesn't mean your fees will magically go away.
Qapital can help prevent them by not allowing deposits when your funding account has a balance below $100 but, if you've got some bad habits built up, there's a chance that you may still rack up monthly fees and overdraft fees in your traditional bank account.
In a world where many Americans have less than $1,000 in their savings, we believe Qapital is a pretty solid way to start solving that problem.