Quell Reviews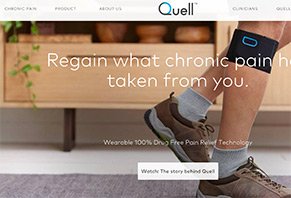 Quell is a wearable TENS unit that stimulates nerves, blocks pain signals from reaching your brain, and gives you drug free relief in as little as 15 minutes.
Quell Review - Does It Work to Relieve Your Pain?
If you suffer from chronic pain, it can affect every part of your life, whether you're sleeping or going about your daily routine. But how can you escape the cycle of pain and finally find some relief?
Manufactured by NeuroMetrix, Inc., Quell is an FDA-cleared, doctor recommended device is worn just below your knee and activates with the simple click of a button. Then, Quell will tap into your body's "natural pain control system to block pain signals and provide widespread pain relief."
And although Quell is clinically proven to provide prescription strength relief for chronic back, arthritis, nerve, and leg and foot pain, it's 100% drug free, provides relief in as little as 15 minutes, and helps fight pain 24 hours a day—even while you sleep! In this way, Quell can help you get relief, stay active, and sleep better.
You're here because you're desperate for relief from your chronic pain. Maybe you've suffered for years, or maybe your pain is new and this is the first stop on your journey. Whatever the case may be, we'll give you important information you can use to make a wise decision about Quell.
To kick things off, let's take a closer look at Quell's features. Then, we'll dig into exactly how the device blocks pain.
How Quell Works
Overall, there are two primary components in the Quell system: the wearable electronic device and the iOS and Android apps.
Each Quell device is designed to be lightweight and slim, so that it's discreet enough to wear under your clothes and comfortable enough to wear while you sleep. During each 60-minute session, Quell uses something known as wearable intensive nerve stimulation (aka WINS—we'll talk more about this in the following section) to relieve your pain. Here's how the process works:
Snap the electrode in place.
Strap the band to your upper calf.
Click the button to start relief.
As Quell is working, its OptiTherapy™ technology will automatically adjust the intensity of your stimulation to ensure you get the exact amount of pain relief you need. All you have to do is perform an quick initial calibration, and Quell will automatically deliver therapy sessions every other hour—including during sleep.
On top of this, Quell's app gives you the ability to choose between three different sleep settings and track your overall sleep quality, so that you can personalize your therapy. Quell also controls the amount of stimulation you receive throughout the night, in order to ensure your sleep isn't disturbed.
According to the company, Quell may provide pain relief in as little as 15 minutes, which could last up to an hour after your session ends, although it could also "take several weeks to realize the pain relief benefits of Quell." As long as you wait 30-60 minutes between each session, you can use Quell as often as needed throughout the day and night.
However, if you have a cardiac pacemaker, implanted defibrillator, or other implanted metallic or electronic device, it might not be safe to use Quell. Even if this isn't the case, it's always best to speak with your doctor beforehand.
Now, as promised, let's find out exactly how Quell relieves pain.
Quell's WINS vs. Traditional TENS
What Is TENS?
We've reviewed a lot of TENS (transcutaneous electrical nerve stimulation) devices over the years. But regardless of who makes them or how they're designed, in a nutshell, TENS devices work by stimulating nerves and inhibiting pain signals from reaching the brain.
The problem is that no one really knows why—or exactly how—TENS devices might provide some measure of pain relief, and there's little clinical research showing that they're effective in the first place.
We can say this though: In general, the electrodes on TENS devices are attached directly to the area where you're experiencing pain. For example, if you had chronic lower back pain near your waistline, you'd put the electrodes in an area where the nerves underneath could be stimulated to stop those specific pain signals from reaching your brain.
Why is this important?
Enter WINS
When it comes down to it, Quell is basically just a wearable TENS device, hence the name WINS. In other words, it's not so much a new kind of technology as it is a different take on existing technology. It's marketing, not necessarily a breakthrough.
In fact, other than that it's rechargeable and wearable (vs. the battery operated units with long wires and bulky electrodes), we're uncertain how much pain relief Quell might provide that you wouldn't also experience with a traditional TENS unit (we'll come back to this in the final section).
Despite this, Quell claims their WINS device is "5x more powerful on average than other leading over-the-counter pain relief devices." And in testing, that "81% of users reported improvement in their chronic pain," while "67% reported a reduction in their use of pain medication."
One final thing before we move on: The company claims that Quell can "take several weeks to realize the pain relief benefits," although there's no explanation as to why this is. Again, Quell's technology is based around TENS, and although we're certainly not medical professionals, it appears that TENS treatments work quickly and aren't progressive.
With all of this out of the way, how much does Quell cost?
What Does Quell Cost?
Quell's Starter Kit is probably the easiest way to get up an running, which is priced at $249 and includes:
1 Quell device
1 adjustable sports band
1 month supply of electrodes (2 electrodes)
1 charger cable and 1 charger adapter
You can also purchase a Family Pack (2 starter kits) for $498, sports bands (available in white, gray, blue, pink, and green) for $24.95, and additional electrodes for as little at $29.95 for a 1-month supply (2 electrodes).
However, there are other bundles and accessories available, so be sure to browse through their Products page for full selection.
All Quell purchases come with a 60-day money back guarantee, and each device comes with a 2-year warranty against any technical defect. If your device needs to be repaired under warranty, Quell will "provide a loaner device to ensure you continue to receive relief from your chronic pain while your repair is being processed."
In order to request a refund or file a warranty claim, Quell's customer service department can be reached at 800-204-6577.
Alright, we've talked a lot about Quell based on what we uncovered during research, but what are actual customers saying? Let's take a look.
Is Quell Relieving Their Customers' Chronic Pain?
Amazon's Quell Reviews
On Amazon, there were 74 customer reviews for Quell at the time of our research, with an average rating of 3.5 stars. Of those who gave it high marks, most complimented its effective pain relief and ease of use.
On the other hand, common complaints referenced failure to relieve pain (one even claimed it made their pain worse), and a few others weren't pleased with the quality (e.g. suddenly stopped holding a charge, electrodes quickly deteriorated, unable to calibrate, etc.). Whenever customers complained, however, it seemed like the company reached out to help solve the problem.
MedGagdet Tests Quell
MedGadget had an opportunity to review a Quell unit in August 2015, noting that there's a small learning curve for getting used to the device, and that electrode strips were expensive, requiring replacement every couple weeks.
But they "didn't experience significant relief after using Quell for a couple weeks," which they hypothesized was the result of two things:
"First, while intensive nerve stimulation is a medically-validated therapy, the stimulation may be more effective if it were localized closer to the area of pain; we just weren't seeing a systemic effect. Second, the stimulation options are extremely limited; one friend felt that the ability to further customize therapy could make finding a sweet spot for pain relief much easier."
Their conclusion? Your mileage may vary.
Quell's iOS & Android Apps
Quell's iOS app had an average rating of 3 stars, although there were only 5 reviews total. Quell's Android app did a little better on Google Play, with 9 total reviews and a 4-star average rating.
In either instance, those who were pleased claimed that it worked well and was informative, while the most common complaint cited bugginess.
Can You Count On Quell To Ease Your Chronic Pain?
Whether it occurs in your joints, in your back, or anywhere else on your body, chronic pain can have a negative impact on your quality of life. But despite the fact that nearly every one of us experience chronic pain at some point in life, getting to the root cause and effectively treating it is a very personal process.
In other words, even for two people with the exact same diagnosis, TENS devices like Quell might work fantastically for one, while providing zero relief for the other. This alone means we'd recommend speaking with your doctor about different options, especially if this is your first attempt at addressing your chronic pain.
But even if you've had success with TENS devices in the past, it's not clear if Quell will provide any additional pain relief—or, not that will be in line with its high price. However, it's OptiTherapy™ technology, sleep settings, and app connectivity might provide customization and ease of use.
Despite our skepticism though, it seems like the device has a mostly positive only reputation with online customers, and the company seems to stand behind it with a 60-day refund policy.
Did Quell help relieve your pain? Tell us your story by leaving a review below!
Random electrical shocks.

By Mavis J.

,

New Mexico

,

Dec 4, 2018
Verified Reviewer

Quell removed my comments from their Facebook Page quickly. Quells engaged in really deceptive marketing, taking advantage of people who were desperate and in pain. They used Advertorials and patient testimonials, because they could get away with it. They removed negative comments or questions at the same time they took advantage of lax regulations, and enforcement by the FTC and the FDA.

People who were subject to random shocks and virtually no pain relief were not discussed in any of their advertising. This is one more deceptive company that took advantage of the so-called opiate epidemic and used fear-based marketing. Quell used a lot of targeted advertising and patient testimonials to exploit the lack of regulation at the FTC, which never caught up to the rise of deceptive advertorials, targeted at vulnerable patients. This country used to have laws regarding health-related marketing to protect Americans, and these laws were undermined, by deceptive product marketers. At the same time, the number of adverse events and deaths were censored, uncollected, or censored.

Some of us paid nearly $400 for these devices, and they are useless. I won't even give it to a friend with serious chronic pain, because I would not want to be responsible if they are injured. People should be really aware that driving or doing anything complicated and being subject to a random painful shock, could be dangerous.

Bottom Line: No, I would not recommend this to a friend

---

Smoke and mirrors

By Richard G.

,

Pennsylvania

,

Oct 5, 2018
Verified Reviewer

I first bought the Quell unit at Best Buy, who told me it was the "new" updated unit. It wasn't! Then I learned the newer 2.0 unit was only to be sold direct. I ordered and received the unit...THEN was told Motorola and other cell phones will NOT pair with it! No time given when this would be fixed. THEN Quell will not issue a return and credit authorization!

Run from these people! It is just a highly marketed TENS device you can find for $40.

Bottom Line: No, I would not recommend this to a friend

---

Advertisement

---

Cannot wear to bed or during much activity

By William B.

,

Staten Island, NY

,

Sep 17, 2018
Verified Reviewer

I have made my concerns to Quell, the strap becomes unsnapped during sleeping and physical activity, and I feel this is due to poor design of the strap.

They can fix this problem by being able to lock the electrode to the strap or reduce the tension between them. Believe me, it is not due to poor placement or tightness that this disconnects because I have tried every variation.

If they fix this design problem, people will get more use out of this great product because it not only works for neuropathy but also restless leg syndrome.

Thank you, and if this design is fixed, please let me know.

Bottom Line: Yes, I would recommend this to a friend

---

Completely and most dissatisfied with Quell product

By Darrell W.

,

San Antonio, TX

,

Aug 28, 2018
Verified Reviewer

Simply put the Quell is a dud. For myself and three family members, this product did not work. We all independently used the Quell over a nine-month period with daily use of 18 hours a day. I had chronic pain and hoped for the best; I used the Quell continually for a period of 60 days. I did not receive any positive benefits as a result of that use. I am thoroughly disappointed because this product did not work for my family or me, but it doesn't mean the product does not work. Based on the lack of positive results. I cannot and will not recommend this product for use. In my view, the product promises much but deliver nothing.

Bottom Line: No, I would not recommend this to a friend

---

Advertisement

---

Pleasantly surprised

By Linda D.

,

Foster, OR

,

Aug 2, 2018
Verified Reviewer

My husband bought me the Quell device as an early birthday present to help with my back and leg pain. I was skeptical as I have used ten units in the past and they haven't helped at all. Normally they feel good while they are on, like getting a massage, but they never helped with my pain.

I attached the Quell for the first time after arriving home from work and then went to cook dinner. When I was done cooking and sat down to eat, I realized that for the first time in years I actually was able to stand up and cook the entire meal without my back hurting. Normally within the first 5 minutes, I have to sit down and rest.

I then wore the Quell to work the next day and part way through, I realized my neck wasn't hurting like it normally does all day long. I am definitely a firm believer that Quell works. The only drawback is that I've found is it doesn't help my chronic bladder pain from my IC disease. But taking away my back and neck pain has been a huge blessing.

Bottom Line: Yes, I would recommend this to a friend

---

Great device and good investment

By Duke A.

,

San Antonio, TX

,

Jun 25, 2018
Verified Reviewer

I served 25 years of active service in Airborne Ranger and Special Forces units and have suffered low back pain for over three decades. I have had numerous procedures and have invested in lots of devices that were supposed to help alleviate my problem, but none worked. I am extremely grateful that I found Quell and after a month of wearing the device my back problems along with my limping have greatly dissipated. My quality of life has greatly improved for the better and can honestly say that I am a very happy camper.

Bottom Line: Yes, I would recommend this to a friend

---

No drugs in almost one month

By Michelle R.

,

El Reno, OK

,

Jun 12, 2018
Verified Reviewer

I purchased Quell for my 82-year-old sister for Mother's Day. She started wearing the unit on 5/13 and has not taken a single Tylenol or Percocet since. Her pain is in her left hip, also sciatica and her should is bone on bone. Awful pain that usually requires eight Tylenol a day or a Perc. She reports having stiffness or soreness in her back muscles but not pain. She started on the second electrodes two days ago, so they are lasting pretty good. I can't speak for others, but my sister is so pleased that she doesn't have to take pills. When we went to the doctor, he had not heard of Quell and is amazed with what we told him.

Bottom Line: Yes, I would recommend this to a friend

---

Love my Quell!

By Karen K.

,

Minnesota

,

Jun 1, 2018
Verified Reviewer

I went off Tramadol two months ago by choice after six years of use (don't let the title "synthetic opiate" fool you, as the withdrawal is very real). I was then looking for anything and everything that could help with my chronic pain. I have a few TENS Units, but saw the ads for Quell and decided to look into it.

I am so thankful that I did! It is an absolute lifesaver! I kid you not! I have upper and lower back issues, which include spinal stenosis, pinched/damaged nerves, herniated disks, osteoarthritis, bone spurs, scoliosis. I love my job and didn't want to quit due to the added pain it initials. Using the Quell wrap felt good on my left leg right away, as my nerve pain runs down the length of my left side. But after a couple of weeks? Wow! My entire back feels amazing! I've even gone a day or two without using it and feel like a normal human being again! No pain pills, heat pads, ice.

I highly recommend this product (aka life-saving device!). I've read that it doesn't work for some and figured with my luck, I'd be one of them, but I am here to say try it, it has a money back guarantee. I am abb-soul-glute-ly thrilled with the results!

Bottom Line: Yes, I would recommend this to a friend

---

50% pain relief for spinal stenosis

By Tom Burke

,

Atlanta, GA

,

May 2, 2018
Verified Reviewer

Hi, Tom, age 72, diagnosed with lumbar spinal stenosis three years go with severe lower back butt and back of the thighs pain whenever trying to stand up or walk, resulting in a horrid quality of life result.

I went thru the standard protocols; spinal injections, heat and cold, physical therapy, and medication with an opioid-Percocet. I got addicted to Percocet causing my entire life to revolve around it. Yes, it takes away pain, but left me feeling like a zombie. I got off it (took 12 weeks of terrible withdrawal symptoms, so never again).

I read about Quell and it arrived two days ago. It was an easy setup. I have used it on full time, meaning it runs every other hour on its own.

I would classify the results as good. It has reduced my pain level by 50%, and I am told with more use that the number will increase. I will try one other protocol next week - accupuncture. In addition, I may also try a tens unit, which is similar to Quell but applied directly to the pain area rather than my calf.

Bottom Line: Yes, I would recommend this to a friend

---

Quell

By Linda M Geno

,

Grand Rapids, MI

,

Mar 27, 2018
Verified Reviewer

I'm very pleased with the Quell. I had an injury in 2014 at work. I did everything possible for this nerve pain and nothing worked until I heard about the Quell. IT WORKS. I'm glad I spent the $250 for it. I tell everyone about it; it's way better than popping pills. I'm so happy. Thank you Quell people for this great idea called the Quell.

Bottom Line: Yes, I would recommend this to a friend

---

Modified method worked great

I have had my Quell device for three months. I agree with your review that a systemic effect may not be as beneficial as direct location relief. I discovered this nearly immediately as well. I have hip nerve or surrounding muscular pain/stiffness and soreness. I tried it on my upper calf and felt zero relief. I decided to use it just above my knee, instead of just below my knee. That location, since it is nearer the affected area, worked much more effectively. I did have some relief. The most relief I felt was direct site of pain. I put it up higher on my thigh, just below my hip and it was very effective. There is a drawback to this placement. The enclosed strap is not long enough for this location. I needed to use a separate strap to extend the band. I understand that the unit says to just place it on you upper calf, but they sell their product short by not allowing multiple placement options. I do like the app and it is very clear and easy to follow.

Bottom Line: Yes, I would recommend this to a friend

---