Quibids Reviews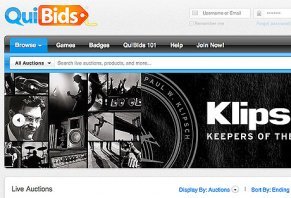 QuiBids is an online penny auction website that features thousands of products across numerous categories, including electronics, jewelry, fashion, sports, recreation, and more.
About Quibids
QuiBids is a penny auction site that claims to offer "exciting, fast-paced auctions" for thousands of items across a number of categories. Their "incredibly low prices" are increased by a penny for each bid placed, giving you the opportunity to save an immense amount of money over retail.
QuiBids was founded in 2009 in Oklahoma City, OK and has been featured on ABC, CBS News, MSNBC, and more. The company has an A rating with the Better Business Bureau, despite having more than 1,200 closed complaints over the past three years.
The most common complaints we encountered during our research included confusing pricing structure, allegations of shill bidding, and difficulty winning items.
How QuiBids Works
Similar to DealDash, QuiBids is an online penny auction website that claims to offer thousands of items across popular categories such as electronics, home and garden, sports & recreation, gift cards, and more. Regardless of what you're looking for though, all items sold through QuiBids are guaranteed to be brand new and factory sealed.
Though signing up for QuiBids is free, you'll need to purchase Bid Packs (see next section) in order to place bids and ultimately win items. Each time you place a bid on a live auction, the price of the item will increase by one penny—hence the name "penny" auctions.
After a bid is placed, 10, 20, or 25 seconds will be added to the total time remaining, depending on the type of auction. In fact, as you become more accustomed to the site, you may see some auctions with less than 10 seconds remaining be extended for hours, as users continuously bid over and over again.
Despite how an item's price is displayed on the QuiBids site, you're not actually bidding a penny, as we'll explain in the final section. However, unlike some other penny auctions sites, QuiBids offers a Buy It Now option for most items. This means that if you no longer wish to continue bidding but are willing to pay the listed price, you can do so at any time.
Also, keep in mind that if you purchase an item for the Buy It Now price within two hours of the auction ending, the value of your spent bids will be credited toward the final purchase price.
If you're bidding on an important auction but need to step away from your computer, QuiBids provides their Bid-O-Matic software that will bid for you while you're away. This feature is completely customizable (e.g. max number of total bids, when a bid is placed, and so forth).
QuiBids Pricing and Refund Policy
QuiBids bids cost $.60 each, are only available in packs, and can be purchased using most major credit cards, in addition to PayPal. However, we were only able to verify the Starter Pack during our research, which sells 100 bids for $60. Additional packs may be available once you become an active member.
Keep in mind that bids have a three-year expiration date, and there are limits to the number of auctions you can win within a certain period of time. Most items purchased through QuiBids include free shipping within the U.S. If shipping is not free, it will be listed on the product page.
Unlike some other penny auction sites, QuiBids offers a 100% money back guarantee on any unused bids. In addition, all items come with a 30-day return policy, less shipping and handling charges, and in addition to the cost of any bids used to win them.
If the reason for your return is not due to QuiBid's negligence or damaged goods, you may be subject to a 10% restocking fee. To begin the process, simply email customer service or chat with a live representative.
Bottom Line: Can You Trust QuiBids?
With all this information available, there are some important points to keep in mind prior to placing your first bid.
First and foremost, remember that QuiBids is built to make money, not to give away merchandise. Also, the pricing structure is confusing and is intentionally set up to make an item's price appear lower than it actually is.
Here's an example: Let's say an auction lists the current bidding price of an iPad at $30.00. Since each bid increases the item's display price by a penny, in our example this means that 3,000 people have currently bid on the iPad.
And at $0.60 per bid, this means that QuiBids users have already spent $1,800 trying to win this item. In other words, even if the iPad sold immediately, the company would have still made a ton of money.
Next, remember that your chances of winning some of the more popular auctions are relatively low, especially as a beginner. As a result, you may want to start small with some of the less popular auctions and work your way up from there.
Also, according to the company, there are numerous strategies you can use to win, and that you can greatly increase your odds if you're willing to spend about 1/3 of the item's retail cost.
Finally, the company has been sued multiple times due to allegations of veiled gambling. We also read numerous complaints citing confusing pricing structure, allegations of shill bidding, and difficulty winning items.