Quicken Loans Reviews
Claimed This company has claimed this profile, is getting alerted on any new customer reviews entering this page, and may engage in dialogue with its customers to address their matters.

Companies cannot pay money or provide goods in order to remove or alter customer reviews.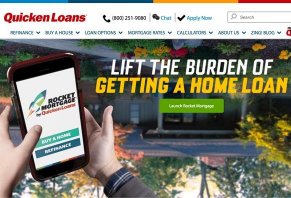 Quicken Loans is a Detroit-based mortgage lender who offers borrowers five mortgages, HARP refinancing and reverse mortgages through RocketMortgage.com.
What Is Quicken Loans?
Quicken Loans is a mortgage lender who uses their website, Rocket Mortgage, to connect you with in-house bankers to process your loan and close on the house you want to buy. The big difference between Quicken's mortgage site and competitors is Quicken Loans themselves funds your mortgage, not a third-party bank.
Their website, Rocket Mortgage, is what consumers use to start the mortgage process, and we'll talk more about that when we describe how you get a mortgage with Quicken Loans. Rocket Mortgage is sort of like the Uber app; the app gets you your ride, but it's not the ride.
According to financial website Bankrate, Quicken Loans is the third largest mortgage lender in the United States behind Wells Fargo and Chase. In 2015, the company oversaw $19 billion in loan "originations", a word that describes the process of connecting with a borrower, processing their loan and disbursing the money.
The company was founded in the mid-80's by a team of investors led by current Cleveland Cavaliers Owner Dan Gilbert. At the time, the company was named Rock Financial. Intuit bought out Rock Financial in 1999 and renamed the company Quicken Loans. In 2002, Gilbert bought back the mortgage-specific parts of Quicken Loans and hasn't looked back since.
Quicken Loans definitely has a history of success behind it, but should you forego a traditional, go-to-the-bank-or-credit-union experience to use an internet-based lender like Quicken Loans? To answer that question, you need to figure out which mortgages and rates QL offers, how the origination process goes, what fees you should expect to pay and what other people are saying about QL's services.
We'll cover each of those topics in this review, as well as conclude with our thoughts on Quicken Loans and our recommendations.
Quicken Loans' Mortgages and Rates
Quicken Loans provides borrowers seven different types of mortgages:
Fixed-Rate Mortgages: 15- and 30-year loans; rate stays the same.
Adjustable-Rate Mortgages: 5-, 7-, and 10-year loans; rate stays the same in the beginning, fluctuates after a pre-determined number of years.
FHA Loans: fixed- and adjustable-rate mortgages provided by the federal government's Housing and Urban Development department.
VA Loans: Fixed- and adjustable-rate mortgages for veterans.
Jumbo Loans: For homes between $417,000 and $3 million.
HARP Refinancing: Government program for homes with little or no "equity" (current value minus how much you owe)
Reverse: Using the equity in your home as a loan. You stop paying your mortgage, but the loan balance needs to be repaid when the home is sold. Have to be at least 62 years old.
Five of these loans are designed to buy a home, while two – HARP and Reverse – are meant to refinance your home (HARP) or create extra money (Reverse) based on your home's equity.
The rates on these mortgages require a little bit of wisdom on the consumer's part. When you're dealing with mortgages, you're going to face two rates: interest rate and APR.
Your loan's interest rate is the bare-bones cost of the loan without any other fees included and it rises and falls as the economy rises and falls. The APR on your loan is the interest rate plus closing costs, private mortgage insurance, and other fees.
Think of the difference between interest rate and APR like a restaurant bill. Your interest rate is what the meal costs you according to menu prices; the APR is what your meal costs you after tax and tip. As a result, your APR is always higher than your interest rate.
This is an important thing to remember because, as The Wall Street Journal's Anya Martin put it, "potential borrowers may consider the two terms interchangeable: the interest rate and the annual percentage rate. They sound like the same thing but are, in fact, much different."
Comparing APR's on loans from different companies will help you see which companies are charging you more than others for processing your loan (more on that later).
You can view Quicken's APRs by heading to the Mortgage Rates page. Remember, though, these rates change over time so make sure you check up on them.
What's a good rule of thumb for the difference between your APR and interest rate? About 0.25% to 0.5%, Anya Martin wrote.
How to Get a Mortgage From Quicken Loans
As we said at the top of this article, you'll have to go through Quicken Loan's Rocket Mortgage site in order to start the loan process. To start, you provide your social security number, your income, the loan amount you want, where you want to live and other information.
Once Rocket Mortgage has that info, they'll pull your credit and then pair you with an in-house banker who works with you to find a loan that best fits your situation.
Paying a Good Faith Deposit
When the match is made, you'll have to pay Quicken Loans a "good faith" deposit between $450 and $700 that covers, according to Quicken Loans, "pulling your credit report, getting an appraisal, and processing the title."
After your deposit is paid, you'll set up a Quicken Loans account through which you upload all the info your banker and Quicken Loans need to complete your loan application. When your paperwork is in, Quicken Loans will do something called "underwriting", which is the process of vetting your income, debt and your overall financial state.
While all this is going on, Quicken will hire a third-party, state-certified appraiser to appraise the home you want to buy or refinance.
From there, you'll go through the final steps and close on your funding and, in the case of a purchase, your home.
What Other People Are Saying About Quicken Loans
There are several different ways consumers make decisions about which mortgage company they choose. Sometimes we make the decisions based on tradition; our parents used the company, so we use them.
Other times it's a matter of reviews; fellow consumers' opinions are a great way to get a sense of a company's pros and cons.
Quicken Loans Reviews at Credit Karma
Nearly 600 consumers have reviewed Quicken Loans in the past year with an average score of 4.3 stars. More than 70% of those reviews were 5-star, while 10% were 1-star. When asked about QL's loan process and customer service, reviewers gave an average of 4.5 stars in both categories.
We browsed through the 1-star reviews and found that consumers most often complained of an expensive appraisal process, high fees, a drawn-out paperwork process and, in one case, a refusal to budge on a low appraisal done by an assistant appraiser rather than the certified appraiser.
One reviewer noted that, while Quicken Loans services their mortgages, they sell them to another company "within 2 months". We reached out for a comment from Quicken Loans and they said they have the servicing rights to "all loans."
Another concern was that Quicken Loans pulled a borrower's credit eight times during the loan process, a fact we thought was a little fishy until we read through reviews on ConsumerAffairs (more on that in a second).
Also of note is a complaint about endless calls from Quicken Loans and partner companies after people had gone through the loan process. This is no surprise, as Quicken Loans makes clear on their website that your information will be dispersed to dozens of partner companies that may or may not have anything to do with mortgages.
We also took a look at Quicken Loans' 5-star reviews on Credit Karma and found customers were quite happy with how easy the process was and how competitive QL's rates were.
Quicken Loans Reviews at ConsumerAffairs
Nearly 3,000 consumers on ConsumerAffairs gave Quicken Loans an average of 3-stars. When we checked out how those ratings were distributed, we found than 208 reviews were 1-star and 262 reviews were 4 or 5 stars.
Of the 30 most recent reviews we read, 28 were 1-star reviews, one was a 2-star review and one was a 5-star review for a refinance, not a home purchase.
The reviewers on this site had similar complaints as what we read on Credit Karma. Several said QL assured them they'd get a loan, only to notify them within 10 days of closing on their home that they didn't get the loan.
In one such situation, the borrower said Quicken Loans denied him because his credit score was too low. The borrower discovered Quicken Loans did a hard check on his credit nine times during the loan process, causing a "substantial" drop in his credit scores.
Better Business Bureau's Quicken Loans Page
Quicken Loans gets an A+ rating from the Better Business Bureau, a grade which takes into account 13 different factors including:
Complaints filed against Quicken Loans
How many complaints were answered and resolved
Transparency of business practices
Government action against the company
How long company has been in business
How it handles mediation or arbitration cases
Seven of the 10 most recent reviews of the company were positive, with consumers praising how easy it was to get a loan from Quicken.
One of the three negative reviews indicated they applied for a HARP refinance and actually received an FHA refinance. They characterized the move as a "bait-and-switch", and while we can understand why the consumer would say that, Quicken Loans does say they ultimately decide which loan is best for you.
Closing Time: Our Final Thoughts About Quicken Loans
Just like any mortgage lender – and any product or service, for that matter – Quicken Loans has its benefits and drawbacks.
Benefits
Quicken Loans has been in the business of financing, in one form or another, for a long time. That's a plus for the consumer because, in most cases, the longer a lending company has been in business, the better.
Also, we think that Quicken Loans has kept themselves current with the Rocket Mortgage website, using it as an easy way for consumers to apply for mortgages. Gone are the days where consumers are forced to go to a bank and wait in a line in order to talk with a mortgage broker.
Drawbacks
However, with these perks also come some drawbacks. Since everything is updated online and over the phone, you don't get the face-to-face interaction you'd have if you worked with a mortgage broker at your bank or credit union. Quicken Loans may not be a good fit for you if you value that face-to-face interaction.
Also, there are some legitimate concerns with how many times Quicken Loans has pulled the credit of certain borrowers. Normally, credit reporting bureaus know that people looking for mortgages tend to get several credit checks as they try and get pre-approved for mortgages from several different lenders.
So, if you get four or five different credit checks for mortgage rates, the bureaus will count those multiple checks as a single check if they're done within the span of 14 days.
Why these particular customers had their credit "pulled" (hard check) eight and nine times is really confusing for us. We reached out to Quicken Loans about this but did not receive response pertaining to this matter in particular.
As we mentioned earlier, there was concern about Quicken Loans selling mortgages to other companies a few months after the borrower closed on their home or completed a refinance.
Quicken told us they have the right to all loans and also noted the company has a top-notch rating from J.D. Power, the objective, consumer-based ratings company who covers a variety of consumer products like cars and insurance policies.
Lawsuits
Consumers reviews tend to corroborate Quicken Loans' claims they have excellent customer service.
However, we found a 2011 article from CBS News that reveals Quicken Loans has a pocket of examples of strong-arming consumers into bad loans so the company could make more money.
"Quicken Loans' lending practices may not be as exemplary as the company contends," reporter Alain Sherter wrote. "A federal lawsuit starting in Detroit today and other legal action against the nation's largest online mortgage lender paint a decidedly less flattering picture of Quicken."
Some of the practices brought under scrutiny were appraisals that were inflated so Quicken could give bigger loans and, therefore, receive more fees. The lawsuit was successful.
More recently, the Department of Justice accused Quicken Loans of fraud between 2007 and 2011. That lawsuit is ongoing.
Keep in mind, though, that these court cases focus on Quicken Loans' practices from 2007 to 2011, not from 2016.
Making Your Decision
The key to your decision about Quicken Loans is to do your research. Talk with your bank or credit union about the rates they're offering, then compare those rates to what Quicken Loans offers.
Take a look at the APR on your mortgage and consider how much higher it is than your interest rate. The bigger the difference, the more you're paying in fees.
Also, consider your credit scores – the better your credit, the more of a chance you have of getting a good rate from whichever lender you choose.
And don't forget the complaints consumers have voiced about multiple credit checks. Make sure you keep an eye on your credit scores during the loan process. Credit Karma offers free access to your Equifax and TransUnion scores, which means you can monitor your credit scores on a daily basis.
Horrible call center experience

By Patrick A.

,

South Carolina

,

Nov 1, 2018
Verified Reviewer

I specifically told the call center rep that we have already bought a home and did not need a loan anymore. The agent by the name of "Tom" that was probably stationed in the Philippines, continued with his script. I told him again that I was not interested as I have already bought a home. He then transfers me to an agent to try and get me a loan. I am very disappointed in my experience. Management needs to reevaluate their policies for the call center.

Bottom Line: No, I would not recommend this to a friend

---

Terrible service, stay away

By Brian M.

,

Connecticut

,

Aug 21, 2018
Verified Reviewer

Recently was pre-approved for a jumbo loan by Quicken with 10% down payment. I provided all my financial information and went through their entire underwriting for the pre-approval. After selling my house and securing another, Quicken flipped and told I have to put 15% down, which is unaffordable. I confronted the mortgage director with my preapproval letter, no change in their stance. Quicken Loans replied to my first comment saying "QuickenLoans.com one day ago you were never "pre-approved" by QuickenLoans.com or any of its wholly-own subsidiaries. Stop this libelous cyber campaign against QuickenLoans.com immediately!"

They are complete liars, my preapproval letter is below. They qualified me for 10% down and changed it to 15%. Buyer beware.

Hi B and E,

Congratulations on your Mortgage Qualification! This letter is

for your records. Please share the agent copy I've included with your

real estate agent and start house hunting today!

This amount is contingent upon the sale of your current property.

We did an initial review of the income, credit and asset information

you provided over the phone. This amount includes estimated

property taxes and insurance.

You're Prequalified up to $600,000

Purchase Mortgage Banker

8/7/18 - Second email below:

Hello Brian,

I appreciate the email and can understand the frustration. The main reason is due to the county that the home is located in. Initially, Zach had it that you were looking at homes in a county that has a higher loan limit, which allows us to avoid the larger down payment. In Hartford County, however, the loan limit is lower which results in the larger down payment. Due to the county loan limit, there is no way around the 15% down payment.

Sincerely,

Director of Mortgage Banking

The reason of review: Poor customer service.

Editor's Note: Some information was omitted from this review that we believe was sensitive.

Bottom Line: No, I would not recommend this to a friend

---

Advertisement

---

Not an honest company

By John G.

,

Macomb, IL

,

Aug 4, 2018
Verified Reviewer

BEWARE! The representative for this company quoted me loan terms (interest rate, closing costs, etc.) on the phone with a specific number for closing costs. They did not send the written document with the terms until there were only a few minutes remaining to lock in the rate. The written proposal had closing costs approximately three times higher than they quoted me on the phone. I would not trust this company.

Bottom Line: No, I would not recommend this to a friend

---

Buyer beware

By Jena R.

,

Sarasota, FL

,

Jul 2, 2018
Verified Reviewer

I started a loan application with Quicken Loans. I was pre-approved for up to $185k. I submitted a few offers before coming to terms with a seller on a particular home. Quicken Loans sent me a breakdown of my estimated monthly payments, which was supposed to be $1,147 a month. I proceeded with the loan process and had everything completed in regard to my application up to that point.

I went on to get an inspection and appraisal of the home. The inspection came back with aluminum wiring in the home, which made it very hard to come within the guidelines I had contingent upon in my offer. They then decided to switch my FHA over to a conventional, called me and lied to me saying that I would be getting "better financing." They knew that since problems arose with the inspection, they weren't able to use the FHA. Then, my monthly payments jumped up to $1,348 a month, and that doesn't even include the high homeowner's quotes that I had received in regard to this home.

I made the offer contingent on inspection and insurance costs. I pulled my offer at this time. Quicken Loans then sent me a "denial letter" based on the reasoning that I had an incomplete credit application, which couldn't be farther than the truth.

I lost my earnest money, $2000, because of the lies and unethical behavior from each and every person I spoke to in trying to resolve this issue. They went as far as ordering the appraisal, but when I pulled my offer they close me out due to an incomplete application? That doesn't make a bit of sense. It's not right what this company has done to me, I am a first-time home buyer, and I am completely traumatized.

Bottom Line: No, I would not recommend this to a friend

---

Advertisement

---

Deceitful company

By William M.

,

Arizona

,

May 27, 2018
Verified Reviewer

They are the worst company I have ever dealt with! They originally quoted 4.5%, then with excellent credit the percent went to 5.5%, and they said I will need $13,000 at closing. The original was we get back $5,500 at closing. The worst was that Metro-West is their appraisal company. Everyone on ratings says Metro-West under appraises, then Quicken Loans/Rocket changes everything. I looked into Metro-West appraisals and there are horrible reviews because of under appraising homes for Quicken Loans. I contacted Quicken Loans before appraisal and told them I do not want to use Metro-West Appraisals because of all negative reviews about under appraising.

Bottom Line: No, I would not recommend this to a friend

---

Unless you give your social security number to every Tom, Dick and Harry, don't bother with Rocket

By John Althen

,

Tracy, CA

,

Apr 20, 2018
Verified Reviewer

I am considering doing a refi on my house. I am not sure if it is worth it or not so I just wanted to make a few calls and see what is out there. Rocket Mortgage would give me a range of rates, but that was it unless I was willing to give them my social security number. I asked why she could not give me a list of fees. I understand you can't give me a rate without a social security number but why in the world can't you give me an appraisal fee, title fee, escrow fee, etc.? What does that have to do with your credit? I am sorry, but after Target was hacked and even most recently now you have Wells Fargo hacked for identity theft, why would I give Rocket my social security number unless I am going to do a loan. The gal simply said, "it's just our policy."

Bottom Line: No, I would not recommend this to a friend

---

Rental property will not qualify

A message was sent to me saying if I don't qualify they would refund $250 for the property appraisal, which they charged me $450 for and they refunded nothing. The thing that we told Aaron was that the property is a rental, so as an experienced loan mortgage lender that had already dealt with many clients, he should have known the percent limit of the Quick Loan Company. He knew that the company will not finance a property where units are rented more than are owned, and as an experienced lender, he should explain that from the very beginning. After he took the appraisal money, he wouldn't answer my messages until the last closing date when he came up with an excuse. I would not recommend Aaron Massara, (800) 976-0322.

Bottom Line: No, I would not recommend this to a friend

---

Terrible experience

By Victoria

,

Atlanta, GA

,

Jun 16, 2017
Verified Reviewer

I started my loan with Quicken because they made the process sound so easy, smooth and quick. "Quick" is in their name! The whole process was anything but.

Things started off ok, but once I was in underwriting, it all got bogged down. I could tell the guy handing my loan was new, he didn't know anything and kept having to "get back with me" on the simplest of questions. I ended up asking a friend of mine more questions then I asked him! I could only get a hold of him during the hours he was in the office, so forget about the weekends.

They waited to order my appraisal until the last minute, so it ended up being late, and that pushed back the closing. Then they came back and needed a ton of extra paperwork, and it got postponed again. I called to ask about rates at one point. Initially, we discussed 15-year fixed, but I was curious what my rate would be at a 30-year. The guy just switched it to a 30-year even though the rate was higher. I was furious!

The house was my grandfathers so he was patient about closing being moved so much, but it was so stressful. We ended up closing 30 days late with about 2% higher rate than what the quoted me when I initially called, and about $1000 more in fees than my friend paid. Next time I will use someone local with more knowledge and experience. They suck you in with the lower rates and then they charge you a ton.

Bottom Line: No, I would not recommend this to a friend

---

Unethical

By Sandra

,

Drexel Hill, PA

,

Jun 3, 2017
Verified Reviewer

I feel that I was scammed by Quicken Loans. I tried to resolve it through consumerfinance.gov and through my credit card company Capital One. I had no success. I want to warn others to be careful before handing over $500 to Quicken Loans. Think twice. Don't let them pressure you with promises that seem too good to be true. Quicken CANNOT wave a magic wand and get you loans that all the other companies can't.

Quicken Loans was apparently able to provide documents to satisfy the Consumer Finance agency and my credit card company that they were in the right when they scammed me out of a $500 deposit. Unfortunately, most of the Quicken practices that seem to me, in hindsight, highly unethical and reeking of scam, took place over the phone. Quicken quite conveniently lost all of those calls (but states "we record all of our calls").

Don't get taken by this company like I was. $500 is a lot of money to lose for most people. If you are inexperienced like I was with the mortgage/home equity/refinance process, don't hand over $500 to some fast talking Quicken representative. Remember that if it sounds too good to be true, it is. Talk to other mortgage lenders first, talk to a lot of them. Most will give you honest answers on what you qualify for, for free. If the others can't get you a mortgage/refinance/home equity loan, don't believe for a second that handing Quicken $500 will open doors. That's nonsense.

You don't have to hand over $500 to apply for refinancing etc. with most companies. Quicken will tell you that your $500 is an investment that will be returned to you. They vaguely allude to being able to do things other lenders can't. Baloney. Don't get sucked in. I came out of my experience with Quicken feeling like "a fool and his money are soon parted." Best I can hope to do is help someone else not to make the same mistake, and try to turn this horrible experience into something positive for others.

Bottom Line: No, I would not recommend this to a friend

---

Bait and switch stay away!

By Sharon

,

Florida

,

Mar 26, 2017
Verified Reviewer

Wow, I was really surprised about this company. I really thought they were legit. I called regarding a first time home buyer loan, and they told me about my husband's score, which was like 100 points lower than what we have seen. They immediately said they wanted us to speak to a credit counselor. A bait and switch. I told them that the scores they provided are wrong, but they just wanted to push their other product. Not good!

Bottom Line: No, I would not recommend this to a friend

---

Buyer beware

By Peri Alletto

,

Charlotte, NC

,

Mar 11, 2017
Verified Reviewer

Do not go with Quicken Loans, for they claim they are a lender, but reality, they are no more than an underwriter for Fannie Mae, for they do not hold the paper that they claim to loan.

They will sell off your loan within 24 hours of closing. The whole process is deceptive from the beginning, and they will charge you an upfront fee of $500 and run your credit before you even say "yes." The whole process is one big stress machine, for they will collect paperwork, and then lose it. They will offer an initial loan amount and then decrease it, based upon your supposed debt to income ratio.

I started with a loan of $267,000, and then they changed it to $212,000 all because $12 more a month was added to my student loan payment, even though my loan was deferred for life. My favorite was the appraisal, for the first appraisal came back at the purchase price, of course, and then the magic Fannie Mae SPRD system challenges the appraisal, claiming that the price was not supported. Then there is a second appraisal ordered (by the way, they add an additional $500 charge to your escrow account after they said "it was on their dime").

The second appraisal came in at $371,000 using homes in the comparable that was like comparing apples to oranges, and when the original appraisal was done, it came in at $387,500. They did everything in their power to get out of this loan, for I was putting down 43%, so it did not matter. They even gave me conditional approval where I made the conditions, but they kept moving the markers, and two days before closing, they pulled the rug from under me, stating that they could not approve the loan, despite giving me a written approval. What is so surprising is that was with an 800 credit score.

They call me and tell me the day before closing to pay off my student loan debt or get a cosigner, for they refuse to take any risk whatsoever, despite having a perfect credit record and putting 43% down. I went to a different lender, where I had to have another appraisal done, and the third appraisal came in at $388,500 for the same exact house only a week later. This tells me that the second appraisal done by Quicken was questionable in nature, for some odd reason this appraisal came back almost a week later when the original came in 48 hours later, and they asked me to sign an appraisal waiver.

They had the nerve to ask me how I was paying for the hotel costs, and even though I told them that my costs were free due to paying by points, they demanded I show them proof of it. They did everything they could to get out of this loan because they would not make money on their end.

This lender is nothing more than an overpriced loan broker claiming to be a lender on TV and online. They do not fund your loan, they underwrite for Fannie Mae and sell to them on the open market falsely claiming to the public that they are a direct lender, which is far from the truth.

They did not care that I have spent $14,000 to move all my belongings from Los Angeles to Charlotte with having no place to unload it, and left me in a situation where I was stranded in a hotel with no place for my family. They offered me no compensation for my loss and stress they put me through. They are not reliable or trustworthy, so buyer beware!

Bottom Line: No, I would not recommend this to a friend

---