Quicksilver from Capital One Reviews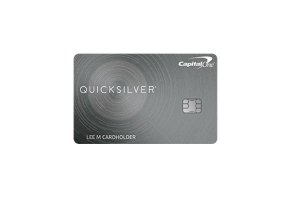 Capital One's Quicksilver credit card offers unlimited 1.5% cash back on purchases, a 0% intro APR, no annual fee and a $150 cash bonus for new cardholders.
About Quicksilver from Capital One
Capital One has extended the gracious hand of cash-back kindness with their Quicksilver card, an account which offers 1.5% cash back on all purchases, no annual fee and a 0% percent APR on all purchases and balance transfers for 9 months.
Sounds like a great offer, doesn't it? But credit cards are like clothing styles; what works for some people just doesn't look good on others.
Will the Capital One Quicksilver fit you like a well-worn pair of Levis, or is there another offer that would be more flattering for your financial figure?
We're going to answer that question over the next few minutes by reviewing the card's offer and features, terms and conditions as well as our conclusions about it.
Capital One Quicksilver's Rewards
The Quicksilver is just like most credit cards. You get a sweet introductory offer and a list of features and benefits.
Zero Percent and a Nice Cash Bonus
As we mentioned earlier, the card's current offer has two-parts: 0% APR on transfers/purchases and a $150 bonus.
The percentage offer is easy enough. Anything you buy on this silver swiper for the next 9 months won't have any interest on it. Nor will any balance transfers you make.
The $150 bonus takes a little more work. You'll need to make $500 in purchases within the first three months to get the free cash.
Unlimited Cash Back
Hey, we can't argue with the new cardmember offers we just talked about, but the good stuff about this card lies in its constant features.
The heaviest hitter among these features is the 1.5% cash back you'll receive on all purchases. It's basically like a friendly Capital One accountant dropping bills in your pocket every time you swipe your plastic.
Let's say you spend $2,000 a month with your card. By the end of the year, you'll earn $360. That's not bad, considering you don't pay an annual fee. Capital One is giving you money to be a customer.
See Also: Capital One Quicksilver vs. Chase Freedom Unlimited
Benefits of Capital One Quicksilver
All Capital One customers get a trio of excellent benefits: no foreign transaction fees, fraud coverage, and the company's credit tracker.
No foreign fees – When you travel abroad, you don't' have to worry about the 3% fee some cards charge you for foreign transactions.

Fraud coverage – If your card is lost or stolen, you aren't liable for fraudulent purchases.

Credit score – You're automatically enrolled for free, 24/7 access to your credit score as well as a scenario generator that helps you understand how new cards, closed accounts and other factors could affect your score.
Visa Signature Features
Cardholders get access to the Visa Signature program's great benefits. There's plenty included in the program (click here for their benefits guide). Here are a few teasers:
Concierge service – Hungry in Huntington Beach? Antsy in Albany? Call the concierge service for dinner reservations, travel tips and more.

Travel assistance – If your card has disappeared via your own forgetfulness or the greedy fingers of a thief, Visa will send you an emergency card and a cash advance.
Quicksilver's Rates and Fees
Every credit card has certain percentages they charge you once the introductory offer expires. If you decide to get a Quicksilver Card, here's what you can expect to pay once the intro period ends:
APR: Your annual percentage rate for purchases and balance transfers will be 13.99% to 23.99%. Cash advances carry a 23.99% from the moment you get your card.

Late Payments: Capital One will charge you up to $35 for a late payment and for a returned payment.

Visa Platinum: If you're approved for a balance of less than $5,000, you'll be enrolled in the Visa Platinum program instead of the Visa Signature program we talked about earlier. Travel assistance is the only benefit you get with Platinum. Click here to get the details of the program.
Who Is This Card Good For?
A good credit card is like your favorite piece of clothing – you love it and you use it often. Knowing which credit card is like that old hoodie you love, however, is the catch.
So let's talk about the Quicksilver in terms of who it fits.
Tailored for Big Spenders…to a Certain Point
If you're dropping some serious cash on your Quicksilver every month, you'll appreciate the 1.5% cash back you get with every purchase. We'll recommend this card up to a point, though. Try the Bank of America Cash Rewards Card if you spend more than $20,000 a month for bigger rewards.
Globetrotters Should Go Elsewhere
Travelers like credit cards which offer points for purchases instead of cash back. The Capital One Venture card is a good example of this, and we think the Venture is a great fit for consumers looking for ways to get frequent flyer miles.
See Also: The Best Cash Back Rewards Card of 2019