Capital One Quicksilver Cash Rewards Credit Card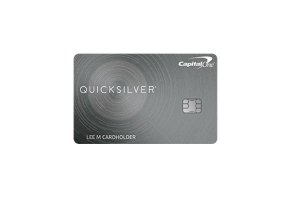 Using the Capital One Quicksilver for a cash rewards is as simple as it gets. The card has a 1.5% percent rewards rate for all purchases and a $150 sign-up bonus earned through $500 of spending in 90 days.
Capital One Quicksilver: Is It the Right Cash Back Credit Card for You?
The Capital One Quicksilver is a cash rewards credit card with two main ways to earn rewards: spending bonuses and a sign-up bonus worth $150.
The card is very similar to other cash cards you'll see but with some small nuances that we'll talk about through this review.
We'll give you a complete picture of what this card offers by analyzing how its rewards work, what its rates and fees are, how it compares to other cash rewards cards, and its pros and cons.
How the Capital One Quicksilver Rewards Work
Quick Facts

Pros: Simple 1.5x rewards rate on all purchases, 15 months of 0% APR on purchases and balance transfers.

Cons: Poor yearly rewards, shortest intro APR period among leading cards and a penalty APR.

Estimated Yearly Cash Rewards: $450

Sign-Up Bonus
Annual Fee
Regular APR
$150
$0
16.24% to 26.24%
Rewards Rate: Unlimited 1.5x on everything

The Quicksilver's rewards are based on a 1.5% calculation that Capital One does every time you make a purchase. If you spend $100 at the grocery store, Capital One will add 1.5% of that purchase ($1.50) to your rewards balance.
You can view this balance by logging into your Capital One account. From there, you can choose to redeem your rewards balance whenever you'd like by adding it to your card's statement as a credit, sending it to a bank account or receiving a check. The first option is the popular one, as it's the easiest option for redemption.
When it comes to earning rewards, one of the important things to remember is that the 1.5% rewards rate applies to purchases. Any interest, fees, and purchases you end up returning won't earn rewards.
The next way you can earn rewards with the quicksilver is to spend at least $500 in the first three months you own the card. If you do, then Capital One will add $150 to your rewards balance. This extra cash will take up to eight weeks to show up.
The $150 sign-up bonus is within the average range of what cash back cards offer. In some cases, the bonus is a bit higher and, in other cases, cards forego the sign-up bonus but give you a better cash rewards rate on your purchase.
Other benefits you get with the Quicksilver that are unrelated to rewards include an introductory 0% interest rate that applies to purchases and balance transfers you make the first 15 months you own the card. As we'll explain later on in the rates and fees section, using a balance the right way could save you hundreds of dollars a month.
The card also has a few benefits that apply to certain purchases you make with the card:
Free insurance on rental cars
Extended warranty on certain items you purchase.
The extended warranty adds a year to the manufacturer's warranty of items you buy with the card, provided the manufacturer's warranty is three years long or less.
The Capital One Quicksilver Rates and Fees
Rewards tend to be the basis upon which most consumers make their decision about a credit card. However, we believe that a credit card's rates and fees should be an important part of that decision.
While the Quicksilver's rewards are a flat rate, the rates and fees can change based on your credit scores. Because of this, it's important to understand how things like your credit score and spending habits can affect how much you pay in rates and fees.
We'll give you a quick list of those rates and fees here, then talk about their implications after:
Interest rate ("APR") for purchases and balance transfers: 16.24%, 22.24% or 26.24%
Interest rate for cash advances: 26.24%
Penalty interest rate: None
Balance transfer fee: 3% the first 15 months, none after 15 months
Cash advance fee: $10 or 3%, whichever is greater
Late/returned payment fee: Up to $39
We believe that interest rates should be at the top of the list of things you understand about a cash rewards card because they can have a significant impact on your monthly budget. Capital One will assign you an APR based on your credit history and credit scores.
Those with the best credit—usually 700 and above— will most likely get the 16.24% rate. Once you get into the high- to mid-600's, the chances increase that you'll get the middle APR of 22.24%. If your scores are under 650, you may get the 26.24% APR.
Assuming that you get the best interest rate, then any balances you have left after you make your monthly payment will generate interest.
Capital One calculates your interest every day based on what your average balance is for the day. For the sake of showing you the long-term drawbacks of carrying a balance, we'll list five average daily balances along with how much interest you'd pay if you kept that balance for a year:
$1,000: $162.40
$2,000: $324.80
$3,000: $487.20
$4,000: $549.60
$5,000: $712
As you can see, carrying a balance can be very expensive. If you can spend $30,000 with your Quicksilver card, you'll earn $450 in rewards for the year. If you carry a balance of $3,000 every day for a year, you'll pay $487 in interest. What you pay in interest exceeds what you earn in rewards.
For this reason, the advice we want to give you is that the best way to maximize the Quicksilver's value is to avoid using the card to spend what you don't have. If you do, the interest will start piling up. In fact, the Consumer Financial Protection Bureau estimates that those who have a credit score of between 670 and 720 and rack up credit card debt tend to have an average balance of $8,000.
If you get to that point, you'll end up paying nearly $1,200 a year in interest.
Comparing the Capital One Quicksilver to Other Cash Back Cards
Earlier we mentioned that the Quicksilver is similar to other cash cards but with some nuances. This chart will help you understand what those nuances are, as well as how the Quicksilver has advantages and disadvantages compared to the competition:
| | Capital One Quicksilver | AmEx Blue Cash Preferred | Discover it Cash Back | Citi Double Cash | Bank of America Cash Rewards | Chase Freedom Unlimited | Chase Freedom |
| --- | --- | --- | --- | --- | --- | --- | --- |
| Intro cash offer | $150 after $500 spend | $200 after $1,000 spend | Match on first-year cash back (avg. of $425) | None | $200 after $1,000 spend | Match on first-year cash back up to $20,000 (avg. of $300) | $150 after $500 spend |
| Rewards rate | 1.5% | 6%/ 3%/ 1% | 1% with 5% quarterly bonuses | 2% | 3%/ 2%/ 1% | 1.5% | 1% with 5% quarterly bonuses |
| Yearly rewards on $30K spending | $450 | $605 | $425 | $600 | $422 | $450 | $425 |
| Intro APR | 0% for 15 months on purchases and balance transfers | 0% for 12 months on purchases and balance transfers | 0% for 14 months on purchases and balance transfers | 0% for 18 months on balance transfers | 0% for 12 months on purchases and balance transfers | 0% for 15 months on purchases and balance transfers | 0% for 15 months on purchases and balance transfers |
| Permanent APR | 16.24%–26.24% | 15.24%–26.24% (Penalty APR up to 29.99%) | 14.24%–25.24% | 14.49%–24.49% (Penalty APR up to 29.99%) | 16.24%–26.24% (Penalty APR up to 29.99%) | 17.24%–25.99% | 17.24%–25.99% |
| Annual fee | $0 | $95 | $0 | $0 | $0 | $0 | $0 |
The Quicksilver's sign-up bonus is one of its weak points when you compare it with the other cards on this list. The Discover it Cash Back and Chase Freedom Unlimited have matching rewards the first year that, based on $30,000 of yearly spending, will exceed $150.
The Bank of America Cash Rewards and American Express Blue Cash Preferred cards boast $200 sign-up bonuses. The Citi Double Cash doesn't have a sign-up bonus, which makes the Quicksilver move ahead of that card. However, by the end of year two, the better rewards rate the Double Cash offers will make it a more valuable card.
Quicksilver's yearly rewards are better than all but the Citi Double Cash and the Blue Cash Preferred. However, the Quicksilver has one distinct advantage over those two cards: No penalty APR. When you make one late payment with the Double Cash or Blue Cash Preferred, your interest rate will jump to 29.99% and apply to any future balances you rack up.
The Quicksilver doesn't have a penalty APR, though. This means that, if you tend to pay late and accumulate balances over time, you'll be better off with the Quicksilver.
The Bottom Line: Pros and Cons, and Who the Capital One Quicksilver Is Good For
The Quicksilver is, in our opinion, is a unique card in that it has a single rewards rate, 15 months of 0% interest and a $150 sign-up bonus. You won't find any other cards like that among the most popular cards on the market.
However, a card's uniqueness doesn't offer any measurable value. Strengths do and we think this card's strength is that it has a good intro APR offer as well as a relatively low APR and an absence of a penalty APR.
The card doesn't necessarily shine but it is a simple option for you if you're looking for an easy card to use. There's one rewards rate, one lump-sum sign-up bonus and no chance of getting a penalty APR from a late payment.
Also, we see an opportunity here from someone with good credit scores who are looking for their first cash back card. The rules for using this card are so basic it will give you a good foundation for your understanding of how rewards cards work.
The downside to the card is that, in our opinion, it's not a good choice if you never carry a balance and you never pay late. Not carrying a balance means a card's interest rate doesn't come into play. Not paying late means you neutralize any penalty APR's.
If that's you, then we think the Citi Double Cash is a great choice because its rewards rate is 2%, which means $30,000 of spending earns you $600 per year.
In general, we believe this card is best suited for someone who wants the most basic, well-known cash back card they can find.
There are no rotating categories like the Discover it Cash Back or the Chase Freedom, and there aren't certain categories that get more rewards than others. Capital One distills everything down into one rewards rate and one set sign-up bonus.
If you want an even more in-depth understanding of cash rewards credit cards, read through our guide to the best cash back credit cards of 2019. We ranked the Quicksilver fourth after taking into account how its yearly rewards, sign up bonus, APR and other factors compared to the cards we mentioned earlier in this review.