Quit Genius Reviews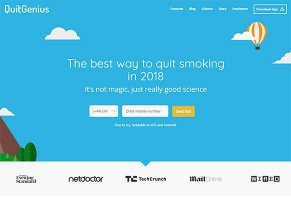 The Quit Genius app implements a multi-faceted cognitive behavioral therapy approach for helping you identify smoking patterns, avoid triggers, a kick the habit for good.
About Quit Genius
Centered on years of research involving smokers, scientists, and doctors, Quit Genius is a personalized, scientifically proven Android and iOS mobile app that uses cognitive behavioral theory (CBT) to help you successfully stop smoking.
This four-stage program involves a smoking 'diary' and a library of "animated videos, audio sessions, and interactive exercises" that can help you identify—and overcome—your triggers. The company's trained Quit Smoking Coaches will also analyze the data entered into your Diary and help you identify smoking patterns and share personalized, bite-sized tips throughout your journey.
For many, kicking the habit is one of the most difficult things they'll accomplish in life. But will Quit Genius's step-by-step, cognitive behavioral therapy-based approach provide the tools and support you need to finally achieve success? Is it really the best way to quit smoking in 2018, as claimed on the website?
We'll start by taking an in-depth look at the program's underlying concept.
The Link Between Cognitive Behavioral Therapy (CBT) & Quitting Smoking
What Are Some Physical & Psychological Barriers to Quitting Smoking?
According to the Centers for Disease Control, more people in the U.S. are addicted to nicotine (a stimulant, when consumed in small doses) than any other drug. Some research indicates the chemical is as addictive as heroin, cocaine, or alcohol.
As such, it usually takes individuals multiple attempts before quitting smoking for good, since withdrawal symptoms are unpleasant and commonly include irritability, anxiousness, problems thinking, and increased hunger, to name just a few.
Aside from the physical addiction component, smoking is also tied closely to psychological triggers that are part of our everyday lives. As SmokeFree.gov notes, "certain activities, feelings, and people become linked to your smoking," such as after a meal, when drinking alcohol, during social situations, and so forth.
And it's this component where cognitive behavioral therapy in general—and app-based programs like Quit Genius, specifically—promise to help.
What Is CBT?
Psychology Today tells us CBT is a form of psychotherapy that focuses on boosting happiness "by modifying dysfunctional emotions, behaviors, and thoughts." Then, concentrating on solutions and "encouraging patients to challenge distorted cognitions and change destructive patterns of behavior."
In layman's terms and specifically related to Quit Genius, you'll identify the thoughts that make you want to smoke and learn how to change them, thereby setting yourself up for successfully quitting. As a brief overview of the process (which can be customized to each patient), Psych Central explains it this way:
"Clients attend one session per week, each session lasting approximately 50 minutes. During this time, the client and therapist work together to understand what the problems are and develop new strategies for tackling them. CBT introduces patients to a set of principles that they can apply whenever they need to, and that'll last them a lifetime."
Is CBT Effective for Quitting Smoking?
The National Institutes of Health's PubMed listed more than 1,200 clinical studies investigating the relationship between CBT and quitting smoking at the time of our research, most of which seemed to find a positive correlation (although none were app-based). In fact, many health insurers cover the costs of traditional CBT for patients, whether related to smoking cessation or other potentially destructive behaviors.
Although we didn't encounter any statistics related to smoking during our research, for depression and anxiety, CBT seems to have between a 50 and 75 percent success rate; or, about the same as medication alone.
Returning to Quit Genius, how does its digital therapeutics implement cognitive behavioral therapy to potentially help you stop smoking?
How Does the Quit Genius App Work?
Quit Genius is advertised as ideal for any smoker, whether you've been smoking several packs a day for years, or only smoke a few cigarettes during occasional social events. You can use it along with any other technique, such as patches, gum, or e-cigarettes; all you need is a smartphone.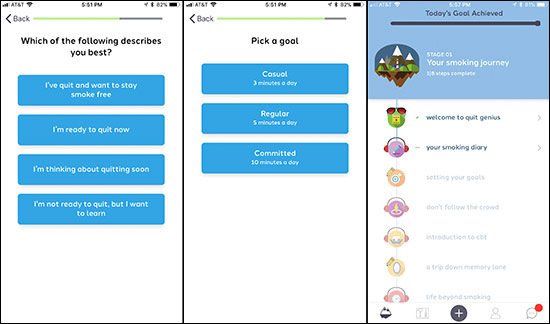 After answering a few questions and picking a goal, you can start using the Quit Genius Diary and achieving goals. Credit: Digital Therapeutics, Inc.
After setting your quit date, you'll dive into each of the program's four stages, which are split into daily, five-minute 'steps.' According to the website, the audio sessions and exercises they contain are focused on changing "the way you think and act," along with learning "mindfulness to help you overcome cravings."
Stage 1: Your Smoking Journey – You'll start by exploring why you started smoking in the first place, as well as visualizing your cigarette-free future.
Stage 2: The Beautiful Mind – You learn how nicotine impacts your body and your mind, along with the hurdles it will likely present when you're trying to quit and several tools for overcoming them.
Stage 3: Addressing Misconceptions – Identifying "thinking errors or misconceptions that you may have fallen into," which can help you view smoking from a different perspective.
Stage 4: Ready, Set, Action – In preparation for your quit date, you'll start changing your behaviors step-by-step.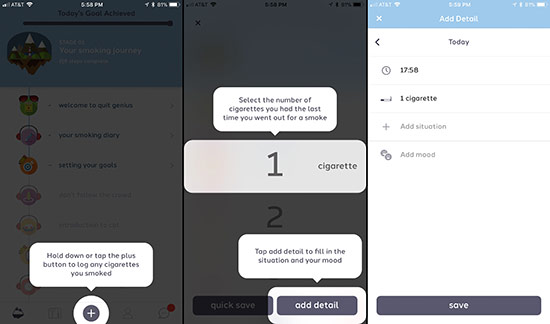 The Quit Genius Smoking Log allows users to track cigarettes smoked each day, along with details such as time, circumstances, and mood. Credit: Digital Therapeutics, Inc.
The company recognizes that every smoker is different, which is why the app involves a huge variety of personalized interactive exercises that promote self-reflection while helping you change your thoughts.
"With each step," the website tells us, "Quit Genius learns more about you and intelligently adapts your journey to suit you better. You'll be given tailored tips and support plans to meet your own needs. In effect, your own personal pocket psychologist who you can call upon when you need."
This also includes a Coping Toolbox filled with soothing mindfulness exercises that can help you refocus your mind until cravings have passed, while managing responses to your feelings and triggers.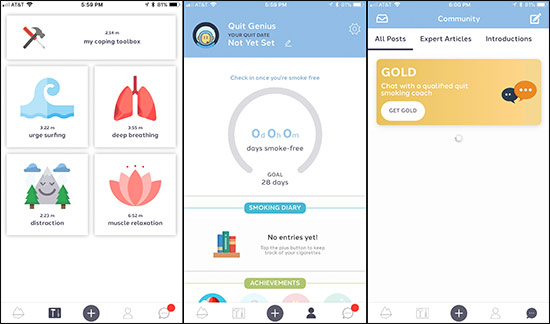 The Quit Genius Coping Toolbox provides a variety of exercises to manage cravings, while the dashboard keeps track of your progress, and the community provides access to Quit Smoking Coaches and expert articles. Digital Therapeutics, Inc.
Quit Genius recommends completing these exercises when your mind is relaxed. Once you finish them, along with the audio session and exercises in each step, you'll unlock the next step, and so on, until your journey is complete.
Is The Quit Genius App Clinically Supported?
The Quit Genius website cites a 2016 Imperial College London study that showed "Gamification holds the potential for a low-cost, highly effective mHealth [mobile health] solution that may replace or supplement the behavioral support component found in current smoking cessation programs."
However, it also balanced this positive result by emphasizing: "future research is required to evaluate the generalizability and effectiveness of the framework."
Furthermore, according to the Quit Genius website, two manuscripts are currently in progress, with no ETA listed:
The Evaluation of Two Mobile Health Applications in the Context of Smoking Cessatio
What Role Can Digital Apps Play in Enhancing Users' Psychological Well-being, Empowerment, and Inspiration? Exploring A Novel Cognitive Behavioral Therapy mHealth App Design
How Much Does Quit Genius Cost?
Downloading the Quit Genius app and completing the first stage is free. If you decide to continue, upgrading to a three-month Plus membership will cost you $11.49 ($3.83/mo), which automatically renews until you request cancellation by sending an email to hello@quitgenius.com.
No refunds are available, although after requesting cancellation, customers will continue to have access until their billing period expires.
What Can We Learn From Quit Genius Customer Reviews?
With nearly 1,000 combined customer reviews between Google Play and iTunes, the Quit Genius app had an average rating of about 4.5 stars at the time of our research—it even won an Apple Editor's Choice Award. Common compliments referenced ease of use and effective results, while the relatively few complaints frequently related to bugginess.
However, a company representative often responded directly to complaints in order to address each customer's concerns.
Digital Therapeutics, Inc. is a Y Combinator-backed company headquartered in London, with U.S. offices in Palo Alto, CA. It was co-founded in 2016 by COO Maroof Ahmed, CEO Yusuf Sherwani, and Chief Medical Office Sarim Siddiqui.
Maroof is also CEO and founder of Interviewdoctors, while Sarim is a Clinical Entrepreneur Fellow for the BHS, and Yusuf founded Unique Melody UK.
Are There Other Mobile Health (mHealth) Smoking Cessation Apps Like Quit Genius?
Smoking cigarettes is a destructive—not top mention expensive—habit, so there are a lot of great reasons to kick the addiction once and for all. And to help you accomplish this, a whole industry exists; everything from hypnotherapy sessions and devices that attach to your earlobe, to more traditional nicotine replacement therapy options like gum, patches, and even e-cigarettes.
Related: Can E-Cigarettes Really Help Smokers Quit?
Even narrowing our focus to apps, there are still perhaps hundreds of different products to choose from, including popular ones like:
| App | Cost | Google Play / iTunes Average & Rating | Special Features |
| --- | --- | --- | --- |
| Quit Genius | $3.83/mo | 4.5 stars | Centered on cognitive behavioral therapy, customized feedback and tips based on Smoking Diary, gamification aspect, 5-minute daily sessions |
| Smoke Free | Free | 4.7 | Track time you've spent smoke-free, earn badges, complete 'missions,' track cravings |
| QuitNow! | $3.99 | 4.4 | Track time you've spent smoke-free (including money saved and minutes you've added to your life), earn achievements, access member community |
| Quit Smoking with Andrew Johnson | $2.99 | 4.2 | Audio-based self-hypnosis, ability to set reminders |
| KWIT | Free | 4.4 | Track money saved, time added, cigarettes not smoked, etc.; diary, ability to unlock achievements, receive motivations |
| Butt Out | $2.99 - $6.99 | 4.2 | Real-time health stats: money saved, time added, cigarettes not smoked, etc.; track cravings, community support, graph view |
Although Quit Genius was the only CBT-based app we encountered during our research, does this necessarily mean it's the right smoking cessation option for you?
Interviewed for a 2016 CNN article Atlantan Barry Blackwell told the reporter, "smoking is my best friend. It's always with me long after friends have left and people have gone, they are always here."
The bottom line is that smoking is a personal relationship with nicotine, so the exact combination of factors it'll take for you to successfully break this relationship will be unique to you. However, the Centers for Disease Control tells us some of the most common methods include:
Talking with a doctor
Counseling, whether individual or group, in-person, online, or over the phone
Behavioral therapies
Over-the-counter and prescription nicotine replacement products
When it comes to apps, the American Cancer Society recommends choosing options "based on quit-smoking recommendations proven through research to be effective," which certainly seems to be the case with Quit Genius's cognitive behavioral therapy approach.
We've covered a lot of ground in a relatively short time, so let's sum everything up and come to a more informed conclusion about Quit Genius.
Our Final Thoughts About Quit Genius
Smoking cigarettes is the leading cause of preventable death in the U.S., so good on you for taking the initiative to boost your health and save a ton of money in the process.
But, there can be a huge gap between deciding to quit smoking and successfully remaining smoke-free indefinitely. And as we outlined earlier, finding this success a) is highly personal and b) spans perhaps thousands of potential options.
To help you narrow down some of these, it's always a good idea to start by talking with your doctor, who should be able to make recommendations based on your needs, preferences, and past attempts at quitting. In many instances, they could also refer you to a mental health professional who could assist in the process.
Using all of this as our foundation, based on what we learned from sites like Psychology Today and Psych Central, cognitive behavioral therapy is a proven method of "modifying dysfunctional emotions, behaviors, and thoughts" to improve different aspects of our life—including quitting smoking.
But, as we've repeatedly emphasized, no single solution will work for everyone. And while Quit Genius doesn't offer refunds on their three-month subscriptions, they're competitively priced, so you won't be out a whole lot of money if you find their approach doesn't mesh with your personality.
Read next: 6 Ways to Cut Down Smoking Gradually