Quizlet Reviews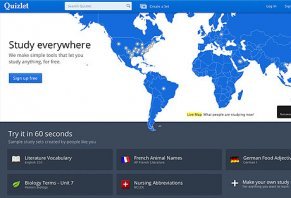 About Quizlet
Whether you're an elementary student, preparing for a major entrance exam, or just someone who enjoys learning, Quizlet claims that they can help. This free website and mobile app claim to provide simple, free learning tools that allow you to study anything, anywhere, for free.
But does Quizlet really help you learn as well as it claims? Let's hit the books and find out.
Quick Facts About Quizlet.com
Quizlet.com claims to be the 93rd most visited website in the U.S, and to offer more than 40 million study sets that allow you to learn about whatever you want, wherever you go. Regardless of your grade level or age, Quizlet's user-generated, flashcard-based study materials can help students to learn, and teachers to teach, across six primary categories:
Languages & Vocab – English, French, German, Chinese, and more.
Standardized Tests – SAT, LSAT, SMAT, and more.
Math & Science – Algebra, Geometry, Biology, and more.
History & Geography – Capitals, Government, Religion, and more.
Arts & Literature – Music, Poetry, Theater, and more.
Professional & Careers – Law, Medicine, Computers, and more.
To sign up for Quizlet.com, you can use your Google or Facebook information, or manually enter your birthday, username, and email address, and then choose a password.
Once you've signed up, whether you're looking to learn a new language or to prepare for your SAT, you'll need to search for a flashcard set that matches your needs.
Once you find a set you're interested in studying, simply click on it, at which point you'll be taken to the set's main page. Here, you'll be able to view its flashcards, take tests (e.g. question and answer, spelling, and written), and play games (e.g. scatter and race).
Throughout the process, Quizlet will keep track of your progress (e.g. number of correct/incorrect answers), and will even re-review those you missed.
Once you've amassed your study sets, you can then share them with your class, or even create your own sets and/or classes to share with others. For learners on the go, Quizlet also offers iDevice, Android, and Kindle Fire apps.
Quizlet Pricing & Refund Policy
A basic Quizlet student account is free, which provides access to all study tools on the website. However, students can also upgrade to Quizlet Plus by paying $15 per year, which provides access to extra features such as image uploading, voice recording, ad-free studying, and more. In addition, teachers can subscribe to Quizlet.com for $25 per year, which provides access to additional tools they can use in the classroom.
If you're looking to try the service before signing up and/or upgrading your account, Quizlet.com offers five free sample study sets on their home page.
What Do Other Consumers Have to Say About Quizlet.com?
Quizlet was founded in 2005 by Andrew Sutherland, a then 15-year who created the program for his high school French class. Today, the company is based out of San Francisco, CA, and claims to have more than 13 million users.
Despite their length of time in business however, Quizlet is not rated with the Better Business Bureau and does not have any complaints filed.
Quizlet.com and their apps appear to have a very positive online reputation, with very few complaints encountered during our research, which we'll review in the next section.
What's the Bottom Line About Quizlet?
Overall, it would seem that it's hard to go wrong with Quizlet, since a basic account is completely free of charge, but is something that opens a whole new world of learning for you and your family members.
In other words, other than handing over minimal personal information, there's nothing to risk. However, there are a couple minor concerns you might want to keep in mind prior to joining.
The most common complaint we encountered during our research is that Quizlet is primarily based on memorizing terms, although the company does provide several different methods of accomplishing this in order to avoid monotony.
We also read one detailed review about Quizlet.com that claimed some sets may contain inappropriate language and/or mature content, although we didn't encounter any of this during our research.
22 out 24 people found this review helpful

Great!

By Me

,

Melbourne, Victoria, Australia

,

Aug 1, 2017
Verified Reviewer

Quizlet is great for studying if you are trying to memorize terms. It doesn't have many other ways to learn except for terms. It is great and doesn't have many flaws, but the upgrade option is not very helpful, so don't waste money on getting the plus version.

Bottom Line: Yes, I would recommend this to a friend

---

24 out 28 people found this review helpful

Student's experience

By Kaden Wright

,

San Angelo, Texas

,

Mar 8, 2017
Verified Reviewer

As a student who is in advanced classes, Quizlet helped me learn vocabulary terms and other subject matter in half the time. With exercises like flash cards and matching, I was ready for the online test that Quizlet offers. The interface on the mobile app is a little buggy for me personally, but nothing hard to work around!

I absolutely recommend it for anyone in need of an aid to study for a class!

Bottom Line: Yes, I would recommend this to a friend

---

Advertisement

---