R2L - Radiation To Light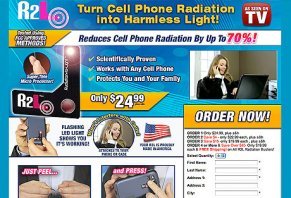 R2L - Radiation To Light claims it reduces cell phone radiation, which it considers harmful, up to 70% by converting it to electricity and emitting light.
R2L - Radiation To Light Review: Does It Work or Is It Just Hype?
The R2L Radiation Buster (R2L) is a thin plastic processor that they say when attached to any cellular device reduces the radiation emitted by up to 70%. The name is an acronym for Radiation-to-Light, which is what they claim happens to the radiation - it is converted into a "harmless" blinking light.
The R2L appears to be created and sold by Erconia Medical, a company based in McKinney, TX primarily known for its laser body sculpting devices. They are not accredited by the BBB and currently have an F rating; the BBB claims this is due to lack of information on the company and failure to respond to one complaint.
How R2L Works
They claim the R2L was created by Kevin Tucek, an ex-Navy Seal who in a video on the home page says he questions the safety of cell phone radiation. He says the FCC studies which claim radiation from cell phones is harmless are outdated, having been done in the 1980s when few people had them and were not used frequently. Nowadays, he states cell phones and smartphones are used every day and have significantly stronger microprocessors that emit higher levels of radiation. Because of his beliefs, he claims the R2L will "protect you and your family" from cell phone radiation.
The R2L appears to be a thin L-shaped piece of plastic which contains what they call a "radiation absorbing microprocessor". The R2L has an adhesive; they say to peel off the backing and gently place on your cell phone or cover according to the chart on their website. They claim you can also use the R2L on the iPad.
They tout the R2L will "immediately" begin converting the radiation to electricity, causing a small LED to blink, which they say indicates the product is working. (The website points out you cannot see radiation.) They claim using R2L will not affect your phone call's quality or clarity. They state you can now hold the phone to your ear and still reduce your exposure by up to 70%, depending on the model.
They state that the R2L has been "rigorously tested" by two of the most "prestigious labs in the world" and they deemed it "more effective than any product" for reducing cell phone radiation. One of these companies is RF Exposure Labs in San Diego, which appears to back up this claim with a quote on the website. They add that the R2L was tested in accordance with FCC-approved Specific Absorption of Radiation (SAR) testing methods. They proudly state the product is made in the USA.
"Although all mobile phone radiation levels currently comply with FCC exposure limits, no one really knows what the prolonged effects of cell phone use are over time," says a spokesman from R2L in a press release. A testimonial purportedly from a satisfied female customer in the R2L video on the home page adds, "it's better safe than sorry.
R2L Pricing, Shipping, and Returns
The R2L sells for $24.99 plus S & H of $5.99 and a "Web Service Fee" of $1 for a total of $31.98 plus tax (if applicable.) If you order more than one you get a tiered discount, with free shipping kicking in after purchasing 4 or more units. R2L asks that you allow 3 weeks for delivery; they say you can return R2L within 30 days for your money back, minus S & H.
R2L Pros
"Proven" to reduce cell phone radiation
Works on any phone
Blinks so you can see it "working"
If you believe cell phone radiation is harmful, it is "better safe than sorry"
R2L Cons
FCC insists cell phone radiation levels are safe.
4 out 5 people found this review helpful

Great product with solid research supporting it

By Kirk Gair

,

West Covina, CA

,

Jun 27, 2017
Verified Reviewer

I have been using the Erchonia R2Ls since they first came out and have been recommending them to patients for years. When you look at the research done, you can see the objective measurements showing a drop in the EMR levels. Some brands of phones give off higher amounts than others and will be much more active when browsing or streaming. The biggest activity is with VR goggles! The R2L lights up constantly when the phone is used in the Samsung Gear VR. It is definitely worth the small cost of the product to reduce your exposure. Plus, they usually last the life of the phone, so quite are durable.

Bottom Line: Yes, I would recommend this to a friend

---

5 out 7 people found this review helpful

The evidence is mounting

Chandler, AZ

,

Jun 26, 2017
Verified Reviewer

The research continues to grow regarding the hazards of cell phone exposure. In our brain based practice, we try to educate our patient base on ways to protect neurons from injury, so this falls perfectly into that category. A recent trial in Italy was the first of its kind to award a settlement linking cell phone use to a brain tumor. Another paper demonstrated as little as 50 minutes of cell phone use a day can increase the risk of dementia. It is an inexpensive product backed by research and independent analysis. We keep our display at our sign in area, and it also makes a great gift idea. It was the first thing I added to my daughters' new cell phones, and I recommend it to all of my friends and family.

Bottom Line: Yes, I would recommend this to a friend

---

Advertisement

---

21 out 28 people found this review helpful

Scam?

By Michael

,

Honolulu, HI

,

Dec 24, 2015

I placed mine on the phone. It never lights up and doesn't change the reading on my meter. I called the company who took three days to respond. They said it may only light up if I am in the middle of nowhere trying to look at YouTube on my phone. They had no comment on why it didn't change readings on my meter. I asked if mine could be defective. They said it was impossible. I feel ripped off.

Bottom Line: No, I would not recommend this to a friend

---