rateGenius
Claimed This company has claimed this profile, is getting alerted on any new customer reviews entering this page, and may engage in dialogue with its customers to address their matters.

Companies cannot pay money or provide goods in order to remove or alter customer reviews.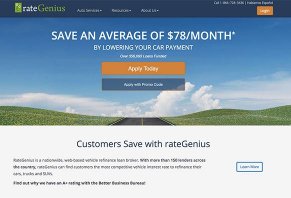 rateGenius leverages the power of their network, which consists of more than 150 lenders, to help you refinance your auto loan at a lower rate and save money.
rateGenius Review – Can You Save Money on Your Auto Loan?
By replacing your current auto loan with a new one, rateGenius is a nationwide, web-based lending platform that promises to connect you with more than 150 lenders across their network, and potentially lower your APR and save hundreds or thousands of dollars in interest fees.
Specifically, whether you're looking to refinance a car, truck, or SUV loan, the website advertises that they've helped their more than 450,000 customers save an average of $78 to $89 per month. In addition to saving money, we're told rateGenius will handle all of the heavy lifting, so the three-step process is quick and painless.
Bottom line: Can you expect to spend less money with rateGenius? Are there similar companies you should consider during your research? We'll answer all of your most important questions, starting with the process.
How Does the rateGenius Auto Refinance Process Work?
Application & Approval
rateGenius's online application takes just a few minutes and involves entering general information about yourself (name, address, contact details, employer phone number, social security number, etc.), lien holder details (company name, current monthly payment), and vehicle information (make, model, style, mileage, and VIN). If you don't have all of the vehicle's information available, you can complete the application at a later date—just be sure to note the application ID before closing.
From there, your information will be sent through an encrypted network to the company's skilled team of loan officers, and stored on secure servers. They'll work within rateGenius' network of 150+ lenders to "find the best qualifying interest rate and monthly payment for your vehicle" by "matching your application with the best lender suited to meet your financial needs."
Specifically, we contacted customer service and learned that each loan is presented to three network lenders (usually credit unions in the applicant's area), who can then choose to present an offer. Once this occurs, you'll be notified by email, phone, and even snail mail if you prefer.
As the last step in the process, you'll need to review and sign your loan documents, which can be viewed through your secure customer portal, or the company can ship them to you via UPS.
The rateGenius fulfillment team will then check the remaining balance of your existing auto loan, ensure it's paid in full and that every party has the necessary paperwork, and that the new lender will receive the vehicle title.
rateGenius Eligibility Requirements
RateGenius offers refinancing services for a variety of vehicles, including cars and trucks (up to 60 months), recreational vehicles (up to 12 months), and motorcycles (up to 60 months), as long as they're no older than 10 years, don't have more than 150,000 miles, and carry a current loan balance of at least $10,000 ($90K maximum).
If you decide that you want to purchase a leased vehicle once your term is up, they can help with that as well, even if the vehicle is in a business name. However, they cannot accommodate commercial or business use vehicles, or heavy machinery.
From an individual perspective, rateGenius requires that all applicants and co-signers are at least 18 years old, have a combined household monthly income of $2K or more, and are OK with having a hard inquiry pulled on their credit. If anyone on the application is self-employed, the company might request additional documentation to verify income as well.
If approved, the company will typically issue a loan that matches the remaining length of your existing loan. So, if you had 36 months left on your current loan, rateGenius would likely finance your new loan at the same 36-month term, but at a lower interest rate.
How Much Does rateGenius Cost?
The website indicates that rateGenius' lenders offer interest rates as low as 2.99 percent APR (maximum = 18 percent) and that the company has an $85 processing fee.
Related: 6 Most Popular Used Car Buying Websites: A Comprehensive Guide
If your loan is approved, you may have to pay an out-of-pocket title transfer fee to your state (varies by state), and some lenders may require a small membership fee. Any other fees can be rolled into the balance of the loan.
If you have additional questions, a rateGenius support representative can be reached at 866-728-3436 or service@rategenius.com.
Are There Any Online rateGenius Customer Reviews?
Across sites like Credit Karma, Yelp, and TrustPilot, we encountered more than 4,000 combined customer reviews for rateGenius, who had collectively given the company an average rating of about 4.5 stars. Compliments commonly related to ease of use, quick approvals, and great customer service, while complaints often referenced declinations and less-than-stellar support.
NerdWallet points out that rateGenius might work best for those who have a good credit rating (their average customer credit score is 690), don't mind have a hard inquiry pulled on their credit, and don't mind dealing directly with lenders to complete the paperwork.
rateGenius, Inc. was founded in 1999 and is based out of Austin, TX. The company held an A+ rating with the Better Business Bureau, based on nearly 330 customer reviews and 58 closed complaints, as of 2/21/18. These seemed to mirror those found elsewhere online, although a company representative responded with a solution in each instance.
Are There Other Online Auto Refinancing Brokers Like rateGenius?
There are perhaps dozens of online brokers competing with rateGenius who also specialize in auto loan refinancing, including popular options like LendingTree, AutoPay, LendingClub (peer-to-peer lending), MyAutoLoan, Innovative Funding Services, and Clearlane, to name just a few.
If your credit score has recently improved, you can probably get a lower APR and save money by refinancing your auto loan. As with any other company, though, we'd recommend choosing an option based on positive online customer feedback, along with obvious factors like their basic eligibility criteria and the number of lenders in their network.
When researching your options, other potential differentiating factors include whether or not the application impacts your credit score, and if there are any prepayment penalties. Also, do they offer additional related services that you might find useful?
What does all of this mean regarding your future with rateGenius?
Our Bottom Line About rateGenius
With a network of more than 150 lenders, the ability to refinance a variety of vehicle types, nearly two decades in business, an almost wholly positive online customer reputation, and additional related products like GAP coverage and vehicle service contracts, it seems that rateGenius tends to deliver on their promises when it comes to refinancing auto loans.
Will they work for you, as well? With so many different variables at play (credit scores, vehicles, loan amounts, etc.), there's ultimately no way to know without taking a couple of minutes, entering your information online, and giving it a go.
Just keep in mind that unlike some other auto loan refinance brokers, rateGenius pulls a hard credit inquiry on each application submitted, which could negatively impact your score if you choose not to go with one of their lenders.
Not flexible, not meant for us working-class folks.

By Alayna A.

,

Colorado

,

Oct 11, 2019
Verified Reviewer

Beware, this company is not flexible and only works with the kind of people who have never struggled. We sold our house this year and used the equity to pay off a TON of debt which boosted out credit the best its ever been, so we figured we would give them a try to refinance our cars since we have amazing credit. But they denied the application without an explaination, so I called their number to see why and the rep I spoke with explained they dont work with people "like me". I guess even with great credit, a high income and a good history for the past few years I am just riffraff to them because of a bankruptcy on my record many years ago when I was young. She said they dont even attempt to work with people like me. I teared up as we parted ways on the call because I feel like I was treated like garbage, like I am not good enough to be associated with because of a past mistake. I spent years working hard, fixing up my credit, making good payments and moving up in the world to be treated like so poorly. Waste of my time and ding on my credit for even attempting. Don't bother with this company.

Bottom Line: No, I would not recommend this to a friend

Oct 14, 2019

Hi Alayna, thank you for your feedback. We're so sorry to hear that your experience with us didn't meet your or our expectations, as we always do our best to make sure that we provide excellent service and communication to all of our customers. Though we wish we could help everyone, that's not always the case. Of course you're not riffraff to us; we are so lucky to have had the honor of your application and your trust in us to find you a better rate. We are so happy that you've been able to make such strides financially - that's a rare feat and you should be extremely proud of your accomplishments. Even if you have great credit, low DTI, and a low LTV, you're right - that bankruptcy on your credit history does make it difficult for us to find an approval for you within our lender network. Luckily, that's only temporary, and once that bankruptcy falls off your record, we would love the opportunity to work with you again. Regarding the way that you were treated, we will listen to the call, research this matter internally, and take steps to ensure that doesn't happen again. We never want our customers to feel less than, and we sincerely apologize for any inconvenience, stress, confusion, or hurt feelings that we caused you. Thank you again for your feedback and your application, we hope to have another opportunity to work with you, and we wish you the best of luck.

---

Total scam - dishonest - a waste of time

By Joni C.

,

Kansas City, KS

,

Aug 8, 2019
Verified Reviewer

I have dealt with many companies that are unprofessional but this one is right at the very top. Especially with employees like Jeremy Odom who is super helpful until you elect not to accept the GAP or extra insurance coverage.

I received full approval on July 18 to refinance my car at the end of its lease on August 5th. Paperwork came on July 23rd. I reached out to "helpful Jeremy" up to that point to decline the GAP and Assureguard.

I then had to keep reaching out to get a straight answer. Finally got new paperwork on the 26th. He then wanted copies of my DL, insurance, registration. My license was renewed on the 24th of July so I copied the temporary paper license, insurance, and my registration from 2018 and the registration receipt from its renewal that will be expiring at the end of August, 2019. Not sufficient. More time passes, I have to reach out. Driver's license not good enough. Have to copy front and back of the expired one. Makes no sense but I did. Registration still not sufficient. I go online and the DMV sends me what they said should be fully sufficient. Again, showing registration with expiration in August. No response. I reach out, yet again. Nope. Sorry. Asked non-helpful Jeremy if he was going to maybe share that information with me? Is my lease being up in a few days? No response. Asked for the underwriter's contact information. No response. Then he just provides his number. Of which he would not take my call. Went to Chase Bank and it was completed in 24 hours. Shockingly, the paperwork, license, registration worked wonderfully for them. Thanks Chase!

I will do everything possible to ensure anyone I know or can reach by review does not fall into the Jeremy Odom Rate Genius trap.

Bottom Line: No, I would not recommend this to a friend

Aug 8, 2019

Hi Joni, thank you for your review. We're committed to providing our customers with an excellent overall experience, so we're disappointed to hear that yours was anything less than perfect. Certain members of our lender network are more selective than others in their preference for document submissions. In addition to crisp and clear items, some also require that the registration must be valid for at least 60 days. Our attempts to complete the refinance focused on this aspect. Nevertheless, we did notice that there was a lot of back and forth in your case, and we know that's frustrating. We'll relay this feedback internally to identify ways that we can be more accessible and return calls more expediently. We sincerely apologize for any inconvenience, stress, or confusion that we may have caused. Thank you again for your review! We're so glad that you were able to find a better loan option, even if it wasn't with us, and we hope to have another opportunity to earn your business in the future.

---

Advertisement

---

Credit data fishing expedition

By Jeff P.

,

Lubbock, TX

,

Jun 3, 2019
Verified Reviewer

rateGenius.com was recommended for me by Credit Karma for auto refinancing at reduced rates. Application response was delayed three days. My TransUnion score of 701 was apparently too low to lower my 8.5% rate at Wells Fargo. Nothing more than a data fishing expedition whose hard inquiry will reduce my credit score.

STAY AWAY FROM rateGenius!

Bottom Line: No, I would not recommend this to a friend

Jun 4, 2019

Hi Jeff, thank you for your review. We're disappointed to hear that your experience with us didn't meet your expectations, as we strive to provide the best possible service for our customers. Our application responses can take up to 3 business days, as we like to give our lender network time to review your application thoroughly, and gather any further information if necessary in order to generate an offer. It's what differentiates us from other auto refinance platforms; we provide fully underwritten, legitimate offers of credit. Because we work with so many lenders, it can sometimes take a few minutes, and it can sometimes take a couple of days. However, we are working to make our process more expedient, as we understand how frustrating it can be to wait for an approval.

Regarding your application, we are sorry that we weren't able to beat your current rate. It's not all about credit score. Of equal importance is your LTV, DTI, and whether we can locate a loan offer that has better rates or terms than your current one. We can assure you that we aren't in it to data fish. If that were the case, we would neither be a preferred partner with Credit Karma, nor in business for over 20 years. We sincerely apologize for any inconvenience, stress, or confusion that we may have caused. We thank you again for your feedback, and we hope to have another opportunity to find you savings in the future.

---

Bad customer service

I applied for a loan, got approved. During the whole process, I got calls and texts to assure I was doing what needed to be done on my end. Long story short, I paid fees for DMV and was under the impression that my title and registration will be changed, being that my original loan had a co-borrower. I paid to have that person removed and figured I get my new registration. Once the loan finalized, my rep Kyle T., completely went ghost on me and disappeared. I've been trying to reach out and find out more about the situation. No one answers my text or emails. When I called customer service, I got the runaround. So basically, now that the loan is complete, they basically said "forget you" and washed their hands of me once they took my money. I wouldn't recommend this site to anyone and Credit Karma should stop advertising them.

Bottom Line: No, I would not recommend this to a friend

Dec 3, 2018

Charles, thank you for your feedback. Because we always strive to provide our customers with excellent service and communication, we are disappointed to hear that your experience with us was anything less than perfect. We are aware of certain opportunities for improvement within our follow-up processes and responsiveness during the post-funding stage, and we are actively working on ways to improve both our organizational and technological infrastructure to better fit our customer's needs. We understand how this can be frustrating, and we sincerely apologize for any stress, confusion, or inconvenience. If you have your application number handy, email us at pr@rategenius.com, and we'll answer any questions you may have. Thank you again for your feedback and we hope to have the opportunity to work with you again in the future.

---

Advertisement

---

Very bad service

This is by far the worst company I have ever dealt with. I made sure to post on all my social media accounts about the horrific and corrupt customer service I have dealt with here. I told all my friends and family as well, whom in turn will tell their networks and so on. I am extremely disappointed in the lack of professionalism I have experienced.

Bottom Line: No, I would not recommend this to a friend

Oct 26, 2018

Thanks for your review, Mohammed. We're so sorry to hear that your experience with us was anything less than perfect, as it's our mission to provide excellent service and communication to everyone we work with. We'd like to learn more about what happened, but we'll need your application number to do so. If you don't mind, please email us your app# at pr@rategenius.com so that we may research this issue, learn from it, and take the necessary steps to ensure it doesn't happen again. We apologize for any inconvenience, stress, or confusion that we may have caused, and we thank you again for your feedback. Despite your initial experience with us, we hope that we'll have another opportunity to serve you in the future if you'll have us.

---

I believe it is a scam

By Mario M.

,

Atlanta, GA

,

Oct 1, 2018
Verified Reviewer

I received an email ad from Credit Karma about the refinance. I applied and received an auto response but never received or heard anything else. It's been weeks. I would never recommend and think Credit Karma should drop their ad business.

Bottom Line: No, I would not recommend this to a friend

Oct 2, 2018

Mario, thanks for your feedback. We're sorry about this. We never intended on leaving any of our applicants hanging. Turns out, our messaging system had been glitching over the last few weeks! We're so sorry about that! We're aware of the issue and have already repaired it.

---

Gap insurance and expanded warranty selling co.

By Edgar C.

,

New York

,

Sep 24, 2018
Verified Reviewer

This place it's just so they can sell you gap insurance and extended warranty when you try to refinance, even when your car does not need it. They may find you a .20 to .50 lower rate of what you currently have. After I read the reviews I told then "by the way I will not be needing gap insurance not extended warranty," so they didn't call me back, I had to call back. With a 720 credit score, I was told they couldn't find me a better rate. Simply because I didn't need the extras.

Bottom Line: No, I would not recommend this to a friend

Sep 24, 2018

Hi Edgar, thank you for your feedback. Because we strive to provide our customers with excellent service and communication, we are disappointed to hear that your experience with us was anything less than perfect. Though we do sell optional additions like GAP and Service Contacts, we are paid by our lender network for the loans that we provide. Plus, we care deeply about saving people money, either in terms of interest rates or in terms of monthly payments, so we would do our best to find a rate that works best for you.

Our records indicate that our offer was only slightly lower than your current rate and that despite our best efforts to find something lower, we were unable to find a loan option that fit your needs. However, we never want our customers to feel that we have no interest in helping them, and we will address that internally to identify opportunities for improvement. We apologize for any inconvenience, stress, or confusions. We thank you again for your feedback and we hope to have the opportunity to work with you again in the future.

---

Scam!

By Marc B.

,

Arkansas

,

Sep 21, 2018
Verified Reviewer

I requested and discussed information but never made an application. I received from them today a rejection letter. How can they dare submit a rejection, when I never made an application to them?

By the way, my credit score is 834.

Bottom Line: No, I would not recommend this to a friend

Sep 24, 2018

Marc, thank you for your review. We're disappointed to hear that your experience with us was anything less than perfect, as we always strive to ensure that our customers have the best possible experience. Our records indicate that you submitted an application to us via LendingTree (their application process is quite simple and can often seem like simply entering information to obtain rate information, but it's actually providing information for a loan application). LendingTree then sent your information to us, and likely also several other lending institutions in their network. So, we received your information via your LendingTree application, which is why we sent you the letter.

In addition, credit is only one factor considered when determining offers for auto refinance loans. Equally, if not more important, are LTV and DTI of the vehicle.

Thank you again for your review. We hope that we were able to alleviate any confusion, and we apologize for any stress or inconvenience. We hope to have the opportunity to work with you again in the future.

---

Bait and switch

By Denise Z.

,

New Jersey

,

Sep 18, 2018
Verified Reviewer

I looked into getting a refinance loan through this company and at first, they offered me a much better interest rate. Once I was able to speak with Angelica, she told me that since they had more details on my car that my rate was going to be 5% higher. She claimed that I was really underwater on my vehicle. I had done my research prior to applying, and I knew exactly where I stood on my loan and if $800 difference makes me underwater, then so be it.

I am with a great finance company now, and I have no issues aside from my higher interest rate. So with that said, it would have had to be a great deal for me to change up. With the 5% higher raise they gave me this only put me a small percentage down from my current company, so I politely declined rateGenius' offer. Well, as soon as I did that, Angelica copped such an attitude and told me that she was just going to close out my application if I was not interested in listening to her. RateGenius needs to work with their employees to get them to understand that not everyone is going to take their offer and that it is OK. It is never OK for a rep at a company to be so snarky totally unprovoked.

I was completely taken aback by her attitude and it was not justified in the slightest. I stayed polite and simply said yes Angelica, please close my application, have a great day, and thanks.

Bottom Line: No, I would not recommend this to a friend

Sep 19, 2018

Denise, thank you for your review. We want all of our customers to have an excellent experience with us, and we take great pride in our service and communication. We encourage our loan officers to make cancelling the refinance process just as easy as is it to start it. So, we are very disappointed to hear that you were treated in a way that is not aligned with our standards. We will review this matter internally in order to ensure this behavior is not repeated, and we sincerely apologize for any stress or inconvenience. We assure you that this experience was unusual, and we hope to have the opportunity to work with you in the future and prove that we love what we do. We're so glad that you were able to find savings, even it wasn't with us, and we thank you again for your feedback. Have a great rest of the week!

---

Dubious

By John S.

,

Phoenix, AZ

,

Jul 25, 2018
Verified Reviewer

rateGenius featured prominently in my Credit Karma portal claiming that they could get me a lower rate on my recently completely auto loan with a local credit union.

I figured, "why not?" So, I applied with them. I got an email saying my application to refinance my vehicle is "APPROVED!" Hooray!! I'm so special! Haha, not at all. I'm pretty sure anyone who gives their contact information gets this email.

Then I get a call from a service rep - Justin. He tells me the rate they can get me, which is actually a full point higher than what I currently have. Hmmm...he agrees that this isn't a good deal. He says he'll research some more and get back with me.

It's been two weeks now, and I have yet to receive any follow-up communication.

Bottom line - I received a hard credit inquiry for nothing, and they wasted my time.

My recommendation - AVOID.

Bottom Line: No, I would not recommend this to a friend

Aug 22, 2018

John, thank you for your feedback. Because we always strive to provide our customers with excellent service and communication, we are disappointed to hear that your experience with us was anything less than perfect. Though not all applicants get approved, we do present offers to those who do. Even if the offer rate is relatively similar to a customer's current rate, we still present the option because some customers simply seek to lower their monthly payment.

We wish that we were able to find you a better rate, and we hope to have the opportunity to try again in the future. Regarding your loan officer's lack of response, we take follow-ups and prompt communication very seriously, and our lack of follow up is unacceptable. We will research this matter internally to ensure that your experience is isolated. We thank you again for your feedback, and we sincerely apologize for any inconvenience, stress, or confusion that we may have caused. Have a wonderful rest of your week, and we hope to have the opportunity to work with you again.

---

Stay away

By Angel N.

,

San Antonio, TX

,

Jul 15, 2018
Verified Reviewer

It seemed legit until they start hitting you with fees at the end after you providing all your info. They asked for $1200.00! Just go with a regular lender if you can and save yourself the hassle.

Bottom Line: No, I would not recommend this to a friend

Aug 22, 2018

Angel, thank you for your feedback. Because we always strive to provide our customers with excellent service and communication, we are disappointed to hear that your experience with us was anything less than perfect. rateGenius does not charge any fees, and without researching the specifics of your account, it's hard to say specifically what that $1,200 refers to.

However, it's likely that either the new lender requested a down payment, or it could be that you expressed interested in one of our optional service contracts of GAP protection products (both are easily removable from the documents). We hope that we were able to clarify things for you, and we apologize for any inconvenience, stress, or confusion that this may have caused. We thank you again for your feedback, and we hope to have the opportunity to work with you again in the future.

---