Real Estate Elevated Reviews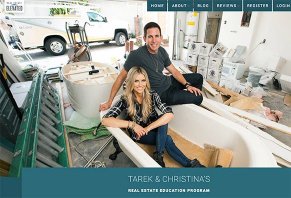 Formerly known as Success Path, Real Estate Elevated teaches house flipping strategies through seminars and other live events that could help you become a successful real estate investor.
About Real Estate Elevated
Based upon the successful real estate investment strategies and systems used by Tarek and Christina El Moussa, stars of HGTV's hit reality show "Flip or Flop," Real Estate Elevated offers a variety of live events, workshops, one-on-one training, and software to help students achieve the best results and secure their futures.
Regardless your level of knowledge or where you're at in your real estate career, the website indicates the company can help you create your own successful system that's "modeled after some of the most sought-after real estate experts in the world." This way, you'll have the necessary foundation to build your dreams and avoid many of the most common pitfalls along the way.
Whether this is your first look into flipping homes for a profit or your one-hundredth, it's important to point out that there are a lot of investment education groups competing for the same customers as Real Estate Elevated. How can you choose which of these options—if any—is the right one for you?
This is the central question we'll help you answer here, beginning with what the Real Estate Elevated system involves.
Taking a Closer Look at How Real Estate Elevated Works
Since Tarek and Christina made just about every mistake in the book as they learned to flip homes, the website tells us that they decided to share their knowledge in hopes of preventing others from struggling in the same way.
Note: While Tarek and Christina try to attend as many events as possible, their presence is not guaranteed. The company emphasizes that they'll always announce when the two will be attending an event in person.
To accomplish this, their suite of training events, opportunities, and materials are taught only by experienced coaches and trainers who have mastered the company's methods and strategies. Combined, their high-quality education curriculum promises to provide you with the knowledge and support necessary to gain a head start and to minimize the risk of losing money.
Free Renovation Training Event
Considering signing up for a free introductory event directly through the Real Estate Elevated website? If so, this is what you're enrolling for.
They advertise that the event is appropriate for anyone interested in renovating homes full or part-time and who are looking to get started or further their existing education. Admission includes registration for up to four guests. Light snacks (e.g., nuts, granola bars, candies) will be provided, and everyone in attendance will receive a token of appreciation.
Regarding content, over the course of about two to three hours (depending on audience questions), the company's trainers will provide insight into the current real estate market, as well as cover "various strategies that are working in your area today."
During the session, additional content and resources will be offered, which include "training workshops, mentoring, one-on-one coaching services, and advanced events." Let's take a closer look at these next.
3-Day Real Estate Accelerator Workshop
Like the free course, this is designed to teach individuals from all walks of life how to create wealth using property renovating.
But if you're interested in taking your education to the next level, RE Elevated's 3-Day Real Estate Accelerator Workshop and accompanying course material promises to provide a "crash course in real estate investment" that involves "time-tested, successful real estate principles that are working in today's market."
Additional Live Real Estate Elevated Events
In addition to the above, the RE Elevated website talks about three additional events for more advanced investors:
The Investors Summit – A three-day event that focuses on providing investors with opportunities to network with others, in addition to real estate experts and "celebrities from around the country." The company also promises to help you located turnkey properties in your area and turn them into assets.
Inner Circle Camp – Allows attendees to learn expert investment strategies and take them to the next level using hands-on experience.
Personal Business Success – Here, the website explains that you'll "learn how to develop interpersonal skills, set priorities, develop self-discipline, and take control of your life."
One-on-One Training
Real Estate Elevated's one-on-one training occurs over the course of two days and is guided by a well-trained mentor who comes directly to you. They'll tailor the information and strategies they provide to your market of choice, as well as based on your individual goals and objectives.
Real Estate Elevated Software Tools
Their property farm software is said to represent "the most advanced identification and research tool available in the real estate industry for investors." Here, you'll be able to search for properties that meet your specifications, map and research them, and get the details you need to make a deal.
According to the website, users can narrow their results based on factors like property type, building and lot size, and the number of bedrooms and bathrooms.
RE Elevated also hosts an Online Resource Center that offers a variety of tools, knowledgebases, and assistance—including video instruction and other supplemental materials—that can help you learn what you need at your own pace.
How Much Does Real Estate Elevated Cost?
No pricing or refund details were listed on the Real Estate Elevated website, so we reached out to a representative via email to learn more. We were pending a response at the time of publishing.
If you have questions, RE Elevated's customer support team can be reached at 800-203-1274, info@reelevatedevents.com, or via their site's contact form.
What Can We Learn from Online Reviews For Real Estate Elevated?
Real Estate Elevated was previously known as Success Path. Since these are the same companies (with only a name change), let's briefly discuss what prior customers have said.
Here on HighYa, eight reviewers gave them an average rating of three stars. Common compliments referenced useful information, while complaints (usually for the free or three-day events) often revolved around frequent upsells for more expensive courses, along with less-than-stellar support.
Back in May 2016, the Better Business Bureau warned consumers should do their homework before attending real estate seminars. Specifically referencing Success Path, they noted that among more than 150 closed customer complaints about the company, most:
" … Say the business or related businesses charged them anywhere from $2,000 to more than $70,000 for classes and personalized mentoring programs with little or no value. Some said they got partial refunds by contacting BBB or law enforcement authorities; others said they were unable to get any money back."
RE Elevated is a program created and owned by Zurixx, LLC based out of Utah, who's been in business since 2013. They held a C+ Better Business Bureau rating, based on nearly 160 closed complaints and 65 customer reviews, as of 2/9/18. Most of these mirrored the same complaints mentioned in the BBB's 2016 warning.
How to Choose the Best Real Estate Investing Seminar & Course
House flipping became especially popular during the early 2000s, fueled in no small part by the success of original HGTV programming like Flip This House. Since recovering after the 2008 market crash, flipping is once again becoming a popular method of increasing wealth, so many different companies have entered the market over the last several years to meet consumers' education demands.
In fact, Zurixx is behind another competing investing program called The Flipping Formula, while others from third-party companies (although frequently endorsed by TV reality stars) include Flip With Nick, Scott Yancey, and FortuneBuilders, to name just a few.
Considering that most of these companies claim to help you reach the same goal (financial independence using real estate as an investment vehicle), and that they charge thousands of dollars to help get you there, how can you decide which option will deliver the most value for your hard-earned money?
The first thing to keep in mind is that, utilizing free online forums like BiggerPockets, many of the basics behind flipping real estate (locating properties, financing, hiring contractors, marketing efforts, etc.) can be absorbed in your leisure. Then, after spending a couple of weeks learning the ropes, you can decide whether or not to take the next step and make a monetary investment in more in-depth education material.
Once you reach this point, the next step is to take a detailed look at the online customer reputation for any training companies you're considering:
Do they have mostly positive feedback? Do you encounter frequent compliments or complaints? If so, this could strongly indicate what you might experience if you decide to become a customer.
Do they offer a money back guarantee if you're not satisfied with what you learn in their material?
How do the company's prices compare to the competition?
What does the company claim to do differently than other real estate investing seminars? Why are they more worthy of your money?
Once you've paid and attended the events/taken the classes, does the company offer ongoing support, should you need assistance?
How does all of this line up for Real Estate Elevated?
Our Final Thoughts About Real Estate Elevated
Regardless of the house flipping or real estate investing program you choose—if any, it's important to emphasize that the information they provide is simply a tool. In other words, if you're unwilling to put in the time, effort, and struggle to implement what you learn and make it a reality, attending a few seminars or workshops won't magically create success.
It's also important to emphasize that there are multiple paths to real estate success (however you define it), which we can see in the fact that so many educational flipping seminars and programs exist in the first place. As such, while the strategies and systems used by Tarek and Christina El Moussa—and taught in their RE Elevated system—might work, it's crucial to keep in mind that they're far from the only methods, in our opinion.
Finally, there's no getting around the fact that these seminars are often expensive, sometimes reaching into the tens of thousands of dollars. And whether or not they'll ultimately deliver value—or, a solid return on your investment—seems to be a hotly debated topic on real estate investing-related websites like BiggerPockets.
With all of this in mind, as with learning any new skill, it's said that you'll either pay with your time (i.e., bumping around and figuring it out on your own) or your money (i.e., acquiring professional assistance). Ultimately, deciding whether or not a seminar like Real Estate Elevated will provide you with value might simply come down to which of these you choose.
Glad they are under investigation now!

By Anthony G.

,

New Mexico

,

Nov 14, 2019
Verified Reviewer

It is not about Tarek and Christina being there at the seminar, it's more than a seminar that most of us paid A LOT of money for. This was an educational program or supposed to be, most of it was smoke and mirrors, empty promises, sales pitch after sales pitch, even when they already had gotten $42000.00 of our money and then still wanting more, supposed mentors and all these resources they promise to back all your flips using other people's money and guaranteed backing from all their money people. In the meantime destroying your credit, having you apply for credit cards for more collateral and increasing your credit limits on your existing cards...I had an 820 credit score and after they got done with me and my husband we both had a 650 credit score and have been trying to repair it for the last 1 and 1/2 years all because we were listening to these people and this is what was recommended because Tarek and Christina did it...they recommend doing this...

All the information about flipping any house or investment, all the numbers were not reality, and they stood there and said I use this formula all the time, well, I would love to know where you get a new roof put on a house for only $5K on a 3-bedroom 2-bath 1500 sq foot roof, all these formulas are not right...We will provide you with a mentor if you buy the $42K program which will be your lifetime mentor and we guarantee they will bring you your first deal and you will make a profit, well, when that mentor showed up for 2 days all he did was tell us everything they already told us in the seminar previously, never brought us a deal and then just left never to hear from them again, he also told us he was a 3rd party contractor so not even really a part of the Real Estate Elevated group but don't say anything they said...During our 3-day boot camp, that we also paid more money for, they guaranteed that the instructor would bring us real deals and would be able to put an offer that day and do a deal, well on the first day he gave us homework, look up properties on the MLS and bring them to me the next day so we went thru the properties, he then put them on a map and said tomorrow we will go look at them so ask your realtors to let us in so we can see them. Well, we did that, we found all the properties, they did not, and we had to use our own realtors. When I confronted them about this the next day in class he had nothing to say and they immediately did good cop bad cop and shut us all up because by then the whole class was confronting him...All this and more, I can go on and on...

I many times threatened them with a lawsuit, they would then call and say this is part of the contract you signed and by our terms, we are fulfilling it, end of subject. We did this with them several times and like they told us in class, good luck as we hide behind many LLC's and that's how you don't get caught. Shocked and disgusted and spend about $45K to get ripped off and now trying to juggle our credit card payments and doing the best we can to get this paid and out of debt so we can go back to our normal life and not stressed out. Don't even get me started with The Summitt, a giant seminar or workshop they put on in Las Vegas, just another bunch of sales and trying to get your money even if it means any way possible. Sure, you have a 401K, we can help you flip that into a Self Directed IRA so you can buy our overpriced rental properties. My head just spins when I think of how stupid we were and we are not stupid people. STAY AWAY FROM ANY OF THESE THINGS.

Bottom Line: No, I would not recommend this to a friend

---

Worst investment of my life!

I'm still struggling to pay my credit cards! Do not get in this program! It is not worth it! You can learn better from a mentor. Get YouTube and go to your local meetup group for Real Estate.

Bottom Line: No, I would not recommend this to a friend

---

Advertisement

---

Don't waste your time.

By Lesvy C.

,

Florida

,

May 18, 2019
Verified Reviewer

I took my chance in taking this three-day workshop at a cost of $1997, expecting to be provided with $2000 worth of knowledge. Like everyone else I want to better myself, and put an end to the financial struggle (the hook). I basically sat there for three days on a very long infomercial, with very basic information, I felt I was at a baseball game for three days with so much pitching this guy "Cap" he should have been playing for the major leagues. Pitch, pitch and more pitching with a few "Golden Nuggets" as he calls it.

Golden Nugget #2 (I missed the first one) - "Never listen to a banker."

Golden Nugget #3 - "Winners make decision on ROI, workers make decisions on price".

Golden Nugget #5 - "Never do Commercial until you win the game in Residential." Basic, basic, basic stuff. What was the pitch for, you ask? Well, they try to get you to sign up for the next step, at a price of $23k, $25K+/-, and $40K+ (yes these numbers are pretty accurate) and pay it with the credit check from CreditNav ($1.00) for financing. Which they ask you to do, and express how horrible it would be for you and your future if you don't do it. The financing they promise and guarantee to back you up with is from usaprivatemoney.com, and the software they use as a tool is completely limited (worthless) unless you pay the BIG buck. You will definitely leave this workshop just as you entered, except you will have $2000 less on your bank.

Bottom Line: No, I would not recommend this to a friend

---

Scam, waste of time and money

By Jacinto C.

,

Miami, FL

,

May 14, 2019
Verified Reviewer

After you pay the $1997 for the three day real estate workshop they will spend about 40% of the time trying to sell you on their membership training or on the instructor talking abut his personal life. They go over on the first day everything that they are going to show you and say we'll get into that later. The first day they have you apply for credit and pull your credit report, not to get you funding to do real estate deals, no, no, no. This is so that you have no excuses on day 3 when you say that you can't afford the $43,294 Diamond level membership. Their refund policy is filled with hoops to jump through, wish me luck on that.

Bottom Line: No, I would not recommend this to a friend

---

Advertisement

---

It's a scam

By Ham R.

,

Toronto, Ontario, Canada

,

Feb 26, 2019
Verified Reviewer

I attended their session yesterday in Mississauga. I can tell from their action that this is 100% scam. Don't fall for it.

1. Tarek and his wife didn't show up (or at least until I left, which was 2 hours from the start of the session).

2. All the garbage they tell you are non sense and only works in dreams. They give you stupid examples in Florida and use the numbers to trap stupid people to fall for their training.

Bottom Line: No, I would not recommend this to a friend

---

I feel robbed by you

By Silmara C.

,

São Paulo, Brazil

,

Dec 13, 2018
Verified Reviewer

Return my money!

I feel very stolen, deceived by them. Looks more like a crash of stoner. They sell utopias; deceive people.

I have already asked several times by email to return my money and they ignore me! Besides my money, they took my time, because I only wasted time with them!

Bottom Line: No, I would not recommend this to a friend

---

Price of class

By Natalie H.

,

Oklahoma

,

Oct 25, 2018
Verified Reviewer

My partner and I went to the seminar in Oklahoma City, it was phenomenal. We loved all the info they provided, awesome information, and lots of passion for what they do. I do wish when you register it would tell you what the 3-day classes and the tax lien information costs, that information would have been a guarantee that my partner and I would be in the 3-day class this weekend. It does cost $1997 for the 3-day class and $1600 for the tax lien package.

I do believe this program is legit, and anyone and everyone has the potential to change their lives long term, but it's really, it is difficult to come up with that kind of money within 3 days. More time is needed to get the money together. They expect all that money right then, which is totally impossible. For some good luck, if you try it, they do set you up for complete success.

Bottom Line: Yes, I would recommend this to a friend

---

Real Estate Elevated is a scam

By James L.

,

Minnesota

,

Oct 15, 2018
Verified Reviewer

Everything they offer and tell you they guarantee is a lie to get you to pay for their 3-day training class. The 3-day "training class" is a glorified 3-day sales pitch for another 3-day "training class" that will cost $15K to $43K+ to attend. And if you are not happy with the "training" you receive, them giving you a refund will not happen.

Bottom Line: No, I would not recommend this to a friend

---

Buyer beware

By Lisa K.

,

Dallas, TX

,

Sep 24, 2018
Verified Reviewer

I attended the information meeting in Allen, Texas on 9/13/18. The one and only reason I paid $2000 was because they said they had 100% loans, including renovation cost. They said the lenders would not loan to the average person full cost but since it was going to go through them and they would check and verify your numbers were accurate and that it was a good deal their lenders would. This was the only way I could flip a house, so I paid $2000 and excitedly went to class.

Day 1, it opens with them telling how you need to get credit cards (instructor has 41) and home equity lines of credit. The only 100% loan they have is a 3-day loan where if you can find a discount property and line up a buyer you can do close both loans at the same title company and get a finders fee.

When I ask about the 100% loan including reno cost, they said while it was "technically" (air quotes included), they wish they wouldn't say that from the front of the room because that's a possibility, maybe down the road. They said I just needed to concentrate on wholesaling these properties. This is something that I will never do. It does not match my personality. I never would have paid money to learn to do this.

The interesting fact is they really do not want to even loan the money for this. They really want you to get these properties under contract with the option to assign them to someone else without ever borrowing a dime from them. They also spent morning letting you know the software you thought you purchased with your $2,000 only let you access 1 function (there are 10); you can only get the rest of the software if you buy one of the higher learning packages that range from $40,000 - $74,000.

Real Estate Elevated is "Real Estate Rip-off." Shame on Tarek and Christina! If they need money, they should operate multi-business lines like Chip and Jo, not steal former fans' money.

Bottom Line: No, I would not recommend this to a friend

---