Total Body Reboot Reviews
Claimed This company has claimed this profile, is getting alerted on any new customer reviews entering this page, and may engage in dialogue with its customers to address their matters.

Companies cannot pay money or provide goods in order to remove or alter customer reviews.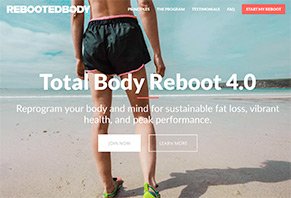 The Total Body Reboot weight loss program is a five-stage, step-by-step system that can change your relationship with food and help keep the weight off for good.
About Total Body Reboot
In most cases, diets are all about food. Shocking, right? What I mean is that it's all focused on what to eat, when (and how much) to eat, while counting every single calorie along the way. And it gets old, really quick.
But not Total Body Reboot. Instead, this step-by-step, comprehensive (and proven!) program helps you lose weight by working with your "biological and psychological programming," not against it. You won't count calories, exercise excessively, or throw your life into chaos—you'll just experience sustainable weight loss.
How? By nourishing your body with "real, whole foods" available in your local grocery store, market, and even restaurants. By moving your body in "functional ways," without boring cardio or routines. And by healing your relationship with food and learning to identify your "triggers and manipulators."
On top of this, you'll be supported by a personalized curriculum (including shopping guides), on-demand expert coaching, access to a private online community, and much more. Total Body Reboot members can even get access to an "array of lab tests for getting concrete insight on what's going on inside your body"!
Whether you're a man or a woman, and whether you're looking to lose 15 pounds or 300, Total Body Reboot is aimed at reprogramming "your body and mind for sustainable fat loss, vibrant health, and peak performance."
Sure, this all sounds great. But the real question is, will Total Body Reboot work for you? We'll explore all your most important questions here.
Total Body Reboot's 5 Stages
Within the Total Body Reboot weight loss program, there are five guided stages, each of which are supported by downloadable PDF documents, short online videos, and one-on-one and group coaching.
Stage 1: Day 1-21
Your Total Body Reboot journey will kick off during a 20-minute, one-on-one strategy call, where a coach will learn more about you and your needs.
Then, you'll be able to follow the program's "real food game plan" designed to empower your weight loss. You'll also begin the "gentle functional movement game plan," learn how to balance your hormones and boost your metabolism, and discover how to beat cravings for sugar and processed foods.
Stage 2: Day 22-43
During this stage, Total Body Reboot will teach you how to use sleep to improve your health and weight loss results, which foods can drain your energy, along with de-stressing tools.
You'll also continue your focus on movement by beginning the 6-week bodyweight program that's focused on helping you "build a foundation of strength."
Stage 3: Day 44-65
How to use mindful eating to your advantage, add happiness into your life, burn fat by exercising less than 20 minutes per week, the truth about micro-nutrition, and more.
Stage 4: 66-89
Here's where you'll begin Total Body Reboot's 8 week Transformational Strength Program, which will start with 6 compound movements that can provide safe, functional strength training.
In addition, you'll be able to address any gut issues you're having, and identify negative patterns, emotions, and programming that trigger you to overeat.
Stage 5: Day 90-120
In this final stage, you'll carry over the topic of triggers by looking at those that can cause regression. You'll also create your personal health manifesto based on what you've learned and take "an insider look at the most important nutritional concept that almost nobody is talking about.
Now, you might be thinking, "This all sounds great, but I've heard these claims a thousand times before. How is Total Body Reboot different?" Let's find out.
How Is Total Body Reboot a Different Kind Of Weight Loss Program?
To quickly sum up what we've covered so far, Total Body Reboot claims to be based on a "tools, not rules" philosophy." In other words, they're about giving you the tools you need to succeed, now and in the future.
They also know that you can't be on a "diet" for the rest of your life, so Total Body Reboot is "built for the real world." Regardless of your job or whether you're eating out or at home, you'll always have a "game plan for success."
Once again, this all sounds great. But if we're being honest, it sounds more like marketing hype than anything else. It's vague, it doesn't increase our knowledge about the program, and it still doesn't sound any different than pitches from other online-only dieting systems.
The Story Behind Total Body Reboot
We did learn that Total Body Reboot was founded by Kevin Geary, after he struggled with his weight for years and found that changing his psychological relationship with food was the key to long-term success. Today, he's also known for his Total Body Reboot podcast and his Total Body Reboot Academy.
Despite this, it doesn't appear that Kevin has any kind of professional training or background in nutrition, weight loss, or psychology. However, Head Coach Kim Ludeman is a Personal Trainer and Certified Fitness Nutrition Specialist—although we're not told about Total Body Reboot's other coaches (assuming there are others), the type of training and experience they have in the field, or what requirements the company has to designate someone as a coach.
In short, we've got lots of unanswered questions about Total Body Reboot, and although their sales pitch is strong, it doesn't seem meaningfully different from a lot of other programs.
What about the term "functional movement" that's frequently used on the Total Body Reboot website? Can it provide us with any additional information?
What Is Functional Movement?
Overwhelmingly, the two most common phrases on the Total Body Reboot website are "psychological relationship with food" and implementing "functional movement." Just what is this last one, and how effectively will it help you lose weight?
Although the formal definition for functional movement is pretty stale, it basically just references exercises that mimic everyday movements. This is different from sports-specific movements (repeated exercises that focus on sports situations) and muscle-specific ones that concentrate on only a single muscle (or group of muscles).
However, there appears to have been very little clinical research performed on this form of exercise, and studies showing that it's effective for weight loss are nearing zero.
Nonetheless, how much will you pay for access to the Total Body Reboot program? We'll get to that in
Total Body Reboot's Pricing
There are two membership options for the Total Body Reboot program:
$99 monthly, or
$695 for lifetime access
Keep in mind that lifetime access only includes 12 months of unlimited coaching, although we're not told how much coaching will cost afterward. However, we do know the program includes:
Five Stage Curriculum
Live Group Coaching Calls
Support Community Access
"Easy Start" Grocery Guide
6 Week Bodyweight Strength Program
8 Week Resistance Training Program
Sortable Online Recipe System
On-Demand HD Video
Bonus: REM Rehab Sleep Guide
Bonus: Complete Guide to Fats
Bonus: "Is It Healthy" Guide to Eating
Free Account & Coaching for Spouses
The Total Body Reboot program also comes with a 45-day refund policy. But according to their FAQ, "We require your completed work from all available modules. This means you must take action in this program."
In order to request a refund, customer service can be reached at (855) 487-2375.
Our Final Thoughts About Total Body Reboot
Whether you're looking to run a marathon or to lose 40 pounds, anything worth doing takes time and commitment. And to maintain this commitment, it takes a healthy outlook and an understanding of your own strengths and weaknesses.
So, from this perspective, we could see where Total Body Reboot might be more useful to some, compared to other weight loss programs that don't focus so much on psychology. However, Total Body Reboot isn't the only system that does this, so be sure to explore all your options.
It's also positive that Total Body Reboot specifically mentions there aren't any "magic pills" or "fast results" for losing weight, and that it requires lots of hard work. But we're concerned that—despite all the wordiness on their website—we're told precious few details about what's actually involved with the program.
We also think it's odd that, even though the company's been in business since 2013, there are essentially zero online customer reviews for the Total Body Reboot program. However, their podcast had a 5-star rating based on 187 iTunes reviews at the time of our research.
Our recommendation? Like any other weight loss program, talk to your doctor before purchasing a Total Body Reboot membership. While you're there, ask them about the psychology of food and functional movement, and whether or not either of these would be beneficial in helping you shed those unwanted pounds.
Rebooted Body is a Comprehensive, long term solution

I found Rebooted Body a little over a year ago, and it gave me the knowledge, inspiration and motivation it takes to develop a body and life I love. RBB goes past basic calorie and macro counting. It taught me the importance of the variety of nutrients in different types of foods, and how I do not need to count calories or macros OR workout every day, to have a healthy and fit body. It has been freeing and life changing!

Bottom Line: Yes, I would recommend this to a friend

---

Honest and direct

I have read through this site and truly wonder if this is a legitimate review website. I have never had a bad experience with Rebooted Body. Kevin has always responded to all of my questions and emails. I purchased the program almost three months ago. I have had more success at being a healthy person because weight loss is more than just checking your points. It is a life long journey. I feel that Kevin is quite knowledgeable and caring. He is always active in the groups and gives advice that makes you search for yourself to find the answers. He puts the program out there for you to decide when to make the move towards healthy living. There is plenty of guidance and tools in the program information to help you. The tools are there, but you have to use them.

It is a simplified way of making weight loss/management pleasant. I have learned more in the last two months about myself. Emotional eating has always been difficult for me, but recently when I had a stressful and emotional day, I experienced a difference in my habits. Instead of eating a whole pint of ice cream I had a half of a cup. That made me realize I was gaining a certain control over my mindset. Those are the types of things that I have found in Rebooted Body programs that are unlike others I have done.

I don't know what Kevin, Zach or any of the other coaches credentials are, nor do I care. What I care about is they know what I feel like because they have been there too. The concept of this program is not about counting calories, steps, fats, and carbs. It is about healthy food and movement. It is something I know I can do the rest of my life and feel good about. That is worth it to me. I highly recommend this to anyone who is serious about changing the old and finding the forever you.

Bottom Line: Yes, I would recommend this to a friend

---

Advertisement

---

It feels like breathing

Firstly, let me say that the description is way outdated. There are now two programs, and the format is quite different. Total Body Reboot is the program I am in, and it's the first time I have actually been able to maintain a "diet" for more than a month, and the first time I've managed to lose more than ten pounds and not gain it all back in three weeks. It was a bit of setup to get to know what I had to do, but now it's pretty much automatic.

I feel completely different. I'm not hungry all the time like I used to be. I don't beat myself up when I choose to have dessert. I take care of my body, instead of punishing it for having fat. Yeah, Kevin is not a doctor or a nutritionist or anything like that, but this program is very well conceived in spite of that. It's really what you put into it. I've bought into all sorts of programs before. Always, it felt like holding my breath as long as possible. This one just feels like breathing.

Bottom Line: Yes, I would recommend this to a friend

---

Rebuilding and rebooting me

By Tom Domres

,

Minneapolis, MN

,

May 23, 2017
Verified Reviewer

I have to admit that I was skeptical about this program. I mean, how was I supposed to ditch MyFitnessPal, meal plans, snacking AND lose weight? That didn't seem right to me. I did the research, and I listened to Kevin. I even had him on my podcast and listened some more. There are so many methods and myths out there, and people with credentials and education are parroting the same things. The problem is, these same things didn't work for me. The points systems, the tracking, the monitoring, the early morning workouts that I hated just turned me off and burned me out. I gained everything back and put on some more.

None of their programs addressed the Inner Rebel, that little voice inside your head that whispers in your ear that you should have more ice cream, more beer, more cake and skip that workout because you made a mistake already and you just aren't feeling it today. Besides, it is too cold, too wet, too hot or whatever, so why do more work?

I have been learning that our food is a disaster, as is our workouts and overall weight loss mindset. Look around you. Look at animals in nature, they are not bloated and waddling around in the wild (at least not for long). They are living as they should; foraging/hunting for real food, building their nests or homes, sleeping, playing, and doing what animals do. They are not going to Crossfit at 5 AM, logging everything in MyFitnessPal or on a Fitbit and stressed to the max about screwing something up.

Rebooted Body IS different. Kevin, Zach, and the other coaches are truly looking for real solutions to today's health crisis. There is too much information (misinformation), and no one is addressing the problems modern humans have with getting enough sleep, moving their bodies regularly, and eating nutritious REAL foods. Yes, there are elements of paleo dieting in this. Yes, you are going to walk a lot. Yes, you are going to have to turn off your brain and go to sleep.

Guess what? You will sleep more and start to feel better. You will eat better and find that your body responds accordingly when you cut out the processed food. You will move more frequently because you are doing activities that YOU LOVE.

There are no meal plans. There is no snacking. There is freedom with this, and it just might change your life. It has for me, and I would recommend it to anyone.

Bottom Line: Yes, I would recommend this to a friend

---

Advertisement

---

Completely agree

By Deb

,

Long Island, NY

,

Dec 10, 2016
Verified Reviewer

I completely agree with this review. After listening to many of K.G's podcasts, my husband decided to join TBR. The concept is great. The program is great. You are stepped through in a very easy to follow design with support both by phone calls, facebook groups, direct questions on the website, email. However, the one part that has always concerned me is the fact he has no formal background except being overweight. He is basically a scam artist who is good at talking the talk.

I have challenged him on a few things only to be shut down or my questions go unanswered. He does not like to be challenged. He only has guests on his podcasts who confirm and support his message. If they don't (and I only hear this happened on one episode), he shuts them down in a preamble before you listen to the podcast.

Let me be clear, I do think it is a great program and well conceived. He is a smart guy who has made a lot of money by being a good, convincing speaker (think Tony Robbins), but the program makes sense.

There are very few discrepancies I see with the program and would recommend it over just about any other program available. It is only worth the price if you actually do the program. Otherwise, all the information is available to you elsewhere.

Bottom Line: Yes, I would recommend this to a friend

---

I feel like this is a Scam

I purchased 3 personal coaching sessions for $225.00. I received my first session by Kevin Geary who called me 20 minutes late. During the call he seemed disinterested (going through the motions). Never the less, I was excited to start my journey, I signed on to his website to get food & snack info.

I couldn't get into the snack info, I called & emailed Kevin numerous times to try to get him to email the info to me. He finally called me saying he had sent the snack info to my email. I checked my spam folder nothing was there. (I get all of Kevin's email's marketing his other products and services.) So I found it funny I hadn't received the snack email.

I contacted him by email telling him I still haven't received. Nothing, no response. I emailed him and asked for a refund, he responded to my email asking why. I told him I did not want to discuss via email if he would like to call me I would be happy to discuss.

He said he has been working 80 hours a week and didn't have time to call me to discuss & it had been more than 30 days and he would not refund me. I told him I was disputing charge with my credit card company. I wouldn't normally leave a negative review but he responded with such nasty emails I felt it was warranted. Terrible customer service!

Bottom Line: No, I would not recommend this to a friend

May 22, 2017

Hi Denise,

Honestly, I never quite understood what happened with our interactions. I remember that we had a great first call (which you confirmed at the time that I was very helpful, even though in your review you claim differently).

During that call, I mentioned that I would link you to use specific resources that would help you take action. This is something I do on all of my coaching calls because execution is the most important factor in achieving results.

I sent the resource links as I told you I would and then I received an email from you a few days later saying you never received them. I responded to that email, and you claimed you never received it. Everyone else I was working with that the time was receiving my emails. I even emailed you from a separate address and you claimed you didn't receive it. As you noted in your review, I got on the phone and called you to try and work out whatever the issue was (I still have all of the sent emails, with dates and times marked, in my records).

I instructed you to schedule your second call as well. I never heard from you again until a few months later when you asked for a refund out of the blue.

From my perspective, I gave you a coaching call and made multiple attempts to reconnect with you after that. You still had the link to schedule your second call and could have done so at any time (I even requested that you do so). Instead, I stopped hearing from you and then received a refund request 3 months later, which was about 3 months beyond our refund policy.

Looking back on this, I should have continued to call you and try to get through. We never want this to happen with any of our clients.

What you didn't disclose in your review is that you issued a chargeback via your credit card. And I suspect that the reason you decided to write this review is because we won the dispute after submitting all the evidence of our interactions to your bank. So, a third party decided that we had done everything we could to not let this happen and disallowed you from recovering the charge (which is extremely rare---companies almost always lose disputes by default).

We would much rather still have you as a client. Or, at the very least, still be on good terms. I'm sorry that your experience was not up to our high standards.

---

Didn't work, rude emails, AVOID

By R

,

United Kingdom

,

Sep 19, 2016
Verified Reviewer

I purchased the full rebooted body and followed the food plan, however, I just gained and gained weight. I had a one to one coaching session that was useless and gave me the impression that Kevin has no background in psychology, coaching or counselling (I am a Psychologist). I kept reaching out for help because I didn't want it not to work for me. Eventually, I realized it wasn't for me, but was refused a refund (very very rudely) by customer service due it being after the 30 days.

I had been asking for help and explaining the problems experienced without response, for the most part, during the refund period. Please don't waste your time or money. He is just another amateur who has read Tim Ferris' 4 Hour Work Week and believes it is alright to pretend he's an expert.

Bottom Line: No, I would not recommend this to a friend

Oct 2, 2017

Hi R,

As you are commenting anonymously, I cannot confirm that you are an actual member or look up any of your records.

None of my one-on-one coaching clients have a first name that begins with R, so I'm not sure what one-on-one coaching call we would have had.

Your assertion that I'm just following some "4-hour workweek" book and don't care about my clients is extremely troublesome. Anyone who knows me knows that I invest upwards of 80 hours per week working to build a brand that challenges the destructive, superficial health and fitness industry.

People are free to listen to my podcast that has over 175 hours of FREE audio content. If they want to understand just how honest, open, and sincere I am in this effort.

They're able to watch a 7-week video log I produced to show behind the scenes of running Rebooted Body and living life with my wife and children.

I'm one of the most transparent people who has ever done work in this industry.

People are free to believe whatever they want to believe. I have faith that they'll side with the person who is transparent and open rather than the person leaving anonymous posts personally attacking people on the internet.

---

Don't believe the hype

By H. Frates

,

Westhampton, MA

,

Oct 2, 2017
Verified Reviewer

I joined one of the programs in April for the startling cost of over $900 (paid monthly at $97). It was a lot of watching videos and filling out worksheets which I did not ultimately find helpful. No additional support or tools. Not even an app.

I just found out that the same program now costs just over $300. I contacted them to see if they would discontinue my fees due to the unbelievable disparity, especially considering I was recently laid off.

Here was their response:

"Unfortunately we are unable to do anything with this for you at this time. As unfortunate as a job loss is, it is temporary and you have to continue paying based on your agreement.

Zach"

Lesson learned.

Bottom Line: No, I would not recommend this to a friend

Oct 2, 2017

Hi H,

I'm sorry that your experience wasn't as what you had hoped. I looked through your participation record and it doesn't appear that you ever accessed the third part of the program which contains ALL the game plans for taking action on the assessments and modules you did in Part 1 and Part 2.

I checked our support ticket log and I don't see that you ever sent us any emails asking for help or support or guidance, even though your membership covered support. I also see that we sent you multiple emails checking in on you that you never replied to.

I checked our coaching call RSVP logs and I don't see that you ever RSVP'd for or joined the group coaching calls that were available to you. I checked our private peer-to-peer support group, and I don't see that you ever joined it or participated there. I checked submissions for the interactive assessments you're asked to do in the program and there are none submitted for your email address.

It appears that you looked quickly at all the modules, skipped doing the work, waited months beyond our refund policy, and then tried to get out of your agreed payment plan.

We work extremely hard to provide a top-notch experience for our clients. Sometimes people sign up for things, don't execute them (even though we do our absolute best to check in on you), and then decide months later that they want to try and get their money back.

Our refund policy is very clear. You can get your money back anytime within the first 30 days. After that, we expect you to commit and do the work and execute because we know you will get results if you do that (as witnessed by the numerous positive reviews we have).

I fully understand that there are many reasons why people don't execute. I don't fault you for it, it's a fact of life that we work hard to help people overcome.

So with that said, we are more than happy to continue working with you to reach your goals. All of the aspects of the program that you have not yet used are still available to you – no hard feelings.

– Kevin

---

Scam - no access given.

By Sophi T.

,

Illinois

,

Jul 18, 2019
Verified Reviewer

I purchased access to the program and was redirected to the site where you request a password. My email was not recognized so I essentially could not get a password or access to the program. I emailed support and heard nothing in two days. I sent an additional message through the online chat but also never heard back. This was last week. Today I emailed support a third time to ask for a refund. The email bounced back with a message stating that the customer service email address is no longer receiving messages. This is a total scam. Don't even bother.

Bottom Line: No, I would not recommend this to a friend

---