Red Copper 5 Minute Chef Reviews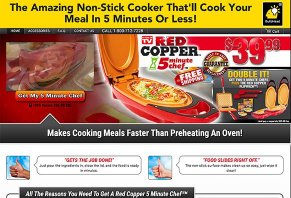 The Red Copper 5 Minute Chef is a specialty cooking device that features a coated copper construction that can cook meals without flipping or folding.
About Red Copper 5 Minute Chef
Claiming to be able to cook your meal in five minutes or less, the Red Copper 5 Minute Chef is a double sided powered countertop device coated on the inside with 100 percent pure copper. It is designed to make cooking as simple as possible with a non-stick, scratch resistant body that hopefully eliminates some of the mess that comes along with traditional pans.
Bulbhead (the manufacturer of the product) bill it as a convenient alternative to traditional fry pans. The company is a division of Telebrands, who manufactures hundreds of different As Seen On TV products, including many we've previously covered here at HighYa. They held a C+ rating with the Better Business Bureau, as of 7/25/17.
So, what can you actually make with it?
In the product's commercial, we are shown a variety of foods being cooked in the Red Copper 5 Minute Chef. Main courses like omelets, pizza, steaks, pork chops and fried chicken are shown, as well as desserts like chocolate cake and fruit pie.
Unfortunately, customer service had no information on the exact size of the cooking area when we asked. Judging from the commercial alone, it looks large enough to fit a standard steak or chicken breast, but smaller than an average toaster.
Now that we know what can be made in the pan, how much will it actually cost you to add one to your kitchen?
5 Minute Chef Pricing & Returns
Currently, the 5 Minute Chef is available on the product's main website. It comes in two packages; the regular and a deluxe version. The biggest difference between the two is the double coating offered on the latter, which customer service told us means the product will be more resistant to scratches on the cooking surfaces.
Here's the breakdown:
Standard 5 Minute Chef Package - $39.99 (free shipping & handling)
1 - Red Copper 5 Minute Chef
1 - Spatula
1 - Recipe Guide
Deluxe 5 Minute Chef Package - $49.98 (free shipping & handling)
1 - Deluxe Red Copper 5 Minute Chef
1 - Spatula
1 - Recipe Guide
With both of these, you've got the option to upgrade your order to a double offer, making your total $69.98 (or $89.96 for the deluxe). If you opt for this, you'll also receive a Red Copper Flipwich, a product we've previously covered.
As for the return policy, Telebrands offers a 30-day satisfaction guarantee on all products, excluding shipping & handling fees. To initiate a return, you'll need to reach out to customer support at 1-855-668-1655.
5 Minute Chef vs. Other Specialty Cooking Solutions
The Red Copper 5 Minute Chef certainly seems like a convenient solution for cooking those busy weeknight meals, but is it the best one? And do other products exist that offer similar functions?
While we didn't find any products that were branded similarly to the 5 Minute Chef, we did notice that there were a large amount of omelet makers that appeared to be very similar functionality-wise to the product in question.
For instance, one product, the Dash DOM001RD Nonstick Omelette Maker, features an almost identical design, though it lacks the copper finish found on Bulbhead's offering. That being said, it is still non-stick, and is actually cheaper, sitting at $28 on Amazon as of this writing.
We also found a variety of unpowered products, many of which were meant for stovetop or microwave usage. With these products, you might be able to achieve similar results, which is noteworthy due to the meaningfully lower prices they carry.
However, many of these (especially the microwavable products) might not be ideal if you are looking to cook more than just eggs, as the microwave is unsuitable for cooking most meats, as well as many fruits and vegetables. Finally, we found some double sided omelet makers that had more surface area than the 5 Minute Chef, which might be ideal if you are cooking for two or more. Some of these options also included temperature control functionalities, which is another notable feature not included with the Red Copper product.
Ultimately, when searching for the perfect new addition to your cooking equipment, consider the following questions:
Does the product fulfill a need I have that my existing cookware does not?
Does it have the functionality I need the most?
Is the price fair and competitive?
Do customers seem to be enjoying the product?
Does it feature a solid, easy to understand return policy?
Is the material it is made from sturdy? Will it last a long time?
Keeping these questions in mind when shopping can help you align your needs with a suitable product, hopefully saving time and money over the long run in the process.
Parting Thoughts On The 5 Minute Chef
Looking at what we've learned about the Red Copper 5 Minute Chef, it's clear that the device is unique in its own right. While other cookware options exist that are similar, no products (that we encountered during our research, anyway) provided the same exact form factor or functionality.
Deciding whether or not to purchase the 5 Minute Chef will likely come down to what you already own in your kitchen, as well as how willing you are to experiment with new cookware in general. If you feel as though the examples shown in the commercial are compelling, it may be well worth it to add the product to your collection.
That being said, if you cook for the whole family each night, the smaller form factor here might not be what you're looking for. You'll also need to consider the speed of what you put in the 5 Minute Chef. If you're cooking more than one thing at once (such as a steak and some peppers, as shown in the product's commercial, you'll have to time it just right in order to avoid cold meals while waiting for everything to finish.
Finally, weren't able to find any verifiable, real world customer reviews to speak of, so we'd recommend keeping the return policy in mind going into a potential purchase, just in case you decide that the device isn't for you.
If you're looking for a highly specialized, fast-cooking product for easy, quick meals for one, the Red Copper 5 Minute Chef might just fit the bill.
Have you used the Red Copper 5 Minute Chef before? Leave a review below and share your valuable experience with other HighYa readers!
Red Copper 5

By Lori M.

,

North Carolina

,

Dec 17, 2019
Verified Reviewer

Have made several omlets with this product...and each time my husband complains of a bad taste. I've noticed the taste also...makes me wonder if it's doing something bad to the body. At first I thought that we just had to cook the new off of it, but after several uses it still makes the food taste funny.

Bottom Line: No, I would not recommend this to a friend

---

Wonderful

By Jim H.

,

Nevada

,

Dec 12, 2019
Verified Reviewer

I use it mostly for cooking eggs. They come out perfect. Cooked sausage first and then the eggs. I also used it to cook a steak, omelet, and some veggies.

For a single guy, it fits my needs perfectly.

The price listed in the review is way too high. Seen it at Walmart for less than $20.

Bottom Line: Yes, I would recommend this to a friend

---

Advertisement

---

Love it

By Gail L.

,

Harrisburg, PA

,

Nov 2, 2019
Verified Reviewer

I was lucky to find this at a local discount store for a great price. Had it a few months. I use it daily. I make a pancake or an egg in it for breakfast. No grease and no stick. Made sausage and turkey bacon in it too. A little narrow for bread, but have made grilled cheese by squeezing in the sides of the bread. Great for chicken breasts. Made homemade pizza in it for dinner last night. Great for one person. I wish I had bought a second one because you can only cook one thing at a time, so you have to juggle the order of cooking if you need to make more than one thing. Bottom line, great for small portions, one person, dieters who want to cook without oil, safe for cooking in a camper, small apartment, no flame. Quality seems very good after about 5 months of heavy use.

Bottom Line: Yes, I would recommend this to a friend

---

Quite surprised

By Sue M.

,

Cairns, Australia

,

Oct 16, 2019
Verified Reviewer

After seeing my neighbor using his Red Copper 5 Minute Chef with ease (he's male!) I decided to purchase for myself. What a good decision...love it. My youngest Grandson loves his omelets and reckons this is the "bee's knees"!

The only downside is the omelet bloody deflates, but still tastes delicious.

I purchased mine from "Big W", and have had absolutely no issues with it. So easy to use and clean if you read and follow the instructions.

I have read other reviews of the unit exploding, and have come to the conclusion that the lid is been locked whilst cooking. The instructions explicitly say "DO NOT LOCK LID DOWN WHILE COOKING"! Another thing, don't buy this item off eBay and don't buy "copycat" products. Make sure you buy the genuine article!

Bottom Line: Yes, I would recommend this to a friend

---

Advertisement

---

1 out 2 people found this review helpful

Leggit

By Margie C.

,

Woodcroft, South Australia

,

Mar 14, 2019
Verified Reviewer

I received my Copper pro yesterday and made my first omelet last night, it was FANTASTIC, beautifully cooked and no mess, and for someone like me in a wheelchair and living alone it's going to be fantastic. THANK YOU.

Bottom Line: Yes, I would recommend this to a friend

---

4 out 4 people found this review helpful

Works perfectly if you use it correctly!

By Thomas D.

,

Glasgow, Scotland

,

Mar 13, 2019
Verified Reviewer

If you follow instructions to the letter, you shouldn't have any problems. You MUSTN'T lock the lid during cooking, it's only to be locked for storage purposes. If you want to flip the unit during cooking, simply ensure you have a firm grip on the top and bottom of the handle when doing so.

Bottom Line: Yes, I would recommend this to a friend

---

2 out 5 people found this review helpful

A terrible mess?

By Robert E.

,

London, United Kingdom

,

Jan 23, 2019
Verified Reviewer

Three trial uses. Sausages twice, chicken burger once, 5 minute is ridiculous, 25 minimum. After use, allow for one hour of cleaning the puddles of grease, and burnt bits in the awkward grooves. It has not melted, but is a bore to use. Better to boil an egg!

Bottom Line: No, I would not recommend this to a friend

---

3 out 4 people found this review helpful

Smell

By Eliizabeth W.

,

Manchester, United Kingdom

,

Jan 21, 2019
Verified Reviewer

I have purchased the 5 Minute Chef from Argos two weeks ago, used it about eight times and wiped clean after each use and it is now smelling fishy, even though I've not cooked fish on it. I can't get rid of the smell no matter what I do. It's totally unusable, advice needed.

Bottom Line: No, I would not recommend this to a friend

---

4 out 5 people found this review helpful

Beware of FAKES

By John J.

,

Weymouth, United Kingdom

,

Jan 16, 2019
Verified Reviewer

I just bought one from eBay. It looked like a good item. It worked well the first two times and did a good job. However, on the third use, the casing MELTED while cooking a burger. I believe it was a FAKE COUNTERFEIT item and electrically unsafe. I am trying to get my money back!

Beware of fakes!

Bottom Line: No, I would not recommend this to a friend

---

4 out 5 people found this review helpful

Rubbish

By Lorna F.

,

United Kingdom

,

Jan 10, 2019
Verified Reviewer

I have had this machine for only two months and it has just melted. I was happy with it until it melted today. I bought it from eBay and the listing has been taken off now, so I cannot get a refund.

Bottom Line: No, I would not recommend this to a friend

---

7 out 7 people found this review helpful

Dangerous product, do not use

By Robert B.

,

Manchester, United Kingdom

,

Nov 14, 2018
Verified Reviewer

When the item from eBay arrived, it rattled, so I opened it up to find the live power cable was next to the heating element, which means when the power is on the plate it is live and can electrocute you.

Bottom Line: No, I would not recommend this to a friend

---