Red Copper Flipwich Reviews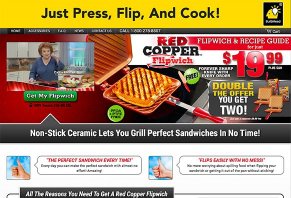 The Red Copper Flipwich is an "As Seen On TV" cooking appliance that claims to be able to grill sandwiches, burgers and more on a stick-free ceramic surface.
About Red Copper Flipwich
The Red Cooper Flipwich is a cooking appliance that claims to be able to grill the perfect sandwich in no time at all, thanks in large part to its unique double sided design. The product features a two sided copper construction with a non-stick, ceramic interlocking grill chamber.
The product is manufactured by BulbHead, a division of product manufacturer Telebrands. Telebrands is behind hundreds of different "As Seen On TV" products, including many that we've covered here at HighYa over the years. The company currently holds a C rating with the Better Business Bureau as of June 16th, 2017.
BulbHead claims that the Flipwich is lightweight and easy to use and clean, thanks to its simplistic, dishwasher-safe design. They also claim that the device can be used on just about any type of stovetop, from gas, to electric, glass, and even induction systems.
Nowadays, it seems as though niche cookware products are a dime a dozen, but that might not be a bad thing, depending on who you ask. More and more, cookware is trending towards hyper-personalized experiences, and the Red Copper Flipwich seems to serve a very specific role in the kitchen.
The device sounds like it could be a very effective utility to add to your culinary arsenal, if it can indeed live up to the claims made by its manufacturer. In the next section, let's take a look at how BulbHead envisions that you'll be using the Flipwich in order to determine if it might be a good fit for you and your family.
How To Use The Red Copper Flipwich
The makers of the Flipwich claim that the secret to its functionality lies in its twin, interlocking grill chambers that work together in unison to create a sealed-off environment to cook sandwiches, grilled cheese, paninis, burgers and more inside.
Essentially, you'll use the Flipwich much like a traditional sandwich or panini griller, except that it is not powered by an electrical outlet. Instead, you'll simply place your ingredients on the non-stick ceramic surface, making sure to position it to cook as evenly as possible.
Once you have everything loaded up, all you'll need to do is press, flip, and cook, according to the explainer video on the main product website.
The Flipwich claims to be able to provide even, clean cooking and grilling for sandwiches of all sorts, but it also is shown being used to cook hamburgers, hot dogs, pitas, french toast, s'mores, and more. If it looks like it'll fit in the Flipwich, chances are, it can be grilled up.
So, now that we know what all you can do with the Flipwich, we need to find out how much it'll cost you to get one for your kitchen.
How Much Does The Red Copper Flipwich Cost?
It looks as though the Flipwich is only available via the product's website as of the time of this writing. It is available in three main offerings, each with their own set of additional, optional addons:
Standard Pan
Red Copper Flipwich
Recipe Book
Forever Sharp Knife
30-Day Manufacturer's Warranty
$19.99 + $9.99 S&H or 29.98 + $9.99 for the double offer
Deluxe Pan
Deluxe Coating Red Copper Flipwich
Recipe Book
Forever Sharp Knife
3 Year Guarantee
$29.98 + $9.99 S&H or $49.96 + $9.99 S&H
Bundle Offer
Red Copper Flipwich
Recipe Book
Forever Sharp Knife
3 Year Guarantee
Red Copper Square Pan 5 Piece Set
Red Copper Brownie Bonanza
$99.97 for the standard coating, $129.95 for the deluxe coating
As stated above, each package has several different addons available, ranging from standalone Red Copper cooking pans to an entire 5-piece kitchenware set made out of the same material.
We aren't told the exact dimensions for either the Flipwich or these additional products, and unfortunately, customer support informed us that they did not have that information at the time of our calling.
When we inquired about the difference between the standard coating and the "Deluxe"option, we were simply told that the Deluxe coating was more durable, and as such features a longer warranty period.
It should also be noted that each of the three packages are listed as "preorders", so it doesn't look as though the product is shipping as of yet. As of now, the product has an estimated shipping date of 6/15/2017.
Red Copper Flipwich Return Policy
Flipwich has a 100% satisfaction guarantee for the first 30 days after the initial purchase. If you aren't satisfied for any reason, you can call customer support at 1-855-668-1655 (M-F 7:00 AM to 12:00 AM Eastern Time & Sat - Sun 8:00 AM to 8:00 PM Eastern Time) to request a return authorization.
You'll be responsible for any shipping & handling fees, and the refund does not include the initial shipping & handling fee. You'll be responsible for any shipping & handling fees, and the refund does not include the initial shipping & handling fee.
Are There Similar Products On The Market?
A quick Google search for sandwich griller pulls up quite a few different stovetop and standalone products that offer somewhat similar functionality to the Red Copper Flipwich, at least upon first glance.
Obviously, one of the primary unique features that the Flipwich sports is its red copper finish, providing a stylistic flair and a non-stick, ceramic coating. The other main distinction is the product's unique form factor.
That being said, many traditional Panini makers use a weighted top piece to grill evenly, as opposed to an enclosed, interlocking design. The Flipwich's design is novel, yes, but we wonder how effective it truly is when compared to the other options out there.
Additionally, after a quick search on Google, we were able to find at least one electric panini press available for a comparatively meager $24.99. There also appears to be available at many Target retail locations throughout the country, thus potentially saving you money on shipping costs if you opt to go this route.
While the Flipwich's design is indeed novel, if all you're concerned about is finding a product that will grill sandwiches and other items, you might be able to save a bit of cash going for something more straightforward.
Red Copper Flipwich: The Final Verdict
The Red Copper Flipwich, when taken for face value, seems to be a unique niche kitchenware product that might indeed serve its purpose of being an all-around grilling device that can grill a wide variety of products without sticking, as the makers suggest.
There are a number of different products on the market that seem to offer similar functionality at a comparable price, but the Flipwich's design and finish are unique enough to give special consideration to, especially if you enjoy the ease of use that potentially comes from a stick-free ceramic surface.
All of that said, as we discovered above, there are multiple different options that might be more cost-effective if you're looking for a more budget-priced griller, or if you'd rather not gamble on the Flipwich's more unconventional grilling style.
Ultimately, you'll have to decide for yourself if the Flipwich truly deserves a place amongst the other appliances in your kitchen. If you'd like to try the product out, keep in mind that you've got a full month to evaluate the product risk free when going into the purchase.
Have you ever used the Red Copper Flipwich? Leave a review and share your experience with others!
Two for the price of one

By Emma T.

,

New Jersey

,

Sep 4, 2018
Verified Reviewer

I purchased the Flipwich months ago from Burlington Coat Factory and this morning I decided to actually take it out the box and use it, and to my surprise, it fell apart. I tried countless times to put it back together but that was an epic fail. And I loved everything about the Copper products thus far. I didn't trash it because I lost the receipt, so I followed the instructions and cleaned and seasoned both and made me a sandwich, and I love the grill lines and I look at it like I have two mini grill pans. So, when you purchase a lemon, you make lemonade, lol. Have a blessed day.

Bottom Line: Yes, I would recommend this to a friend

---

1 out 1 people found this review helpful

Red Copper Flipwich review

By Renae W.

,

Union Grove, WI

,

Jun 6, 2018
Verified Reviewer

I bought the Flipwich because we love making pudgy pies while camping and wanted to make a similar sandwich at home on the stove. Because this is nonstick it seemed strange that the first thing you're asked to do is season it with oil, but I did.

It should be made deeper - it does not close tight when you make a sandwich or put say two waffles together with stuff between them.

It did give a nice grill look and only took a minute per side to cook. Washed up nice. But I have a gas stove and it is already staining from use on the outside from heat. I don't see this lasting long term. It was a great chance for us to make our favorite pudgy pie recipes indoors. And it will be great for making grilled cheese and other toasted sandwiches in.

I read somewhere that it was dishwasher safe but my directions clearly say not dishwasher or oven safe.

Bottom Line: Yes, I would recommend this to a friend

---

Advertisement

---

2 out 2 people found this review helpful

Mmm good

By G Mick

,

Chicago, IL

,

Jan 24, 2018
Verified Reviewer

Purchased the Red Copper Flipwich at the local Walmart store (thus saving shipping cost). I kept my fingers crossed that it would live up to my expectations, and I wasn't disappointed!

It is a well-built product of medium weight. The folding grill area is capable of handling fairly large size slices of bread, although the sandwich will spread a bit when closing and heating.

The instructions couldn't be easier. Simply create your sandwich with your choice of bread and fillings, latch both sides of the grill together, and heat over the stove's burner until both sides are done (time will vary).

Voila! You have a perfectly grilled sandwich (with beautiful grill marks), warm and completely encased.

Bottom Line: Yes, I would recommend this to a friend

---