Red Copper Pan Reviews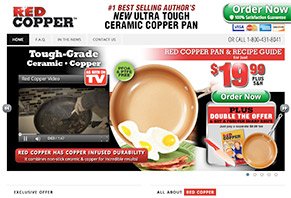 Cathy Mitchell's Red Copper Pan features durable copper with a non-stick ceramic surface that will never scratch, making it the last pan you'll ever need.
About Red Copper Pan
Endorsed by #1 best selling author Cathy Mitchell, the 10" Red Copper Fry Pan combines 100% pure, super strong copper and a non-stick ceramic surface. Why?
So you'll have a durable piece of cookware that's oven safe to 500°, and that also can be used to flambé desserts, caramelize sugar, or even mix eggs directly in the pan! In fact, whatever abuse you throw at it in the kitchen, Red Copper Pan is guaranteed to stay scratch-free forever.
Red Copper Pan's non-stick coating is also PFOA and PTFE free, so it's safe for your family, and when you're finished cooking you can pop it in the dishwasher for easy cleanup.
What's not to love about Cathy Mitchell? She's sweet, makes wonderful food, and makes herself feel like part of the family. Does that mean her products—especially Red Copper Pan—are any good? That's exactly what we'll help you figure out here.
To begin our journey, let's talk about copper cookware in general.
Is Copper a Good Cooking Surface?
Now, 'good' can mean different things to different people. So, in order to scale the question down a little, let's find out some of the pros and cons for copper cookware, and we'll leave it up to you to decide if it's 'good' or not:
Copper Cookware Pros
Probably the biggest advantage of copper cookware is that it conducts heat exceptionally well. As a result, it'll take less time to heat the food inside, evenly distribute this heat, and help it cook faster.
Copper is, for the most, easy to clean.
Finally, from a purely aesthetic standpoint, copper cookware looks stunning when hanging from a rack in your kitchen.
See also: Comparing Cookware: Stainless Steel vs. Copper
Copper Cookware Cons
Probably one of the biggest obstacles to overcome related to copper cookware is price. Although full copper cookware is very expensive, you can purchase it with a stainless steel or tin lining for less.
Outside of price, according to TheKitchn, copper cookware has several unique disadvantages:
"Reactive with alkaline or acidic foods, which can take on a metallic taste after being cooked in a copper pot. Light colored foods, like eggs, can also develop grey streaks when they pick up the copper compounds, which also means you'll ingest small amounts of copper. Not a big deal if it's an occasional thing, but not so great for everyday use. Copper also requires regular polishing and maintenance, and it's expensive."
Lastly, despite what's mentioned on the Red Copper Pan website, copper cookware is not dishwasher safe.
Red Copper Pan Test
For more product tests: Click here to subscribe to HighYa's YouTube channel
What Can You Expect From Red Copper Pan's Non-Stick Coating?
Although copper is considered a tough, durable material, of anything failed on Red Copper Pan first, it'd almost certainly be the non-stick coating. We're told it's PFOA and PTFE-free (which is certainly positive), but is it really as durable as the company claims?
The quick answer is that there's no way to know. We know that Red Copper Pan's non-stick properties are provided by its ceramic coating, but not all ceramic coatings are created equal. Generally, the thicker a ceramic coating is, the more durable and long-lasting it'll be.
And considering that most As Seen On TV products don't exactly get high marks for quality, it's our opinion that Red Copper Pan's ceramic coating won't be thick or durable.
Pro tip: In any case, it's never a good idea to whisk eggs directly in your non-stick pan using an electric mixer, as demonstrated in the Red Copper Pan commercial.
Speaking of ASOTV products, is there anything else out there quite like Red Copper Pan?
Does Red Copper Pan Have Any Competition?
Yes. A whole lot.
In fact, outside of their different colors, it seems like Red Copper Pan is just a rebranded version of Gotham Steel Pans; except instead of being endorsed by Cathy Miller, Gotham was promoted by Chef Daniel Green. Did everyone like them?
Out of 40 reader reviews, Gotham Steel Pans had an average rating of 2.3 stars here on HighYa, mostly because they never arrived. Out of these review, a customer who received theirs, wrote:
"EVERYTHING sticks, even bacon. I'm a chef so I know I'm better off with cast iron. When particles adhere to the surface they are impossible to remove. I can cook on stainless steel with better results."
Will you experience the same with Red Copper Pan? There's no way to know for sure, but since they seem like they're essentially the exact same product, we'd definitely recommend keeping it in mind.
Then, if we move outside the ASOTV realm, you'll find that you literally have hundreds more copper/ceramic cookware to choose from, whether online or at local retailers. In some instances, you might even be able to find 6-piece cookware sets for as little as $100.
Sure, this will cost more upfront than Red Copper Pan, but you'll be getting much more value for your money. On top of this, returning them is as easy as hopping in your car if you're not satisfied!
This is a good opportunity to talk about Red Copper Pan's price before wrapping up.
How Much Does Red Copper Pan Cost?
One 10" Red Copper Pan and recipe guide will cost you $19.99 plus $7.99 S&H. At checkout, you'll also be able to order a second Pan, along with an 8" Forever Sharp Copper Knife, for an additional $9.99 S&H.
Like most Telebrands products, Red Copper Pan comes with a 30-day refund policy, less S&H charges. Keep in mind that you'll lose $17.98 if you chose the BOGO offer, even before shipping it back to the company.
Nonetheless, customer service can be reached at 855-668-1655.
Should You Buy Red Copper Pan?
Cathy Mitchell has had some great success with ASOTV products recently, as her Dump Cakes and Dump Loaf recipe books have sold like hotcakes (excuse the bad pun). But whether we're talking about her previous products or new ones like Red Copper Pan (and their other incarnation as Gotham Steel Pans), it seems like most customers aren't pleased with their purchase.
Granted, Telebrands could have completely retooled the manufacturing process with Red Copper Pan, so—unlike Gotham—it'll arrive on your doorstep quickly and function flawlessly. But if our experience reviewing hundreds of ASOTV products has taught us anything, it's that this is unlikely.
What can you do instead? We think shopping locally for copper and ceramic cookware will help you get more bang for your buck. You'll also be able to compare different pans in person, speak with a sales associate, and get a better feel for which options are best for you, before handing over your hard-earned money.
Read Next: Finding the Perfect Pots & Pans for Your Cooking Style
Worst ever

By Janice P.

,

California

,

Apr 2, 2020
Verified Reviewer

I bought this pan and it did not perform well, it stuck all the time. So I took it back to the store and got another one just in case this one was bad, but this one does not perform well either. After a couple uses everything sticks to it, doesn't clean well, it's lousy. False advertising, would like to get my money back, 20 bucks down the drain. I purchased this at Target.

Bottom Line: No, I would not recommend this to a friend

---

TOTALLY UNSATISFACTORY PAN

By Mike G.

,

Owensville, MO

,

Mar 21, 2020
Verified Reviewer

My experience with my Red Copper pan was similar to many others. I seasoned it properly, used it as directed, only used non-metal utensils, and cleaned it as directed. After only a few months, small pock marks appeared on the surface and items increasingly began to stick to it. After approximately 6 months, the pan was virtually unusable. I called to see about a replacement and there is a $9.99 processing fee plus shipping costs, those combined costs were going to significantly exceed the cost of a new pan. So I gave up and threw the pan away. I'd advise everyone to stay away from Red Copper pans!

Bottom Line: No, I would not recommend this to a friend

---

Advertisement

---

Does stick

By Linda M.

,

Fort Worth, TX

,

Mar 12, 2020
Verified Reviewer

I had this pan and seasoned it like it says and after 4 times I used it, it started to stick. Seasoned it again and the same thing. Will never buy again. This is the one with the lady who invented it and her picture is on it.

Bottom Line: No, I would not recommend this to a friend

---

I want to go back to cast iron.

By Bob N.

,

Anchorage, AK

,

Feb 28, 2020
Verified Reviewer

These pans, everything sticks and burns. I really want my cast iron back. I do have the whole set from Gotham Steel. Really my brother got them for me as a gift. I would not recommend them for anything but decoration.

My wife just went to her doctor and they did massive blood tests on her to find out she has copper 50 points higher than normal. Wonder where it's coming from?

Bottom Line: No, I would not recommend this to a friend

---

Advertisement

---

Company doesn't stand behind their product

By Keith G.

,

Seattle, WA

,

Feb 17, 2020
Verified Reviewer

I think that this company doesn't stand behind their product.

I bought the pan for $15.99 at Fred Meyer in late 2016. Now it doesn't work well. But when I look at their warranty, they require that you mail the allegedly defective item back to them and pay $9.99 for shipping and handling for a replacement.

One wonders why they don't just trust their customers and let us email a picture of our receipt and a photo of the pan and mail us a voucher/coupon that we can redeem at the store we bought it at.

Bottom Line: No, I would not recommend this to a friend

---

Had the pan just over a year, now eggs stick horribly

By Bee K.

,

California

,

Jan 29, 2020
Verified Reviewer

Let me start with the fact that I have cast iron skillets over 30 years old, so I know how to regularly season a pan, so don't go there. The exterior red paint job has scraped off most of the bottom already, and now it's no longer non-stick.

My last use was to make a frittata (aka omelet finished off in the oven.) It stuck so badly, that I had to SOAK the pan.

The material stuck-on was barely browned!

I am going to try to "re-season" it, simply because there are so many people who seem to think that's the problem. Willing to try, only because the warranty is a joke - you pay for S&H and they expect you to insure it - which means if you don't insure it, they'll claim it arrived damaged or not at all.

It's the SQUARE 9.5" shallow pan, not the deep fryer one.

Bottom Line: No, I would not recommend this to a friend

---

Sticks

By Lora A.

,

Kentucky

,

Jan 23, 2020
Verified Reviewer

The pan was great for the first month, but it sticks so bad and it only cooks in the center of the pan. Does not heat evenly. I hate it and they want a $10.00 processing fee. Ridiculous.

Bottom Line: No, I would not recommend this to a friend

---

Scam

By Robert H.

,

Washington Crossing, PA

,

Jan 10, 2020
Verified Reviewer

I bought two of these pans thinking the first was defective. I pretreated it as directed. Everything sticks as it's as simple as that. Washing it is also a chore as you must let it soak. Bad product. Total scam!

Bottom Line: No, I would not recommend this to a friend

---

Very disappointing

By Tracey D.

,

West Seneca, NY

,

Dec 11, 2019
Verified Reviewer

This product is absolutely the worst! When I first got it I was so excited, but after using it on a daily basis I was very disappointed! The pans themselves are ok but absolutely EVERYTHING sticks to the frying pan which causes it more difficult to clean! I also always use plastic utensils but there are somehow still scratches in the pan.

NEVER AGAIN!

Bottom Line: No, I would not recommend this to a friend

---

Copper Skillets as Seen on TV

By Margaret S.

,

Kentucky

,

Dec 9, 2019
Verified Reviewer

OK, so I prefer to give positive feedback but that does not make any sense to me if it is not true. I bought two of these skillets a few months ago and they are not as they say. They have chipped, burnt, and is sticking my food to the pan. So much for perfect. It is not perfect at all. Just another idea from someone who thinks they made the perfect plan.

Bottom Line: No, I would not recommend this to a friend

---

Red Copper Pan

By David M.

,

Monroeville, PA

,

Dec 2, 2019
Verified Reviewer

Pan sticks, scratches, gets too hot on electric stoves. Tried to contact by scanning bar code to get replacement pan. Reroutes you around. B.S. Scam does meet up to its speculations! Don't buy.

Bottom Line: No, I would not recommend this to a friend

---