Red Copper Square Pan Reviews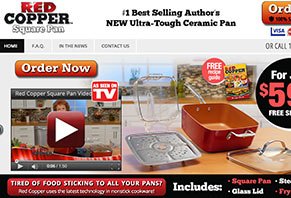 Red Copper Square Pan features high sides, a PFOA and PTFE-free ceramic nonstick coating, and the ability to work as a skillet, fryer, baking pan, and more.
About Red Copper Square Pan
Cathy Mitchell tells us that her new Red Copper Square Pan represents the "newest technology in nonstick cookware," and that it can help you cook without oil, butter, or grease. How?
Made of ultra-tough ceramic, super strong copper, along with an aluminum bottom for even heating, Square Pan promises to work as a skillet, fryer, roaster, and baking pan—even as a deep fryer. With its high sides, we're also told you'll be able to prevent splatters, and the square design delivers double the space for more food.
Then, when you're all done, the company claims you can just wipe your Square Pan clean and store it away for another day.
You've undoubtedly read about the health risks of PFOA and PTFE (if not, we'll talk more about these in a moment), but you still want the convenience of non-stick cookware. Without paying an arm and a leg, of course!
From this perspective, will Red Copper Square Pan meet your expectations, or will it just get you hot under the collar? We'll explore it all here.
What Are the Pros & Cons of Ceramic Cookware?
Until the advent of ceramic coatings, all nonstick cookware worked using a layer of PFOA (Perfluorooctanoic Acid) and/or PTFE (Polytetrafluoroethylene)—otherwise known as Teflon.
While Teflon provides fantastic nonstick capabilities, it can also release some noxious gasses when heated too high. Additionally, small particles can flake off over time, which may even be linked to a greater risk of cancer.
Enter ceramic. Seemingly, when applied in several thick coatings over a metal core (in the instance of Square Pan, it's supposedly copper), ceramic offers natural non-stickiness, but without the health concerns associated with Teflion.
But it's not perfect. Ceramic cookware tends to be more delicate than Teflon-coated metal, so you'll need to take greater care when handling it, lest it chips. Also, some sites recommend avoiding the use of oils with ceramic cookware, as it may dramatically decrease its lifespan.
Most importantly though, it seems that many Red Copper users are finding that this specific ceramic may not provide the same nonstick capabilities as Teflon. Let's talk more about this next.
Customers (& the HighYa Team) Talk About Our Red Copper Experiences
Square Pan was brand new at the time of our research, without any online customer reviews. The good news is that 25 HighYa readers have talked about their experiences with the original Red Copper Pan (essentially identical to Square Pan, except for the shape), giving it an average rating of 2.7 stars.
Related: Gotham Steel Pan Review
Overall, about half of Red Copper Pan's customers seemed pleased with its nonstick ability and ease of use, while the other half found that it didn't work at all after even a couple uses. In fact, one reviewer claimed they bought two Red Copper Pans from different sources, and each feature different ceramic thicknesses, ceramic tints, and weights (remember this, because we'll come back to it in a second).
On top of this, the HighYa team performed in-depth testing on Red Copper Pan. We found that it didn't provide any meaningful nonstick capabilities—in fact, it turned our attempt at eggs into a total mess. We also found that it scratched easily with a fork, arrived chipped on one section of the edge, and wasn't actually dishwasher safe.
No, Red Copper Square Pan technically isn't the same thing as the original Red Copper Pan. Given this, we can't say with absolute certainty that you'll experience the same, but we think this Red Copper Pan review video might be insightful regarding your Square Pan purchase.
What About Copper Chef?
But do you know what is technically the same thing as Red Copper Square Pan? The incredibly popular Copper Chef! Just like with Copper Square Pan, many HighYa readers state that Copper Chef provide very little nonstick ability, was difficult to clean, and all around didn't work as advertised.
On the other hand, the HighYa team originally submitted Copper Chef to several real-world tests, including cooking eggs, steaming vegetables, and even cooking seared steaks in the oven and found that it worked great and heated evenly. We also found that cleanup was a breeze in most scenarios.
In our follow up video, however, we found that Copper Chef's ceramic surface quickly began chipping where it came in contact with the lid, as well as various nicks and scratches elsewhere. We also found that trying to cook an over-easy egg resulted in nearly inedible food. We even went back and retried the original omelette test performed the first time around, and found that the pan's nonstick ability was essentially gone.
Is Red Copper Square Pan priced the same as Copper Chef?
How Much Does Red Copper Square Pan Cost?
When purchasing Red Copper Square Pan, you'll have one of two options:
Standard Version – Includes Square Pan, plus a dinner and desserts recipe guide, tempered glass lid, steamer/roaster rack, and fry basket: $59.99
Deluxe Version – Includes everything found in the standard version, plus a double layer of scratch-resistant coating: $64.99
Compared to Copper Chef, which is priced at $74.97 with shipping, Square Pan is meaningfully less expensive.
Regardless of which option you choose, your order will come with a 30-day refund policy, less S&H. The company also claims they'll replace your Square Pan if it ever fails, but doesn't provide any additional information on their website.
In order to request a refund, Telebrands' customer service department can be reached at 855-668-1655.
Now, let's take what we've learned and wrap things up for Red Copper Square Pan.
Should You Invite Red Copper Square Pan Into Your Home?
Yes, ceramic cookware can offer decent nonstick capabilities, without the health concerns often associated with Teflon. Yes, Square Pan's deep sides and shape will probably provide a decent amount of flexibility.
However, Red Copper Square Pan seems to be manufactured to very similar standards as Copper Chef (not to mention the smaller Red Copper Pan), and based on what we learned in our testing and from reader reviews, we'd have some serious reservations that it'll deliver on the promises made in its commercial.
And yes, Cathy Mitchell is a lovable best selling author of Dump Cakes and impossible to dislike. But keep in mind that celebrities rarely use the products they endorse. Even if Cathy does use these Red Copper pans regularly, that still doesn't mean they'll provide top value for your dollar.
Speaking of which, it's important to note that you can find nearly identical ceramic cookware elsewhere online—sometimes entire cookware sets—for not much more than Red Copper Square Pan. So, if you're looking to maximize your dollar, that might be one way to do so.
Don't keep us—and millions of monthly readers—in the dark. Tell us about your Red Copper Square Pan experience by writing a review below!
More on Cooking Products:
3 out 3 people found this review helpful

Red Copper is stinking

By Sarah A.

,

California

,

Mar 16, 2019
Verified Reviewer

We bought the Red Copper Square Pan last year and it was perfect when we first used it, however, lately it's been stinking to food and it's hard to clean. I'm sorry but we won't be able to buy anymore Cathy Mitchell cooking items anymore.

Bottom Line: No, I would not recommend this to a friend

---

3 out 3 people found this review helpful

Bummed

By Tina B.

,

Greenville, SC

,

Jan 4, 2019
Verified Reviewer

I have had it for 1.5 years but don't use it very often. From day one, it became slightly warped on the bottom and therefore, not giving me even heating. I mainly use it to fix fried potatoes or fried steak and gravy which seem to be okay but doesn't keep from splatter. Dried gravy does wipe out easily. Oil is necessary regardless of what I am fixing. Just the other day, I tried fixing a pizza - the dough was to be cooked on high with a little olive oil until edges were brown. By the time the pan was hot, it looked like a bowl due to warping. I'm about ready to get rid of it.

Bottom Line: No, I would not recommend this to a friend

---

Advertisement

---

2 out 2 people found this review helpful

Need info about cookbook

I received a set of the square pan for Christmas, but it had no cookbook with it. I need to know how to get one. Can you email me so I can get a cookbook? I have not tried to use it yet because I want to make sure I use it right.

Bottom Line: Yes, I would recommend this to a friend

---

6 out 6 people found this review helpful

Lies!

Frisco City, AL

,

Aug 31, 2017
Verified Reviewer

If the technology works, that's not what they are selling us. We have three different ones. They seem to work fine for a couple of weeks, and then it's time to "season" it again. After a couple of months, nothing cleans out scrambled eggs or fried grease but a tough scrubbing pad. "Won't scratch ever!" These are bold face lies. All of ours are scratched and have been from a few months old. Our newest one less, which is less than a year old, looks like any old pan in the pantry. I'm sure politicians somewhere are enriched by this scam.

Bottom Line: No, I would not recommend this to a friend

---

Advertisement

---

3 out 3 people found this review helpful

Square Pan sucked

We bought a round pan first, and it worked great. We decided to try the square pan, and it sucked. When I cooked bacon, it stuck to the bottom of the pan. When I sauteed green peppers, it left a burnt spot on the bottom of the pan.

Bottom Line: No, I would not recommend this to a friend

---

4 out 4 people found this review helpful

Horrible pan

By Cathy Ingram

,

Mammoth Lakes, California

,

Jul 25, 2017
Verified Reviewer

I purchased the square 9.5-inch square pan yesterday. I treated it with oil in the oven as directed. I fried two chicken legs without oil on electric ceramic cooktop last night. The pan had burnt residue, which after ten minutes of scrubbing with a Teflon scrubber did not change. Despite a nonmetal spatula, there was a small scrape in the finish and bottom of the pan had paint wearing to aluminum on each corner. To get the pan clean, I had to use Comet cleaner.

This morning I cooked scrambled eggs, which immediately stuck to the pan and took soaking and scraping to remove residue. What a ripoff. The worst pan I have ever used.

Bottom Line: No, I would not recommend this to a friend

---

6 out 6 people found this review helpful

JUNK - $15.00 service charge to return it

It scratched the first time I used the fryer basket to make french fries, and I was careful. A lot of items stick no matter how many time you re-season it. JUNK. You should not have to pay $15-$16 to return defective items sold by lying.

Bottom Line: No, I would not recommend this to a friend

---

3 out 4 people found this review helpful

Love my Red Copper Pots, bought my friend a set.

By David Moore

,

Pretoria, South Africa

,

Apr 11, 2017
Verified Reviewer

I love being able to make the best omelet and have hardly any cleanup.

I was just cooking 2 lbs of sliced carrots with chopped green peppers and onions. Then I will cook tomato sauce with sugar and vinegar brought to a boil, let it cool and then pour over the carrots, celery, and onions and refrigerate overnight for a nice colorful side with our BBQ tomorrow. Yum!

Bottom Line: Yes, I would recommend this to a friend

---

4 out 5 people found this review helpful

Best use it all the time

By Rich

,

Indiana

,

Mar 25, 2017
Verified Reviewer

I got it for Christmas and read the instructions, and have used it more than once a week ever since. No problems, no worries, and I am getting ready to order more of the same from the same company unless another company has a better review (from Amazon).

Bottom Line: Yes, I would recommend this to a friend

---

16 out 17 people found this review helpful

Not so good

By J

,

Indiana

,

Mar 19, 2017
Verified Reviewer

After five months of light use, two or three times a week, my food stuck so bad that soaking and scrubbing didn't get it clean. I called for the warranted replacement, and they want $14.95 to return the defective product. I chose to trash the pan, as I am sure the same scenario will present itself again.

Bottom Line: No, I would not recommend this to a friend

---

4 out 6 people found this review helpful

Red Copper Square pan

By Carol

,

Kansas City, MO

,

Mar 13, 2017
Verified Reviewer

I bought my deep square pan months ago and have had no problems with it. I never use a spray in it, and it cleans up easy. The fry basket is a fantastic extra, as is the steamer plate.

I have ordered the Crisper basket and had not received anything on it, so I looked up my order and at first, it said there was no such order, (once I found on the website where to look it up), but once I put in my name, phone number and zip code, it did bring it up, and the order number it gave me on my confirmation. The email had the confirmation number, not the order number, tt was a long number that they never gave me.

However, I had been waiting three weeks for my order and discovered it was temporarily out of stock! There was no word from the company about it. This is disappointing. I really enjoy my big pan, and cook on top the stove and bake in it all the time. Eggs do not slide out without slipping a spatula under them first. I always make sure the pan is very hot before adding anything to the surface.

Bottom Line: Yes, I would recommend this to a friend

---