RedShelf Reviews
Claimed This company has claimed this profile, is getting alerted on any new customer reviews entering this page, and may engage in dialogue with its customers to address their matters.

Companies cannot pay money or provide goods in order to remove or alter customer reviews.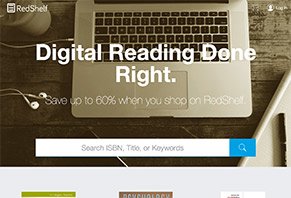 As the leading supplier of e-textbooks, RedShelf can help you download the books you need—which are accessible anytime and anywhere—while saving up to 60%.
About RedShelf
RedShelf allows you to rent or buy e-textbooks directly from their site, while saving up to 60% off retail prices. This includes digital content from the world's leading academic publishers, trade publishers, and even self-published content.
Think you'll have to download huge files? RedShelf helps you avoid this with their cloud-based reader, which allows you to access your content on any internet-enabled device (including laptops, desktops, tablets, and smartphones), anywhere and anytime.
But does this mean RedShelf is right for you? Should you even consider digital textbooks?
To answer all your important questions, we'll begin by taking a closer look at how RedShelf works.
How to Use RedShelf
Signing up for a RedShelf account is free and easy. All you have to do is enter your first and last names, email address, and password. Afterward, you'll need to verify your account by clicking on a link contained in a confirmation email.
When you're ready to begin browsing, you can search for textbooks on RedShelf by ISBN, title, or keyword. Find what you need? Depending on the title, you'll be able to choose between 60, 90, 120, and 180-day rental plans, or you can purchase lifetime access.
Pro tip: Before making a purchase, you'll be able to see if the e-textbook comes with digital notes or study tools, if you'll be able to access the content offline (and how much), as well as how many pages can be printed.
After making purchases, these titles will appear on your Shelf (the main "hub" of your RedShelf account), where they're available for easy access from any internet-enabled device.
Inside the e-textbook, you'll find that it's laid out much like a regular textbook, including a table of contents. But you'll also be able to use page arrows to navigate manually, enter a specific page number, or perform a keyword search.
Each digital textbook will also include annotation tools like bookmarks and the ability to highlight, leave comments, and even make drawings.
Clearly, there are some advantages to digital textbooks (we'll come back around to this momentarily). Is one of these advantages price?
Comparing RedShelf's Pricing with Traditional Textbooks
At the time of our research, RedShelf's e-textbook pricing ranged between $30 and $200 each. As with traditional textbooks, the higher priced items tended to be larger volumes focused on sciences (biology, psychology, etc.), while the lower end generally focused on English and the humanities.
But are they a good deal compared to traditional paper-based textbooks?
Comparison #1
The 8th edition of A Writer's Reference by Diana Hacker and Nancy Sommars was priced between $28.87 (60-day rental) and $51.67 (full purchase) on RedShelf at the time of our research.
For this same paper-based edition, the lowest price we were able to find elsewhere online was $59.99. So if you wanted to make a full purchase, it seems like RedShelf would be the way to go in this instance.
Comparison #2
On the other hand, Managerial Accounting, Tools for Business Decision Making, 6th edition by Jerry J. Weygandt, was priced between $65.52 (90-day rental) and $87.50 (full purchase).
Elsewhere online, we found this same textbook available for as little as $6.47 (used), and as little as $31 for digital copies through other similar companies.
So in this instance, it appears that RedShelf might not be the least expensive option, by a fairly wide margin.
In any case, if you're not satisfied with your purchase, RedShelf offers a 14-day refund policy, as long as you haven't read more than 10% of the book. In order to request a refund, you'll need to contact customer service at 888-622-9838.
Now that we've discussed prices, let's discuss the company itself.
RedShelf's Online Student Reputation
RedShelf is based out of Chicago, IL and has been in business since 2012.
There was very little available about RedShelf online at the time of our research (or about its parent company Virdocs Software, LLC), which is surprising, since RedShelf positions themselves as the "leading supplier of digital learning materials." Neither was listed with the Better Business Bureau.
This lack of online feedback is even more surprising when you consider that, according to a 2014 Crain's article, the company had signed contracts with four of the top five textbook publishers. Clearly, the company has a positive reputation within the industry and a track record of success, but it seemed odd that there weren't any student reviews.
DigitalBookWorld.com claims that RedShelf was originally started by two college kids from Detroit, including CEO Greg Fenton and CFO Tim Haitaian. Here, COO Tom Scotty was quoted as saying, "We help lower the cost to students and we help educational publishers and institutional bookstores realize new revenue streams."
RedShelf was also named a Top 100 Finalist for the 2015 Chicago Innovation Awards "for its innovative eReader software platform."
Outside of RedShelf, are there other options out there for renting or buying digital textbooks?
Other Digital Textbook Retailers
In short, there are a lot. To see for yourself, type the phrase "digital textbook," "e-textbook," or "digital textbook rental" into any search engine, and you'll receive dozens of relevant results. This includes stiff competition from industry behemoths like Amazon and Barnes & Noble, as well as from smaller companies like CourseSmart.com, Chegg.com, DigitalTextbooks.com, and more.
In fact, the competition is so stiff that RedShelf doesn't appear on the first page for any of these search terms.
The bottom line? Digital textbooks can make your life easier, but it's important to research all your options for where to purchase them.
Speaking of making your life easier, what are some other benefits (as well as drawbacks) for e-textbooks?
Pros and Cons of E-Textbooks
The Amazon Kindle was only released in 2007, and was immediately a hit. In fact, it sold out in just over 5 hours, and remained out of stock for months. Clearly, there was a great deal of consumer demand.
Since then, just about every publisher imaginable has jumped on the digital bandwagon, so it's no surprise that digital textbooks have become increasingly popular. But are they right for you?
Digital Textbook Pros
Perhaps the biggest advantage over traditional textbooks is the price of e-textbooks—especially if you're thinking about renting instead of buying.
Convenience is another big factor. You won't have to lug around heavy books all over campus, and if you need to download a book during a 2am cram session, you'll be able to do so immediately.
Digital Textbook Cons
On the other hand, most e-textbooks may not come with CDs, music, DVDs, access codes, or lab manuals, although this is often the case if you purchase used paper-based textbooks.
You'll also be required to purchase an electronic device to view RedShelf's textbooks, such as a laptop or handheld device, which can further increase your overall costs.
Speaking of which, you'll need internet access to view your e-textbook's content, although some of these allow you limited access, even if you're not connected to the internet.
Did you access your digital textbook on your laptop before heading to class, but forgot to log out? Since you can only view RedShelf's content on one device at a time, you could be out of luck if you need to reopen the book once you're in class.
Also, although the number is always growing, RedShelf only has agreements with 340 college bookstores in 23 states (mostly concentrated in CA, OR, WA, UT, MN, GA, IA, WI, MI, OH, PA, NY, and CT).
Finally, there can sometimes be less than a $20 difference between renting an e-textbook through RedShelf, and purchasing lifetime access. And as we noted above, they may not always be the least expensive option.
Is RedShelf Right for You?
There are a whole lot of companies out there similar to RedShelf, each vying for your attention (and your money). Of these, perhaps the biggest advantage related to RedShelf is their industry-recognized eReader platform, which can allow you to access content anywhere and at any time.
Despite this recognition, RedShelf might not always be your best (or cheapest) options, so be sure to do your research before making your decision.
---
The worst experience - I'm crying from!

By Lisa K.

,

Ontario, Canada

,

May 9, 2020
Verified Reviewer

Overall Experience:

RedShelf has been the worst. It started with the price, I was surprised the cost was in US dollars, I only learned when I looked at my bank statement. OK whatever, my bad.

I rent a book for $60, get it for 180 days. I had to get it through my school, but I will be letting my prof know how horrible the site is.

I was pumped at first because RedShelf claimed I could highlight, take notes, and make flashcards, which I thought was exciting. Except none of those features worked properly for me. I was able to select some text, and make notes, but it was sloppy and ultimately I could not use the highlighting feature just because of how spotty it was working.

But then it got worse.

I went to start reading my 50-page chapter today, got about 4 pages in when it stopped working. The pages wouldn't turn. I've been trying to figure it out for an hour now, emailing RedShelf support with no help in sight. Like I just want to do this awful reading - can I just do that?

Somehow it got worse.

So I restart my computer, clear the history and cache, do all the little tricks they tell you online, nothing works. But I do notice now that the book itself looks a bit different - maybe it's fixed! No, it just looks different, oh wait, something is different, all of the notes I was able to take (however crappy it may have looked) are all gone. Hours of reading and note-taking lost. I honestly don't even want to use RedShelf for this, I'm not even sure I can, but I can't afford the text. This has been awful, I hope my teacher will help me figure something out.

Bottom Line: No, I would not recommend this to a friend

May 13, 2020

Hello Lisa - I want to start by apologizing for your experience with our platform, especially during the difficult times we're in. We understand that getting the easy access you need and utilizing tools like our notes and highlighting features is crucial right now so we're upset to hear that your experience was less than stellar.

From the way it sounds, it seems that the content we are receiving from our publishing partner is not aligning with our eReader, and that's important for us to resolve. We want to be sure to make it right for you, which is why I'd love for you to give us another opportunity to investigate the issues you're experiencing and discover what we can do to fix them.

I was digging into our support system and was having difficulty tracking down the email you sent us, but if you could shoot us a new message at hello@redshelf.com and ask for Lee, I'll do what I can to get you back into your material so the rest of your course goes smoothly! We appreciate your patience and feedback, Lisa!

- Lee N.

---

Highlighting is sub par, searching shows "unnamed chapter" and no page

By Angel L.

,

Colorado

,

Dec 27, 2019
Verified Reviewer

Overall Experience:

Horrible. The highlighting will "over highlight" and highlight sections that you didn't want. When you search the book for a phrase or seeking other information, the results show "unknown chapter" and do not even supply a page number. There are also no active links in the book that will take you to Westlaw so that you can review the case. No quizzes or other ways to test yourself. This needs to be rectified by the company ASAP if they want to continue to sell ebooks. Next time, I may just go old school and order the hard copy.

Bottom Line: No, I would not recommend this to a friend

Dec 30, 2019

Hi Angel - Thank you for taking the time to provide this feedback. We've noted all of your suggestions and have already been in the process of making some of the improvements mentioned here. If you ever have any questions or additional feedback, please don't hesitate to reach out!

---

Advertisement

---

Worst eBook I have ever used

By John B.

,

Colorado

,

Mar 2, 2019
Verified Reviewer

Overall Experience:

Absolutely the most tedious and worthless eBook I have ever used. You have to wait for your browser to make an internet connection to load the next page. It's absolutely infuriating and a complete waste of time. Going to my bookstore to buy a hardcopy. Do not give your money to this company.

Bottom Line: No, I would not recommend this to a friend

Mar 4, 2019

Hi John, sorry to hear about the troubles with loading. Depending on the size of the source file, loading between sections shouldn't extend past three seconds (you should expect the same load times as any other website). Our Customer Experience Team has some tips and tricks to help any speedbumps you might hit, if you haven't already made a return: solve.redshelf.com.

---

Do not.

By Austin N.

,

Mayfield, KY

,

Sep 8, 2018
Verified Reviewer

Overall Experience:

The user interface of this e-book is absolutely terrible. I cannot wrap my head around how difficult these guys make it to interact with this book.

For starters:

1. I am sick and tired of having to wait for the next page to load and not being able to use my keyboard to at least click through. The solution to this would be to allow continuous scrolling and just have, at least...at a minimum, each chapter loaded at a time with continuous scrolling.

2. Number one reminds me of something...oh yeah, there are no chapters that we can select on! I have to find the broad section and then click through each individual page until I find the chapter that I desire.

3. It would be very great if those boxes were not hovering over my reading material. They are in the way and are a complete inconvenience.

If I would have known about this prior to ordering the e-book from RedShelf, I would have not done so. I have had this book for one day now and cannot believe this is what I have to deal with. I will be looking for a return if possible because this is not worth it. I will be looking elsewhere.

This is my review that I sent to the company. Book reading: Human Anatomy Labratory.

Bottom Line: No, I would not recommend this to a friend

Nov 12, 2018

Hi Austin, thanks for passing along your feedback, we're bummed to hear that the reading experience didn't meet your expectations. We're constantly making improvements to our eReader, and we've passed along your feedback to our product team. If there's anything we can ever help with, feel free to reach out at help@redshelf.com.

---

Advertisement

---

10% offline access

By AJ R.

,

St. George, UT

,

Aug 18, 2018
Verified Reviewer

Overall Experience:

I always purchase ebooks for my schooling. It makes things very easy and I am able to open my laptop anywhere and begin reading. RedShelf advertises this, which is technically true. However, you have to choose which portion of the book you want to have access to offline. So if I decide to do an assignment that may have me jumping from chapter to chapter and am offline, then I simply can't. I was not aware of this prior to purchasing all my textbooks and would have simply gone with another, possibly slightly more expensive, provider.

Bottom Line: No, I would not recommend this to a friend

---

RedShelf is the best

By Sunny

,

Orange County, CA

,

Mar 27, 2018
Verified Reviewer

Overall Experience:

RedShelf has great prices, a large selection and superb customer service and technical support. Thank you Redshelf.com for making my student life and personal life better with your books!

Bottom Line: Yes, I would recommend this to a friend

---

Advertisement

---