Regal Assets Reviews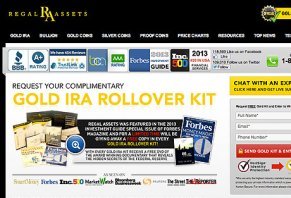 About Regal Assets
Regal Assets claims that gold is the only ironclad way to protect yourself against inflation. As such, the company provides several different methods of investing in a variety of precious metals, including gold, silver, platinum and palladium IRAs, coins, and bullion.
But is Regal Assets really your best choice for investment-grade precious metals? Let's invest some time into uncovering the facts and find out.
Regal Assets Details
According to Regal Assets, currency not backed by gold is constantly subject to inflation, which can potentially have a big impact on your total wealth. In fact, the company claims that other countries (such as China and India) are buying up gold like crazy in an active effort to devalue the dollar. On top of this, other investment vehicles such as bonds or treasury notes may not always keep up with inflation, making them much less valuable by the time you're able to cash them in.
With this in mind, Regal Assets provides a variety of precious metals investment vehicles, including:
Gold IRA – Retirement plans backed partially or fully by bullion coins and bars made of precious metals such as gold, silver, platinum, and palladium.
Bullion – Gold, silver, platinum, and palladium bars and coins.
Gold, Silver, & Proof Coins – Gold, silver, platinum, and palladium rare/vintage/limited edition coins. Also includes proof coins and sets.
Once you've decided to invest in a precious metals IRA, Regal Assets claims the process is as easy as 1, 2, 3:
Setup your Regal Assets account.
Complete as much of the setup form as you can.
The Regal Assets team will "start going to work for you," and can have your IRA set up in 24 hours.
In addition, the Regal Assets website also includes real-time price charts, an in-depth resources section, and top precious metals-related news.
Regal Assets Pricing & Refund Policy
No pricing or refund information is available on the Regal Assets website, although the learned through a third-party review that the company charges a flat fee for their services, and will buy back products at spot price. Since you'll likely need to know these details in order to make an informed decision, we'd recommend contacting the company directly.
Regal Assets guarantees that all of their products will be delivered within 7 days of account funding, or you'll receive a free Silver American Eagle. For full details, be sure to read the company's Shipping Agreement.
What Do Other Consumers Have to Say About Regal Assets?
Regal Assets was founded in 2003 and is headquartered in Waco, TX, although their trading floor is located in Burbank, CA. The company holds an A+ rating with the Better Business Bureau, with no complaints filed over the past three years.
Elsewhere online, there are numerous industry websites that provide in-depth reviews about Regal Assets, although it can be difficult to tell the difference between a legitimate review and once sponsored by the company. With this said, the biggest source of customer reviews we located was on TrustLink, where the company holds a 5-star rating. In fact, even among the few customers who rated Regal Assets at less than five stars, there were no specific complaints mentioned.
What's the Bottom Line About Regal Assets?
There are a number of companies out there that can help you invest in precious metals, including Lear Capital and Merit Gold, so what makes Regal Assets different? Based on our research, it all comes down to customer service.
Since Regal Assets has been in business more than a decade, they appear to have the precious metals investment process down to an exact science—so much so that we were unable to locate a single customer complaint. Based on the company's online reputation, they're known for how easy they make the process, their low fees, and their keen focus on providing outstanding customer service.
Regal Assets appears to work hard to ensure each and every customer is satisfied with their experience. As such, if you're in the market for precious metals-based investments, Regal Assets appears to be a worthwhile contender.
How to get started with bitcoin?

By Jermaine K.

,

Bend, OR

,

Aug 15, 2019
Verified Reviewer

I am so happy regal assets made it possible for us common folk, with just a little marketing and advertising skills and financial ambition, to create wealth and financial freedom. Because with their affiliate program there are great financial opportunities for those serious about making a lot of money. Thank you Regal Assets. And I am on my way to financial freedom because I am a believer in teamwork.

Bottom Line: Yes, I would recommend this to a friend

---

Amazing company

By Stephen N.

,

New York

,

Jul 29, 2019
Verified Reviewer

It should be noted, right or wrong, that it is very rare for me to take the time to write a review, good or bad. Given my outstanding customer service with Christian Howard from Regal Assets, I would be remiss to not acknowledge what I found to be an exception investment experience unlike any other that I have had. There are investment brokers that will often tell you what you want to hear and frankly suggest you not to monitor your investments as they will go up and down and they are all preaching from the same playbook. Christian made us feel we actually had engaged a true steward of our financial investments and it was a more personalized experience that took into consideration the many factors necessary to create what we believe to be a safe harbor for our financial resources in light of the current volatile market conditions. No one has a crystal ball but sound financial advice and planning is paramount these days when you are concerned about safeguarding your investments for retirement. Having taken a financial bath during the last stock market crash, we researched who was best qualified to advise and guide our financial planning. We found Regal Assets had some of the best reviews and engaged them to help give us some clear direction in navigating the tumultuous waters of the stock market. Having had such a positive experience that we did with Christian Howard and Regal Investments, we would highly recommend them to anyone in our same financial position for guidance to hedge the inevitable drop in stock market values.

Bottom Line: Yes, I would recommend this to a friend

---

Advertisement

---

Dramatically overcharged

By Dave R.

,

Omaha, NE

,

Jul 17, 2019
Verified Reviewer

I used Regal Assets to assist with rolling over two IRA's into Silver IRA's. I asked up front what costs and fees were going to be associated with the process, which was provided to me, or so I thought. My biggest mistake was to trust the account manager and for not verifying the current selling price of mint silver before authorizing the transaction. Silly me, I trusted that my buy price would be at or near market price for silver of the same kind and quality. I later found that Regal Assets had marked up the silver by at least $6.80 per oz in my estimation over what I could have obtained the very same thing for elsewhere.

I was furious that 28 to 29% of my IRA funds disappeared as soon as Regal Assets made their transaction. Obviously, expect the buy price to be higher than the sell price by a small amount. When asked about the thousands of dollars that vanished from my account I was just given a run-around that was beyond frustrating. At the end, the only excuse provided had to do with shipping, handling, and insurance even though Regal Assets refused to provide a written accounting for the thousands of dollars in fees, charges, or mark-up. Implied it was not available. Good luck trying to get a general idea what the current value of your new silver is if you ask my Account Manager.

Although both IRA's were ready to go, only the larger one was used for a silver purchase 3 weeks after funds were available. The second IRA took 6 weeks after the account was set-up and funded before silver was delivered. When I first began to question the charges I specifically gave instructions in an email not to proceed with the 2nd IRA transaction until my questions had been answered. A week later they moved forward anyway!

I would not trust Regal Assets, period. If for some reason you still intend to do business with them be sure to demand up front and in writing what the cost of the precious metal is plus fee's before you ever give a "recorded authorization" to take advantage of you.

Bottom Line: No, I would not recommend this to a friend

---