Reheatza Microwave Crisper Reviews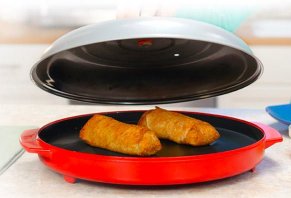 Using a lid that prevents microwave-damaged food, along with a base that heats like a frying pan, the Reheatza Microwave Crisper promises to provide oven-like results.
About Reheatza Microwave Crisper
In less time than it takes to preheat an oven, the Reheatza Microwave Crisper combines a microwave-blocking lid with an energy absorbing pan to generate conductive heat and cook your food just like a grill or frying pan.
As a result, the website tells us that Reheatza can deliver oven-quality pizza, with a crispy crust, perfectly melted cheese, and gently warmed toppings, along with toasted sandwiches, chicken wings, hamburgers, frozen foods, bacon, and grilled cheese sandwiches, all from your microwave.
All you have to do is place any food on the cooking surface, cover with the lid, and pop in the microwave. The company tells us Reheatza is guaranteed to bring back the crisp to any fried food, making it taste just like the day you got it.
And when you're done, the BPA-free and nonstick cookware is easy to clean.
There's no doubt that cooking food in the microwave is quick and easy, but it often leaves food that should be crispy, limp and soggy. In other instances, the harsh rays can dry out food like meat.
But with the Reheatza Microwave Crisper, will you get the best of both worlds? And if so, will it deliver sufficient value for the money? Let's help you find some answers by discussing what we learned during our research.
How Much Does the Reheatza Microwave Crisper Cost?
The Reheatsa Microwave Crisp is available on:
Amazon for $21.00
Walmart for $23.35
Bed Bath & Beyond: $39.99 (or $31.99 with Beyond+ Membership)
Target: $39.99
Why Is There a Difference Between Food Reheated in the Microwave vs. the Oven?
Although microwaves and conventional ovens are built to heat food, they accomplish this in very different ways.
For example, using something called a magnetron, a microwave emits radio waves at a very specific frequency, which vibrate, or excite, all the water molecules contained in food. This ultra-fast movement creates heat, which in turn cooks all of the food simultaneously from the inside out. This is what makes a microwave a fast, efficient method of reheating.
Comparatively, a conventional oven surrounds food with hot air and cooks it from the outside in through a process known as conduction. What's the difference, and how does it relate to Reheatza?
While microwaves can reheat food faster than ovens, their heating method can dehydrate food and result in a tough texture. In some instances, especially with breaded products like pizza or mozzarella sticks, it can have the opposite effect and leave them temporarily limp and soggy and then hard as a rock.
Pro tip: According to a detailed answer on Stack Exchange, the excited water molecules don't bind with starch the same way they do in an oven, and simply escape. This leaves you with a hard, dried-out piece of bread.
Instead, Reheatza's lid claims to shield food from direct exposure to these waves, while harnessing and channeling their energy to the base, where the food sits on top and is cooked liked a traditional skillet.
Seems like a compelling concept, right? But is there anything else quite like Reheatza?
Reheatza Microwave Grill vs. the Competition
While we didn't encounter anything exactly like the Reheatza Microwave Grill at the time of our research, we did find some other options that might deliver similar results. These included the:
Microhearth Grill Pan ($38)
Microwave Crisper Pan ($16)
Williams-Sonoma GoldTouch Pizza Crisper ($18)
KitchenAid Crisping Pan ($28)
How to choose the right one for you?
Not to sound like a broken record, but because microwaves excite the water molecules in food, areas with the highest moisture content will often heat the fastest. This is why your soup broth can be scalding hot, while the veggies floating around inside it are only lukewarm.
While Reheatza's manufacturer didn't provide any evidence that their lid actually shields food from microwaves that can lead to uneven heating like this, it appears the only materials that block electromagnetic waves are metals; namely, copper and nickel.
In fact, it's these metals that often line the interior of a microwave in order to ensure that its radiation doesn't escape and harm anyone else in the vicinity. Otherwise, your food wouldn't be the only thing cooking when you used a microwave!
As a result, it might make sense that the lid's primary purpose could be to help limit moisture loss as the water molecules are excited, resulting in moist food on top, with a crispy base created by the underlying pan.
Given everything we've discussed, where does this leave you as a consumer?
Our Final Thoughts & Observations About the Reheatza Microwave Crisper
As its name suggests, the Reheatza Microwave Crisper is designed to re-warm food, but not to cook it in the first place. As such, like the manufacturer claims, it will be limited to foods like pizza, toasted sandwiches, chicken wings, hamburgers, frozen foods, bacon, and grilled cheese sandwiches.
Outside of this consideration, if its lid really does block direct microwaves, while the base uses them to heat food above, we don't see why Reheatza couldn't deliver food with a crisp bottom and a top that retains moisture, both of which are difficult to accomplish using a microwave under normal circumstances.
Allstar Products Group stands behind Reheatza—like most of their offerings—with a 60-day refund policy, you'll lose a decent chunk of this in nonrefundable S&H charges when sending it back to the company if you're dissatisfied.
See Also: Guide to Different Types of Cookware Materials and Their Uses
The Reheatza is a great tool

The Reheatza is great. I use it for leftover pizza, fries, to warm pie, and it makes it taste just like you first brought it. I love my Reheatza, gave it for Christmas presents and they loved it too, so thank you Reheatza, I don't have to put my leftover pizza in the microwave. It doesn't taste the same.

Bottom Line: Yes, I would recommend this to a friend

---

Proud owner!

By Kenn Y.

,

San Francisco, CA

,

Sep 19, 2019
Verified Reviewer

Best chicken strips! In the oven, the chicken breast strips I like get hard enough to break a tooth. In the microwave, the come out feeling soggy and kind of wet. With the Reheatza, they were perfect. There has been a learning curve with respect to preparing my favorite items, but that could equally apply to a new grill or a new skillet.

Nachos fresh out of the Reheatza are superb. (Figured the recipe and heating time on my own.). Bacon came out good, and leftover pizza is just as they promise.

If my Reheatza fails after 6 months, I'm ok with that. I'll get another one. It will pay for itself because I do not throw as many leftovers away. Bummer if you purchased a defective unit. Just exchange for another one and try it again.

I'm getting another one for my office.

Bottom Line: Yes, I would recommend this to a friend

---

Advertisement

---

A winner in my book

By Scott C.

,

Fort Worth, TX

,

Apr 4, 2019
Verified Reviewer

I have had my Reheatza now for about a month and a half. Overall, I like it, and I would purchase another if found for the discount price of $15 at Walmart.

Pros:

- If used properly, it does what it says in my experience. It is for reheating, not for cooking, as others have said.

Cons:

- It can take some getting used to, figuring out how to best use it with your microwave. For me, I preheat it for 2 minutes, put my food in it, and then cook it for another minute. If the food is done, or close to done, I am done with it. The bottom is very hot, and will continue to cook the food after you are done microwaving.

- It is very inefficient - it uses a lot of power from the microwave to get it ready and to use it.

My recipe for pizza slices: Preheat for 2 minutes (no cover), cook pizza in it for 1 minute with cover, let rest for 30 seconds or so, then cook for another minute with the cover. Let it rest for a couple of minutes without the cover, and the pizza crust will be just right. If you don't let it rest for the 2 minutes, the bottom of the pizza will be OK, but the upper crust is soggy.

I have used it for catfish fillets, pizza, french fries, and even tried to make toast once (it did give a little browning of the bread, but it was like a crouton because I cooked it too long).

Bottom Line: Yes, I would recommend this to a friend

---

More than pleased

By Victoria D.

,

Delray, FL

,

Mar 17, 2019
Verified Reviewer

I bought this in Walmart on clearance for $15.00. So I figured that even if it was no good, I wouldn't be losing too much money.

First I cooked a frozen breaded fish fillet. Heated the bottom for 2 minutes and had to turn it more than the instructions said, but the end result was a crispy hot fillet, and I melted the cheese and even heated the bun! But the big surprise was when I reheated a Broccoli Rabe & Sausage on seeded Italian bread. I heated the base for four minutes and cooked it 2 minutes on each side covered. The bread was nice and crispy, and the filling was hot. My husband said the bread tasted just like it did when it came from the pizzeria. He said "Keep it." I definitely will!

Bottom Line: Yes, I would recommend this to a friend

---

Advertisement

---

Reheatza is a "no heatza"

By Michelle H.

,

New York

,

Oct 22, 2018
Verified Reviewer

I'm so not happy with the results of my Reheatza. I followed the directions to it T and the Reheatza is a "no heatza." It did not work. I'm taking this thing back so fast that my credit card is not even charged yet. It's downright awful. I suggest you don't buy it at all, don't waste your money. The Reheatza is a "no heatza."

Bottom Line: No, I would not recommend this to a friend

---

What's the trick?

By Tricia B.

,

St. Louis, MO

,

Sep 5, 2018
Verified Reviewer

I've tried this three times now and it's never performed as advertised. I bought two because I wanted to take one to work for leftover pizza. I always heat my leftover pizza in a toaster oven because I like the crisp crust. I don't have a toaster oven at work. Twice now, I've heated pizza and once, and fried ravioli. The crust comes out rubbery, flaccid, limp, exactly the opposite of it's advertised benefit. I preheated the pan for five minutes and set the timer for twice as long as I would without the Reheatza, and it still comes out rubbery. Once I tried the grilled cheese sandwich, I had it in the Reheatza for so long waiting for it to melt the cheese and crisp the bread, I may as well have fired up the stove! The Reheatza is a waste of money as it does not perform as advertised.

Bottom Line: No, I would not recommend this to a friend

---

I was excited

By Unhappy C.

,

South Africa

,

Aug 23, 2018
Verified Reviewer

I was so excited when I received my Reheatza, but alas, all I got was sparks, and that was without the lid as well. Who can tell me why?

I have read other people's reviews and am sad I couldn't even have a decent comment to make. My microwave is of sufficient size and the dish was turning.

Bottom Line: No, I would not recommend this to a friend

---

Takes some practice, but works great once mastered!

By Bruce L.

,

Denver, CO

,

Aug 21, 2018
Verified Reviewer

I've had mine for about a month now, and it has become one of my favorite gadgets. I keep one at the office to reheat my lunches when I have things like leftover pizza, steak, chops, etc. It is great to have a piece of meat out of the microwave that is heated (even crisped as I like it) on the outside without becoming more well-done and rubberized. Throw on some Texas Toast, which, contrary to other reviews, it makes crisp like off a griddle, and voila.

In my experience, grilled cheese sandwiches come out well if instructions are followed, many multiples of short bursts, with opening and flipping in between each, side but a little too labor intensive to make them an attractive option using it.

The one disappointment that doesn't really even rise to that level is when reheating pizza the crust can become a bit charred before the cheese gets to the consistency I prefer. I need to experiment more with timing and power levels, I guess. But on the positive side, the crust is crusty and doesn't acquire the consistency of a rubber doorstop.

I think the biggest endorsement is I'm considering getting a second one to store at home for quick reheating there too.

Bottom Line: Yes, I would recommend this to a friend

---

Coating comes off

By Brian S.

,

Aptos, CA

,

Jun 1, 2018
Verified Reviewer

I used the product several times and then noticed that the protective covering in the base unit was coming off. I thought that it might be a minor problem, but the flaking seems to occur with each use. Note: I am not using any metal utensils on the product, and I am keeping it clean between uses. I no longer use it.

Bottom Line: No, I would not recommend this to a friend

---

Does not crisp

By Jake Tills

,

Dallas, TX

,

May 20, 2018
Verified Reviewer

I have a 1200 W Microwave. I tried two minutes uncovered, then an additional three minutes uncovered. Then I tried the three minute time covered and no crisping. In fact, food was just slightly warm. I have given up and stored it away.

I do not recommend!

Bottom Line: No, I would not recommend this to a friend

---

It will do just its advertising claims, but takes a little more time than advertised.

I purchase the Reheatza from our local Kmart store. After bringing it home and reading the instructions, I went out to prepare my pizza and hot wings. First I had to heat the base of the Reheatza up for approximately 5 minutes, then I placed the pizza on the warming tray and covered it. I heated it again for another 5 minutes. I have already spent 10 minutes prepping and I let my pizza sit there for approximately 10 minutes until crisp. I set my wings in and I actually had to turn them as if they were in a frying pan.

So my conclusion is I can get the same out of my toaster oven in less time than I can with the Reheatza. I returned my item back to Kmart with a full refund. I'm really sorry, I really wished it to be a great item it's not all it's claimed to be.

Bottom Line: No, I would not recommend this to a friend

---