Rejuvenated Energy Reviews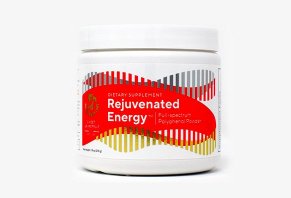 Rejuvenated Energy is a dietary health supplement that uses polyphenols and other ingredients, claiming to provide increased energy, reduced unwanted fat, and improved digestion.
What is Rejuvenated Energy?
What if a simple powdered formula could provide an abundant supply of natural energy when you needed it most? Rejuvenated Energy is a dietary supplement that claims to do just that, while also minimizing "brain fog" and promoting improved digestion. The makers of the product state that it can even lead to reduced unwanted belly fat as a result.
They go on to say that only 100% natural ingredients are used in its formulation, claiming to be made in an FDA-compliant facility in the US without any fillers, gluten, sugars, or artificial sweeteners. It is meant to be taken with water twice a day as a part of a balanced, healthy diet for best results.
The product seems to center around the use of polyphenols, which the company claims can hold numerous benefits such as sharper mental focus, better mood, a slimmed down body, and cleaner, longer-lasting energy. Before delving deeper into the full ingredient list, let's quickly unpack what these chemicals are, and why they seem to be so crucial to the product at hand.
Understanding Polyphenols
Put simply, polyphenols are a powerful form of phytochemicals, substances found naturally in plant sources. There are over 8,000 that we know of today, with thousands more likely waiting to be discovered.
According to Mercola, these chemicals have antioxidant properties, meaning that they play an important role in your overall health by protecting the cells in your body from damage caused by free radicals, which in turn can slow down the aging process.
There are multiple sub-types of polyphenols, which are commonly found in foods such as vegetables, fruits, legumes, red wine, and green tea. Rejuvenated Energy claims to use many ingredients that have high concentrations of the substance. We'll get to this in a moment, but first, what do authoritative sources say about polyphenol supplementation in general?
As it turns out, several research studies have found that while supplements can be a great way to get large amounts of polyphenols into the body, too much of them can actually hold some negative effects, such as iron depletion in those with already low stores, interference with thyroid hormone metabolism, and various interactions with prescription drugs.
In addition, the substances are fat soluble, meaning that taking them with fats is the best way for the body to absorb them. Following this logic, a polyphenol supplement like Rejuvenated Energy that is meant to be taken with water may not be absorbed as easily as eating actual whole foods rich in the chemicals. Of course, to their credit, the makers of the product at hand recommend taking it with a meal, potentially negating this.
Now, back to the formula; what's inside Rejuvenated Energy?
Rejuvenated Energy Formula Ingredients
On the product's website, we're shown that the Rejuvenated Energy formula includes a large mix of different natural ingredients. No dosage information is listed, but we reached out to customer service, who promptly provided us with the full nutrition facts of the product.
Since the formula is broken down into four individual components, we felt it would be helpful if we did the same here, starting with the primary polyphenol blend:
Slimming Polyphenol Blend
This 700 mg group includes a mix of polyphenolic compounds stemming from the following individual ingredients:
Blood orange
Grapefruit
Sweet Orange
Guarana berries
The specific patented mix is called Sinetrol, and one clinical study shows that while no adverse effects were found with this specific blend, researchers concluded that the mixture was "a viable option for reducing abdominal fat, waist and hip circumference, and body weight and for improving inflammatory, glycemic, and oxidative status in healthy overweight individuals."
Additional studies such as this one and this one corroborate this information, showing that Sinetrol does indeed play a role in helping to manage weight levels, while a final study reveals that it may also reduce the likelihood of developing cardiovascular issues.
Key Takeaway: Sinetrol appears to have multiple corroborative clinical ties to weight management, as well as a number of heart-healthy benefits as well.
Full Antioxidant Blend
The 50 mg antioxidant blend includes the following natural substances:
Apples
Carrot
Cherries
Blueberry
Raspberry
Kale
Broccoli
As we mentioned earlier, antioxidants have been widely shown to play a significant role in your overall health by fighting the damaging effects of free radicals, which have been linked to cancer, Parkinson's disease, Alzheimer's disease, and many other serious issues with the body.
Fresh vegetables and fruits are often cited as being some of the best sources of a wide variety of antioxidants.
Key Takeaway: Antioxidants have a wealth of scientific evidence pointing towards their health benefits, and the ingredients listed above are all high in various types of the chemical, further reinforcing the company's primary claims.
Enhanced Digestive Blend
In this blend, we're shown that the following probiotic ingredients are used:
Lactobacillus Acidophilus
Bifidobacterium Bifidum
Bifidobacterium Longum
Streptococcus Thermophilus
Lactobacillus Bulgaricus
Lactobacillus Paracasei
Bromelain
Gum Acacia
While some preliminary evidence has shown that certain probiotic strains have potential for preventing diarrhea caused by infections, as well as for improving symptoms of irritable bowel syndrome, the National Institute of Health states that not enough clinical data is available to provide a comprehensive list of known benefits.
Key Takeaway: Thought this digestive blend does hold some promise for improving digestion, we didn't encounter substantial clinical evidence that they are able to provide any specific, measurable benefit as they appear in the product's formula.
Energizing Tea Blend
Finally, this 125 mg blend includes just two ingredients; green tea extract and black tea extract. Green tea has a well-documented list of positive effects on the body, including its ability to improve blood flow and lower cholesterol numbers. It can also help support the heart directly, reducing blood pressure and incidents of congestive heart failure.
Both green and black tea include caffeine in them, contributing to their energizing nature, and they are both packed with polyphenols as well. WebMD reports that black tea seems to reduce the risk of ovarian cancer in women who drink it regularly.
Key Takeaway: Both green and black teas hold various health benefits, and the included caffeine found within the substances can provide an energizing boost when you need it most, as the makers of Rejuvenated Energy claim.
Potential Rejuvenated Energy Side Effects
Based on information taken from Drugs.com, WebMD, and Examine.com, we didn't encounter any serious side effects being associated with the ingredients mentioned above, except for isolated cases of infections from probiotics amongst already-ill individuals.
That said, if you are ever concerned about any potential interactions with current medications, we'd recommend visiting with your doctor before taking any particular supplement for the first time.
Rejuvenated Energy Pricing & Return Policy
As of this writing, Rejuvenated Energy seemed to be available exclusively online through the manufacturer's main webpage. It is sold in three main packages:
One jar (30-day supply) - $79.95
Three jars (90-day supply) - $239.85
Six jars (189-day supply) - $479.70
As for the return policy, the website states that each order is covered by a comprehensive, no-questions-asked 90-day guarantee. You'll need to contact the company to initiate this process, which as of this writing was only possible using the instant chat function on their main website.
Rejuvenated Energy vs. Similar Polyphenol Powders
Rejuvenated Energy seems to use a large, unique formulation of ingredients to achieve the results described by its makers, but are there other products on the market offering something similar?
During our research, we were actually able to find a wide variety of different polyphenol-based powders available online, including dozens sold from Amazon.com. Of these, the three most similar to the product in question we encountered were RealReds, Super Food Vital Reds, and Macro Life Miracle Reds. We've also reported on another popular product featuring similar claims, Vital Reds by Gundry MD.
All of these products included common ingredients also found in Rejuvenated Energy, such as blueberry, carrot, and several different strains of probiotics. Their individual formulas varied mostly in terms of which specific vegetables and fruits they included, as well as whether or not they had caffeine.
All three of these products (as well as the majority of those we encountered online) were priced below Rejuvenated Energy's $79.95 starting fee for a 30-day supply, even dipping as low as $29.95 in one case (Macro Life). In addition, they all featured numerous reviews on Amazon, the majority of which were positive depictions of how they affected users across the board.
Ultimately, choosing the right product will come down to determining which potential effects you are most interested in. For instance, if you are looking for something specifically to provide energy, a formulation that includes an energizing element (caffeine) like Rejuvenated Energy may be ideal. On the other hand, if you are focused on digestive health or antioxidants alone, you may be able to find a suitable solution for less money overall.
The Bottom Line: Is Rejuvenated Energy for You?
We've learned a lot about Rejuvenated Energy and its formulation, so let's recap what we know. For one, the product utilizes a wide spectrum of ingredients, from polyphenols and other antioxidants to a variety of probiotic substances, all of which add up to what the company claims will be an effective way for you to increase your energy, manage your weight, and improve your digestion while minimizing brain fog.
Polyphenols are at the core of most of these claims, and based on the information we gathered from authoritative sources and clinical trials, it certainly does appear that they have the potential to exhibit far-reaching health benefits for all of us, including improved mood, better regulation of gut bacteria, weight management, and decreased risk of cardiovascular disease.
As far as the central claim of increasing your natural energy levels, one could reason that the caffeine content stemming from the 125 mg black and green tea extract blend would provide this, especially when coupled with the mood-enhancing effects mentioned above. Of course, your individual experience may vary based on a number of factors, including your specific caffeine tolerance.
Having said all of this, we were able to find a number of alternatives to the product that included many of the same (or nutritionally similar) ingredients, and for lower prices on Amazon and elsewhere. As we mentioned above, deciding whether or not Rejuvenated Energy is right for you will likely come down to what you are looking for in a product of this nature, as well as your doctor's advice based on your individual dietary needs.
If you find that its mix of naturally energizing ingredients, polyphenols, and probiotics fits the bill, be sure to keep the 90-day return policy in mind going into a potential purchase of Rejuvenated Energy. Should you determine that it isn't what you were looking for, you'll be able to return it and try out one of the many other formulations on the market today.