Relizen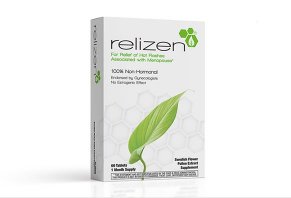 Relizen is a plant-based, hormone-free way for women to manage the symptoms of menopause, primarily hot flashes.
Relizen Review - Ideal For Managing Menopause Symptoms or Hype?
Relizen brands itself as a hormone-free way for women to combat the symptoms of menopause, especially hot flashes.
Launched in Europe by JDS Health in 1995, Relizen entered the U.S. market in 2014 and is now considered an industry leader for safe and natural hot flash treatment. The supplement relies on a proprietary blend of flower pollen extract that is cultivated in southern Sweden, and it purportedly helps women experience fewer hot flashes without impacting their estrogen levels.
The United States FDA hasn't approved Relizen because it is a plant-based supplement, but the product website states that it is endorsed by 5,500 health professionals and has been used successfully by over a million women in Europe.
Will Relizen work for you? In this article, we will discuss how the product works, its ingredients' efficacy and whether this product is right for you. Stick around.
How Does Relizen Claim to Work?
While menopause is a natural part of aging, numerous products have entered the market in recent years to help women better cope.
WebMD tells us that over 66 percent of menopausal North American women experience hot flashes, and they often lead to unpleasant symptoms like profuse sweating and a rapid heartbeat.
While the National Institutes of Health tells us experts are still unsure about what causes hot flashes, many believe they are linked to changes in circulation. Likewise, Relizen's website makes it clear the company doesn't completely understand how it works.
Their primary hypothesis is that the Swedish pollen the supplement contains has a mild mood-boosting effect on the brain's hypothalamus, which is the region responsible for internal balance. In this way, moderating the functioning of the hypothalamus can help women better regulate their body temperature and reduce their risk of experiencing a hot flash.
Will Relizen work for other menopause symptoms? Relizen conducted a survey of more than 400 women who took the supplement and found that it reduced the frequency of night sweats by 66%, improved participants quality of life by 47% and decreased fatigue and irritability by over 50%.
How Long Until You See Results?
Relizen's parent company makes it clear that the supplement won't provide immediate relief.
Instead, their clinical evidence shows you may need to take two capsules daily for at least two or three months before the results become noticeable, though some women experience positive effects in as few as two weeks. The company states that this is because the active ingredients in Relizen become more effective when they build up in the body over time.
Which Are The Ingredients?
The company website tells us that Relizen's active ingredient is Sérélys®, a proprietary Swedish flower pollen extract.
'One serving size (two tablets) contains 320 mg of Sérélys® as well as the following inactive ingredients:
Isomalt
Maltodextrin
Microcrystalline cellulose
Acacia
Magnesium stearate
D-α-tocopheryl (antioxidant)
HPMC
Silica
Polysorbate.
While Sérélys® was initially developed for use in male enhancement products because it works to improve urine flow and improve prostate health, the product is primarily used for menopause relief today. When women take it, the compound mimic's estrogens effects which consequently eases the symptoms and discomfort of menopause.
A cursory look at the Relizen's inactive ingredients didn't raise any red flags for us, as they are primarily used as emulsifiers, bulking agents, lubricants, and natural fiber sources. We couldn't find any links to potential side effects at the doses that come in Relizen capsules.
It's important to note what Relizen doesn't contain phytoestrogens like soy, black cohosh, or red clover. That's critical, as Healthline and Medical News Today tells us that phytoestrogens are linked with a higher risk of breast cancer, uterine fibroids, endometriosis, and even obesity. By staying clear of these compounds, Relizen claims, women can achieve side-effect free relief from menopause.
What Is The Cost?
Relizen was only available through the brand's website at the time of writing. The company offered two purchase options at the time of writing: a one-time purchase for $50 plus $5 for shipping, and a monthly subscription for $35 with no shipping charge. Each purchase provides 60 capsules, which is a 30-day supply for most women.
Because it is classified as a dietary supplement (not a prescription drug), you can purchase it without speaking with your doctor- though we wouldn't recommend it. As with any supplement, it's best to seek out a professional opinion before you begin.
Return and Cancelation Policy
At the time of writing, Relizen's website states that you can cancel your subscription at any time through your online account by contacting the company directly by phone at 855-735-4936, through email at support@relizen.com, or through the company contact page. You must cancel at least five business days before the next processing date to prevent the next billing cycle's charge.
Returns and refunds aren't available for Relizen, and the company only offers replacements for defective products that are sold from authorized sellers.
What Products are Similar to Relizen?
Many women are looking for hormone-free solutions to menopause, which means that numerous products claim to offer the same relief as Relizen.
We made the following chart to provide a comparison between three popular options: Relizen, Amberen, and Estroven.
| | | | |
| --- | --- | --- | --- |
| | Relizen | Amberen | Estroven |
| Cost Per Month | $50 per box, $35 with subscription | $30-$50 per box, subscription available for $30 per box | $16.98 for four-week supply |
| Subscription Available? | Yes | Yes | Yes |
| Active Ingredients | Sérélys (Swedish pollen extract) | Ammonium succinate, calcium disuccinate, magnesium disuccinate, zinc difumarate, glycine, monosodium L-glutamate, vitamin E | Soy isoflavones, black cohosh, herbal energy proprietary blend |
| Phytoestrogen Free? | Yes | Yes | No |
| Hormone-Free? | Yes | Yes | Yes |
| Target Use | Prevents and relieves hot flashes | Relieves up to twelve menopause symptoms | Manages hot flashes, night sweats, and fatigue |
Looking through the details of these three menopause solutions, we noticed numerous similarities between them. All three promise to use a blend of natural ingredients to keep the most debilitating symptoms in check, especially hot flashes.
Their active ingredients are what makes the three supplements the most different from each other.
Relizen relies on flower pollen, while Amberen is branded as a non-herbal supplement that uses a proprietary blend of succinates, vitamins, minerals, and amino acids to stimulate the body to produce more hormones.
Estroven is the only menopause supplement we looked at that contains phytoestrogens (soy isoflavones and black cohosh). As previously stated, there are potential health concerns associated with these products that should be considered carefully before committing.
Pricewise, Relizen and Amberen are relatively comparable, as both products will cost about $50 for a monthly supply, and $30- $35 for a subscription. Estroven comes in at the lowest monthly price, as we saw it listed for just $16.98 on the company website at the time of writing.
So, what's the best way to relieve your menopausal symptoms? It's important to remember that menopause is a natural part of the aging process, and many of its health effects are relatively inevitable. For many people, the best way to avoid hot flashes and menopausal fatigue might be to live a healthier lifestyle by eating a well-balanced diet, quitting smoking, and losing weight.
It's also smart to practice relaxation techniques like yoga or meditation to keep you centered and to treat the symptoms of hot flashes by staying hydrated and carrying a handheld fan or small spray bottle to cool yourself down when they happen.
Customer Reviews of Relizen
We looked at Relizen customer reviews from Amazon and the company website to see what the consensus was from previous users.
We found that Relizen ranks high on both sites, as users awarded it 3.5 stars on Amazon after 50 reviews and four stars on the company website after 200. The comments we read showed that many reviewers found the supplement beneficial, especially when they used it consistently for three months and longer.
Numerous people also mentioned that they recommended the product to their friends who experienced similar results. In the same way, many users stated that their primary care doctor suggested they use Relizen, which is how they first learned about it.
However, other reviewers wrote that they didn't think the supplement made a difference for them, or that the benefits were too subtle to justify the medication's price. Many concluded that Relizen wasn't quite the magic cure for menopause they initially thought it was, but that the stated benefits were achievable.
Our View: Should You Try Relizen?
Looking through the evidence, does Relizen make sense for menopause relief? This hormone-free herbal supplement has been used in Europe for two decades, and it's endorsed by thousands of doctors in the United States as well.
While the research isn't conclusive as to why Swedish flower pollen (Relizen's active ingredient) works, the company has published numerous studies and surveys that show that the majority of the women tested responded well to it.
There isn't much peer-reviewed published research available that we could find on the efficacy of flower pollen for menopause. However, the customer reviews we read on Amazon and the company website showed that many women are happy with the product.
Should you consider trying Relizen? This menopause solution is free of phytoestrogen, so you're unlikely to experience any adverse side effects from using it. Saying that, the company suggests committing to the product for at least two or three months so that the active compounds have time to build up in your system.
For this reason, it's likely smartest to commit to a Relizen subscription if you're interested in trying this supplement. You'll save $15 per box, and you can cancel the subscription at any time if the product isn't working for you.
Relizen for hot flashes

By Emiliana S.

,

Maryland

,

Sep 25, 2019
Verified Reviewer

Relizen was recommended to me by a friend who swore it worked for her hot flashes within the first month. I signed up for a monthly subscription of $35. The advice given is that it may take up to 3 months for some people to get relief from hot flashes. I did not get any relief the first month, so I continued hoping to get rid of my hot flashes by the 3rd month. I have been taking Relizen for 4 months and there is absolutely no relief from hot flashes at all! I would give zero stars if it was possible. So, Relizen DOES NOT WORK and I WOULD NOT RECOMMEND to anyone ever!

Bottom Line: No, I would not recommend this to a friend

---

Love it!

By Cheryl T.

,

Dallas, TX

,

Mar 6, 2019
Verified Reviewer

This product has done wonders for me! I have been looking for a product to help my hot flashes, but I am scared to take hormones. My doctor recommended this to me because she uses it. It's really made a big difference, especially at night. I was waking up sopping wet and this has helped that from happening. You need to take for at least a month before you really feel anything.

Bottom Line: Yes, I would recommend this to a friend

---

Advertisement

---

Didn't work

By Madison B.

,

Asheville, NC

,

Feb 21, 2019
Verified Reviewer

I tried Relizen for a month, hoping this one would work finally. I have been suffering with hot flashes for 15 years and nothing works. Same old story, no relief at all from my symptoms.

Bottom Line: No, I would not recommend this to a friend

---