Renumax Reviews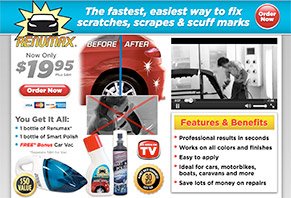 Renumax is a new paste that uses BFGoodrich Carbopol to quickly and easily help get rid of superficial scratches, scrapes, and scuff marks from your car.
About Renumax
Using a proprietary formula that fills your car's superficial scratches, scrapes, and scuff marks with tiny micro-particles, Renumax Scratch Remover goes on quick and can help you avoid expensive sanding, polishing, or buffing. In fact, the company claims Renumax can provide professional results in seconds, whether you own a car, motorcycle, boat, RV, and more.
To use Renumax, you just have to follow these simple steps:
Shake the bottle of Renumax.
Apply the formula directly to the scratched area. This is accomplished using a convenient applicator sponge that spreads the formula easily over a wide area—even curved surfaces.
Allow time to dry, which should only take minutes.
Use a microfiber cloth to remove excess liquid or residue.
Then, regardless of your car's color or finish, the company claims Renumax will do all the work and provide a "smooth clean shine that protects your car for years."
As our cars get used and abused over the years, all the small scratches and scrapes can really add up, making them look almost as bad as if they were in an accident. The difference is that these smalls scuffs don't really warrant an expensive trip to the body shop, so a product like Renumax makes perfect sense: help your car look better for a lot less!
Is this what you can expect, though? Will Renumax give you similar results to a body shop? Will it even work at all? And is it worth rolling the dice? We're here to keep you informed, so we'll cover all of this—and more.
How Does Renumax Work? Is It Unique?
Nowhere on the Renumax website or in the commercial are we told what Renumax's "proprietary formula" actually contains, so there's no way to know exactly how it works.
Fortunately, there are several products out there just like Renumax, including popular options like Scratch-dini and Scratch Away. All of these products use a substance known as BFGoodrich Carbopol resin, a "registered trademark for a series of polyacrylic acids used as gelling agents" which are "are white, fluffy powders." We're not told exactly how these substances work to fill in surface scratches on cars, but a company press release from 1998 claimed they're "used as thickeners, stabilizers and emulsifiers in a wide range of personal care, household, textile, industrial and coatings applications and are also used as excipients in pharmaceuticals."
Is this what's contained in Renumax? If so, then it's only proprietary to BFGoodrich, and not to Renumax's manufacturer.
Regardless of who makes it or how it works, what can you realistically expect from the Carbopol resin found in Renumax?
Will Renumax Work as Advertised?
Here on HighYa, Scratch-dini had a 1.4-star average rating from 66 customers at the time of our research, most of which complained that it didn't work as advertised (or at all). In fact, more than one reader noted that Scratch-dini actually made scrapes and scratches even more noticeable.
Granted, it doesn't matter which Carbopol-containing product we're talking about, most customers complain of the same thing. Does this necessarily mean you'll experience something similar with Renumax? We didn't test the product directly so there's no way to be sure, although we think this other customer feedback is worth considering strongly before placing an order.
Pro tip: Just remember that products like Renumax only work on superficial imperfections, which generally means they haven't made it past your car's clear coat. Anything deeper and you'll definitely need to enlist the help of a professional body shop.
Next, let's talk about price.
How Much Does Renumax Cost?
One bottle of Renumax will cost you $19.95, plus $13.95 S&H. For this price, you'll receive one bottle of Renumax and one bottle of Smart Polish (based on all appearances, this seems to be similar to Armor All).
Also included with your order is a "free" bonus car vacuum, for which you'll have to pay an additional $13.95 S&H.
All Renumax orders come with a 30-day refund policy, less S&H charges (we'll talk more about this next). In order to request a refund, you'll need to contact customer service.
Important note: There wasn't any contact information listed on the Renumax website at the time of our research, so we'll keep checking back and will update this review once it's posted.
Running the Numbers: Putting Renumax's Cost Into Perspective
Before wrapping things up, it's important here to really drive home Renumax's price in comparison to its value. Let's lay it out, shall we?
There's no mention how big Renumax's bottle is, but based on pictures shown on their website, it could probably fit in the palm of most adults' hands. The smart polish appears to be even less bulky.
The point is that Renumax's manufacturer will charge you almost $14 in shipping for a couple items that probably don't weigh much more than a pound. In addition, while a car vacuum might come in handy, the company's forcing you to purchase theirs (instead of exploring other options on your own and making a more informed purchase) and charging you an additional $14 for the privilege.
To top it all off, the nearly $28 you spend in S&H charges—40% more than the cost of the product itself—is non-refundable if you're not satisfied. In fact, by the time you ship it all back to the company, you end up losing $10+ more in S&H than what you'll get back as a refund.
Pro tip: The Renumax website didn't indicate if your order will come with a microfiber cloth, so be sure to factor this into your overall cost as well.
By the time you check out, due to Renumax's S&H charges, the final cost may end being a bit more than you were originally expecting.
But is your satisfaction with Renumax all about price?
Will Renumax Renew Your Car's Paint Job?
Even Renumax cost twice as much, you'd probably still buy it as long as it worked as advertised, right? After all, who wouldn't want to get rid of unsightly scratches and scuffs on their car, without paying an expensive body shop to do it for them?
However, considering that there are at least 2 other products currently on the market that are essentially identical to Renumax—neither of which come with high marks from customers, this could speak volumes about what you might expect to experience. On top of this, you'll pay almost $30 in non-refundable S&H on your Renumax order, which could be a big stumbling block from an overall value perspective.
Based on these two factors, a wise (and money conscious) choice might be to explore local Carbopol resin options before placing your Renumax order. Why? Although they might work equally well as Renumax, you could save yourself a boatload in S&H charges—especially if you're not satisfied and decide to process a return.
2 out 3 people found this review helpful

Not working

By Siba N.

,

Pune, India

,

Jul 12, 2019
Verified Reviewer

I brought it in Rs 999 and it is not working. I called customer care to return but the number is also not working.

Don't buy it. They are showing the wrong information on Facebook.

Very very poor, poor product. I lost my 999 rupees.

Bottom Line: No, I would not recommend this to a friend

---

3 out 3 people found this review helpful

Scam

By Helen O.

,

Los Angeles, CA

,

Jun 12, 2019
Verified Reviewer

Even superficial scratches not removed. Fluid didn't flow out the bottle. Sponge easily broken. Had to punch hole. Tried to polish it but didn't even give a shine. Waste of money and time.

Bottom Line: No, I would not recommend this to a friend

---

Advertisement

---

5 out 5 people found this review helpful

Renumax scratch remover SCAM

By Robert S.

,

Sydney, Australia

,

Jan 21, 2019
Verified Reviewer

It seems that myself and many others have been duped by a company selling this product. Like all, I saw an ad on TV and Facebook and thought how good is this initially going to save several hundreds of dollars eh! BUT OMG, how wrong can one be and easily taken by FALSE advertising. I took the product to my smash repair people to try and give me a review, well I can't repeat here what I was told, it was so bad. I returned the product to place of purchase (Woolworths Big W) only to be told "you're the first to complain." Needless to say, I like many others would like to see this company taken down and all purchases refunded to me. I cannot give a negative rating so only one star.

Bottom Line: No, I would not recommend this to a friend

---

11 out 12 people found this review helpful

Waste of money

By Dewald M.

,

London, England

,

Nov 27, 2018
Verified Reviewer

I bought this stuff to remove a scratch on my car. I had very high hopes after seeing the advert. I followed the instructions very carefully. Once I treated the scratch, I also used it on all the small hairline scratches on my car. Nothing happened. It made no difference to even the smallest little mark. I tried to contact the company, but surprise surprise, you can't find their contact details. This product is s total scam. Don't waste your money.

Bottom Line: No, I would not recommend this to a friend

---

Advertisement

---

12 out 12 people found this review helpful

No good

By Robin A.

,

Melbourne, Australia

,

Aug 10, 2018
Verified Reviewer

This stuff is a load of rubbish, and I cannot understand why Big W put it on its shelf, do they need the money that bad that they are starting to sell rubbish? Tomorrow I take it back and see if I can get my money back. It will be interesting. No zero in the rating here, I wonder why.

Bottom Line: No, I would not recommend this to a friend

---

11 out 11 people found this review helpful

What a scam!

By Jack H.

,

Jul 3, 2018
Verified Reviewer

Too bad I cannot give zero stars. This company should be shut down for outright fraud. How many people got conned I wonder?

Biggest crock of crap ever. Mine came from France, but does anyone know if that's where the company is located?

Bottom Line: No, I would not recommend this to a friend

---

11 out 11 people found this review helpful

Renumax outcome

By Randy C.

,

New York

,

Jun 30, 2018
Verified Reviewer

I purchased Renumax from a Facebook ad. I received it in six days. I tried it out on scratches I have, which were at coat depth of the paint.

The outcome was it did not work at all. Very disappointing. It may be somewhat successful in very thin swirl scratches but still does not work like advertised.

This product needs to be reported to the BBB.

I recommend: DO NOT BUY!

Bottom Line: No, I would not recommend this to a friend

---

9 out 9 people found this review helpful

Not worth the money

By Colin H.

,

Wales, United Kingdom

,

Jun 20, 2018
Verified Reviewer

After watching the ad on Facebook, I sent for one. When it arrived, I tried it on my daughter's car, which had a light scratch on the door. I applied it onto the scratch like in the ad, waited, and the scratch was still there. What a waste of £31.00. It did not work. The ad must be a fake as it did not work for me, and my scratch was not as bard as the ones in the ad. Very unsatisfied with the product.

Bottom Line: No, I would not recommend this to a friend

---

11 out 11 people found this review helpful

Do not buy

Waste of time and money. It did nothing at all. It took so long to be delivered and poor customer service after sales. I totally regret buying without checking the reviews.

Bottom Line: No, I would not recommend this to a friend

---

12 out 12 people found this review helpful

Crap product

Other than a chalky film on the car, this product did absolutely nothing. Total crap! It took weeks to deliver, and now I'm sorry it ever came and I ever wasted my money. It barely covered the minor scratches, after drying they were still visible. Does nothing for deep scratches.

Bottom Line: No, I would not recommend this to a friend

---

11 out 11 people found this review helpful

The most misleading ad ever

By Paul Jones

,

Florida

,

May 4, 2018
Verified Reviewer

I bought the Renumax for small scratches on my red Camry. Not only did the product not even attempt to remove the scratch, it did not even MASK it temporarily. It is simply the worst most misleading product I have used or bought. It does absolutely nothing! Just a terrible product. These people need to be sued!

Bottom Line: No, I would not recommend this to a friend

---