Reputation.com Reviews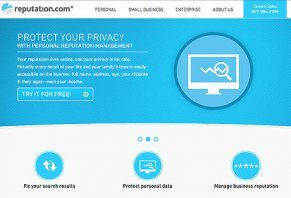 Reputation.com is an online reputation management company that specializes in helping individuals and businesses manage the information that appears about them on the internet.
About Reputation.com
Reputation.com specializes in online reputation management services that can help individuals and businesses manage "inaccurate, misleading, or outdated material" that appears about them on the internet.
Due to their popularity, the company claims that its services have been featured on MSNBC, ABC News, Fox News, and more.
Reputation.com was originally founded in 2006 as ReputationDefender, though the Redwood City, CA-based company changed its name to the current incarnation in 2010.
The company appears to have a mostly positive online reputation, with an A+ Better Business Bureau rating, and 23 closed complaints over the past three years.
Based on our research, the most common complaints related to Reputation.com appear to reference high price, and that results were not what was expected. However, the company does appear to respond to customer complaints quickly.
How Reputation.com Works
Reputation.com specializes in Online Reputation Management, also known as ORM, which is essentially helping "people and businesses look their best on the internet."
The company claims to own several technology patents related to ORM, which can help to fix search results, protect personal data, and to manage your business's reputation.
Each of these services is available across several different packages:
Personal Reputation Packages
Search results – Uses proprietary techniques to push positive content about you to the first page of search engines, thereby suppressing "misleading, outdated, or inaccurate" content.

Privacy – Helps "hide your personal data from prying eyes" by giving you a clearer understanding of what information is available about you online, and then allowing you to select what should be removed.

ExecutivePrivacy – Similar to the Privacy program, but specifically tailored toward those who are executives, VIPs, or those who have attained a level of prominence. Whether you choose the ExecutivePrivacy or ExecutivePrivacy Plus packages, your privacy concierge will remove any unwanted information from the internet.

Boutique services – A custom experience based on your specific needs.
Small Business Reputation Packages
Reviews and social – Helps put your business's best face forward by increasing the number of legitimate online customer reviews, operating personalized landing pages, increasing your social media presence, and more. Available in Gold and Platinum packages.

Search results – Similar to the Personal search results option, but tailored to your business.

Multi-location – Tools that can simplify your business's reputation management by allowing you to access all online reviews from one interface, increase the number of positive online reviews, streamline social media management, and more.
Enterprise Reputation Packages
Reviews – Many of the same tools available in the Multi-location package.

Social – Allows you to review your business's social media presence, including the ability to post updates from a dynamic content library, analyze data, and more.

Kiosks – Custom kiosks for tablet devices designed for in-store use.

Business Listings – For store-based businesses, this service maximizes local search visibility, automatically updates the contact information (e.g. phone numbers, email addresses, URLs, etc.), and more.

Analytics – Detailed reports and "customized analyses" of your website's traffic.
Whichever package you choose, Reputation.com claims to provide you with quality, custom content in the form of third-person biographies, each of which is written to your specifications, and approved by you prior to publishing.
All content is strategically placed for maximum impact and includes blogs, landing pages, and more. In addition, you'll be assigned a personal Reputation Advisor who can act as a primary contact point in order to help ensure that the process goes smoothly.
Reputation.com Pricing and Refund Policy
Services provided by Reputation.com are priced according to numerous factors, including the level of unwanted content that requires suppression, how many people are searching for you, and the level of competition for your name and/or industry.
As such, you'll need to contact the company directly at 877-910-8252 for a free consultation. With this in mind, according to this article, prices range "from around $5 a month to more detailed services for business customers that can cost as much as $10,000 a year."
According to Reputation.com's User Agreement, all fees paid to the company are non-refundable. Also, keep in mind that most Reputation.com services are provided on an auto-renewal basis. If you wish to cancel prior to your renewal, you'll need to contact customer service.
Pros
Comprehensive online reputation management solutions for individuals and businesses
Numerous packages and services to choose from
Pricing is based on your specific needs
Cons
Packages can be expensive, and results are not guaranteed
Auto-renewals
No refunds are available
The Bottom Line
Overall, Reputation.com appears to provide a very high level of customer satisfaction, with very few complaints found during our research.
While the company's patented technology and proprietary methods have shown to be effective, you can pay a lot for their services, and results are not guaranteed.
As such, if you're simply trying to promote yourself or your business, you'll probably be better served by less expensive methods.
However, if you've been the victim of false reporting, slander, or anything else that may affect your reputation or your livelihood, the price you pay may meet (or exceed) what you get in return.