Research Verified Reviews
Claimed This company has claimed this profile, is getting alerted on any new customer reviews entering this page, and may engage in dialogue with its customers to address their matters.

Companies cannot pay money or provide goods in order to remove or alter customer reviews.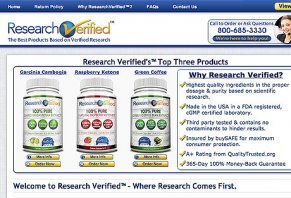 Research Verified is a dietary supplements manufacturer that claims to formulate products with only the highest quality ingredients that are backed by clinical research.
About Research Verified
If you're worried about buying less-than-stellar products online, Research Verified promises to sell only high-quality supplements that are GMP certified, third-party tested, and include the same pure ingredients (and dosages) found in clinical studies.
On top of this, their site indicates their products are reasonably priced, have the verified research and science to back them up, and "exceed industry standards on multiple fronts." All of which we're told is aimed at helping you get the most effective product on the market, hands down.
You're here because you want to know if Research Verified's supplements are worth your hard-earned money. To help you come to your own conclusion, we'll discuss everything we learned during our research, starting with the company's lineup.
Which Products Does Research Verified Offer?
According to the Research Verified website, most supplements don't contain the proper dosage or potency needed to achieve effective results, and most are not backed up by clinical research.
To combat this, the company currently manufactures a line of 40 products promoted to address everything from anxiety and varicose veins to bad breath and scar repair. According to their homepage, some of the more popular options are:
Garcinia Cambogia – Contains 1,600mg of GC and 95% hydroxycitric acid (HCA) per dose, which is claimed to aid in the loss of visceral fat.
Forskolin Extract – 500mg of standardized forskolin root extract, which the company tells us, could help you burn fat.
Turmeric – An extract that contains 1,000mg of Turmeric Curcumin Complex per dose, with 95% curcuminoids, to potentially help improve mood.
Green Coffee – 800mg of green coffee bean extract per serving, with 50% chlorogenic acid, which some research indicates may help aid in fat loss.
Raspberry Ketone – A weight loss supplement produced from actual raspberries, this 1,000mg per-dose extract is claimed to increase your body's production of adiponectin, which may provide weight loss benefits.
Nitric Oxide Booster – A blend of l-arginine (AAKG), l-citrulline, beetroot extract, pycnogenol, quercetin, pine bark, fenugreek extract, eurycoma longifolia extract, oat extract, and tribulus terrestris. Research Verified promises this may increase testosterone and adrenaline levels, enhance endurance, help you achieve lean muscle mass, and improve recovery following workouts.
Hair Growth – A dual action formula containing a blend of 21 ingredients, some of which the company claims have been shown in clinical studies to help reverse hair loss.
Omega-3 – A blend of omega-3 fatty acids, including EPA and DHA that have been shown in some clinical trials to provide a variety of benefits, including improved cardiovascular and cognitive health.
Phytoceramides – Uses a combination of vitamin A, C, D, and E, along with 350mg of phytoceramides from wheat, claiming it may help "erase the signs of aging."
Thyroid Aid – 16 ingredients the company claims can "help address symptoms associated with poor functioning thyroid and hypothyroidism."
If you have any questions about Research Verified products, the company claims to have registered nurses on staff to answer them.
Now, what will you pay for these products?
How Much Do Research Verified Supplements Cost?
Research Verified supplements are only available directly through the company, and are priced as follows:
Garcinia Cambogia: $33-$48 per bottle, depending on quantity ordered
All Other Products: $24-$48 per bottle, depending on amount ordered
Shipping costs range between free and $36.95, depending on the specific product, the quantity (e.g. alone or as part of a package), and parcel speed (e.g. Standard, Express, etc.).
When checking out, you'll also have the opportunity to add 7-Day Colon Cleanse for $12, and/or White Kidney Bean Carb Blocker for $15.
7-Day Colon Cleanse is a blend of 19 ingredients (including fennel, Cascara Sagrada, ginger, senna, and rhubarb) that promise to "maintain a clean, fully functional colon for a healthy, active lifestyle." Comparatively, White Kidney Bean Carb Blocker, a blend of chromium, white kidney beans, and chitosan, promises to help potentially lose fat, without the associated muscle loss.
All Research Verified products—whether they're empty, open, or unused—come with a one-year, 100% money back guarantee, less shipping and handling charges.
In order to begin the refund process, the company claims that you simply need to contact customer service at (800) 685-3330, at support@researchverified.com, or fill out an online contact form.
Unlike many other nutritional supplements manufacturers, Research Verified does not sign you up for any sort of autoship program. This means that you won't receive any additional products until you physically place another order.
Based on these prices, are customers reporting solid values for Research Verified's products?
What Can We Learn from Research Verified's Consumer Reviews?
Since writing our original article, more than 62 HighYa readers had provided feedback about their experience with Research Verified, giving the company an average rating of 4.2 stars.
Here, most compliments appeared related to effective results (weight loss, joint pain relief, improved mood, etc.) and solid value. On the other hand, the only three complaints listed no results (which is common for any supplement from any manufacturer), a less-than-optimal customer service experience, and lower quality than expected.
Similarly, on Amazon, the majority of Research Verified's products seemed to have between three- and- five-star ratings from customers, with many of the same compliments and complaints.
The Boynton Beach, FL-based company also had an A+ Better Business Bureau rating, two positive customer reviews, and no closed complaints as of 7/10/17.
Obviously, we're only providing this information to help you paint a more complete picture—not indicating that you'll necessarily experience any of the same with the company or their products.
Are There Other Dietary Supplements Companies Like Research Verified?
While it's certainly positive that Research Verified promises only to deliver products that contain exactly what's on the label, along with ingredients (and their dosages) that have been clinically studied, the reality is that there are dozens of companies competing in the same space—and with many of the same claims.
Some also come with competitive, or even lower, prices. Given these similarities, how can you choose a company that most closely matches your needs?
Since dietary supplement manufacturers are loosely regulated by the FDA, we've learned during our research and from speaking with professionals that you'll want to focus on factors like:
Mostly positive online customer feedback
A clear list ingredients and dosages for all products
Competitive prices
Some kind of money back guarantee
How does Research Verified stack up in relation? Let's continue our discussion in the final section.
Our Final Thoughts About Research Verified Supplements
When it comes down to it, Research Verified had mostly positive customer feedback at the time of our research, sold products that were priced relatively in line with competitors (although perhaps on the higher end of the spectrum), and provided full labels for each of their supplements.
On top of this, they didn't enroll customers in any kind of recurring shipping program, and their one-year money-back guarantee—based on our extensive experience writing about hundreds of supplements—is one of the longest in the industry.
Perhaps one potential downside (again, in our opinion and based on our research over the years) is that the description for each product on Research Verified's website was lengthy, and except for a few minor changes, essentially identical across the board. This means it might take some more digging on your own to learn the full scoop about each of these ingredients (or at the very least, calling the company and speaking with one of their registered nurses), before handing over your money.
Nonetheless, it seems that the worst-case scenario with Research Verified is that you might be out some money in (original and return) shipping charges if you're dissatisfied with the performance of one of their supplements.
This company is actively collecting reviews from its customers. All reviews submitted are subject to moderation and approval to ensure they meet our

Review Guidelines

.

A miracle for thin hair!

My hair wasn't growing and I hadn't needed a haircut for 18 months. After 3 months on Research Verified Hair Growth, my stylist declared a miracle because my hair was suddenly growing and noticeably thicker. Now I can't live without it!

Bottom Line: Yes, I would recommend this to a friend

---

Green Coffee Bean Extract waste of money!

By Lynn E.

,

Junction City, KS

,

Nov 9, 2019
Verified Reviewer

Green coffee bean extract did absolutely nothing for me. I could have flushed them down the toilet and got the same results. Definitely was not worth the money spent. I would not recommend this product to anyone, unless they enjoy throwing their hard-earned money away! I will not be purchasing this product or any other overpriced product from them again. They are nothing more than modern-day snake oil salesmen!

Bottom Line: No, I would not recommend this to a friend

---

Advertisement

---

Wrong product

By Bonnie F.

,

Cecilia, KY

,

Mar 18, 2019
Verified Reviewer

I received the wrong product. I emailed them and was told they would send a postage-paid return label, which I have never received. I have emailed them twice and still no return label. I can't believe they don't have more complaints. Of course, this review will not be posted so that could explain it.

Bottom Line: No, I would not recommend this to a friend

---

KETO weight loss really works

By Paul B.

,

Philadelphia, PA

,

Feb 4, 2019
Verified Reviewer

I began using the KETO product in late November of 2018. I have lost 12 lbs and am extremely happy with the results.

The suggested diet is very easy to follow...I can eat bacon again!

I'm 71 years old, 6' and weighed 182 lbs in November and want to get to my goal weight of 165 lbs and this morning I weighed 170.

I am very happy with this product and would definitely recommend it to anyone.

Bottom Line: Yes, I would recommend this to a friend

---

Advertisement

---

Research Verified Forskolin

By Carol C.

,

Camden, NY

,

Sep 11, 2018
Verified Reviewer

I have been using Research Verified Forskolin for a few months now. I have been taking the suggested amount and been amazed at the results. I am seeing an extreme difference in my body definition throughout my hips, waist, thighs, and arms. I am so excited about this product, and I have experienced absolutely no side effects. I will be continuing to use this product and look forward to future results. I am receiving multiple comments from friends and family that they can see the difference also. I highly recommend this product!

Bottom Line: Yes, I would recommend this to a friend

---

Best hair vitamins ever!

By Jodi M.

,

Tampa, FL

,

Aug 1, 2018
Verified Reviewer

In October 2016 my hair started falling out so badly. I went to the doctor and had bloodwork done and everything came back fine. I had no health issues. I tried other hair vitamins, but they didn't work. Then in January of this year (2018), I ordered Research Verified Hair Growth Supplement. That was seven months ago. My hair has fully grown back and isn't falling out anymore. People can't believe the difference.

Bottom Line: Yes, I would recommend this to a friend

---

I absolutely love their Hair Growth Support! What a godsend, for sure!

I first decided to try this product back in November 2017, after trying SO many other products for this problem I've HAD. Yes, HAD, because THAT problem has been solved, FINALLY!

I purchased three bottles back then thinking three months would be enough time to let it work. Well, let me tell you, I began to notice a BIG difference in less than a week! The shedding was minimal...and no more did I have to plunge the shower drain to clear the hair. No more did I have to rinse the hair off my hands after applying the conditioner! I have Lupus, and with that comes hair loss. Some days I had more hair loss than others. I've always had to clean my hairbrush after EVERY brushing, but NO MORE.

THIS product WORKS. I feel as though I've won the lottery! My self-confidence and my self-esteem are BACK. I LOVE my hair now! It's growing and coming in strong. It's fuller and even shinier. Oh, and the gray (I'm 66), my hairdresser asked me what I was doing! I told her I am taking a hair growth support vitamin. She said, "Wow, give me the info on it so I can get some because it's obvious that it works."

This supplement works! I would recommend this product to everyone. It's simply amazing! My hair is growing. It's so much fuller. It looks, and feels so much healthier. It's thicker, it's shiny...and happier, yes, I said happier! My hair is being good to me because I'm being good to my hair, by giving it what it needs to be happy and healthy!

Don't think twice, get this product - Research Verified Hair Growth Support. No one could possibly be dissatisfied. It has given me a new lease on life, I LOVE it, which is why today I've ordered six more bottles, yes six, because I don't want to be without it. EVER.

Thank you Research Verified for such an AMAZING product! Thank you for giving me my life back! Give this product a try people. You WILL NOT be sorry.

Bottom Line: Yes, I would recommend this to a friend

---

Great product

By Bob Young

,

Brookfield, WI

,

Apr 18, 2018
Verified Reviewer

I am seeing results after just one month! A must-have for anyone looking to drop weight. Combined with regular interval, full body workouts and a smart diet plan such as interval fasting, you are guaranteed to get the results you are looking for.

Bottom Line: Yes, I would recommend this to a friend

---

Belly fat burner

I bought this product in the hopes of trying to get rid of belly fat.

It is slower than I expected. I was told two, weeks which didn't happen. I will keep with it and see if it eventually works.

I am disappointed though.

Bottom Line: No, I would not recommend this to a friend

---

A product that works

By Olivia Canela

,

Fredericksburg, VA

,

Apr 17, 2018
Verified Reviewer

I was having UTI issues, and AZO maximum strength was only giving me minor temporary relief.

I went to the doctor's and the same thing, just a temporary relief, and then I purchased Harmony D-Mannose and used it as recommended, and it didn't work.

I started researching to find something that would really work and I came across Research Verified UTI Relief,.I researched how they evaluate the product and I was impressed with the scrutiny put into making sure the quality of the product. I purchased the UTI Relief and I was so happy and relieved that it work. Thank you!

Bottom Line: Yes, I would recommend this to a friend

---

Biotin for hair regrowth

I have been taking Biotin for several weeks and feel it is too soon to expect concrete results. The supplement arrived in a timely manner, and I am excited to see if there are any changes in my hair after perhaps three months of continuous use.

Bottom Line: Yes, I would recommend this to a friend

---