ResortPass Reviews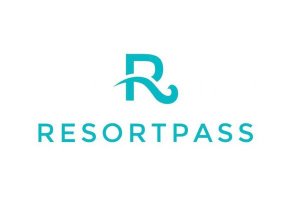 Summary
ResortPass is your ticket to booking day passes, spa passes and cabanas at some of the premier resorts and hotels in seven states including Florida, California and Hawaii.
What Is ResortPass?
ResortPass is an online membership site where you can buy day passes to high-end resorts and hotels in seven states across the country.
According to their website, the company launched in May 2016 in Santa Monica, CA. The company's founder is Amanda Szabo, a former wedding photographer and co-founder of Hawaii-focused travel booking site TravelShack.
In a May 2016 interview with the San Diego Union-Tribune, Szabo said she started ResortPass after seeing how many local resorts' amazing amenities went unused every day.
"I started this because this is something I want to use," Szabo was quoted as saying. "I have amazing hotels and resorts right near where I live and the hotels are empty a lot of the time. They're not being fully used, and I would pay to be there and just lounge by the pool and use the spa."
ResortPass is one of a couple of companies who offer this service. Resort for a Day and DayPass are two competitors, both of which we'll take about later in this review.
The key information you need to know about ResortPass is:
Which resorts are included in their network?
How do you reserve a spot?
What is the cancellation policy?
How does it compare to Resort for a Day and DayPass?
We'll apply our in-depth research and expertise to each of these categories, then provide a closing section in which we'll talk about the general pros and cons of ResortPass.
The Resorts Included in the ResortPass Network
The biggest question most of us have about a company of this type is which resorts you can get into. The quality of the properties will most likely be the make-or-break for you, along with the price. At the time of publishing, the company had day passes for resorts/hotels in the following states:
California
Arizona
Texas
Hawaii
Florida
New Mexico
Tennessee
To give you a sense of the types of properties you can reserve, we did a quick search of resorts in California.
ResortPass offers reservations for 27 different resorts as far south as San Diego and as far north as Napa Valley. Of those 27 resorts, San Diego accounts for eight of them and Orange County has six.
For the sake of this review, we'll focus on San Diego because it has the most resorts and is a popular vacation destination. According to a Huffington Post article published in March 2018, San Diego is the seventh-most popular U.S. vacation spot based on TripAdvisor ratings.
When you search San Diego, you get a list of eight resorts whose Day Pass prices ranged from $20 to $50.
The Day Pass typically gives you access to the hotel's pools and private beach, if there is one. Spa passes usually give you entrance into the hotel/resort's spa but usually don't give you free spa services. Cabana passes tend to be at least twice as expensive but provide you your own personal cabana with snacks, drinks and, in some cases meals.
Each listing contains photos of the resort, a quick description of the property, a series of icons indicating the types of amenities the resort has and pricing for one, two or three of the following day-pass options: day pass, spa pass and/or cabana.
We'll use the Sheraton San Diego Hotel & Marina as an example. Here's a photo of the hotel's listing in the search results: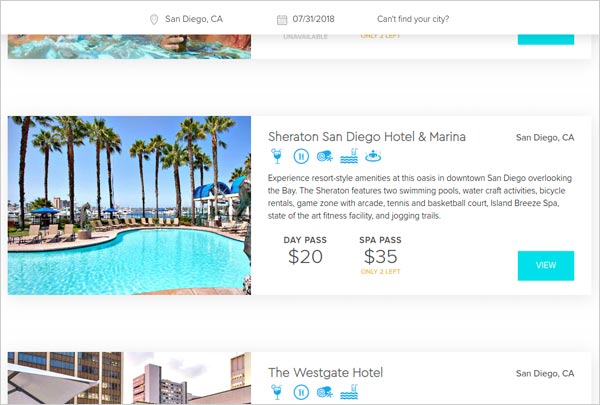 Based on our experience on the site, we think you should always click on the listing to go to the full page for the resort or hotel in question. The full page includes a section that tells you what your day pass does and doesn't get you in terms of perks: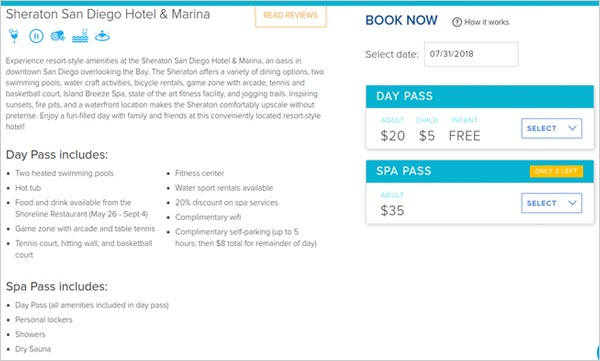 For example, some of the key inclusions in a day pass to the Sheraton are access to the hotel's two swimming pools, hot tub, fitness center and complimentary self-parking. You also get a 20% discount on spa services.
The spa pass includes all of the Day Pass perks, as well as access to a personal locker, showers and a dry sauna.
Now, some hotels will offer more robust free services than others. For example, the Estancia La Jolla Hotel & Spa's spa package includes access to a saltwater whirlpool, relaxation areas, a eucalyptus steam room and a $25 credit toward spa services.
The Estancia also has three different cabana rentals each with their own package of perks and passes. It's important to note that, whichever package you choose, you have to spend at least $100 on food and beverages, a fee that's charged when you check in (more on that later).
How to Reserve a Spot With ResortPass
Making your reservation for a particular resort is a simple process. Scroll down to the bottom of the hotel/resort's page, pick a date and then pick the pass you want.
You'll be asked how many adults and children are coming with you. In the listings we saw, "children" were classified as kids ages 3 to 12.
This is a key distinction because it means toddlers and babies under three get in for free, but that children 13 years and older will have to pay full price.
Once you've booked your pass, your trip will show up in the "Bookings" section of your account page.
When you arrive at the hotel or resort on the day for which you purchased your pass, you'll have to have your photo ID as well as your confirmation number. ResortPass notes that you'll provide this information to the concierge unless your confirmation email notes that you have to present the requested information at a different location in the hotel.
How Do ResortPass Prices Compare to Bookings With the Hotel?
We called the Sheraton in San Diego to see if we could get a cheaper day-pass rate from the hotel. As it turns out, the only way you can book a day pass is through ResortPass; the company has an exclusive relationship with the Sheraton we called.
We reached out to the company for a comment on whether this is a standard policy for all the resorts on their site but we did not hear back by the time of publishing, or anytime after.
How to Change or Cancel a Reservation ResortPass
According to ResortPass' FAQ page, you have until 48 hours before your reservation to make changes. If you want to cancel your reservation, you'll have to go to your booking and read through the parameters that the hotel/resort provides.
Comparing ResortPass to DayPass and Resort for a Day
As we mentioned earlier in this review, ResortPass is one of a couple services that allow you to book passes to resorts or hotels.
Two of the site's competitors include DayPass and Resort for a Day. However, ResortPass is the unquestionable choice for those who live in the United States.
DayPass is an international-focused service; at the time of publishing, you could only book one day pass at an American resort. Resort for a Day is focused on cruisers – they book your day passes based on your cruise itinerary.
Their website noted that their U.S. day passes are available in Ft. Lauderdale and Hawaii. However, according to a conversation we had with their customer service, you can only book a pass at Ft. Lauderdale and Hawaii properties if you have a cruise itinerary.
If you're planning a trip abroad and you want a day pass, then DayPass is the best choice out of the three. If you're doing a cruise and you want to book a pass with a company who knows the cruise industry, Resort for a Day is a good choice.
In the context of the two sites we listed here, we think ResortPass is the best choice if you live in the United States and you want to book a day pass in your city or a city near you.
Pro tip: Resort for a Day offered the quickest customer service response out of the three sites, all of which had chat apps through which you could contact them.
The Bottom Line
ResortPass' greatest strength is that it provides you an easy way to book a number of resorts and hotels in the United States.
The competing sites we looked at had nowhere near the number of U.S. properties that ResortPass has. Also, the booking engine is very easy to use. In general, we felt like ResortPass was an extremely easy way to find and book a day pass.
The downside to the site is two-fold. First, there's no way of knowing exactly what a day pass at a particular place is worth at any given hotel if the company has the exclusive rights to selling day passes.
This isn't a make-or-break situation, though. If you feel the resort is worth the price you see, then, by all means, book it.
For example, while we can't exactly say how much a day pass to the San Diego Sheraton is, we do know that the price they listed is reasonable for our budget.
The second downside is that we weren't able to reach the company's customer service department as quickly as we could with the other two companies we mentioned earlier.
Since those other two companies serve the cruise and international travelers/residents, ResortPass is your main option and, if you have any issues you need to resolve quickly, the slow response time we experience could be stressful.
ResortPass is a good fit for someone who either lives in or plans to visit cities in which you can book day passes.
Customer Reviews