Revolv Reviews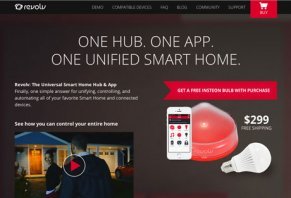 About Revolv
If you're frustrated by complex home automation systems, the Revolv Hub claims to help you unify many of your devices using only a WiFi connection and a smartphone app. In fact, Revolv claims to be a universal method of controlling and automating your entire home.
But is this really the case? Let's log in to the facts and see what they have to say.
Revolv Details
The Revolv Hub claims to seamlessly harmonize smart home products that use one of three radios (e.g. how devices communicate with your Hub): Insteon, WiFi, and Z-Wave, with pending development for Zigbee, 900 MHz, 415 MHz, and 933 MHz. As such, Revolv claims to work wirelessly with numerous devices from a variety of manufacturers, including:
Lighting – Bulbs, lamps, LED strips, and more.
Audio – Amplifiers, speakers, and sound bars.
Energy – Thermostats, modules, switches, outlets, and more.
Security Devices – Motion sensors, electronic deadbolts, keypad deadbolts, and more.
After unboxing your Hub, Revolv claims that you can be up and running in just 60 seconds by following three steps:
Plug in the Revolv Hub. Ideally, it should be centrally located so that all your devices are within a 50-60 foot range. No Ethernet connection required.
Revolv's proprietary Flash Link™ technology will work with your iPhone's camera flash to transfer WiFi information.
Your Hub will automatically scan for supported devices already installed in your home. According to the company, this often works best for thermostats, audio devices, and lighting, although switches, outlets, and locks will typically require extra steps to setup. There is no limit to the number of device you can add.
Once installed, you can set up the Revolv app to control individual devices or to control several through customized Actions—no programming required. Your Revolv Hub can even be configured to perform different Actions based on:
GeoSense – Once you and your phone are within a specified distance of your home, Revolv can turn on lights, turn on heat or air conditioning, etc.
Time – Schedule certain actions to occur at different times, such as turning on and off lights.
Device-to-Device – This allows you to create an endless chain of events based on the Actions of other devices in your household. In other words, locks can trigger outside lights, switches can control door locks, etc.
On Demand – Can connect you to other devices (such as remotes) that allow you to control your home smartphone-free.
From a security perspective, your Revolv Hub features 128-bit, SSL encryption, and can also be deactivated remotely in the rare event of a security breach.
Revolv Pricing & Refund Policy
Revolv is currently priced at $299 plus free shipping, which includes:
Revolv Smart Home Solution (Hub & iOS app)
Power Cable
60-Second Getting Started Guide
Lifetime service subscription
Free software and firmware updates
Revolv is only available in the U.S., although it can also be purchased through third-party retailers such as Amazon.com and Home Depot.
All Revolv Hubs come with 30-day refund policy, which begins from the date your product is shipped. In order to begin the process, you'll need to contact customer service at 888-966-9733 in order to obtain a Return Merchandise Authorization (RMA) number.
What Do Other Consumers Have to Say About Revolv?
Revolv, Inc. is not listed with the Better Business Bureau. However, online professional write-ups and customer reviews appear to be mixed, with the most common complaints citing lack of customization options, lack of device support, and high price for what you get (see more about this in the following section).
What's the Bottom Line About Revolv?
With all these facts in mind, is Revolv worth the $299 price tag? As it turns out, this wholly depends on what you're planning on doing with it.
If you're very familiar with home automation or are technically oriented, the lack of customization options might seem very stifling, and the lack of device support may be frustrating (as of this writing, Revolv supported around 200 different devices). For example, we found out that the Hub can only control volume, pause music, and advance to the next track for Sonos devices. On top of this, keep in mind that even though a manufacturer might be supported (Insteon for example), all of their devices may not be.
On the other hand, if you're very new to home automation or just want simple, efficient operation, Revolv may be a good option. However, it's interesting to note that although beginners may be Revolv's target market, this article recommended that beginners might want to wait until the competition's products are released, which might provide more bang for your buck.
Finally, keep in mind that only iPhones are currently supported by the Revolv app, although the company claims they'll support Android phones sometime in Q2 of 2014.
Bottom line: Similar to Vera Smarter Home Control, Revolv helps you to avoid monthly fees associated with most home automation systems. However, unlike Vera, Revolv seems to provide much more streamlined and user friendly—although less customizable—device control. Also, with limited device support, we might recommend purchasing only those products listed on the company's Compatible Devices page.