Rich Uncles Reviews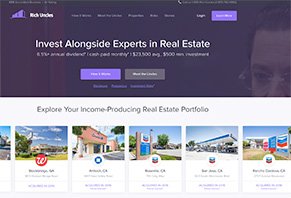 By purchasing commercial properties and leasing them to well-qualified tenants, the Rich Uncles REIT promises to deliver 6.5%+ annual dividends to investors.
About Rich Uncles
Rich Uncles is a real estate investment trust (REIT) that allows shareholders to own commercial property and earn monthly dividends on rent paid by tenants. Unlike competing REITs, however, Rich Uncles cuts out middlemen like brokers and dealers, which means they invest 10% more of your money in real estate, instead of in third-party commissions.
Basically, Rich Uncles claims the process works over three steps:
Open a Rich Uncles account (more soon) and buy shares.
The company's portfolio of properties generates monthly rental payments from "creditworthy" tenants.
Each month, shareholders receive dividends based on the rent collected.
With taglines like "invest alongside experts in real estate" and "Wall Street to Main Street," it might seem that Rich Uncles can help just about anyone own income-producing real estate. Is this really the case, though? Even then, are there important considerations before signing up for an account?
We'll go over all these important aspects—and more—in this review. First though, let's get a better handle on exactly what we're talking about.
What is a REIT?
Similar to mutual funds, which allow investors to pool their money together with others and invest in different securities (such as stocks, bonds, etc.), REITS allow investors to purchase equity in "baskets" of real estate projects. Basically, you're purchasing stock in real estate.
Most of the time, REITs invest in (and often operate) commercial properties, such as apartment complexes, office buildings, hotels, shopping malls, and so forth. Like mutual funds, rarely with individual shareholders have an opportunity to view or provide input on which properties the REIT purchases.
Within the REIT industry, there are three types:
Equity REITS, which earn most of their revenue from leasing space to commercial tenants, as well as from purchasing undervalued properties. As such, these REITs focus on maintaining value and equity in properties.
Mortgage REITS, which don't invest in physical properties, but in their mortgages. This way, they either earn interest on the loans they provide, or on the net interest margin for blocks of mortgages they've purchased.
Hybrid REITS, which invest in both.
As you might have already guessed, Rich Uncles is an equity REIT. Beyond this though, exactly how do you invest?
How Does Rich Uncles Work?
To sign up for a Rich Uncles account, you'll need to enter your name and address and choose a password. Then, you'll need to choose the number of shares you'd like to purchase.
Next, you'll indicate how you'd like to receive your dividends; you can either reinvest them or have them deposited into your bank account each month. Then, you can choose how you'd like to take ownership of the shares, whether as an individual, joint, trust, entity, or retirement account.
Finally, you'll enter your personal information (including your social security number), review and confirm the information, and sign any required documents.
What Kinds of Properties Does Rich Uncles Invest In?
Once you've made your investment, Rich Uncles tells us they use 97% of the gross proceeds from the sale of shares for investment purposes, while the remaining 3% goes toward "organization and offering costs."
When purchasing properties, Rich Uncles claims they offer of 50%+ cash down payment, and their tenants are typically "recognizable and creditworthy." Tenants pay all property-related expenses, including "taxes, insurance, utilities, and maintenance," or what Rich Uncles calls "Triple Net" (NNN) leases.
To get an idea of the types of properties Rich Uncles purchases, be sure to take a look at their portfolio.
Then, the rent paid by these tenants is returned to shareholders in the form of monthly dividends. Once you add in the increases in net asset value and tax savings (according to Rich Uncles, about a third of your dividends can be "shielded from ordinary tax income"), you'll have your total return on investment.
Although REITs like Rich Uncles might provide you with access to properties you'd otherwise never be able to invest in, do they come with any drawbacks you should be wary of?
The Pros & Cons of Rich Uncles REITs
While the Rich Uncles website claims that real estate has historically outperformed the stock market, Investopedia claims that the "stock market has consistently produced more booms and busts than the housing market, but it has also had better overall returns as well." Regardless of where you might stand on this issue, let's go over some quick pros and cons related to REITS.
Important note: The topic of REITs is vast, so we can't even hope to cover everything in this review. Instead, these are meant to act as a high-level overview. If you need professional advice, be sure to speak with your investment advisor.
Potential REIT Benefits
As mentioned earlier, one of the biggest benefits associated with REITs is that they allow everyday investors to earn money from commercial projects they otherwise might not have access to. On top of this, REITs do all the legwork (e.g. finding properties, negotiating leases, etc.), so you can just sit back and earn your dividends. This can work to your advantage when it comes time to sell any properties.
Also, since REIT share prices are tied to real estate, they're often not affected by what happens in the stock market. And a good deal of the income earned from REIT dividends may qualify for substantial tax breaks.
Potential REIT Drawbacks
According to the Rich Uncles website, they provide a 6.5%+ annual dividend. This means that (not factoring increases in value and tax savings) if you invest $100K, you'll earn about $6,500 per year in dividends. Interestingly, this is compared to the average 7% stock market return.
Nonetheless, at this rate, it would take you a little over 15 years to recoup your investment.
Also, while it's positive that Rich Uncles cuts out the middlemen and saves shareholders 10%, this also means that no underwriters will perform due diligence reviews of the company's shares. In a nutshell, while Rich Uncles is registered with the SEC, it's a non-traded REIT with no third-party quality control in place.
And while Rich Uncles is registered with the SEC, "there is no guarantee that the targeted return or distribution rate will be achieved." Also, keep in mind that, although real estate isn't tied to the stock market, it (and the REITs who purchase it) is highly impacted by interest rates.
Last, while you can check out Rich Uncles' portfolio page to get a fairly detailed look at some of the properties in their REIT, keep in mind that according to their Disclosure, "you will not be able to evaluate the economic merits of future investments prior to their purchase."
Speaking of which, if you have more questions about Rich Uncles, be sure to read about investment risks and browse through their prospectus.
How Much Does Rich Uncles Cost? What's the Minimum Investment?
Currently, Rich Uncles shares are sold at $10 each, with a minimum $500 investment (we're told $23,500 is the average). Then, you'll be paid a 6.5% annual dividend based on your investment, with a declining admin fee (3%, 2%, 1%, 0%) calculated from your date of purchase.
Not just anyone can invest with Rich Uncles, however. In order to qualify, you must have a net worth of at least $250,000, or a gross annual income of at least $70,000 and a net worth of at least $70,000. There may be other (or different) restrictions depending on the state in which you live.
To this point, Rich Uncles is only available to residents of CA, CO, CT, GA, HI, ID, IL, IN, KY, LA, MT, NH, NV, NY, SD, TX, UT, VT, WI, and WY.
Finally, while Rich Uncles promises to repurchase shares monthly, they note:
"There are significant restrictions on our share repurchase program. Consequently, you must be prepared to hold your shares for an indefinite length of time and, if you are able to sell your shares, you may have to sell them at a substantial discount."
Have more questions about pricing, fees, eligibility, or anything else? Rich Uncles customer service can be reached at 855-742-4862 or info@richuncles.com.
What Are Investors Saying In Their Rich Uncles Reviews?
Rich Uncles is a division of Nexregen, and although they've been around since 2014, there was very little online feedback for the REIT at the time of our research. In fact, the only detailed review we found was on Common Core Money, where the author invested $10,000 of their own money.
Overall, they liked that Rich Uncles offered a 7% to 7.5% annual return (the review was written in March 2014, so it appears the REIT currently offers lower returns), the ability to diversify their portfolio, the ease of entry, and the growth prospects.
On the other hand, the author's biggest complaint was that your funds are illiquid, and that you need to be prepared for a long-term (4-7 years) investment. To be fair, this is applicable to many other REITS, not just Rich Uncles.
From a company perspective, Rich Uncles was founded by Ray Wirta, who had a vision of "real estate investing for everyone," with Harold Hofer as its CEO and Howard Makler as President. They had an A+ Better Business Bureau rating at the time of our research, with no closed complaints (as of 8/29/16).
Should You Invest with Rich Uncles?
According to the National Association of Real Estate Investment Trusts (NAREIT), there were 1,100 REITS who filed tax returns last year, about 200 of which are traded on the major stock exchanges. This means the 1) vast majority of REITS are non-traded, and 2) that Rich Uncles has a whole lot of competition.
From an investor's perspective, the good news is that if you're looking to purchase shares of a REIT, you have just about every imaginable option at your disposal. Unless you're a seasoned professional, though, we'd strongly recommend consulting with your financial advisor or planner before signing on the dotted line with any of them.
Bottom line? With little (or no, in many instances) information about Rich Uncles' vetting process for the properties they purchase, detailed financials, or meaningful online investor feedback, it's impossible to say how Rich Uncles stacks up against the competition. But if you're looking to take the next step and—with your advisor's help—decide if you should hand over your hard-earned money, their prospectus will make a great starting point.
Before you go: Why not help other consumers learn more about Rich Uncles by writing about your experience below?
Great platform

By Steven B.

,

Cleveland, OH

,

Feb 13, 2019
Verified Reviewer

I have been investing extra cash from my checking account monthly. Very easy to transfer money into and receive a 6% annualized dividend every month automatically reinvested. I haven't sold any shares yet however, they say the highest penalty you pay for selling shares is 3% and the penalty decreases by 1% every year you have them. So far, seems like a great long term investment.

Bottom Line: Yes, I would recommend this to a friend

---

Excellent investment

By M. A. M.

,

Missouri

,

Feb 4, 2019
Verified Reviewer

I bought shares from Rich Uncles and the return was 7.00% for 2018 Student Housing and other Real Estates, NO middleman cost. Keep your account for three years to get a 1.5% charge for return investment. It is growing with millions of money and excellent credit with BANKERS. Better than the stock market and other CD bankers.

Bottom Line: Yes, I would recommend this to a friend

---

Advertisement

---

Super easy investing! Great returns!

By Jon C.

,

California

,

Jan 15, 2019
Verified Reviewer

I've been investing in Real Estate through Rich Uncles for a few years now. I have always gotten my returns as advertised. RIch Uncles is easy to work with and provide great customer service.

Bottom Line: Yes, I would recommend this to a friend

---

Stay away!

By Jason G.

,

Massachusetts

,

Nov 12, 2018
Verified Reviewer

I would strongly encourage people to stay away. When you cash out, they take 20% but have the advised nowhere on the website. The percentage you gain yearly is greatly under the 6.5% they advertise.

Bottom Line: No, I would not recommend this to a friend

---

Advertisement

---