Ring Doorbell Reviews
Claimed This company has claimed this profile, is getting alerted on any new customer reviews entering this page, and may engage in dialogue with its customers to address their matters.

Companies cannot pay money or provide goods in order to remove or alter customer reviews.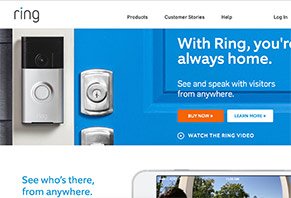 Ring Doorbell features HD video and two-way audio, connects to your smartphones and tablets via Wi-Fi, and instantly alerts you anytime someone's at your door.
About Ring Doorbell
Type the phrase "home security system" into any search engine, and you'll come up with hundreds of different choices. But here's the thing: most of the options only monitor the inside of your home, while leaving the exterior largely unprotected.
Enter Ring Doorbell. This easy-to-install video doorbell device features a 180-degree HD camera (with night vision!), along with configurable motion sensors and a built-in microphone for two-way audio. Once Ring is activated, it works seamlessly over your wireless internet and instantly sends mobile alerts to your smartphones and tablets.
This means you'll be able to see and speak with whoever's at your front door—even when you're not home—and with Ring's Cloud recording, you'll be able to easily access, rewind, and share the video it records. In a very real way, all these features mean that Ring can provide you with convenience, monitoring, and security, and ensure you're "always home."
There's not doubt Ring's features are pretty cool. But do you even need a "smart" doorbell in the first place? And even if you do, is Ring necessarily your best option? Are customers happy? There are a lot of factors that go into any buying decision, and we'll be sure to discuss Ring Doorbell's most important aspects in this review.
First, we'll take a look a Ring's technical details.
Ring Doorbell's Tech Specs
Each Ring Doorbell is about 5" long, 2.5" high, and 1" thick, and is constructed of an ABS plastic housing that's outdoor approved for heat, rain, sleet, or snow (operating temperatures for Ring Doorbell are -5 - 120°F).
According to the company, the installation process is as simple as attaching the mounting bracket to a flat surface using the included hardware (for wood, brick, concrete, and stucco surfaces), and placing the device on the bracket. Then, to help prevent theft, you'll secure it in place with a proprietary security screw.
Inside the Ring Doorbell, you'll find a 720p HD camera that can detect motion up to 30 feet away, along with a built-in microphone with "perfectly tuned echo cancellation."
Wondering how you'll power your Ring? You can either use its rechargeable battery or hardwire it to your existing doorbell. If using Ring's battery, the manufacturer claims it'll last about a year, and it will send you an email alert when it's running low and needs to be recharged (depending on the amperage of your charger, this can take anywhere between 4 and 10 hours).
At the core of Ring's operation is the free app, which is available for iPhones and iPads, Android phones and tablets, and any Windows 10 computer or tablet, which connect to ring over your wireless internet connection. You can have more than one Ring device in your home (each Doorbell will have its own unique name), and you'll be able to pair as many smartphones and tablets as you would like to any Ring Doorbell.
In the event of an alert, all users will automatically be notified. However, you can customize your settings, so that (for example) you'd be notified for all alerts, while other household members only receive alerts when the doorbell button is pressed.
Another thing you can customize through the app is Ring's motion detection sensors, where you'll be able exclude areas like busy nearby sidewalks and roads, so that you "only get notified when it matters."
Chime Turns Ring Into a Standard Doorbell
Now, you might be thinking to yourself, "What if I don't have my phone nearby when someone actives my Ring device?" Well, the company makes a complementary device call Chime, which plugs into any standard power outlet and provides an audible tone (much like a traditional doorbell) when someone's at your door.
Like Ring, Chime connects to your Wi-Fi network, so you can set up as many devices as you want. Need a little peace and quiet? You can disable each Chime and customize volume settings through the Ring app.
Ring's Stick Up Cam
If you're looking for all the video features and none of the Doorbell, Ring also makes the standalone Stick Up Cam, which features much of the same motion detection, 2-way audio, night vision, weather resistance, and optional cloud video recording (more about this in a second) as Ring.
Stick Up Cam is wire-free and can be mounted just about anywhere, while the easily adjustable mounting bracket allows you to see, hear, and speak with anyone at the perfect angle.
Ring+ Technology
Do you also own a smart lock from Wink, Kevo, Lockstate, Kisi? If so, the company's Ring+ technology allows you to connect your Doorbell to these products, adding even more convenience, monitoring, and security (you'll be able to lock and unlock your door while monitoring activity outside your home!). The process works over 3 steps:
Download one of Ring's partner apps for iOS or Android.
Locate the integration menu within the live event screen in the Ring App.
Select a partner's app icon to then open the app and perform an action.
Cloud Video Recording
All of the video recorded by Ring Doorbell or Stick Up Cam can be sent to an optional Ring Cloud Video Recording account, where you'll be able to "view and download up to six months of previous events, share clips with friends, neighbors and local law enforcement, and delete events that aren't important pr keep ones that are." We'll come back around to this in the final section.
Whew! That's a big list of features! But will it cost you an arm and a leg?
Will Ring's Price Resonate?
Ring Doorbell is priced at $199, with faceplates available in Satin Nickel, Antique Brass, Polished Brass, or Venetian Bronze. All Ring Doorbell purchases come with 30 days of free Cloud Video Recording. After that, you'll pay $3 per month or $30 per year.
The Stick Up Cam will also cost you $199, and Chime is priced at $29.95.
Shipping is free for Ring Doorbell, but Chime (without also purchasing a Ring) comes with a $4.95 S&H fee
All Ring Doorbells come with a 30-day return policy, less S&H charges, as well as a 1-year limited warranty against defective parts or workmanship. Ring's Lifetime Purchase Protection will even replace your Ring Doorbell if it's stolen (you'll have to file a police report, and this is only good one time).
In order to request a refund, process a warranty claim, or anything else, Ring's customer service department can be reached at (800) 656-1918.
Given Ring Doorbell's relatively reasonable price, along with its strong warranty and refund policy, are customers pleased with its performance?
Is Ring Doorbell a Hit With Customers?
As you might imagine, with such cool technology at an achievable price point, the Ring Doorbell has received a ton of attention from industry giants and customers alike.
Tech Hive and PC Mag both gave Ring Doorbell 3.5-star ratings, both claiming that it was easy to install and that the app was easy to navigate.
Tech Hive also called Ring a "clever, well-designed gadget," but noted that it "didn't always deliver on its promises." Specifically, lag was often long between the time the device's button was pressed and when the notification was received on a phone (several times, it didn't work at all), although they felt this was due to their Wi-Fi connection more than anything else (more about this in a moment). Also, the author noted that going through all the steps to access the video chat screen inside Ring's app can be a "long, frustrating experience." Ultimately, they concluded that if Ring was "hardwired to my home network, and not at the mercy of Wi-Fi and smartphone connections," many of these core problems would be addressed.
PC Mag also discussed many of these same things, but added that their battery only lasted 2.5 months (although it was during February), and mentioned that the audio quality is "hit or miss."
From a customer perspective, Ring Doorbell had an average rating of 4.1 stars based on a whopping 6,700+ reviews on Amazon. There, most compliments seemed to reference ease of installation and solid performance.
On the other hand, most complaints seemed plagued with software issues—specifically, that the device doesn't automatically reconnect to your network (if the power goes down, for example), and that the camera only recorded as people were walking away.
Should You Splurge On Ring Doorbell?
So, who might Ring Doorbell work best for? In our opinion, the device's target market is consumers who want to add some front door security, without all the hassle of setting up higher-end home automation cameras. Simply install it in a few minutes, download the app, link the device to your Wi-Fi signal, and you're good to go.
But here's the catch: This ease of use also creates two of Ring Doorbell's biggest drawbacks (at least according to customer feedback): 1) Overall functionality is based on the strength of your Wi-Fi signal, and 2) you won't be able to store any of the video Ring records on your own equipment.
This first concern could be addressed by maximizing signal strength at your front door, either by relocating your router or purchasing a wireless signal repeater. In fact, Ring's manufacturer specifically recommends this option. Obviously, this means you'll have to increase your budget to accommodate the extra hardware.
Speaking of which, by requiring you to store all your video on Ring's Cloud (which costs $30 per year), you'll have some long-term costs to factor into your budget.
Admittedly, both of these concerns could probably be addressed by allowing their customers to use Ring Doorbell within their own network. Will the company listen and change the device accordingly? Only time will tell.
In the mean time, unless you're a hardcore home automation enthusiast who's only interested in customization, Ring Doorbell might work for just about everyone else.
What'd you experience with Ring? Tell us about it by writing a review below!
Live feed

By Lori N.

,

Minnesota

,

Feb 15, 2020
Verified Reviewer

We have the Pro hard-wired model. It only has live recording for 10 seconds, there does not seem to be an adjustment for that. 10 seconds is not enough time to capture what is needed.

Bottom Line: No, I would not recommend this to a friend

---

Terrible customer support

By Martin K.

,

Denver, CO

,

Jan 29, 2020
Verified Reviewer

If you buy Ring, immediately try to pay for the monthly service; do NOT wait for your 30-day free trial to expire as you will not be able to return the cameras.

This way, when you call you will learn just how bad their customer support is and you won't end up having to sell the equipment on Craigslist.

Had three Ring cams for a month and a half and am now shopping for a more reliable company.

Bottom Line: No, I would not recommend this to a friend

Jan 30, 2020

Hi Martin,

We would love the opportunity to speak with you and help make this right. Would you please send me an email at jennifer@ring.com at your earliest convenience? I look forward to hearing from you!

Thank you,

Jennifer F., Community Manager

Jennifer@ring.com

---

Advertisement

---

Was led astray by Ring!

By Don B.

,

Harrisburg, PA

,

Jan 8, 2020
Verified Reviewer

When I got this I realized I didn't want to subscribe to a service. Knowing that, I thought I declined to activate the "free trial". I thought this isn't a great device but I don't want to pay for full video recording. But after a month, my unit simply turned into a doorstop. Nice that they gave you a full month because if they had only given me a week I could have returned this useless device in a timely manner. Now I'm stuck with this doorstop. I bought a Wuuk Doorbell to replace it today, cost less and no monthly charge for recording to MicroSD card. Hopefully, I'll be able to return this Ring2 doorstop to Lowe's.

Bottom Line: No, I would not recommend this to a friend

Jan 13, 2020

Hi Don,

Correct- we do offer a complimentary trial of our Protect Plan, which allows you to review any videos from your Ring device. Without one of these plans, you will still be able to answer real-time notifications and check live view. Our plans start at $3/month or $30/year. I would like to discuss this with you in more detail, will you please email me at jennifer@ring.com?

Thank you,

Jennifer F., Community Manager

Jennifer@ring.com

---

Faulty camera box

By Jim L.

,

West Jordan, UT

,

Nov 9, 2019
Verified Reviewer

We bought 3 cameras and a doorbell almost one year to the date. One of them will not latch when replacing the battery. Took it down once and finally got it to work. Now it will not latch again. Needless, it's a pain in the butt. I don't want to buy another and have the same thing happen. Where do I find a good one?

Bottom Line: No, I would not recommend this to a friend

Jan 13, 2020

Hi Jim,

We are more than happy to help! Will you please email me at jennifer@ring.com so we can have a team member take a look into this for you?

Thank you,

Jennifer F., Community Manager

Jennifer@ring.com

---

Advertisement

---

Extremely satisfied

By Frederick C.

,

Pensacola, FL

,

Nov 6, 2019
Verified Reviewer

Dear Ring, I just wanted you to know how pleased I am with my Ring 2. I have other surveillance cameras and this just compliments my setup. Had problems in the beginning but all I needed was a WiFi extender. As soon as I go live, in one second it opens. It is mounted to detect a very large area just by opening all three motion detection areas. Again, I am a hundred percent satisfied. Thank you very much.

Bottom Line: Yes, I would recommend this to a friend

---

Ring 2 cameras can be "tricked" and Ring's "negligent" attitude

By B. J.

,

AL

,

Oct 2, 2019
Verified Reviewer

This is relative to a most substantial Ring 2 "safety awareness" issue. Although I adhered to Ring Neighbors' Community Guidelines, when I submitted the following via "Ring Neighborhood", it was deleted by Ring. I responded via Ring's "protocol." Again, Ring refused to post the truth.

With 30 Ring 2s using Spectrum wifi (400 down & 20 up) & 4 high-power range extenders properly functioning, someone sneaked by minimum of 8 Ring 2s twice in succession. Rings were installed by ADT in various locations & angles. Sequential times were indicated within Ring history videos on other 22 Rings. All Rings had almost 100% battery charges. Only ADT, Ring, & I have access to my security/surveillance systems. I am only one to have access to my ipad which is dedicated for use with my security/surveillance systems. When I was approaching my residence after having run errands (My ipad was with me.), I saw someone crouched very closely to ground in "frog-like" position while rapidly moving legs below Ring's detection points. None of 8 referenced Rings captured any videos during time when I witnessed person's activities. This is similar to children running through long jump rope with rope never touching children.

When I called Ring to ask why my post had been deleted, I was told that it must have been "flagged" and removed for review of which I would be receiving an email concerning this matter.

When I received the "standard flagging/review" email, because it indicated that I could email a response, I submitted the following.

Yes../An EXTREME error was made in removal of my post which is a MOST important SAFETY issue confirming a previous "neighborhood" post stating that people were able to avoid person's Ring cameras. My post was most factual & professionally stated in confirmation of what I saw that occurred in how someone avoided 8 of my 30 Ring 2 cameras in total mid-day sunlight.

People do not need to have a false sense of security relative to Ring cameras when someone was able to avoid 8 of my Ring 2 cameras in the MOST truthful manner in which I described what I witnessed. Additionally, remember that all of my technological components were properly functioning with plenty of "technological power" behind them to function as they should function relative to my 30 Ring 2 cameras. Furthermore, all of my Ring 2s were professionally purchased/installed/etc. via ADT.

Censorship of the truth relative to this MOST important safety issue should neverrrrr occur when people's lives/property are in jeopardy!!!!!!

Consequently, truth in advertising/usage/safety/etc. MUST be of the UTMOST importance. Your research & development areas should learn from the situation I witnessed & accurately described to begin immediate improvements. I have zero reason to lie/exaggerate/etc....

B. J.

Again, my truthful post concerning a tremendous safety issue for all Ring 2 owners everywhere was denied as indicated within their email below.

We've reviewed your post, and we feel that it's not quite right for Neighbors. We need to ensure that posts focus on issues that affect the entire neighborhood so everyone can benefit from local crime and safety.

I am sorry to hear that you are experiencing issues with your device's motion detection. I am not qualified to provide any technical support, however we have a dedicated staff that will work tirelessly to make sure you are satisfied. If you need help, our support department is available 24/7 at ring.com or for immediate assistance, please give us a call at 800-656-1918.

We hope you understand our decision and continue to engage with your neighbors in an effort to create a safer environment for your local community.

The Neighbors Team

Via this email, it appears that Ring is...

- Too confident that their product is flawless.

- Not completely familiar with all of their neighborhood posting guidelines regarding safety issues.

- Not concerned with giving everyone a false sense of security when depending on Ring 2s.

- Oblivious to essential research and development initiatives.

- Telling me that I have a technical issue which is not accurate...All of my cameras are set on the most frequent motion detection as well as the farthest distance.

- Telling me that I need Ring support which is also incorrect.

- Etc.

With my 30 Ring 2s and required components for them to function at my residence, I have invested a minimum of approximately $10,000 exclusive of monthly/annual Ring, ADT, and Spectrum and other requirements.

This entire example is NOT worthy of a truly conscience business whose primary goal is to provide its customers with properly functioning safety and surveillance equipment which was purchased to protect lives/properties.

Additionally, because there is only one other person living at my residence, based on evidence and Ring 2 videos, there is extremely huge indication that he learned to "trick" my Ring 2s within the first 24 to 48 hours after their installations.

Bottom Line: No, I would not recommend this to a friend

Oct 10, 2019

Hi B.Jennings,

I would review the Community Guidelines, here: https://support.ring.com/hc/en-us/articles/115004851266-Ring-Neighbors-Community-Guidelines as well as reply to the email for further review. Also, I would check your motion zones and motion frequency for optimal performance: https://support.ring.com/hc/en-us/articles/115003477106-Understanding-and-Optimizing-Motion-Detection-with-Motion-Frequency. Feel free to email me if you would like to discuss this in more detail.

Thank you,

Jennifer F., Community Manager

Jennifer@Ring.com

---

Don't waste your money

By Jeffrey H.

,

Tampa, FL

,

Oct 2, 2019
Verified Reviewer

After ordering this from QVC and drilling holes to install on my door, I was having problems with it as I approached the house to test it out. I called customer service and their solution was to expand the range of the motion. Still has trouble notifying when someone approaches and is standing at the door, but will pick up cars and garbage trucks on the street. Just found out after spending almost $200.00 on this piece of garbage that now I have to pay a monthly fee. I get it that it's only $30 or $100 but I feel like they do not live up to the hype that they have created and also scam you by not telling you about the monthly fee after purchase. Wish I had never wasted my money on this piece of garbage!

Bottom Line: No, I would not recommend this to a friend

Oct 2, 2019

Hi Jeffrey,

We are more than happy to help find the best motion zones for you and your home. Want to send me an email so we can get your device up and running to its full potential? I look forward to hearing from you!

Thank you,

Jennifer F., Community Manager

Jennifer@ring.com

---

My Ring Doorbell has glitches and their customer support is ignorant and rude.

By David R.

,

Missouri

,

Sep 25, 2019
Verified Reviewer

My Ring Doorbell sometimes does not notify me and sometimes so late the visitor has already walked away. I cannot get a subscription because the software has too many glitches and their customer support is rude and incompetent.

Bottom Line: No, I would not recommend this to a friend

Sep 26, 2019

Hi David,

I would like the opportunity to take a look at your recent support ticket as well as assist with getting your device up and running to its full potential. Will you please email me at jennifer@ring.com?

Thank you,

Jennifer F., Community Manager

Jennifer@ring.com

---

Scam

By Joe K.

,

Warwick, RI

,

Sep 16, 2019
Verified Reviewer

They don't tell you that there is a monthly charge to review footage of who was at your door. They give you a short time to get you hooked on the item, then they want $3.00 a month. This has become an expensive doorbell button. Refuse to pay the monthly charge. There are plenty of camera systems out there, with no monthly charge.

Bottom Line: No, I would not recommend this to a friend

Sep 16, 2019

Hi Joe,

Thank you for your feedback. The option Ring Protect Plans allow you to access, download and share any past video. Without this service, you will still be able to answer real-time notifications as well as monitor and check Live View. You are correct, that after the 30-day trial, our optional plans start at $3/month or $30/year. You can find more information about our plans, here: https://shop.ring.com/pages/professional-monitoring. If you need help finding the best plan for your device, please check out this article on the Ring Community. https://community.ring.com/t5/General-Questions/How-it-Works-Protect-Plan-Differences/m-p/2285#M36. If you have any further questions about the Plans and/or would like more information, please send me an email at jennifer@ring.com.

Thank you,

Jennifer F., Community Manager

Jennifer@ring.com

---

Not impressed

By Linda D.

,

Massachusetts

,

Aug 21, 2019
Verified Reviewer

I am not impressed. It very seldom records people coming to my door, it sometimes records them leaving. I have nurses coming to my house a few days a week for a sick family member and sometimes it doesn't record them at all and others I just see their back as they are leaving but nothing when they arrive. It's not just the doorbell either, I have a total of 5 Ring cameras and they will record a squirrel in the middle of the day but not a person in the yard. My husband had a tiff with a raccoon in the backyard, and not 1 camera out of 3 caught it. I have a lot of package deliveries and I come home and the packages are on my steps but Ring didn't capture them delivering them. The only thing Ring is really good for is live views and if someone happens to ring your doorbell. I will be looking into another type of camera soon.

Bottom Line: No, I would not recommend this to a friend

Aug 21, 2019

Hi Linda,

I'm sorry to hear about your recent Ring experience. We would love the opportunity to talk to you in more detail and help find the best motion zones for you and your home. Will you please send me a message at jennifer@ring.com so we can take a look into this?

Thank you,

Jennifer F., Community Manager

Jennifer@ring.com

---

Awful, awful product! Total piece of junk! Avoid!

By Eric B.

,

Pittsburgh, PA

,

Aug 5, 2019
Verified Reviewer

I signed up for ADT security and when they came out to install the camera that was included in the package, the tech installed a Ring Doorbell instead. After he installed it, I objected at first because that was not the expectation I was sold on when I signed up with ADT. Tech tried to tell me it was better (but now I know it was just because he screwed up and already installed the darn thing and probably was going to get in big trouble if he had to remove it). They retail for over $250. He made it sound as if this was a better deal than an ADT camera.

The Ring Doorbell SUCKS, and I do not say that lightly. It records nothing that you need it to and only picks up the motion of cars already driving away and people at your door already leaving. There will be 8 to 12 hour periods, generally at night or during the day when I'm at work, where there is no "history." I had property in my yard that was vandalized in the middle of the night and the camera did not record any of it! Then today I got an email from Ring saying today was the last day to sign up for a "protection plan," which is very misleading. Apparently, and unknown to me before calling Ring support, if you don't pay Ring (not ADT) a separate monthly or annual subscription fee, their "protection plan," it will not store any video! So for example, if you came home to find that your car or home was broken into, you have no way of reviewing the footage. What on earth is that good for? So not only do I have to pay ADT, I would have to pay Ring also! And again, 90% of the motion you would want to capture is not. I took my garbage out last week and was right in front of the camera; didn't capture any of it. So in other words, I could get robbed or murdered in my own home and this "security camera" would more than likely not record the person breaking into my house.

The tech also told me the battery lasted for "months" when it only lasts 2 weeks at best. And after the battery goes down past 75%, the performance is even worse. This is the biggest rip off! I called ADT and they are going to remove the Ring doorbell/camera and instead install one of their own cameras, which is actually monitored as well. Ring Doorbell is not monitored unless you pay $100 a year to Ring. BEWARE! Avoid this product at all costs, you will regret it! Awful, awful product! What kind of security camera doesn't record what you need it to and doesn't provide you security?

Bottom Line: No, I would not recommend this to a friend

Aug 6, 2019

Hi Eric,

I'm sorry to hear about your experience with Ring thus far. Our optional Protect Plan allows you to access, download and share past videos and starts at $3/month or $30/year. Without this service, you will still be able to access and use Live View plus answer real-time notifications. In regards to your motion, we are more than happy to help find the best zones for you and your home. It sounds like you may benefit from an install kit or two (like our Wedge and Corner kit) to help with the field of view of your device. Also, battery life is contingent on the number of alerts you receive as well as cold weather. Improving your motion zones to avoid false motion can definitely help. Will you please email me at jennifer@ring.com so we can discuss this in more detail?

Thank you,

Jennifer F.,

Community Manager

Jennifer@ring.com

---