Rise Credit Reviews
Claimed This company has claimed this profile, is getting alerted on any new customer reviews entering this page, and may engage in dialogue with its customers to address their matters.

Companies cannot pay money or provide goods in order to remove or alter customer reviews.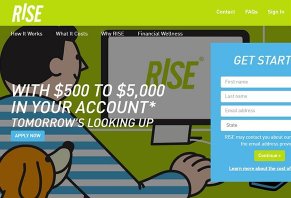 Rise Credit claims to provide short-term installment loans that can help get you the money you need as fast as possible, along with flexible repayment terms.
About Rise Credit
Your interest may have been piqued by a recent commercial or mailer from Rise Credit, a short-term lender that claims to help you address financial emergencies using fast and easy personal installment loans.
On top of this, the lender claims to offer flexible repayment terms, rates that go down over time, access to their Free Credit Score Plus service, and tools that can help customers start a budget, set savings goals, and better manage their debt.
In short, Rise claims that "a better financial you, starts with you," so they help their customers build good credit and learn new money habits.
According to a chart on their website, Rise's rates tend to fall somewhere between credit card cash advances on the low end, and payday loans on the upper. But does this mean you should use them?
To address this important question, along with many others, we performed some in-depth research using third-party resources, as well as speaking to the company directly. Here's what we found.
Rise Credit Details
By offering loan amounts between $500 and $5K, Rise Credit claims to potentially benefit customers—and differentiate themselves from the competition—in three ways:
Although the company recommends getting out of debt as soon as possible, they offer up to a 50 percent rate reduction on future loans or advances.
Their free Credit Score Plus service provides customers with access to credit score, credit alerts, and savings and spending tips and tools.
Like most lenders, Rise also reports payments to the major credit bureaus. As a result, if customers "demonstrate positive financial behavior" and make payments on time, their credit score could improve.
If you're interested in applying for a Rise Credit loan, the process works over the following steps:
First, fill out an online application, which includes basic information such as name and address, as well as more detailed info such as social security number, checking account balances, and so forth.
According to the Rise Credit website, you'll need to apply online and to have a valid checking account and email address. We'll talk about additional requirements in a moment.
Once approved, your loan can be funded as soon as the next business day (as long as approval occurs before 6 pm ET) and sent directly to your checking account. Then, you'll be able to log into your Rise account to view activity and check your balance 24/7.
How Does Rise's Credit Score Plus Program Work?
For some quick background, there are three main credit bureaus: TransUnion, Equifax, and Experian. They collect financial data about individuals related to mortgages, auto loans, personal loans, and forth. Then, they package this information into a unique credit score, each of which is typically within 20 points of one another.
Whenever you apply for a new loan, lenders will utilize one or more of these scores to help determine your eligibility, APR (often the lower your score, the higher your rate will be), and repayment term.
With these details in mind, Rise's Credit Score Plus service is offered through TransUnion Interactive, Inc., so you'll only receive their specific score. While details are slim on the Rise website, we're also told this involves free credit alerts.
If your Credit Score Plus account remains inactive for 90 consecutive days, TransUnion will automatically un-enroll you in the program, and you'll be required to re-enroll if you wish to continue service.
What Are Rise Credit's Eligibility Criteria?
As of this writing, Rise online loans were available to residents of the following states: AL, CA, DE, GA, ID, IL, KS, MS, MO, NM, ND, OH, SC, TX, UT, and WI.
In order to qualify for a Rise Credit loan, you must be at least 18 years of age with a job or other proven source of income. You'll also need to have an active/valid checking account, a working phone number, and an email address.
According to the FAQ on their website, "RISE is not available to applicants listed as Covered Borrowers in the Military Lending Act database, including qualifying active duty service members and their dependents as defined in 32 C.F.R. § 232."
Taken together, Rise's eligibility guidelines—along with the rates you'll pay—are based on an "assessment of what you can afford, your application information and credit history, and the loan amounts and terms offered in your state." Let's continue this discussion in the next section.
How Much Does a Rise Credit Loan Cost?
After you complete your application, the FAQ indicates your loan could be approved in seconds. From there, the funds can be sent via ACH as soon as the following business day, as long as your application was submitted prior to 6 pm ET.
If you prefer, Rise can send you a paper check, although this will take 7-10 days for delivery through the USPS. Your first payment will generally be withdrawn 14 days after your loan's effective date.
Depending on your state of residence, you can repay your loan over the course of between four and 26 months, with APRs ranging between 36 and 299 percent. Here's a quick example of how this might play out, according to the disclaimer at the bottom of Rise's website:
The most common RISE loan in the state of California is $2,600 with 32 bi-weekly payments of $241.44 (last payment may vary), and an APR of 224.35%.
What's this mean from a money perspective? Assuming you followed the full payment schedule, in this example, you'd end up paying more than $7,700 on an original loan of $2,600.
In this regard, the FAQ emphasizes that Rise is "an expensive form of credit," ideal for use in emergency situations like car repairs, medical care, or job-related travel expenses. On the other hand, they also point out that their loans can be less expensive than things like overdraft, late, or utility reconnection fees (if you pay it off quickly, of course).
Rise provides a five-day window during which time customers can pay off their loan in full, without accumulating any fees.
If you make 24 months of scheduled payments and have APR(s) over 75 percent during this time, you could be rewarded with a 50 percent drop in your rate for future loans. After 12 additional months, you could see your rate drop as low as 36 percent.
Rise Credit claims that their Credit Score Plus service is free, and that their loans come without any hidden fees or early payment penalties.
For additional information on APRs and repayment terms, Rise Credit's customer support team can be reached at 866-580-1226.
What Do Other Consumers Have to Say About Rise Credit?
Since writing our original article, nearly 70 HighYa readers provided their feedback about Rise, giving the company an average rating of 3.1 stars. Most compliments seemed related to ease of use, quick approvals, and solid customer support.
On the other hand, frequent complaints referenced high-interest rates and declinations.
We also encountered nearly 17,000 user reviews on ekomi-us.com, where Rise had an average rating of 4.7 stars. There, most compliments and complaints seemed to mirror those found on HighYa.
The company, based out of Fort Worth, TX, also had a 2.2-star average rating on CreditKarma.com among 70 pieces of feedback, and a one-star rating among 23 Yelp reviewers, at the time of our research. Most of the compliments and complaints seemed to mirror those found on HighYa.
Rise also had an A+ Better Business Bureau rating, 32 reviews (split evenly between negative and positive), and 93 closed complaints as of 7/7/17. Most related to high fees and difficulty processing loans, although the company appeared to respond quickly with a resolution.
Where does all of this information leave you?
What's the Bottom Line About Rise Credit?
With all of this in mind, is it a good idea to take out a short-term loan through Rise Credit? If you're in a financial emergency and there aren't any other options, high-interest loans like these could be a real lifesaver.
But before sending in your application, keep in mind that, like payday loans, short-term installment loans often come with very high interest rates. As a result—and as we outlined in the Pricing section example earlier—you could end up repaying three times (or more) than your original loan amount if you don't pay it off quickly.
And if you frequently encounter repayment issues with your short-term loan (whether through Rise or any other installment lender), you could be assessed late fees and other penalties that keep you in a cycle of debt. If it goes on long enough, it could even end up harming your credit score.
As with any other financial decision, it's important to weigh all these potential pros and cons before accepting your Rise Credit loan; especially factors like how much money you need and how badly you need it, the associated interest rates, length of repayment, and whether or not you can ultimately afford to pay meaningfully more than you borrowed.
In the meantime, if you're looking for additional free, in-depth information about how to improve your financial wellness, be sure to browse our extensive credit-related articles and guides section.
Before you go, tell millions of readers about your Rise Credit experience by writing a review below.
This company is actively collecting reviews from its customers. All reviews submitted are subject to moderation and approval to ensure they meet our

Review Guidelines

.

They helped me build my credit score back up.

By Mark M.

,

Bluffton, SC

,

Oct 20, 2019
Verified Reviewer

Yes, the interest rate is high when you start out with Rise, but I am now down to 35% interest rate because I paid my loans on time. This is a great way to build your credit score back up. You just have to be smart about it. I went from a 565 credit score to over 700 in a year and a half.

Bottom Line: Yes, I would recommend this to a friend

Oct 21, 2019

Thank you for taking the time to post about your experience with RISE and choosing us for your lending needs! Please let us know if there is anything that we can help with regarding your RISE account.

Thank you,

RISE Credit

---

They are liars

By Kevin L.

,

Florida

,

Aug 7, 2019
Verified Reviewer

The pre-approved loan is a lie. Not only are they false advertising, Rise is also in violation of savings and loan rules and regulations. Not including violation of SEC rules.

I advise you to disregard any pre-approved offers from Finwise or Rise.

Bottom Line: No, I would not recommend this to a friend

Aug 8, 2019

We are so sorry to hear about your recent experience with RISE. We would like the opportunity to review your concerns with you and research your experience in detail. Please send us an email at rise_spokesperson@risecredit.com so that we may better assist you.

Sincerely,

RISE Credit

---

Advertisement

---

Refuses to work with loyal customers

By Michelle O.

,

Sacramento, CA

,

Jul 11, 2019
Verified Reviewer

I have been a customer with Rise since 10/2017. I have had 4 loans totaling $10,000 and paying a total of $6,373 in interest which means I have paid a total of over $16,000 in less than 2 years. I recently checked my credit because my score went down and found out they reported me 30 days late in October and December of 2018. I called and have sent endless emails telling them they are inaccurate and when reviewing account they are confused because of the habitual attempts to withdrawal funds even when I have called to say funds will not be in the account and I would be slightly late. My 4th loan, which they reported those late payments had a due date of September 1, 2018, and I told them I needed the due date to be the 16th of every month and they refused to change the due date and said the first payment had to be made first before changing due date even though I explained I can't make a payment in 10 days from receiving funds.

Funds went into my account on the 20th of August 2018 and they insisted on a payment on the 1st of September. I told them I don't understand when this is my 4th loan and I'm an excellent customer and all money has been paid back sooner than loan terms. My interest is 200% and again I have been a customer for almost 2 years and have made 24 payments and still pay high interest my credit had an excellent payment history with never any lates from any of my accounts and because of this account my score decreased 50 points going from excellent to good for payment history. Think twice as once they have destroyed your credit they don't ever remove anything even if wrong or even out of pure courtesy to a loyal customer who has paid extensively for their loans. Now that is on my credit for 7 years!

CashNetUSA never reposts to credit bureaus and isn't in the business of ruining customers credit. The only way CashNetUSA ever reports is if you completely don't pay and it goes into collections. It actually isn't CashNetUSA but the collection company reporting at that point. I'm going to hire an attorney and contact the Fair Credit Reporting Bureaus and file a complaint because they literally refuse to remove two 30-day late and say they are reported accurately. Never do business with Rise, you will greatly regret it in the end!

Bottom Line: No, I would not recommend this to a friend

Jul 12, 2019

We are so sorry to hear about your recent experience with RISE. We would like the opportunity to review your concerns with you and research your experience in detail. Please send us an email at rise_spokesperson@risecredit.com so that we may better assist you.

Sincerely,

RISE Credit

---

Horrible company

By Denise D.

,

Brillion, WI

,

Jun 26, 2019
Verified Reviewer

Do not take a loan out with Rise. We were in dire straits and they were a last resort. I ended up taking out a loan from another finance company to pay off Rise. When I called to get a payoff amount they gave me the payoff amount for that day even though I told them I was refinancing with someone else and that they would be mailing a check to them. When they received the check it wasn't enough because he did not allow for mail time. Now they call me like 4 times a day telling me I owe them $128.00 in interest. I was told it was up to me to have to add on the extra interest from the payoff amount they quoted me...Nothing but a scam, AVOID Rise at ALL costs!

Bottom Line: No, I would not recommend this to a friend

Jun 27, 2019

We regret to hear of your dissatisfaction with your RISE loan.

We disclose on our website that RISE is an expensive form of credit and display the rates and terms by state. We also review the cost of the loan in great detail in the loan agreement.

We do offer flexible payment options and on time payments and payoff can help to increase your credit score.

Please contact us if we can offer any helpful information regarding your payment options.

Sincerely, RISE Credit

---

Advertisement

---

NOT what I was hoping for

By Naomi C.

,

Long Beach, CA

,

Jun 18, 2019
Verified Reviewer

Yes, it's very easy and fast to get a loan but I didn't think it would cost me almost $13,000 for a $3,000 loan. Yes, I did have some life-changing things happen and needed 2 or 3 payments pushed back but not to cost this much after getting back on my feet.

Bottom Line: No, I would not recommend this to a friend

Jun 19, 2019

We regret to hear of your dissatisfaction with your RISE loan.

We disclose on our website that RISE is an expensive form of credit and display the rates and terms by state. We also review the cost of the loan in great detail in the loan agreement.

We do offer flexible payment options and on time payments and payoff can help to increase your credit score.

Please contact us if we can offer any helpful information regarding your payment options.

Sincerely, RISE Credit

---

Don't do it!

By Alicia L.

,

Ohio

,

Jun 17, 2019
Verified Reviewer

When I first took a loan out with this company I made a good review and only because of the quickness and convenient time it took to get a loan. This was one of the worst decisions in my life getting a loan with this company! I don't have bad credit but it's not excellent. I only took out this loan due to a bad situation I got myself in. The amount of interest they charge is more than double! I took out a $3,000 loan and I'll end up paying about $,000 once it's paid off. I'm paying literally $500 a month and I've been paying this for almost a year here soon. Taking this loan out has set me back so far and caused more damage than helping me. I have another loan company I normally use and I will be using them going forward.

I will NEVER use or recommend this company. I don't even know how this company is still in business and I'm sure all the good reviews are paid people or fake. They also try to say once you pay more than half your loan on time they refinance you and that's a lie! Listen to all the negative reviews, they are real, if you want to pay triple the money back then this is the way to go.

Bottom Line: No, I would not recommend this to a friend

Jun 18, 2019

We regret to hear of your dissatisfaction with your RISE loan.

We disclose on our website that RISE is an expensive form of credit and display the rates and terms by state. We also review the cost of the loan in great detail in the loan agreement.

We do offer flexible payment options and on-time payments and the payoff can help to increase your credit score.

Please contact us if we can offer any helpful information regarding your payment options.

Sincerely, RISE Credit

---

Horrible company!

By Keshia D.

,

Denton, TX

,

May 9, 2019
Verified Reviewer

They do not resolve issues, even when it is their fault! I made a payment and they still tried to withdrawal the same payment three times after I had already made the payment, causing my bank account to go into overdraft and my bank to charge me and overdraft fee of $38. All I asked of Rise was to reimburse me the $38 they had caused! They even conferenced called with my bank to affirm these charges and I sent screenshots of the charges on my account and yet numerous emails, calls, and tweets and nothing has been fixed or done with my account. DO NOT TRUST THIS COMPANY! They steal money.

Bottom Line: No, I would not recommend this to a friend

May 13, 2019

We regret to hear of your dissatisfaction with RISE. From my records, this has been resolved, but if this has not been resolved or if we can address anything else for you please email us directly at rise_spokesperson@risecredit.com. Thank you RISE Credit.

---

Accounting procedures

By Kelechi S.

,

Washington, DC

,

May 2, 2019
Verified Reviewer

Recently, I made an extra $500.00 payment. All but about $90.00 was credited to the principal. Imagine my dismay when my regularly scheduled payment - the next week - was applied to interest only. Upon asking why, it seems that if a payment is made in-between payment due dates, your next payment will be used to make up the lost interest. It was suggested that I make extra payments only on the actual due date so that at least some money goes toward the principal.

Bottom Line: No, I would not recommend this to a friend

May 3, 2019

We regret to hear of your dissatisfaction with the RISE. We would be happy to review your account with you and address any questions you may have about how your payments are allocated. You may reach us by phone at 866-580-1226 or via email at rise_spokesperson@risecredit.com.

Thank you,

RISE Credit

---

SCAMMERS

By Candy S.

,

Florida

,

Apr 9, 2019
Verified Reviewer

Ok, let me say this. I apply for the loan and I send in everything they ask for, as far as drivers license, social security card, bank statement, account number, and etc., so the first day was like oh we didn't get your stuff so right then in there I know they were lying.

Bottom Line: No, I would not recommend this to a friend

Apr 9, 2019

We regret to hear of your dissatisfaction with the RISE Credit application process. We would be happy to review your account with you and your missing documents. You may reach us by phone at 866-580-1226 or via email at rise_spokesperson@risecredit.com. Thank you,

RISE Credit

---

Company should be illegal

By Thomas K.

,

Ohio

,

Dec 22, 2018
Verified Reviewer

I urge anyone thinking about a loan from Rise Credit to NEVER EVER do it. A $1000 loan will cost you monthly payments of $438 with APR around 298%! INSANE. This place ruins lives, does not help people. Predatory lending at its finest. If someone is taking out a $1000 loan, it means they are financially strapped. The payments to pay back will make you bankrupt. I have no clue how this is legal. The government needs to step in and stop these companies from loaning money to unsuspecting Americans.

Bottom Line: No, I would not recommend this to a friend

Dec 24, 2018

We're sorry to hear of your dissatisfaction with your Rise Credit loan. Rise is designed to provide you with funds at the best possible price if other forms of credit are not available or are more expensive. Rise fully discloses all interest and fees associated with your Rise Credit loan prior to signing the loan agreement. We also provide a five-business-day rescission policy in the event that you decide Rise is not for you. We also advise you to pay your loan in full as quickly as possible to save on the interest. Please contact us at (866) 580-1226 or rise_spokesperson@risecredit.com if you have any further questions or if you need assistance.

Thank you,

Rise Credit

---

Rise does not have flexible payment terms

By Lolita G.

,

Seabrook, TX

,

Dec 9, 2018
Verified Reviewer

I used Rise because of a financial emergency. In the application process, they advise they have flexible payment terms but it's very detailed. I am paid the 10th and 25th. This did not fit the terms available. You have to continually call for a payment extension three days after the prior payment clears. Should you miss that payment, late fees apply and your credit is dinged. Make no mistake, this is a payday product. LendUp is the best for these situations.

Bottom Line: No, I would not recommend this to a friend

Dec 10, 2018

Thank you for contacting us in regards to your recent concerns. We would like to further review your account in regards to the provided information. Please email us at rise_spokesperson@risecredit.com so that we can locate and review your account.

Thank You,

Rise Credit

---