Rize Money Reviews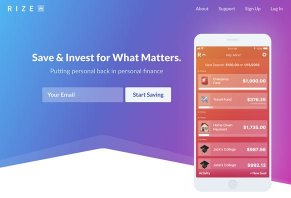 Rize Money is an independent savings account that offers much higher interest rates than traditional banks, with unique additional features and the ability to create unlimited goals.
What Is Rize Money?
Rize Money is an automatic savings account that makes it simple and effortless to save and invest based on your specific goals, so you can spend more time doing the things you love.
All you have to do is connect your bank account, set one or more goal (you can contribute as much or as little as you want), and their system will automatically move money from your checking account to your Rize account after each paycheck. And for larger, long-term goals, you can maximize your savings by investing "in a unique balance of cash, stocks, and bonds."
Rize also offers unique features—called Power Ups—like Accelerate, which automatically increases your savings by one percent each month, while Boost saves spare change once or twice per week.
Is Rize Money necessarily the best micro-savings or automatic savings service for you? Let's quickly explore everything we learned during our research so you can come to your own conclusion.
How Does Rize Money Work?
There currently isn't a Rize Money iOS or Android app available, although the company emphasizes that one is under development. However, it's accessible on any internet-connected device, including mobile and tablet browsers. Their services are available to U.S. citizens in all 50 states.
Since Rize is an independent savings account (operating as an individual brokerage account), they're able to offer a much higher interest rate than a bank. This also provides customers access to a unique Pay What You Want model, as there are no set fees for their services.
Signing up for an account is simple and only takes a few minutes to complete. You'll start by entering your email address and choosing a password, followed by singing into a third-party service (Plaid) to connect your bank account.
Pro tip: The company recommends connecting to your most active checking account (you can only connect one) that's frequently used and doesn't have transaction limits.
Then, you'll enter your name and address, employment status, annual income range, followed by your DOB and Social Security Number (which Rize is required to collect as a registered investment advisor).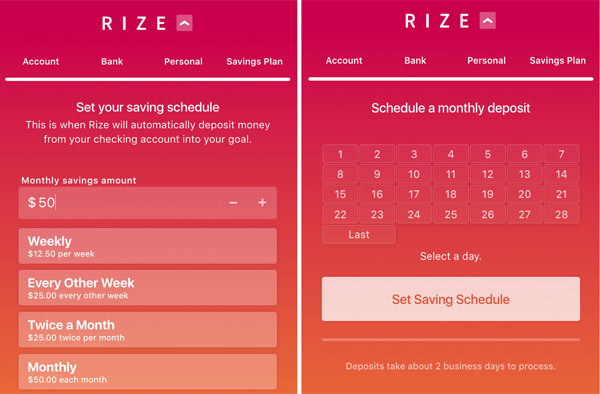 Setting up a Rize account is as easy as entering a few pieces of information, connecting your bank account, choosing an investment amount and transfer date, and setting goals (whether saving or investing). Credit: Rize Advisors, LLC
After signing up, you'll land on your account dashboard, which is clean and simple to navigate. Here, you'll be able to view upcoming deposits, existing goals and there current balance, and total account balance.
This is also where you can add a new goal, which is equally straightforward. Just enter the new goal's name, assign it an icon, enter the target amount and date, how much you'd like to contribute each month, and whether you'd like for it to remain cash, or work as an investment (ETF index funds). You can choose as many as you like and customize them at any time.
Once you reach a goal, Rize will continue transferring money until you update your schedule.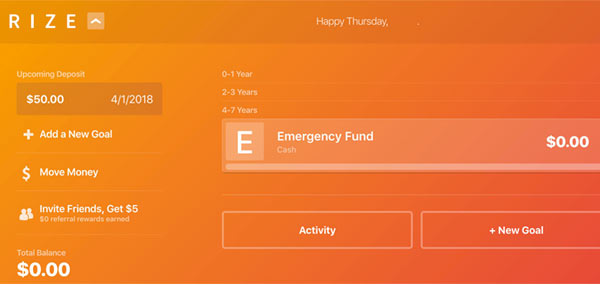 Like their setup process, Rize's main account screen is easy to navigate, without any unnecessary fluff. Credit: Rize Advisors, LLC
Before making any deposits, Rize will send you an update via email or text. You can also view upcoming activity and progress by logging into your account at any time, which will allow you to cancel any transfer up to the scheduled date.
You can move money at any time by selecting the accounts you want to transfer from and to, entering the amount, and then pressing the Approve button.
In addition to the designated deposits and dates, Rize Money provides access to two unique Power Ups: Accelerate, which gradually increases your savings amount one percent each month, and Boost, which "monitors your checking account and pulls out a bit of spare change when it makes sense, usually once or twice a week." These can be turned on or off via your account.
From a security standpoint, all information is 256-bit encrypted, end-to-end. Money in savings is protected up to $250,000, while investments are SIPC protected up to $500,000.
Rize Money Price, Interest Rate, & Fees
The company's Pay-What-You-Want model allows customers to contribute whatever they feel Rize is worth, although they ask for a minimum of $2 per month to access investment goals (along with a yearly 0.25% management fee of your invested assets).
From a savings perspective, the company currently offers a 1.16% interest rate. Account holders can deposit and withdraw as often as they like, although it will take two to three business days for cash deposits to appear, and five to seven business days before investments can be sold or withdrawn.
In addition to alerting you via text and email before a deposit is about to take place, Rize also checks your balance on the day before a transfer is initiated. If it has under $50 (this is the default number, which can be changed at any time), the deposit won't go through.
However, their FAQ emphasizes that "if those funds are not available within two business days you bank will reverse the transfer. Our clearinghouse charges a $30 fee for reversed transactions," which will be passed along to you.
If you have questions, customer service can be reached at support@rizemoney.com.
What Are Rize Customers Saying in Their Reviews?
Rize Inc. is headquartered in Washington, DC and was co-founded in 2014 by CEO Justin Howell and Head of Product Kirk Voltz.
Previously, Justin worked as a Private Equity Associate for Perry Capital and co-founder of Project Avocado, while Kirk was Design/Development Lead for Offshoot Design, and is also currently co-founder and creative director for The Bronx Brewery.
Despite this length of time in business, we encountered very little firsthand online feedback for Rize's service, although what little we did find seemed positive.
For example, sites like InvestorJunkie and WalletHacks liked Rize's unlimited goals, the high interest rate it paid, along with their Boost and Accelerate functionality. On the other hand, both lamented the current lack of an app, while InvestorJunkie would like to see a round-up feature, as included with competitors like Acorns and Quapital.
Let's carry this thought over to the next section.
Are There Other Savings & Investment Services Like Rize Money?
As the financial technology (fintech) sector continues to grow by leaps and bounds, an increasing number of micro-investing and savings apps are entering the market, many of which blur the lines between bare-bones budgeting apps and full-blown robo-advisors. Some of the more popular options include:
| Service | Min. Investment | Fee | Standout Features |
| --- | --- | --- | --- |
| Rize Money | $0 | Pay What You Want | Maximum interest rate earned on account, no app |
| Stash | $5 | $1/mo. For accounts of $5,000 or more 0.25% per year. | 30 different investment options (ETFs), no savings |
| Acorns | $0 | $1/mo. For accounts of $5,000 or more 0.25% per year. College students under 24 free. | Rounds up change to nearest dollar and invests the difference |
| Digit.co | $0 | Free first 100 days, $2.99/mo after that | Automatically saves by analyzing your income and spending, No-overdraft fee guarantee |
| Quapital | $0 | Free | Rounds up all purchases and saves the difference, but doesn't offer interest |
| Tip Yourself | $0 | Free | You're responsible for transferring money when you want to save, no investing available or interest earned |
| Clink | $5 | Free | Tracks credit cards and sets aside "a fixed percentage of recreational spending," investing only |
How to choose which of these are right for you?
First, you'll want to look at their fees. Do you prefer something that's free, or are you willing to pay a monthly or annual fee for perhaps more robust functionality? This is especially important when considering robo-savings apps since most don't offer interest.
Even then, we can see that most micro-investing don't charge more than $2.99/mo, so prices are relatively low to begin with.
Along these same lines, what services are you getting for your money? Again, as we can see from the above table, not all of these apps offer investments, which is obviously something you'd want to avoid if this is a must-have aspect.
Additional answers to seek: Do you mind making manual transfers, or do you want a 'set it and forget it' approach to saving money? Do you want the ability to adjust your savings deposits, or do you prefer a completely hands-off approach?
Finally, it's important to seek out what other customers are saying about their experiences. Does the company seem to come with mostly positive feedback? Do you notice any trends? If so, this could speak volumes about what you might experience after becoming a customer.
Our Final Thoughts About Rize Money
If you're in the market for a competitively priced (or even free, based on their Pay What You Want model) micro-savings platform, with no minimum investment amount and a seemingly positive (if not somewhat limited) online feedback, Rize Money certainly seems like it might fit the bill.
Additionally, during our research, we found the setup process quick and painless, and appreciated its flexibility, since we could set up as many goals as we preferred, edit anything at any time, and withdraw money whenever we wanted. Like InvestorJunkie and WalletHacks mentioned, though, an iOS and Android app seems like it might boost accessibility and functionality, which is something that appears to be under development.
But since Rize is fast and free, if you give it a try and ultimately find that it doesn't match your preferences or meet your needs, you might not be out much more than a few minutes of your time.