Roach Doctor Reviews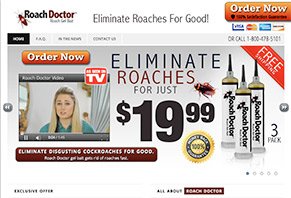 Roach Doctor features a scientifically formulated carbo bait to destroy roaches after they eat the gel and return to the colony, regardless of the species.
About Roach Doctor
Using a scientifically formulated carbo bait, Roach Doctor claims to be a revolutionary, professional strength insecticide that's guaranteed to eliminate roaches fast—and for good.
To do this, Roach Doctor's food-based formula attracts "virtually every species of cockroach," which they eat and bring back to the nest. Then, as it's shared among the colony, roaches are destroyed, without noxious fumes or unsightly, disgusting traps.
To defend your home against roaches, the company states that you simply need to use Roach Doctor's built-in applicator to squeeze a small amount wherever roaches like to hide, such as cracks and crevices.
After it's been applied, how long can you expect Roach Doctor to continue destroying roaches? What's the active ingredient, and is it safe for your family and pets?
You have lots of perfectly reasonable questions about Roach Doctor. We'll help answer some of the most important ones here.
The Curious Case of Roach Doctor's Formula
Alright, in this section, we're going to address a couple important points; namely, Roach Doctor's competition, and what this might tell us about the formula's composition.
Is Gel Cockroach Bait Anything New?
While we're not exactly sure who was the first company to use gel bait to destroy roaches, or when this occurred, you can be sure of one thing: you currently have lots of options. In fact, typing the phrase "roach gel bait" into Google yields about 197,000 results.
Based on years of research and reading reviews from customers like you, we've found this to be a common occurrence with ASOTV products; manufacturers closely mimic existing products and then undercut their price to gain market share. We'll come back to this point later, so keep it in mind.
The point is that cockroach gel bait is nothing new, and Roach Doctor has a lot of competition.
What Ingredients Are Found In Roach Doctor?
Luckily, we don't have to browse through all 197,000 of these results to obtain some broad clues about the ingredients Roach Doctor contains.
The first result at the time of our research was for Advion Syngenta Cockroach Gel Bait, made by DuPont, which appears to be the original. The active ingredient in Syngenta is Indoxacarb, which is perhaps where Roach Doctor gets their "carbo bait scientific formula" from.
The second result was for Combat Max Roach Killing Gel, whose active ingredient is Fipronil. Other common ingredients in roach gels are abamecetin, hydramethylnon, imidacloprid, and more. The point? There are two:
Is Roach Doctor Safe?
Without a product label, we can't be sure exactly what Roach Doctor uses to destroy roaches. However, based on what little evidence we have to go on, it appears to be Indoxacarb.
If Roach Doctor uses any of the most common ingredients (Indoxacarb or otherwise), they're definitely considered poisons. Add to this that Roach Doctor's gel is food-based, and it's reasonable to believe it'll be attractive to animals with keener senses of smells.
As such, make sure you apply Roach Doctor in areas inaccessible to children and pets, such as behind wall switch plates, inside the back corners of cabinets, etc.
What's the Price for Roach Doctor?
A 3-pack of Roach Doctor tubes is priced at $19.99, plus free S&H.
Important note: We're not told exactly how much gel bait each Roach Doctor tube contains, or how many applications they're good for.
Regardless, Roach Doctor comes with a 30-day refund policy, less S&H. To request one, customer service can be reached at 855-668-1655.
How does this compare to other roach gel baits? The Advion Syngenta mentioned above costs about $23 for a single 6.4oz tube, while the Combat Max comes in around $10 for a 5.3oz tube.
In either instance, as we discussed earlier, ASOTV products tend to undercut the competition from a price perspective. Does this necessarily mean that Roach Doctor is a better value than these other options? We'll tackle this ever-important question shortly, but first, let's talk about the company behind the product.
Who Manufactures Roach Doctor?
Roach Doctor is brought to you by Telebrands, the largest company in the ASOTV industry. Since they've been in business well over 30 years, Telebrands has released many popular products, recent ones including the Ped Egg line of callus removers, TouCan Can Opener, Mighty Blaster, and many others. Is there any insight we can gain from the customer feedback for these products?
Here on HighYa, these products have an average 2-star rating. While many people claim to have been pleased, the most common complaints revolve around poor quality, performance that didn't meet expectations, and less-than-stellar customer service.
Like any other company, these reviews won't necessarily reflect your experience with Roach Doctor, but it's important to keep in mind nonetheless.
From a company perspective, Telebrands recently settled a lawsuit by the NJ Attorney General's office for allegedly violating the Consumer Fraud Act, to the tune of $550K. As stipulated in the settlement, Telebrands admitted no wrongdoing.
Let's bring it home, shall we?
Is Roach Doctor Your Prescription for a Roach-Free Home?
We just talked about expectations in the previous section, but let's bring it up again: Are you expecting to get a better value from Roach Doctor than from the nearly-identical competition?
Based on price alone, this might seem like the case. After all, you're getting 3 tubes for the price of 1 tube from the competition (or less), right? However, we're not told how much gel each tube contains, so you might end up getting the same amount as other brands.
Pro tip: Most of these gels come in a beige formulation (like Roach Doctor), or a clear one. Be sure to factor this into your decision, depending on where you'll place the gel.
Add to this that if you're not satisfied you'll have to pay to ship Roach Doctor back to the manufacturer, and it might seem like less of an overall value.
Will you end up dissatisfied with Roach Doctor, though? As such as new product with no online customer reviews, it's difficult to say. The good news is that (assuming Roach Doctor contains enough), Indoxacarb seems to be a highly effective insecticide that could kill up to three generations of roaches with just one application.
What'd you think of Roach Doctor? Was it effective? Would you consider it a solid value? Give us your insight by writing a review below!
5 out 5 people found this review helpful

It's worth the money!

By Sandi M.

,

San Antonio, TX

,

Jun 4, 2019
Verified Reviewer

I love it! Finally something that does what it is supposed to do. I put it in a few places and the roaches turned feet up and died, the rest of them fled. It does all they say it will. Really is a good product.

Bottom Line: Yes, I would recommend this to a friend

---

37 out 38 people found this review helpful

Great product

By Marie H.

,

Dallas, TX

,

Nov 9, 2018
Verified Reviewer

I bought four tubes of Roach Doctor when we moved into our new home. My husband placed it in the cabinets under the sink, in the corners of drawers baseboards, in the bathrooms, and roaches started dying. We clean them out every two weeks and place more out. He even put some on top of the fridge. The best thing out there.

Bottom Line: Yes, I would recommend this to a friend

---

Advertisement

---

44 out 50 people found this review helpful

Didn't work

By Sur A.

,

Cameron, NC

,

Sep 16, 2018
Verified Reviewer

Both my son and I tried this in both our houses. We put it out like it said. But it has been over two weeks and although it cut them down some, we both still have roaches.

Very disappointing. I lost the receipt so could not return it.

Bottom Line: No, I would not recommend this to a friend

---

80 out 93 people found this review helpful

Roach Doctor

By Carolyn B.

,

Rockwood, TN

,

Sep 14, 2018
Verified Reviewer

I had an infestation of roaches and the exterminator didn't even do any good! I saw the Roach Doctor while at Walmart and decided to try it, seeing as how nothing else seemed to work, and it was AMAZING! I started seeing dead roaches the same day I put the gel out! I would HIGHLY recommend this product, and it is not as expensive as an exterminator! VERY GOOD REVIEW.

Bottom Line: Yes, I would recommend this to a friend

---

Advertisement

---