Roadie Reviews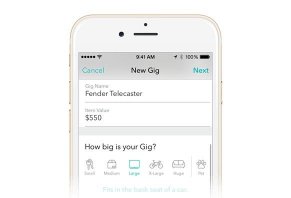 Roadie is an on-the-way delivery service that connects senders and drivers via their mobile app. The concept is founded on sending items with drivers who are already headed to the sender's destination.
What Is Roadie?
Have you ever been in a jam and needed something delivered ASAP in an affordable, reliable way?
Roadie, an on-the-way delivery app, claims to help you do just that. Using a business model that's a hybrid of Uber and the United States Postal Service, the company connects people who want to ship stuff with drivers who are already headed where the items need to go.
The company was founded in 2005 when founder and Atlanta resident Marc Gorlin was doing a bathroom renovation in his second home in Perdido Key, Florida.
As he was driving from Atlanta to Florida to work on his home, he got a call and pulled over to the side of the road. He found out the tile he was supposed to install arrived in pieces – they'd shattered during delivery.
Shipping heavy tile on short notice would have been insanely expensive. As Gorlin is sitting there on the side of the freeway, he sees cars zipping by and realizes that there had to be at least one person who was headed to or near Perdido Key and could pick up some tile and drop it off for him.
At that point, says Roadie Marketing Manager Jamie Gottlieb, Roadie was born.
"Four billion cubic feet of unused space hits the road every single day," Gottlieb said. "If you can put one item in a car that already heading that way, it's more sustainable and, really, it comes down to people helping people."
And that concept of filling empty space in cars traveling over the country is what drives Roadie.
If you aren't too familiar with these Uber-style delivery series, don't worry. Over the next few minutes, we'll show you how you can sign up for Roadie, how to send things and how to deliver them.
How to Sign Up for Roadie
Roadie's app can be found in the Google Play and iTunes app stores.
The sign-up process is pretty simple. You select driver or sender, then you provide some basic information including where you live, a payment method and, for drivers, your social security number (used for a background check).
The app itself has four different options: Map, My Gigs, Messages, and Profile.
The Roadie Map Menu
The map is where you'll go to see which gigs are available for drivers. The maps are templated on a Google Maps-style setup where you can use two fingers to zoom in, zoom out and move around the map.
Small circular markers dot the map. Each marker is a gig and includes a mileage calculation on it. Gigs that are more than 1,000 miles get a 1k+ symbol whether they're a 1,500-mile delivery or a 3,000-mile delivery.
When we signed up for the Roadie app to test it, there were three gigs available in Seattle:
Moving houseplants from Lake Forest Park to Atlanta for $573 (2,648 miles)
Moving furniture from Seattle to Brooklyn for $508 (2,867 miles)
Moving windows from Kent to Bellingham for $47 (106 miles)
To learn more about these gigs, we tapped each gig's marker.
The information that pops up when you tap on a gig marker includes the item(s), where it's starting/going, a deadline for delivery, size, distance and cost.
If you tap on that information, there's a more in-depth description of what needs to be moved as well as specifics about the deadline and what type of car could fit the items.
This detailed gig page also includes the sender's photo, name, and rating, as well as an "Offer to Drive" button and a button for asking questions about the delivery.
If you're a driver and want to make the delivery, you tap the "Offer to Drive" button, at which point you'll be taken to a new screen in which you tell them when you can pick the item up and when you can drop it off.
From there, you submit your offer and wait to hear back from the sender.
The Roadie Gig Page
Roadie's gig page is where you keep track of all the gigs you've either sent or delivered. This page is where you can also get an estimate for a gig and set up a delivery gig.
We tested the estimate tool out by choosing a delivery across town in Jacksonville, Florida. The entire trip was 17 miles, according to Google Maps.
Roadie estimates the delivery charge for you based on the delivery distance and the size/type of delivery you're requesting. Here are the estimated costs:
Small: $14
Medium: $14
Large: $24
X-Large: $49
Huge: $64
Pet: $26
Roadie says small items fit in a shoebox, medium items fit in the front seat of a car, large items fit in the back seat, XL items fit in an SUV or hatchback and huge items fit in a pickup truck. Anything you'd have to tow (cars, boats) won't work, Gottlieb said.
Pets, Roadie says, must be in a crate and fit in the back seat of a car. Cars and boats that would have to be towed aren't typically allowed, though some drivers are willing to tow, Gottlieb told us.
The Roadie Messages Page
This part of the Roadie app is pretty self-explanatory. It's where you receive messages and notifications from drivers, senders, and Roadie.
For example, this is the page to which Roadie sent us our notification that we'd been verified and were clear to drive.
The Roadie Profile Page
This final menu option in the Roadie app features your name, profile photo, star rating and a quick blurb you can customize. Ours read, "Looking forward to helping people move their stuff!"
The real strength of this page, at least for drivers, is the notifications preferences option that lets you choose whether or not to be notified if gigs pop up in your local area.
This subsection gives you options for addresses (we did a home address) and radius and distance (3-50 miles) as well as delivery size.
We believe this feature is helpful because it pares away any gigs that you don't want either because they're too long, distance-wise, or too big, size-wise.
You can also choose to customize notifications for longer gigs (more than 50 miles), based on routes you typically drive.
This comes in handy if you commute to work along the same route. You can enter that route into Roadie and get notifications when deliveries pop up on that route.
You can also do notifications that tell you when there's a delivery between where you are and your home address, as well as notifications for gigs that match ones you're already doing.
There are a few other notifications you can set up, but they're unrelated to finding gigs.
Setting Up Roadie for Deliveries
Sending items through Roadie requires a simple setup process. You post a picture of the item, along with the name of the gig, the value of the item and the item's size.
Once you enter that, you move to the next screen where the Roadie app will ask you where the pick-up will take place and who will be present: you, someone else or at a designated place like a doorstep.
Then, you'll be asked about the destination address and if you or someone else will be there to receive it, or if you want the delivery person to drop it off at a location. On this screen, you can also set a deadline for the delivery.
The final page in this process is where you'll give the driver special instructions and also offer up a bonus in addition to what Roadie sets as the delivery fee.
Senders' Insurance
Roadie offers free insurance on items up to $500 in value. From there, Gottlieb said the cost to cover an item is $5 for every $500 up to $10,000. So, if you were shipping a $10,000 guitar, you'd pay $190 to insure it if you choose to have it insured.
Gottlieb said that Roadie partners with UPS Capital in order to cover items valued at more than $500.
If you have to make an insurance claim you deal with Roadie directly, not through a third party.
Setting Up Roadie for Deliveries
If you want to drive for Roadie, the process is a little more detailed than setting up a sender account but it all takes place, as we experienced, in less than 24 hours.
Here's what you can expect to give Roadie in order to set up a driver account:
Social security number
Driver's license information
Bank account information
According to Gottlieb, Roadie runs their background checks through Chekr, the same company who does background checks for Uber.
She didn't provide any specifics as to what would disqualify you from being a driver. We were verified in less than 24 hours. Our driving record was clean and we didn't have a criminal record.
Once you're verified, you'll be able to choose the gigs you want; you can see all the details of the delivery.
According to Roadie's FAQs, you'll need to maintain a 4-star rating in order to drive for Roadie.
Payment is made via direct deposit to your bank account and should take between 4 to 6 days after your completed gig to show up in your account.
Gig Cancellations by Senders and Drivers
Roadie has a specific system set up to handle cancellations; they call it the "Golden Rule".
Here's how it works: Senders are charged $10 for canceling gigs already accepted by them and the driver. Out of that $10, $8 goes to the driver. Drivers are charged the same $10; the money goes to Roadie.
No-shows are lumped in under the cancellation charges. Here's what Roadie defines as a no-show:
Driver/sender cancel a gig when the driver is already on their way
Show up more than 15 minutes late to pick-up/drop-off without notifying driver/sender
Show up more than 30 minutes late to pick-up/drop-off despite notifying driver/sender
Roadie's policy states that they can suspend or deactivate your account if you tally three cancellations or no-shows.
How to Make Roadie Worth Your Time
As we talked with Jamie Gottlieb, we heard several different stories of people using Roadie to make money on the side or to save it through the Roadie delivery system.
She gave us one example of two guys who did a cross-country road trip and were able to pay for their trip by picking up Roadie gigs.
"They started in Denver, went to the Midwest and Northwest and then south," she told us. "They were able to pick up around 40 gigs along the way. They made $9,000; they couldn't' have done the road trip without Roadie."
She also pointed out a woman who used Roadie to ship her dog from San Francisco to Chicago and another guy who did a road trip from California to New York and made about $2,000 along the way delivering things like tile and video equipment.
Based on these narratives, we believe consumers who can best benefit from roadie fall into three categories:
Those who are planning a road trip
Those who drive a set route every day
Those who drive long distances for their job
Long road trips, as Gottlieb pointed out, are perfect for Roadie gigs. As we mentioned earlier, there were two cross-country delivery gigs in Seattle.
It can also be a great way to earn side cash if you travel a decent distance to work every day along the same route. This way, you can pick up and drop off without minimal inconveniences (as long as you make it to work on time).
If you drive more than 50 miles to and from work or your job requires considerable driving, doing Roadie gigs (if company policy allows) seems to be a solid way to earn cash on the side.
Bottom Line
Based on what we've seen from Roadie's app and what we've heard from Jamie Gottlieb, we believe that the Roadie concept is a good one but that it suffers from a lack of exposure. As we mentioned in the previous section, Atlanta was the only city in the United States with more than 5 gigs.
Of course, that number could change depending on the day you check the map.
Our advice? If you drive a lot, download the Roadie app and set up a driver account. Set your parameters for the types of gigs you want and then wait to see what happens. There may not be any gigs near you or, if you're planning a road trip, there could be plenty down the road.
---
Roadie totally sucks!

By Timothy R.

,

Paris, TX

,

Nov 28, 2019
Verified Reviewer

Overall Experience:

This company totally sucks! I have been with them for a few months now and have offered so many drives I can't keep count and have only received two! The first gig went well, then the second gig Roadie accepted me for the drive but the sender was mad at me for accepting it...I told her Roadie picks who drives but she totally had her mind set on that I accepted it and told me not to pick up until she had a reply from another driver. I waited two days and asked her and the chick told me the dude hasn't replied yet and for me not to come and pick up the delivery...so I canceled due to some more work that I had an opportunity to do. I've had three gigs close by me and needed theses gigs in order to pay my truck payment and never got one of them...so I contacted them and they told me they pick the best driver no matter where he/she is...so how is a new driver going to get gigs if they choose the best driver?

Thank's Roadie for not giving me any gigs and having my truck repossessed this Monday! You guys really help your drivers out!

Bottom Line: No, I would not recommend this to a friend

---

Don't work with Roadie

By Jose N.

,

Kennewick, WA

,

Oct 24, 2019
Verified Reviewer

Overall Experience:

It has been a bad experience with my payment as a driver. I took a freight 3000 miles away from my town and I was supposed to be getting a good money, but by the time when they should pay me on time they gave me excuses to delay my payment. Normally they pay you by the fourth day after you complete a gig, but in this case, they will take me up to 10 days. And if I don't call them to act I bet you they take longer. Customers are very good people as senders but the support is not support, they are very bad persons, they take your money forever to make payments on time.

Bottom Line: No, I would not recommend this to a friend

---

Advertisement

---

I would love to work for Roadie. They won't send any for some reason.

By Jon H.

,

North Carolina

,

Aug 19, 2019
Verified Reviewer

Overall Experience:

I signed up for Roadie in April of 2019. They sent me offers to drive, and I made four deliveries for them, over about four days. Then all of the offers I replied for were refused. Seven of them over a space of one evening (approx 2 and 1/2 hours). I have not received any feedback, telling me why I might have a low rating, or how I could improve my chances of receiving work. Does Roadie have more than enough people to cover their workload? Maybe things are more competitive than I am aware of. That's not the impression I get when I come here to read reviews. This would be a good way to supplement my income, but right now they are just a waste of time.

Bottom Line: No, I would not recommend this to a friend

---

Driver's attitudes

By Zorigt B.

,

Northbrook, IL

,

Jul 1, 2019
Verified Reviewer

Overall Experience:

Had delivery at home while I was at work. Aladonte - driver called me and I did explain I'm not home and texted to give my work address, which is 5 minutes from my home. He checked directions and called me a liar because his GPS showed 12 mintes instead of 5 minutes. Around 5-6 pm always traffic anywhere. Then he requested cash compensation for the extra 12-minute delivery. Anyhow, Aladonte he is a scumbag and should be fired from Roadie!

Bottom Line: No, I would not recommend this to a friend

---

Advertisement

---

Delta luggage

By Seth S.

,

San Diego, CA

,

Jan 10, 2019
Verified Reviewer

Overall Experience:

My misplaced luggage was picked up at Delta airlines at 4 pm. I live 10 minutes away from the airport and after hours of waiting for the bag, I called the airline at 6 pm. The airline called Roadie and said that your driver had to attend personal matters before delivering the luggage, although he/she had the luggage in possession since 4 pm. I believe if you are going to commit to a service you need to complete the service when expected in consideration of those who are waiting for hours. Needless to say, I'm very unsatisfied and dissapointed with Roadie.

Bottom Line: No, I would not recommend this to a friend

---

Don't work for them!

By L. C.

,

San Diego, CA

,

Dec 20, 2018
Verified Reviewer

Overall Experience:

Roadie has refused to make a payment for a gig I did almost one month ago. Every time I asked to be paid, there has been some kind of excuse or delay to why they're not paying me, here are examples of what they said:

1. You gave us the wrong routing number to your bank.

(False claim. They would not accept the routing number on my checks and instead accepted the routing number from my online banking.)

2. You didn't tell us that you verified your bank account.

(No other organization asks their contractors or employees to let them know once they've verified their banking. This is automated. It is also is the responsibility of the organization to stay on top of that so they can pay their people.)

3. It takes 4-6 business days to see it in your bank account, depending on your bank.

(Please note that also no other organization that paid me in the same manner took more than 1 or 2 days to the same bank.)

4. We cannot make an immediate deposit into your bank because we are a small organization and a start-up.

(Beyond absurd to make that claim. Anyone can request to make an immediate transfer to someone's bank account. Ask any bank!)

I was fed up with their excuses and the last email conversation with Roadie staff I demanded that they make an IMMEDIATE deposit so I can have it in my bank account the same day, which was today. They ignored the message and did not make the deposit.

Stay away from this company if you don't want to be scammed or work for free.

You've been warned!

Bottom Line: No, I would not recommend this to a friend

---

Don't use them!

By Steve A.

,

Houston, TX

,

Oct 29, 2018
Verified Reviewer

Overall Experience:

We booked Roadie for a simple one furniture item haul from Houston area to Austin and they confirmed the booking, confirmed compensation, and told us to relax, we got you covered! Pick up was to occur around noon with delivery no later than 4 pm. The scheduled pick up time passes by 1 and 1/2 hours so we called them and they said they were having trouble booking a driver. There was no way the delivery would be made by the agreed time. This outfit is a total con job! A total SCAM! Never use them, you'll be wasting your time. But they'll assure you, "don't worry, sit back and relax, you're covered!"

Bottom Line: No, I would not recommend this to a friend

---

Austin to Santa Fe

By Dana D.

,

Texas

,

Oct 15, 2018
Verified Reviewer

Overall Experience:

I used Roadie twice while setting up my vacation home in Santa Fe. The first time a darling young man came through Austin from Atlanta on his way to California. Dropped off a couple tables and art and rugs with no issues. The second time a nice guy was going to transport a sofa in his Mercedes van. That broke down the day before the pickup. I was a bit frantic as the store needed the sofa out. I found a very experienced (worked for a mover) eclectic young woman who was driving a big pickup and pulling a flatbed from Austin to California, and she strapped my sofa in (I had wrapped it well) and got it there in one piece.

I just bought a table and 4 chairs at an estate sale and will hopefully find another Roadie to help! I can highly recommend the service.

Bottom Line: Yes, I would recommend this to a friend

---