Robb Vices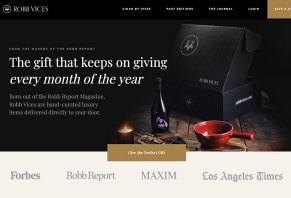 Summary
Robb Vices is a themed monthly subscription service that delivers elite indulgences like alcohol, lifestyle accessories and gourmet treats to your doorstep.
Robb Vices Review: Is It Worth It?
Robb Vices is a premium subscription service that promises to deliver luxury indulgences like top-shelf liquor, exquisite accessories and decadent food products on a monthly or bi-monthly basis. These "vices" purportedly cost far more than the cost of each box, and the company provides subscribers with a different theme each month.
The inspiration behind the subscription service is the Robb Report Magazine, a luxury-focused lifestyle magazine.
Do you get your money's worth with Robb Vices, or are you better off investing in a different form of luxury goods? Let's look at the facts so that you can make a better decision.
How Does Robb Vices Work?
As Robb Vices is offered as a membership program, the first step for signing up is determining which subscription length you want to pay for. The company offers annual, quarterly, and month-to-month subscriptions, and you can opt to receive deliveries monthly or every other month.
Once you sign up for membership, you will receive a themed box each month, as well as access to exclusive Robb Vices events and discounts on individual products and past boxes. Each box also contains coupons that we'll address later in this review.
What Kind of Products Do You Receive in Robb Vices Boxes?
According to the company website, Robb Vices collaborates with brands from around the world months in advance for each box to source products that have broad appeal while remaining artisan and boutique.
While each box focuses on luxury, they are all based on changing themes. Below is a sampling of boxes from past months and the products within them.
Robb Vice Tea Experience (January 2018): Tea Forte pitcher set, steeper set, platinum infuser, five-tea sampler, jar of Three Little Fig jam.

The Great Celebration (December 2018): Georg Jensen Indulgence Champagne Sabre, Robb Vices reserve sparkling wine, Crème di cassis de Dijon cocktail mixer. (Retail price: $295)

Life is Beautiful (November 2017): Groth 2013 Cabernet Sauvignon, Sempli wine decanter, Urbani black truffle pasta, dry-aged beef, Lark salted rosemary shortbread, Artstar $100 voucher.

Melted Romance (February 2018): Emile Henry fondue set, box of fixx chocolates, paint-your-own abstract painting kit, D. L. & Co. massage oil. (Retail price: $200)
Along with these contents, you will also receive a keepsake booklet that shares details of each product inside and how you can use them.
What Is Vices Reserve?
Robb Vices subscribers also gain access to the brand's online store, Vices Reserve, where they can purchase past boxes, limited-edition boxes, and luxury food products like caviar and cuts of beef.
Subscribers can access this online store with the personal code they receive with their subscription.
What Does a Robb Vices Subscription Cost?
The price you pay per Robb Vices box depends on how many months you commit to at a time.
Annual membership is $99.95 per month or $1190.40 for twelve shipments.

An annual bi-monthly subscription (every two months) costs $109.95 per month, which comes to $659.70 for six deliveries.

A three-month trial costs $129.95 per month (total of $389.85) and month-to-month costs $159.95.
Each subscription auto-renews unless you cancel it before the last day of the final month. You can manage your subscription length through your online profile.
Regarding delivery, the company suggests sending your package to the place you spend your days (like the office) so that you can sign for the deliveries that include alcohol.
The Robb Vices terms of service make it clear that the company doesn't accept returns for the products you receive unless there is clear evidence they arrived spoiled or broken. All quality concerns should be addressed through email at support@robbvices.com or by phone at 646 578-8174.
Customer Reviews of Robb Vices
Are Robb Vice products worth the investment? We looked at customer reviews on Trustpilot to see what the consensus was.
At the time of writing, the company averaged four stars from more than 450 reviews, proving that the majority of subscribers were satisfied with their membership.
Saying that, the content of these reviews showed some interesting trends. We read dozens of comments from people who shared that they thought the company had poor customer service and that the product value was going downhill.
Many wrote that the company's boxes were more exciting before early 2017 and that today their deliveries often arrived weeks, even months later than expected.
Others expressed that they didn't always love the themes of the boxes and wished there was a way to opt out of certain months in advance. Similarly, some reviewers stated that they would prefer if the company provided some spoilers of each month's products so that they would know what to expect.
Another point of concern for many people was the coupons that came with Robb Vices orders. Many were only redeemable in specific cities, and a few of the promo codes had complicated terms of service that made them difficult to use.
Overall, we think that the majority of reviewers found a lot to like about their Robb Vices subscription, praising the product variety and tasteful presentation. Numerous people reported that the subscription made for a great gift and that they received far more value than what they paid with every delivery.
What Brands Are Similar to Robb Vices?
If you're looking for options for a luxury subscription box, there are other brands to consider besides Robb Vices.
Brēō box and VineBox both come to mind for delivering quality goods, so should you choose either one instead?
Like Robb Vices, brēō box is a luxury subscription service devoted to delivering high-end lifestyle, tech, and fitness products. The cost per box begins at $159, and they are delivered quarterly and correlate with the seasons. You'll receive between five and seven products within each one, and every order arrives in a reusable wooden box.
While brēō boxes often come with cocktail accessories, our research into past boxes shows they rarely (if ever) contain alcohol itself- something that comes in almost every Robb Vices delivery. Another difference between the companies is that brēō box typically releases spoilers for their boxes ahead of time, meaning you can have a sense in advance of what you're committing to.
For those in search of luxury alcohol, wine subscription VineBox offers sample sizes (about three ounces each) of nine premium wine varieties every quarter, with the option to purchase full-sized bottles if you like them.
You'll pay $72–$87 for each delivery, which makes it the most affordable luxury subscription we looked at. However, the total amount of wine comes to approximately a bottle and a half, which might seem high for the price for many people.
Deciding which luxury box of these three brands is best for you comes down to personal preference. If monthly deliveries are important to you and you most value food and beverage deliveries, then it's hard to top Robb Vices.
If, in contrast, you're eager to sample top of the line wine without committing to full-sized bottles, VineBox is the service for you.
For those intrigued by tech gadgets and lifestyle accessories, a brēō box subscription might be the best bet.
Our View: Should You Try Robb Vices?
As our research shows, Robb Vices is a luxury subscription brand that puts the focus on delivering indulgent, artisanal products to you on a monthly or bi-monthly basis. The products within each box are selected based on a theme, and you can't make any product swaps or otherwise customize the content.
Like most subscription services, Robb Vices doesn't allow returns or refunds unless there is clear evidence your products arrived damaged. Likewise, each subscription will auto-renew unless you cancel it beforehand.
Despite some customer complaints that the quality of Robb Vices boxes is going downhill, the majority of the reviews we read showed that most members are happy with the service and selection. Your tastes might be different, so we recommend looking closely at the products offered in previous boxes so you can see whether the selection interests you.
If you decide to try a Robb Vices subscription, keep in mind that the company awards longer commitments, so signing up for a year in advance will save you significant money over time.
Customer Reviews
Our Promise to You
In order to safeguard you and ensure helpfulness and relevance, our compliance team manually assess every customer review before it goes live.
We have a zero-tolerance policy for fake reviews, and companies cannot control or alter any reviews at any time.